Stuffed bell peppers and roasted sweet potatoes all baked on one pan. Easy, healthy, delicious!


While this isn't truly a one pan dish (you'll use one other dish to brown the ground beef) it is one of the easiest versions of taco stuffed sweet peppers you'll make! Most stuffed pepper recipes require a pot for cooking the rice, a pot for boiling the peppers, a skillet for browning the beef, and then a casserole dish to cook the peppers in. Not to mention a separate sheet pan if you want a side dish…say some roasted sweet potatoes for example 🙂 So 2 dishes instead of 5? I'll take that any day!
Beyond the ease of this dish when compared to regular stuffed pepper dishes, these are some of the BEST taco stuffed sweet peppers ever. One big reason for that? The actual peppers are roasted instead of boiled. The flavor and texture of these peppers are unbelievable! And then they're stuffed to the brim with a flavorful rice and beef mixture and finally finished with a good dose of cheese. And we're only talking the main course! The roasted sweet potatoes are also super flavorful — they use the same seasoning mix we used for the beef giving them a bit of a spicy kick. Top these peppers and potatoes with your favorite tex mex additions: some fresh lime, fresh cilantro, a good ripe avocado (or guac), some sour cream…you get the idea!
How do you make these Sheet Pan Taco Stuffed Sweet Peppers and Sweet Potatoes?
Start by prepping those peppers and sweet potatoes. You'll chop the potatoes and then toss them on the sheet pan with some seasonings and olive oil. Next you'll add the halved (and deseeded) peppers into the center of the sheet pan. Those also get a drizzle of oil and a few seasonings added. Put in the oven to roast!
While the (empty) peppers are roasting, you'll prepare the ground beef mixture. Essentially ground beef, a delicious seasoning mix (the same one you already tossed the potatoes with!), some tomato sauce, and finally some cooked rice. I mentioned not having to use another dish for the rice as I use leftover rice in these. You can also use leftover quinoa or whatever grain you have on hand. And if you don't have any leftover rice and still want these to be quick, grab and use some ready rice (no need to microwave it).
Remove the peppers from the oven and use all of the filling to stuff the peppers to the brim (even overflowing a bit). You'll also toss around the sweet potatoes a bit. Back into the oven!
While the dish continues to cook, you can finish the last part of this meal: the toppings! Grate some cheese, slice an avocado, chop some cilantro, slice a lime, grab out the sour cream….etc. Whatever toppings you want!
Remove this dish from the oven, add some cheese, broil for a minute, and these are ready to eat!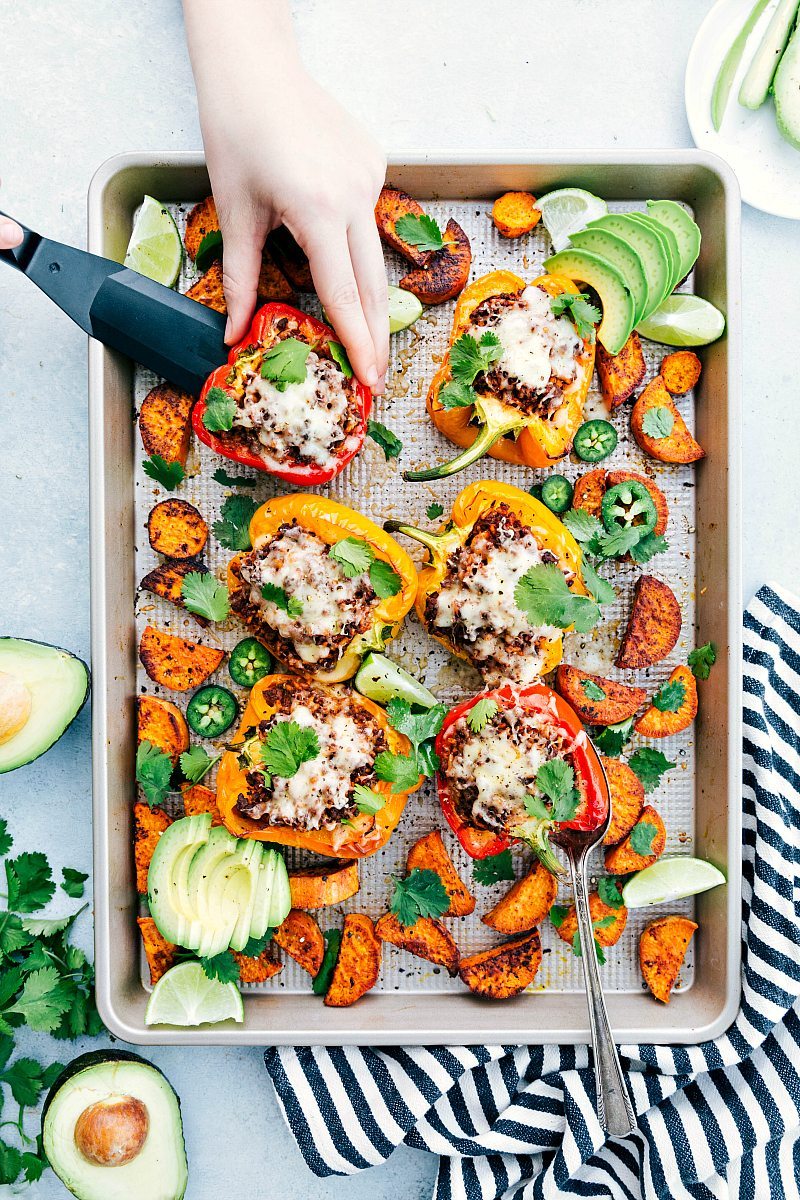 More Sheet Pan Dinners: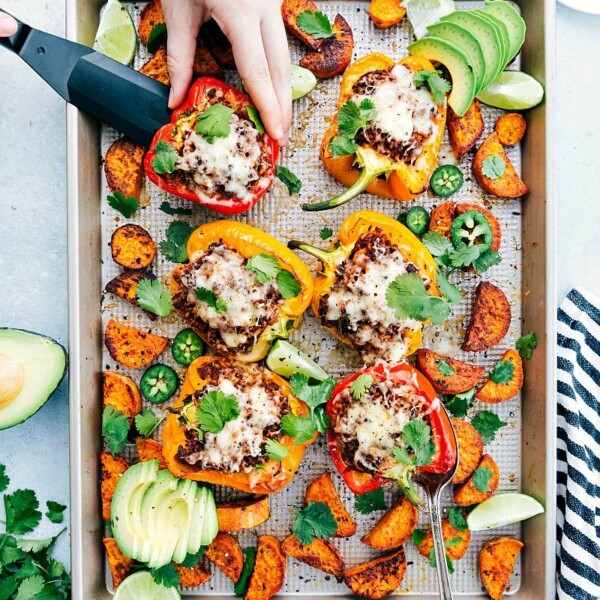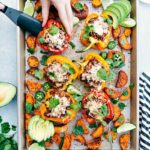 Stuffed Bell Peppers
Taco meat, sweet potatoes, peppers, brown rice, and corn come together to create the perfect filling to stuff inside sweet bell peppers.
Keyword:
Stuffed Bell Peppers
Ingredients
2

medium sized (1.3 pounds)

sweet potatoes

3

tablespoons

olive oil,

separated

3

large

sweet bell peppers

(can be red, orange, and/or yellow; I use 1 of each)

1

tablespoon

chili powder

1/4

teaspoon EACH:

garlic powder, onion powder, dried oregano flakes

1/2

teaspoon

paprika

1 and 1/2

teaspoons

ground cumin

Fine sea salt and freshly cracked pepper

1

pound

extra lean ground beef

1

teaspoon

minced garlic

1

can (8 ounces)

tomato sauce (I like Muir Glen)

1/2

cup

cooked white rice

(use leftover rice or grab some Ready Rice in a pinch!)

3/4

cup

Monterey jack or sharp cheddar cheese,

freshly grated

Optional toppings: fresh cilantro, fresh lime, fresh avocado/guac, jalopenos, 1 cup fat free sour cream, additional cheese, etc.
Instructions
Preheat the oven to 375 degrees F. While waiting for it to preheat, peel and chop the sweet potatoes. You want them about 1/2 inch thick coins. Halve the large coins. Place the potatoes on a large sheet pan. Add 1 tablespoon olive oil and 1 and 1/2 teaspoons seasoning mixture (See next step).

Prepare the seasoning mixture: combine the chili powder, garlic powder, onion powder, dried oregano flakes, paprika, ground cumin, and salt + pepper to taste. (I add about 1 teaspoon of each, but add to personal taste preference). Stir together.

Halve the sweet peppers right down the middle and remove the seeds, membranes, and cores. Place in the center of the sheet pan. (You don't want peppers and sweet potatoes overlapping or you'll steam not roast the ingredients so make sure everything has it's own space!) Drizzle remaining 2 tablespoons olive oil over the peppers and add some salt + pepper to each pepper. Place in preheated oven and cook for 25 minutes.

Meanwhile, in a large skillet, cook and break up the extra lean ground beef until no longer pink (about 5-6 minutes). Drain any remaining grease. Add in the garlic and cook until fragrant, about 30 seconds. Add in the tomato sauce, remaining seasoning mix, and the leftover cooked rice. Stir until combined. Reduce the heat to low and allow to simmer until you're ready to stuff the peppers.

Remove the peppers and toss around the sweet potatoes. Add the meat filling to the sweet peppers making sure you use all of it. Place the pan back in the oven and cook for another 10 minutes. Remove. The sweet potatoes and peppers should be crisp tender (If not return to the oven for another 5-10 minutes). Top each pepper with even amounts of cheese and add back to the oven for another 5 minutes or broil on high for 2-3 minutes.

Remove and serve. Add your favorite toppings. We like sour cream, fresh lime, fresh cilantro, and avocados best! Enjoy!