This post may contain affiliate links. Please read my disclosure policy.
One pan and only EIGHT ingredients to make this flavor-packed and nutritious sausage pesto and veggies!
Pair this sausage pesto and veggies with an easy salad such as this strawberry salad or this Italian salad. This meal reheats well and works as a healthy weekly meal prep option.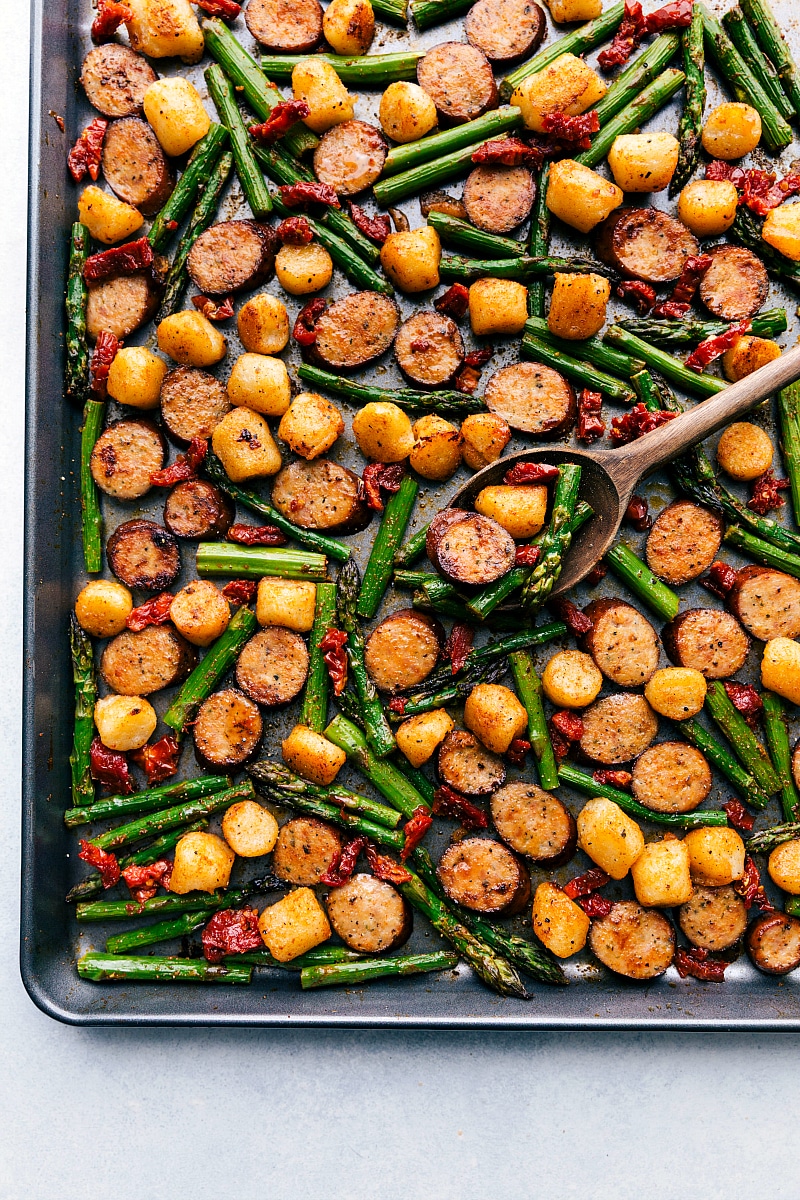 I'm having a minute with green herby sauces as evidence by this pesto chicken, this chimichurri chicken, and this shrimp couscous. And today we're adding another dinner covered in a green herb sauce (pesto) to the collection! With less than 10 ingredients, one dirty sheet pan, and overall healthful ingredients — this is my latest weeknight dinner win.
Because with 3 kids now and about a million more things to do than hours in the day, the weeknight dinner struggle is real.
And this meal is a lifesaver! I'm fairly certain you can fully prepare this meal quicker than waiting in a dinner rush fast food line, AND it'll be better for you. If I haven't convinced you yet, let's talk about the delicious components that make up this easy sausage pesto and veggies.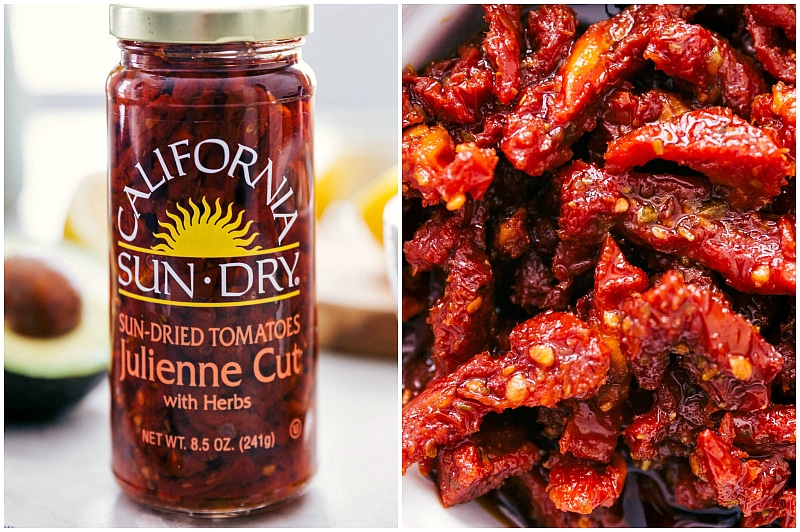 Ingredients in this sausage pesto and veggies
Smoked chicken sausage: grab a flavored smoked chicken sausage (such as roasted garlic or Italian-seasoned) to amp up the flavor without adding a ton of extra seasoning. Any smoked sausage will work in this meal, but we prefer the chicken sausage.
Sun-dried tomatoes with herbs: I took a picture (above) of my current fave sun-dried tomatoes (not sponsored). They're already thinly sliced and seasoned perfectly so they add a lot to this meal while keeping the ingredient list down. We also use the oil they're soaked in to cook the veggies in, so you don't even have to grab extra oil on your grocery store run. Win-win!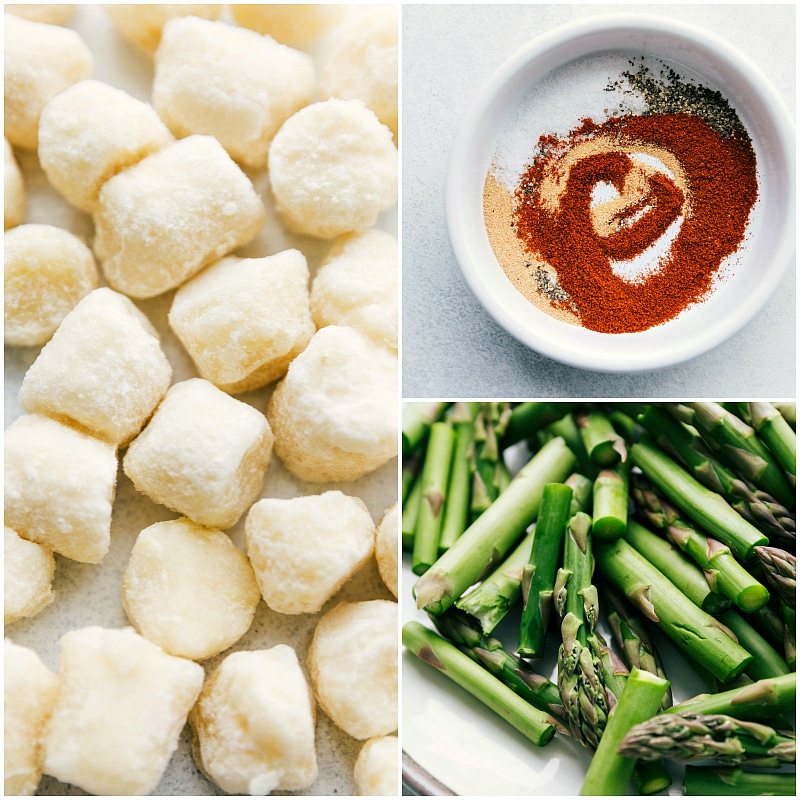 Ingredients continued
Gnocchi: have you heard about the viral sensation known as Trader Joe's cauliflower gnocchi? I'm a huge fan (again, not sponsored). The gnocchi can go from FREEZER TO OVEN without thawing. Sorry to shout, but this is important for one pan dinner dreams. Don't have a TJ near you? No problem, any frozen gnocchi will work here!
Asparagus: keeping things spring-y with this veggie. We cut it into 2-inch pieces so it will be roasted in about 7-10 minutes.
Pesto: the last "main" (there are a few spices plus the obvious salt & pepper) ingredient is pesto! To stay true to our ridiculously easy weeknight dinner prep, we're using a good store-bought pesto. Grab the freshly made pesto in the refrigerated section of your grocery store and be forever changed. Fresh basil pesto is the way to go for this sausage pesto dinner (Buitoni makes a fresh refrigerated pesto I love and Kroger stores sell a freshly made basil pesto that is also great).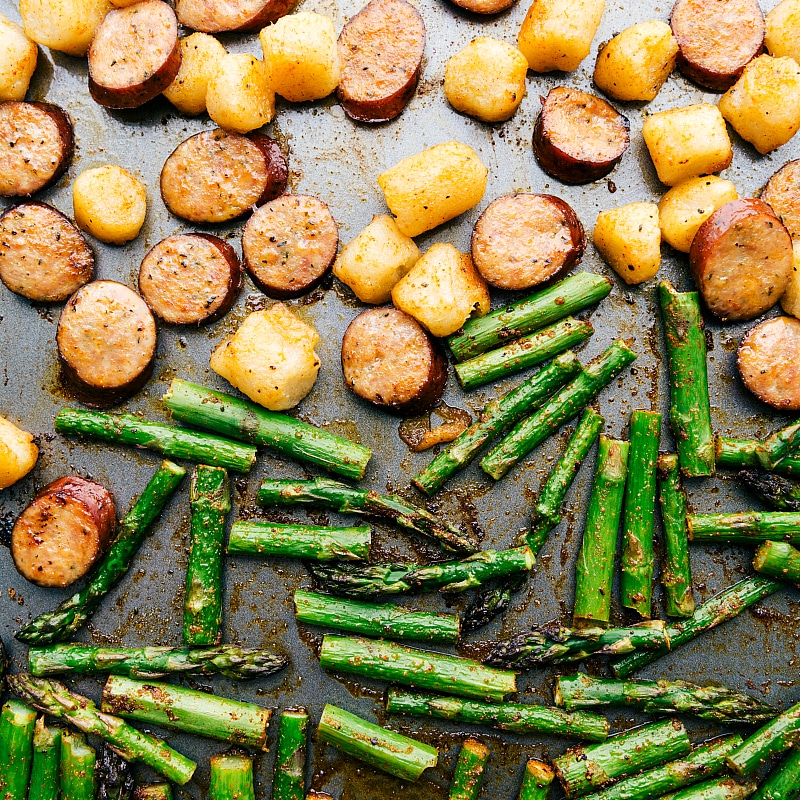 Recipe variations
Switch up asparagus: as long as the veggie you're thinking about can roast in about 20 minutes, you can add it to this sausage pesto recipe. Some ideas: chopped zucchini, chopped yellow onion, chopped broccoli florets, quartered brussels sprouts. This chart is helpful for more ideas! If you add in a veggie that roasts for about 20 minutes, add it in at the beginning instead of halfway through cooking time. (Asparagus only needs about 7-10 minutes to roast.)
Switch up the gnocchi: this recipe calls for frozen cauliflower gnocchi, but we've also tested it with regular frozen potato gnocchi. We've also tested this with shelf stable gnocchi and it works. (Tasters all preferred frozen for flavor!)
Different sauce: if you're not a fan of pesto, a good herb sauce would work great in its place. I'd recommend the basil sauce from this caprese salad.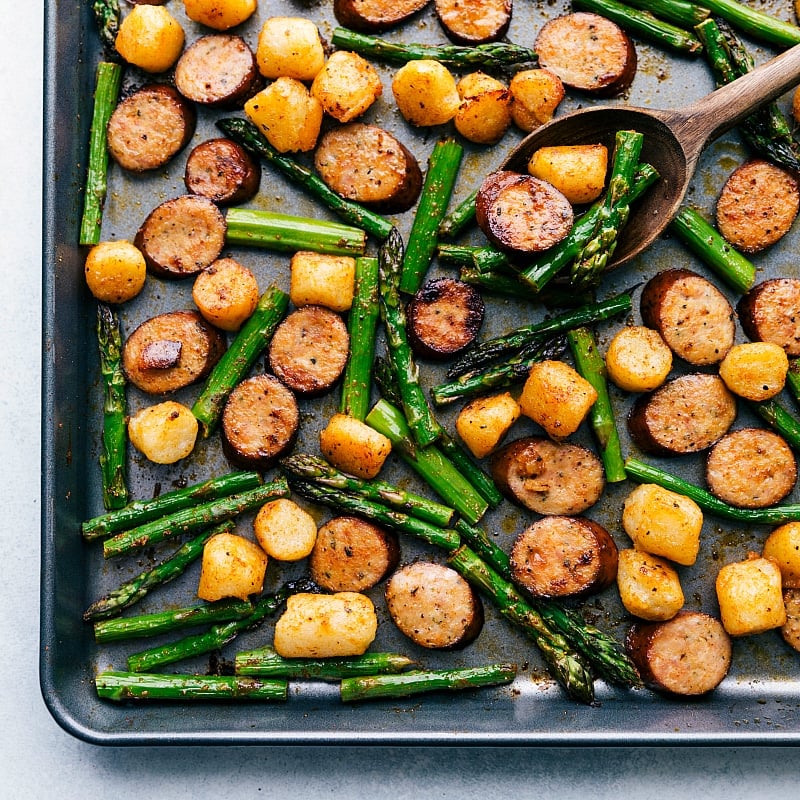 Pesto sausage recipe tips
Use a LARGE sheet pan: the more space the vegetables, gnocchi, & sausage has (the less crowded they are) the better they roast in the oven. When vegetables are overlapping on a sheet pan, they end up steaming instead of roasting. This will make them taste soggy not deliciously caramelized. I recommend using a (this) 15×21 inch sheet pan for this recipe.
Grate the parmesan cheese with a microplane. It gives it the perfect texture and melts beautifully into the asparagus, sausage, and gnocchi.
Meal prep
If meal prepping with this sausage pesto recipe, I recommend choosing a different vegetable than asparagus (like broccoli or bell peppers). I don't find the asparagus sits well with the other ingredients after a couple of days.
To meal prep: store the pesto in a separate container. Warm the sausage, gnocchi, and vegetable portion in the microwave. Give the pesto a good stir and add it along with some parmesan cheese before enjoying each day. This meal prep is best eaten within 3-4 days.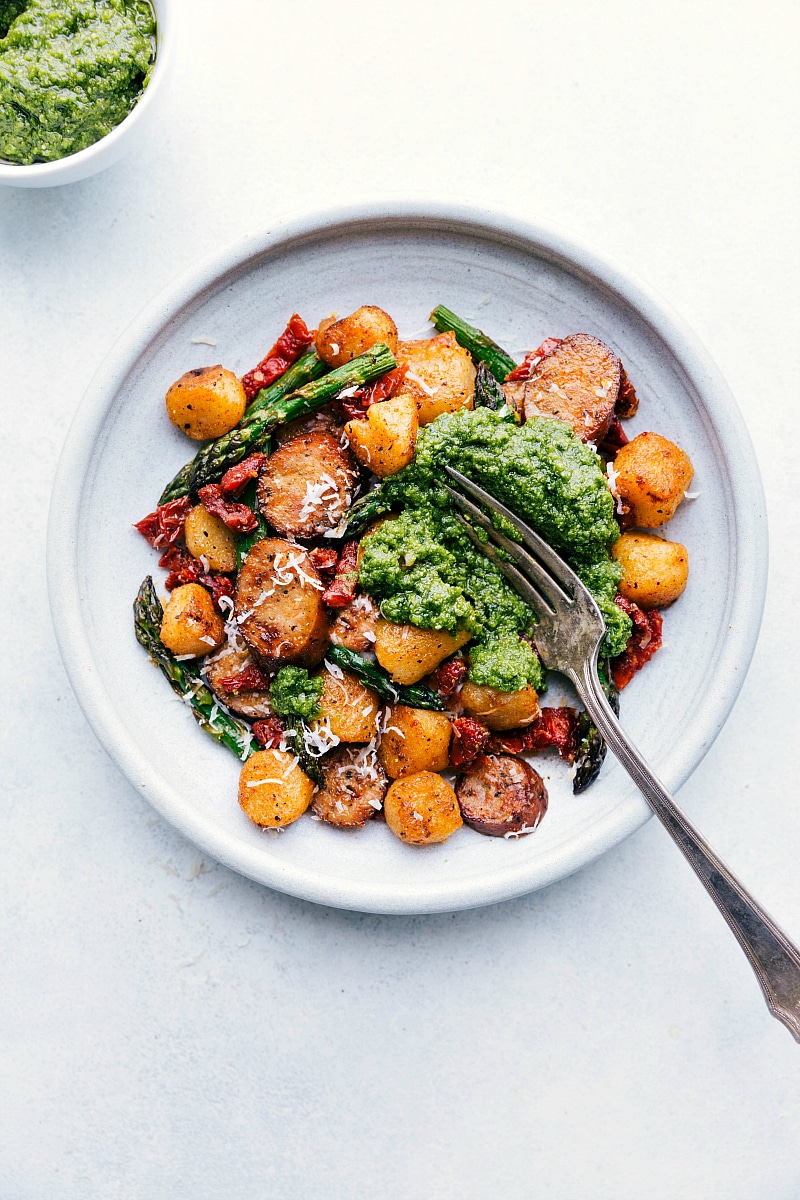 More easy one pan dinners: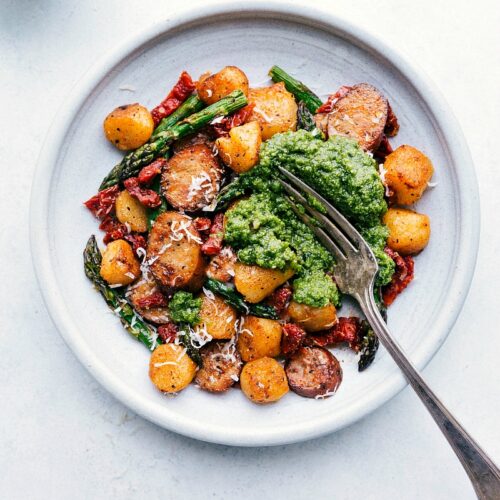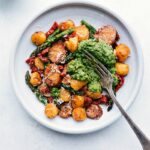 One Pan Sausage Pesto & Veggies
One pan and only EIGHT ingredients to make this flavor-packed and nutritious sausage pesto and veggies!
Ingredients
1

package (13 ounces)

smoked roasted garlic chicken sausage,

sliced 1/4th inch thick on the diagonal

1

bag (12 ounces)

frozen cauliflower gnocchi,

Note 1

1/3

cup

sun-dried tomatoes (soaked in oil and herbs),

finely chopped + 2 tablespoons oil from container

1

pound

asparagus,

ends snapped off and cut into 2 inch pieces

1

teaspoon

paprika

1/2

teaspoon

roasted garlic powder

Fine sea salt and freshly cracked pepper

1

(5 ounce)

container fresh-made store bought basil pesto

Note 2

Freshly grated Parmesan cheese
Instructions
Preheat the oven to 425 degrees F. In a small bowl, stir together 1 teaspoon paprika, 1/2 teaspoon roasted garlic powder, and salt & pepper (add to taste; I use 1/2 teaspoon salt, 1/4 teaspoon pepper) Set aside.

On a LARGE (at least 15 x 21 inches) sheet pan, toss together the sliced chicken sausage, frozen (unthawed) gnocchi, 1 tablespoon oil from the sun dried tomatoes, and 1/2 of the seasoning mix. Toss until combined. Bake for 12 minutes at 425 degrees.

Remove and flip the sausage + gnocchi using a metal spatula. To the other side add cut (in 2 inch pieces) asparagus, remaining 1 tablespoon oil from the sun dried tomatoes, and remaining seasonings. Toss to combine (I do this on the hot tray with tongs; you can toss everything in a bowl separately, but that uses more dishes). Return to the oven for another 7-10 minutes or until asparagus is crisp tender. Gnocchi and sausage should be crisp on the outside, soft and tender inside. Toss everything together. On the hot sheet pan, add the chopped sundried tomatoes. Taste for salt/pepper seasoning remembering that the Parmesan cheese and pesto will add some saltiness.

Serve on plates with freshly grated Parmesan cheese and a few spoonfuls of pesto per plate. Enjoy immediately.
Recipe Notes
Note 1: we use the cauliflower gnocchi from Trader Joes. Any other frozen gnocchi will work in this dish. No need to thaw, just break or cut apart any connected gnocchis. Bake straight from freezer. Note 2: don't grab the jared variety; grab the fresh in refrigerated section of store. Of course homemade can be used in place of store-bought!