Easy and delicious bakery style chocolate chip cookies loaded with chocolate chips!
These thick, soft, GIANT cookies are perfectly gooey and chocolatey right out of the oven. This recipe makes 4 bakery style cookies just like you'd get at Chip, Crumbl, Twisted Sugar, etc. for a fraction of the cost and made in the comfort of your own home!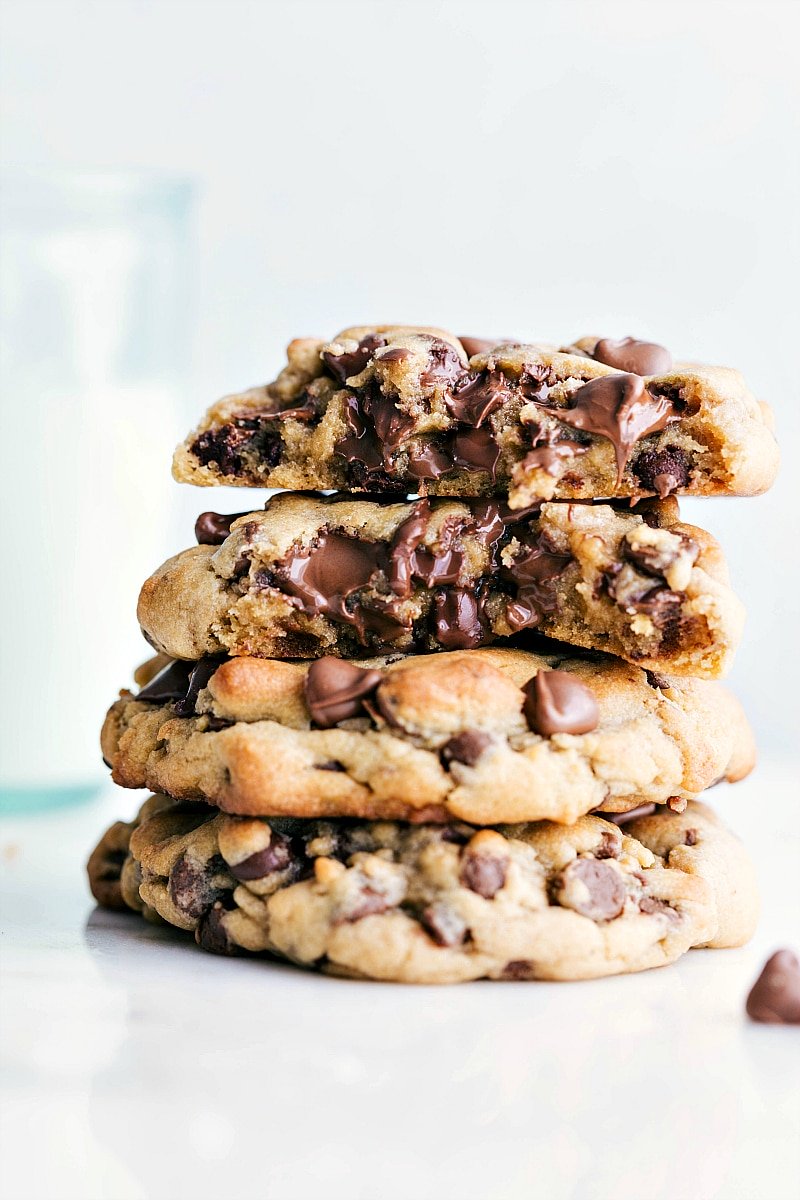 Utah seems to be a mecca for bakery cookie shops. I've lost count of how many cookie shops that have popped up around where we live. S0, you can bet as a self proclaimed cookie enthusiast I've tried my fair share of cookies from these places.
While the cookies are genuinely delicious for the most part, there is a bit of sticker shock when purchasing. For some of the shops, it costs the same amount of money to buy 1 store bought cookie that could make an entire batch of homemade cookies.
Most cookie shops around us have an option to buy 1, 4, or by the dozen. So today, I'm sharing a recipe that makes 4 perfect bakery style cookies. They're soft in the center, chewy all the way through, and delicious right out of the oven. Did I mention chocolatey?!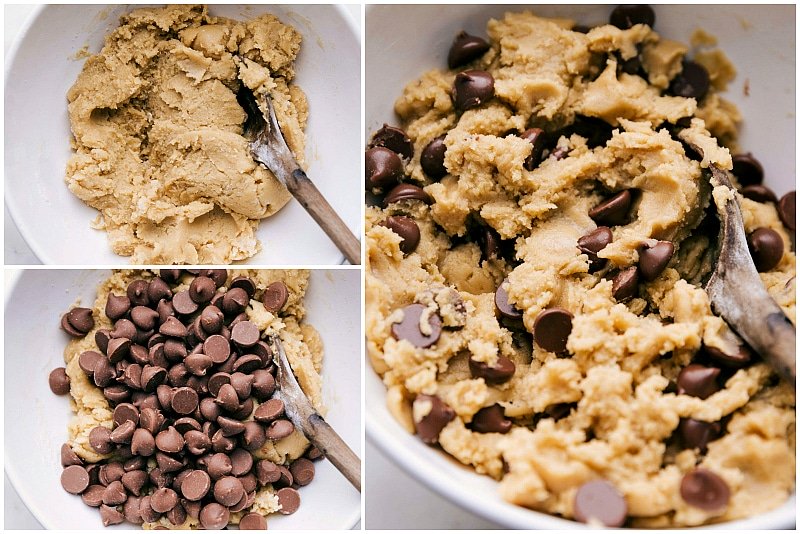 How to make thick bakery style chocolate chip cookies
The secret to making these cookies thick (and keeping them from going flat) is chilling the dough. If you put cold dough into the oven, that will slow the spreading while the cookie bakes. Baking dough straight from the fridge is going to give you the thickest perfect chocolate chip cookies.
I've included more tips below for making these cookies perfect every time.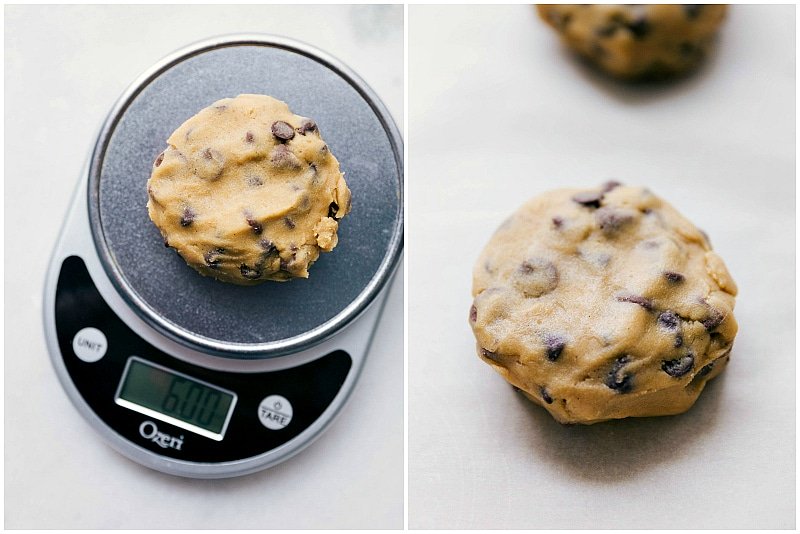 Bakery style chocolate chip cookies tips
Use a parchment paper or silpat lined tray. The bottoms get overly crispy without a lined tray and you don't want to grease the pan (greasy bottoms).
Use a kitchen scale to divide the dough evenly. Each cookie should weigh right around 6 ounces and the dough makes 4 cookies.
Measure the flour by spooning and leveling. If you press a measuring cup into a bag of flour, you'll pack in way more flour than you need.
Once you add in the flour, don't over mix the dough. Get the ingredients combined and then stop stirring!
Right after the cookies have come out of the oven, add a few chocolate chips to the tops. This not only makes the cookies look nice, it also ensures there are good amounts of chocolate in each bite!
Space the cookies out. These cookies need a lot of room so give them plenty of space! I like to only bake 2 at a time.
A common question I get on a lot of my cookie recipes is about the cornstarch and why we add it.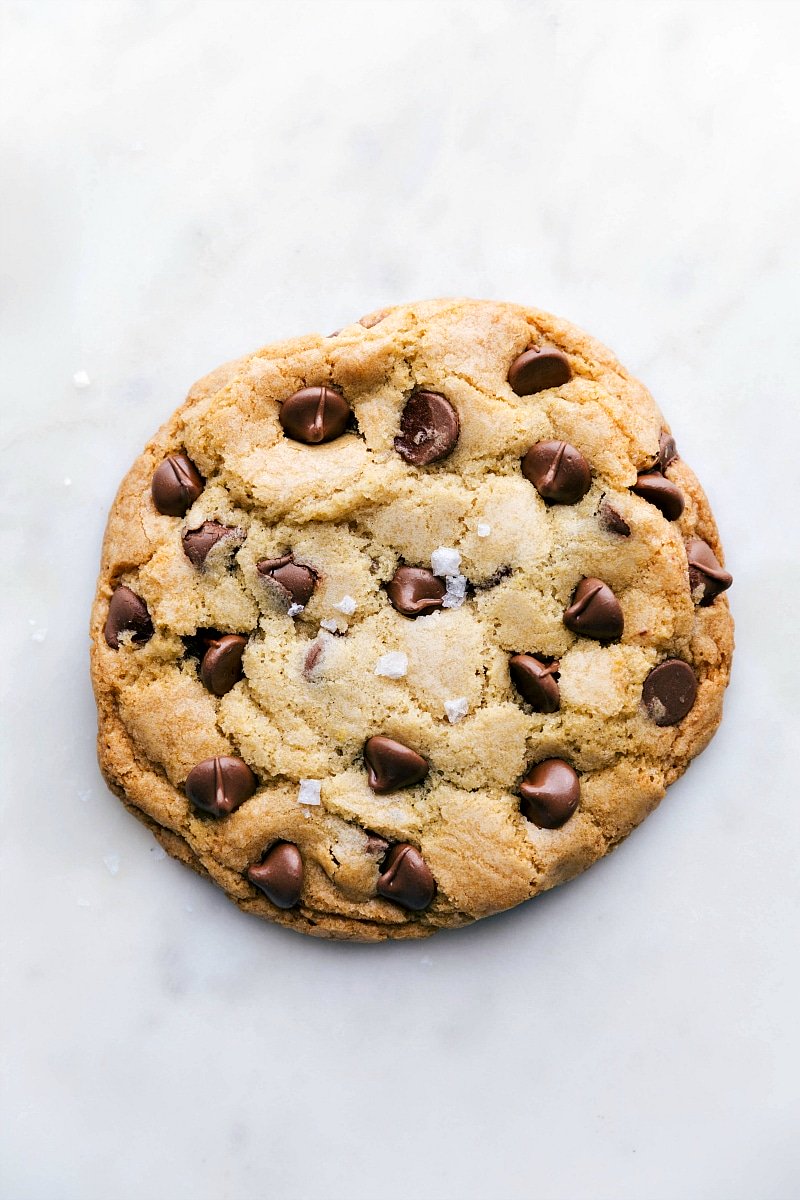 Reheating leftovers
Arguably the best time to eat these cookies are straight out of the oven. If you happen to have some leftover, store them in an airtight container at room temperature. Reheat on a microwave safe plate for 10-15 second increments until heated through to your desired heat.
More amazing cookie recipes: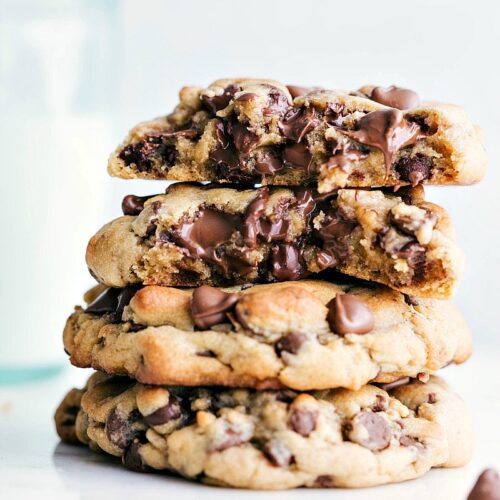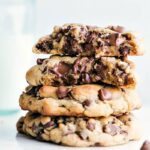 Bakery Style Chocolate Chip Cookies
Easy and delicious bakery style chocolate chip cookies loaded with chocolate chips!
Keyword:
Bakery Style Chocolate Chip Cookies
Servings
:
4
large cookies
Ingredients
8

tablespoons

unsalted butter

1/2

cup

light brown sugar,

packed

1/3

cup

white sugar

1

LARGE egg

1/2

tablespoon

pure vanilla extract

2

teaspoons

cornstarch

1/2

teaspoon

baking soda

1/2

teaspoon

baking powder

3/4

teaspoon

sea salt

(reduce if using table salt OR if sensitive to salt)

1 and 3/4

cups

white all-purpose flour

1 and 1/2

cups

good quality milk chocolate chips,

separated (OR use semi-sweet or dark chocolate -- whichever is your favorite)
Instructions
In a very large, microwave-safe bowl, melt the butter. Once melted, stick it in the fridge for 5 minutes. It's important the butter isn't hot when you add in the sugars or it will melt the sugar and make the cookies flat/greasy.

Once butter is cooled to room temperature, stir in the light brown sugar and white sugar. Stir until smooth. Add in the egg and vanilla extract. Stir until smooth.

Add in the cornstarch, baking soda, baking powder, and salt. Again, stir until smooth. Add in the correctly measured (Note 1) flour and mix until JUST combined. Don't over mix.

Gently stir in 1 and 1/4 cups of chocolate chips until combined. Separate the dough into 4 equal parts. If you have a food scale, each ball should be just a little over 6 ounces. Place those balls of dough in an airtight container and chill for 30 minutes to 1 hour.

Preheat the oven to 325 degrees F. Line a pan with parchment paper or use a nonstick liner.

Place two dough balls at a time on a sheet pan giving the cookies plenty of space.

Bake for 20-25 minutes erring on the side of under-baking which keeps them soft and chewy. The cookies will "bake" a little more out of the oven.

Remove from the oven and press the remaining 1/4 cup chocolate chips into the tops of the cookies (ensures even placement of chocolate AND makes them look pretty!). Allow to cool on the baking tray for 10-15 minutes before transferring them to a cooling rack. IF you like salty sweet, add a few flakes of salt on top!

STORAGE: We like these cookies best on day 1 of being made. They do last up to 1 week, but they do begin to lose texture and flavor. To store: place in an airtight container and keep at room temperature. Wait until cookies are completely cooled before adding to the container. Rewarm in increments of 10-15 seconds in the microwave.
Recipe Notes
Note 1: spoon the flour into a measuring cup and level the top with the back of a butter knife.