Simple (dump it all in and forget about it) crockpot quinoa chili. No veggie chopping or pre-cooking of anything required; open cans and throw it all in! The easiest crockpot dinner that's packed with flavor and healthful ingredients.
Pair this crockpot quinoa chili with homemade dinner rolls, this easy cucumber salad, or this favorite Italian salad.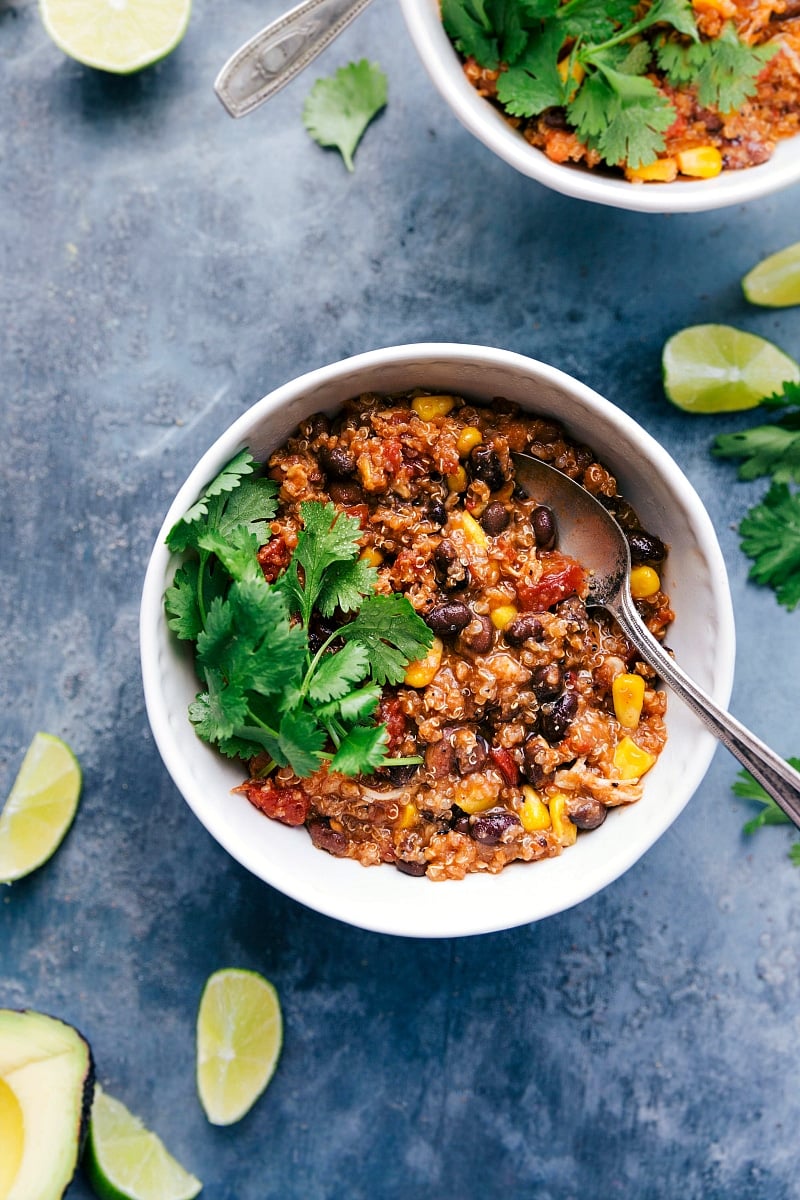 I'm all about quick prep dinners and especially when the crockpot is willing to do the work; why not take advantage?! And this dinner doesn't get much easier than opening cans and throwing them in to said crockpot.
The best part though? It's not cans of cream of mushroom soup and cups of brown sugar-filled BBQ sauce (yes, there's always a place for those recipes too :)), instead it's filled with good-for-you ingredients. Which, personally, I've found is rare in a crockpot dinner with little prep time! Clearly I'm really excited to share this recipe with you all today! It's easy to prepare AND healthy AND the kiddos are obsessed. My 6 year old asked if he could eat it (with an extra handful of cheese ?) for breakfast the night after I made it. I hope your family loves it as much as mine does!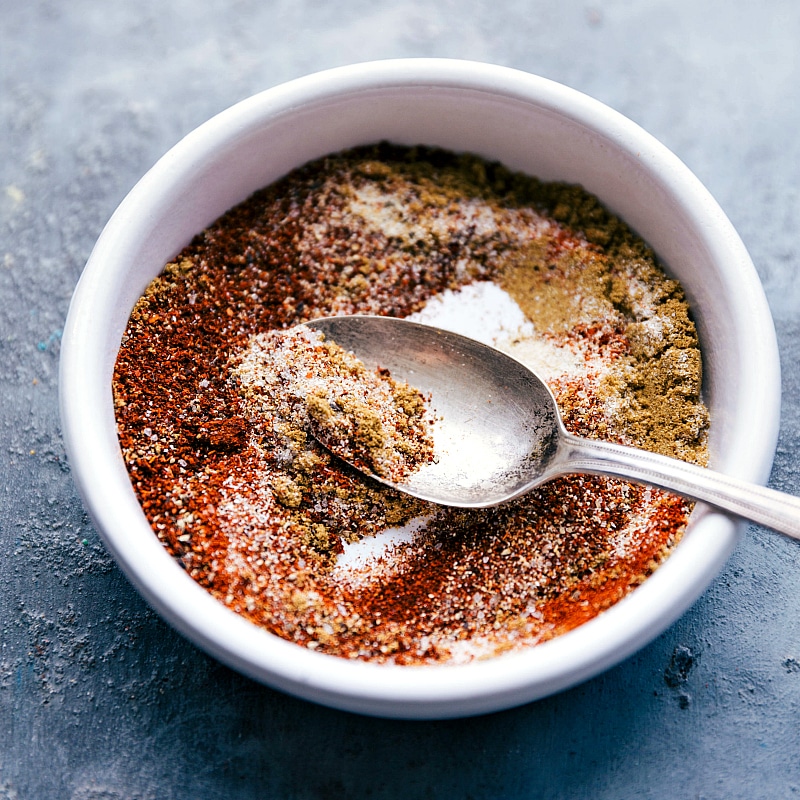 Ingredients in crockpot quinoa chili
Seasoning blend: this quinoa has the best blend of spices; we've got chili powder, cumin, cayenne pepper, onion powder, paprika, garlic powder, and of course salt and pepper
Quinoa: this forms the "base" of the chili and thickens and absorbs flavors from all the different ingredients
Chicken: we use boneless skinless chicken breasts cut into thin tenderloins (helps cook quickly!) feel free to use chicken thighs instead
Chicken stock: or chicken broth works great too. We like to use the salted/seasoned chicken stock for extra flavor!
Black beans: (or use another can of chili beans or kidney beans)
Chili beans: we typically use chili beans in mild sauce, but grab whatever heat you prefer. Unsure what chili beans are? Here's a great explanation.
Frozen corn: or fresh if you have access (cut right off the cob)
Petite diced tomatoes: grab fire-roasted for extra flavor! Depending on the acidity of the canned tomatoes, you may want to add a pinch of sugar. (We love San Marzano tomatoes best in this chili.)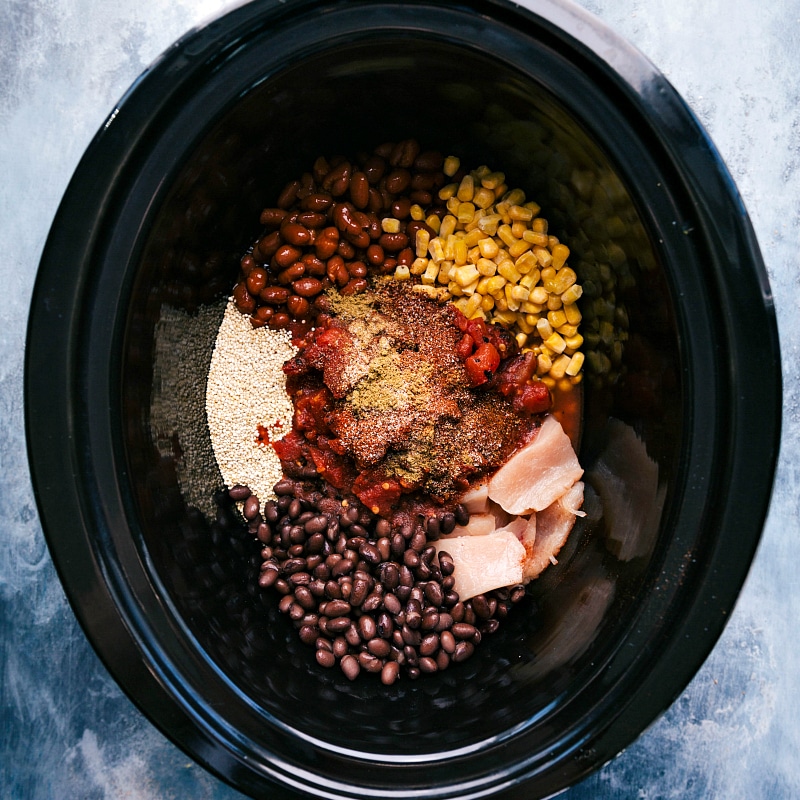 What to top your crockpot quinoa chili with
Whatever you enjoy on a typical bowl of chili will be great on this crockpot quinoa chili. Truly, the toppings make this meal, so don't forget about them! Below are some of our favorites. (And if we had to pick just 3: lime juice, cheddar cheese, and sour cream would always make it).
Fresh lime juice
Freshly grated sharp cheddar cheese
Sour cream (fat free, reduced fat, or full fat)
Crushed corn chips (like Fritos), crushed tortilla chips, saltine crackers, or tortilla strips
Fresh chives or chopped cilantro
Freshly sliced avocado/guacamole
Spoonful of salsa or pico de gallo
Quick tips
Cut the chicken into thin/small chunks otherwise it won't be done at the same time as everything else. You don't need to spend much time cutting the chicken; just quickly cut 2-3 inch (1 inch thick) pieces and make sure to submerge the chicken in the liquid.
Use a large crockpot: I recommend a 6 quart slow cooker for this crockpot quinoa chili
Season to taste: if you're worried about spice, add spice mixture slowly remembering you can always add more later. Additionally, you can always add more than the recipe calls for at the end of the cooking time. Always taste first for salt and pepper and then add other spices to preference.
Don't forget to rinse the quinoa: quinoa has a bitter saponin coating that needs to be rinsed before using. Place it in a fine mesh strainer and rinse it well before adding to the crockpot.
Quinoa continues to absorb liquid as it sits. This quinoa chili will continue to get thicker and thicker, so keep that in mind as it's cooking. If it cooks too long, the quinoa will begin to burn around the edges.
Variation ideas
To make this crockpot quinoa chili vegetarian or vegan, I recommend following this recipe instead (we "replace" the chicken with sweet potatoes)
To add more flavor, add in a finely diced yellow onion and a few cloves of garlic. I don't add those in this recipe because I wanted the prep to be as quick as possible! (The onion powder and garlic powder do give you a nice flavor without the actual ingredients.)
To increase the spice, use spicy chili beans and add in a few tablespoons of diced jalapeno or 1/2 teaspoon crushed red pepper flakes
To make this crockpot quinoa chili more mild, reduce or omit the cayenne pepper.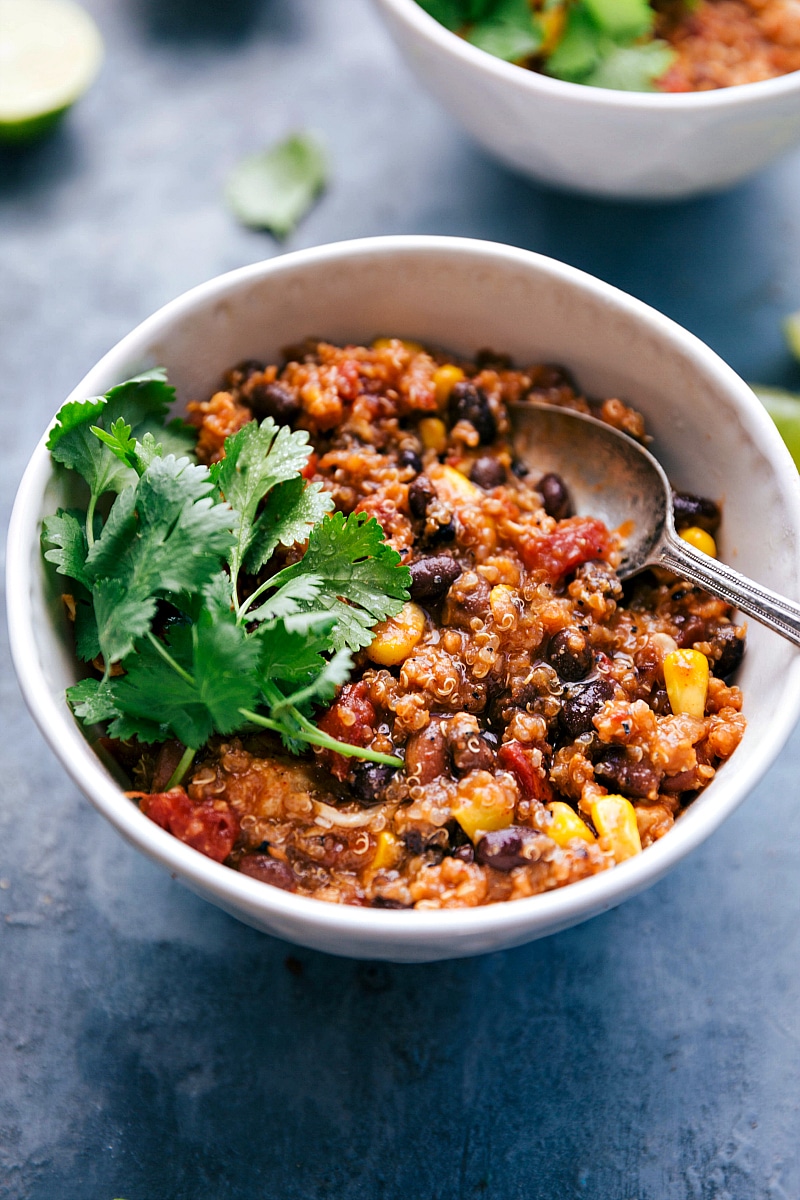 More easy crockpot recipes: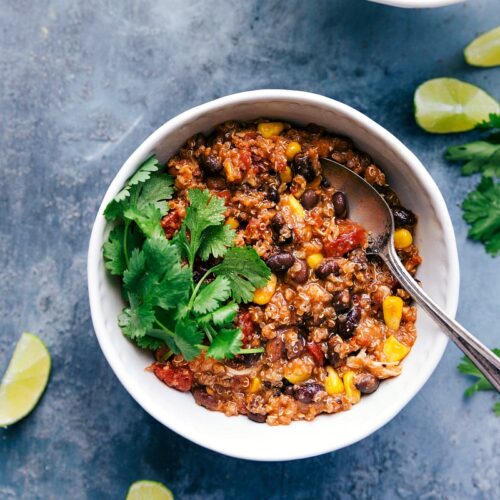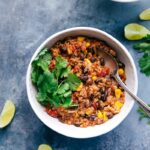 Crockpot Quinoa Chili
Simple (dump it all in and forget about it) crockpot quinoa chili. No veggie chopping or pre-cooking of anything required; open cans and throw it all in! The easiest crockpot dinner that's packed with flavor and healthful ingredients.
Cuisine:
American, Mexican
Keyword:
crockpot quinoa chili
Ingredients
3/4

cup

white quinoa

1

can (15 ounces)

black beans

drained and rinsed

1/2

pound (8 ounces)

boneless skinless chicken breast

1

tablespoon

chili powder

1

teaspoon

ground cumin

1/4

teaspoon

cayenne pepper

1/2

teaspoon EACH:

onion powder, garlic powder, paprika

3/4

teaspoon

fine sea salt

1/4

teaspoon

freshly cracked pepper

2 and 1/4

cups

salted/seasoned chicken stock

(can use chicken broth)

1

cup

frozen corn

1

can (15 ounces)

chili beans in mild sauce

(Note 1)

1

can (14.5 ounces)

fire-roasted diced tomatoes

(Muir Glen recommended)

Optional toppings: fresh lime juice, chopped cilantro, sour cream, cheddar cheese
Instructions
Line your crockpot with a crockpot liner OR spray with cooking spray. Thoroughly rinse the quinoa in a fine mesh sieve to remove the bitter saponin coating. Drain and rinse the black beans. Cut the chicken breast into 2-3 inch long, 1-inch thick pieces.

Add the quinoa, black beans, chicken, chili powder, cumin, cayenne pepper, onion powder, garlic powder, paprika, salt, pepper, chicken stock, frozen corn, (undrained/unrinsed) chili beans, (undrained) diced tomatoes to a large 6-quart crockpot. Cover and cook on high for 2.5 to 4 hours. (Ours is always done right at 3 hours.) Check occasionally and stir every once and a while if around.

Once the liquid is mostly absorbed, remove crockpot insert from the heat. Season to taste with any additional salt/pepper as needed or any additional seasoning. I like to add a few tablespoons of lime juice here. Shred the chicken in a separate bowl with two forks (or chop it coarsely with a knife).

Top individual bowls with favorite toppings. We top ours with a good handful of freshly grated sharp cheddar cheese, another squeeze of lime, a good spoonful of sour cream, and some chopped cilantro. Don't forget the toppings; they make this chili!
Recipe Notes
Note 1: Chili beans are something you'll find in the canned good aisle (usually among other beans) in the grocery store. They are typically pinto, red, or kidney beans in a mild chili-spiked sauce.
This recipe has been updated; to see the original version, click here 🙂