Marinated and grilled Shish Tawook (chicken on skewers) served over cooked quinoa with smooth hummus and a cool, creamy tzatziki sauce.
We like to serve Shish Tawook with freshly baked pita chips and an easy cucumber tomato salad. This recipe is loaded with flavor and good-for-you ingredients.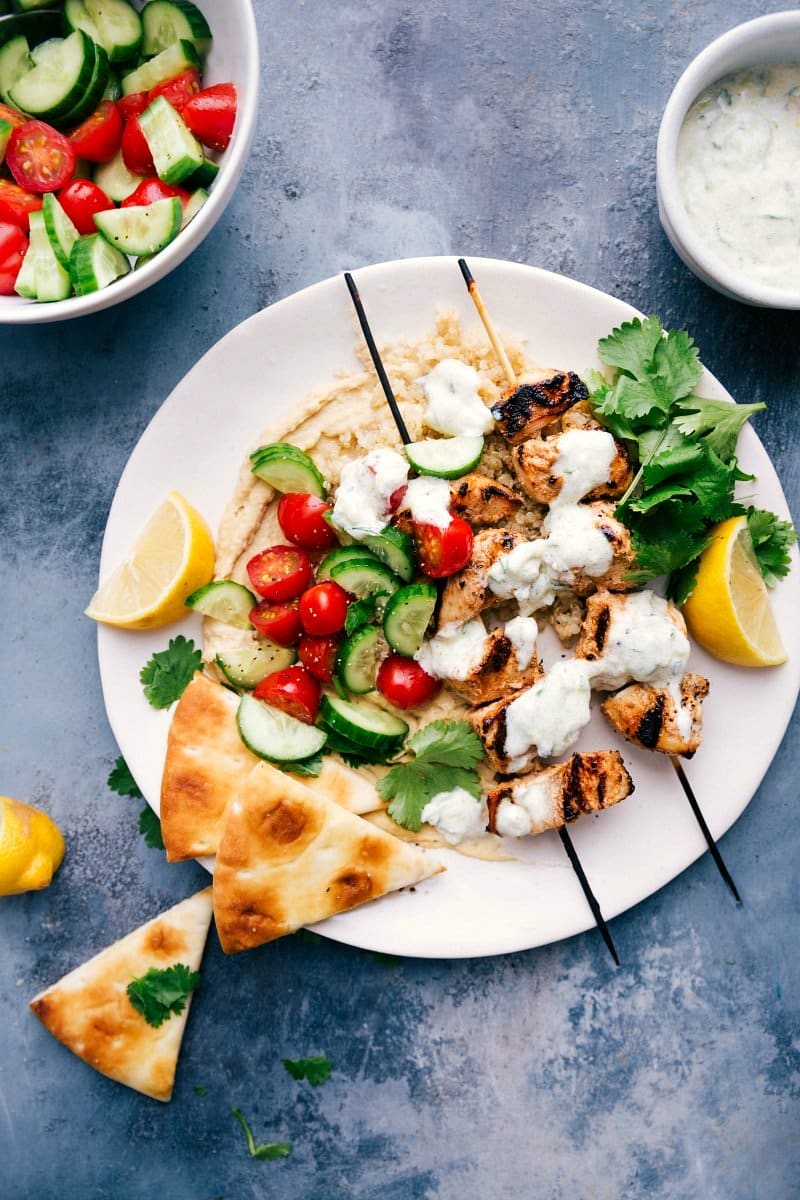 What does Shish Tawook mean?
Shish Tawook (pronounced "shish too ik" or "shish ta wook") originates from Lebanon, but the name of this dish actually comes from Turkey. Shish means skewers and tawook means chicken. So many cities around the world serve this marinated chicken shish kebab dish that it's become an international treat (Read more here).
While I claim no authenticity (at all!) with this recipe, I discovered Shish Tawook while traveling this past summer and couldn't get it out of my mind. And you know how I am when I find a great dish: it's time to create my own version!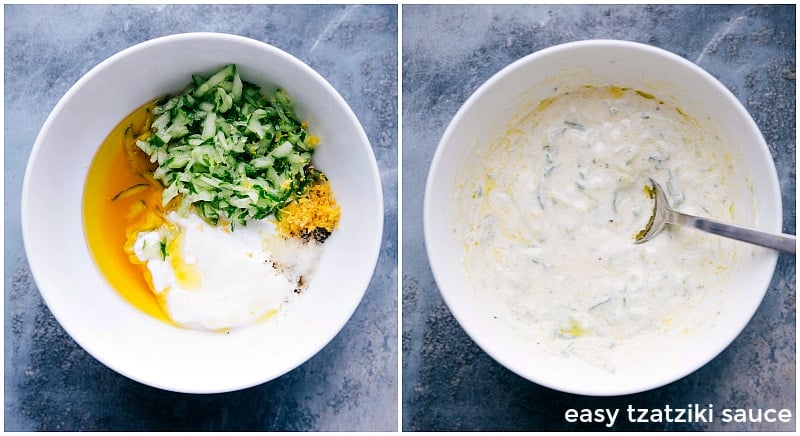 What is the difference between Shish Tawook and shawarma?
Sometimes the two are confused, since they are quite similar! The biggest difference between Shish Tawook and shawarma is the spices that are used in the marinade. Chicken shawarma relies on warmer spices (cinnamon, allspice, turmeric) and typically omits the lemon and yogurt from the marinade.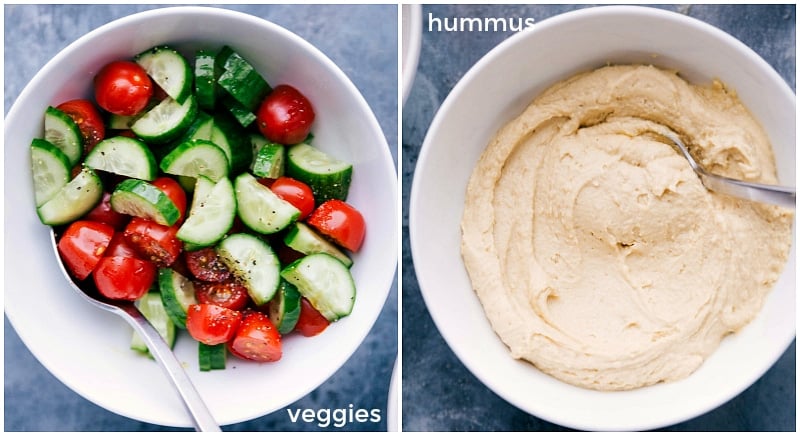 How we serve Shish Tawook
First, we marinate the chicken in yogurt, lemon, oil, tomato paste, garlic, and then liberally season with a myriad of spices. After marinating, we grilled it (indoor or outdoor grill) and you're left with the most tender, juicy, and flavorful chicken. This is truly one of the tastier chicken kabobs around!
Traditional Shish Tawook pairs with toum (a garlic paste sauce), hummus, and tabbouleh. I love it with hummus (and definitely recommend serving it with some), but we prefer it with tzatizki instead of the toum (Although, feel free to use either–or both!).
We also love serving the chicken with baked pita chips (although regular pita is great too), all on a bed of quinoa with cherry tomatoes and Persian cucumbers for a crunchy finish. One bite of this dish and you're going to add this recipe added to your dinner rotation! It's become one of my all-time favorite recipes.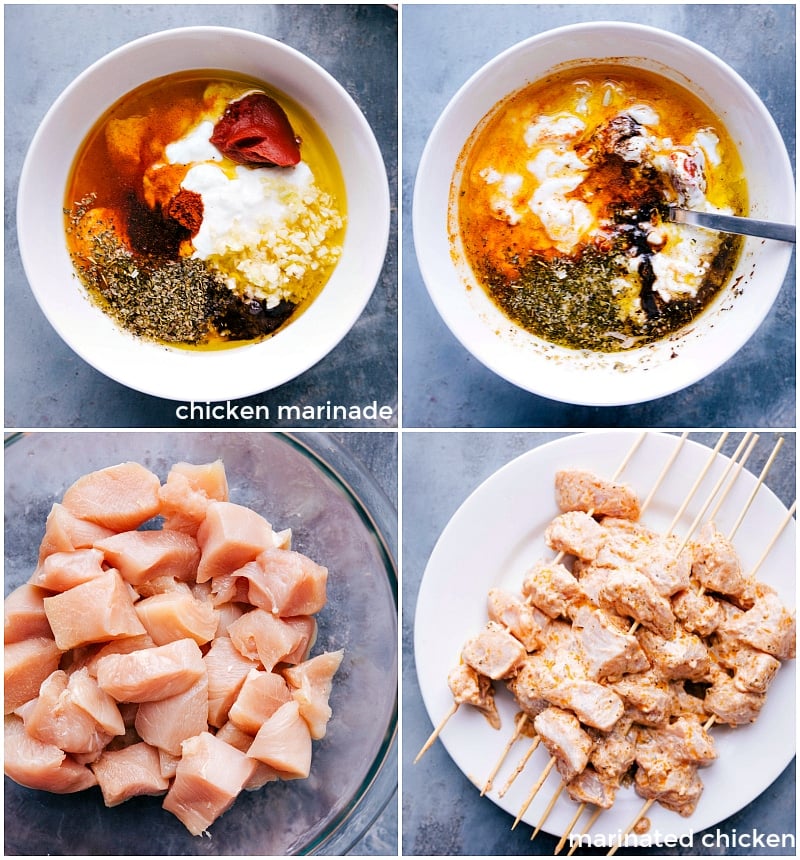 Recipe tips
Use good, quality ingredients. Quality ingredients make a world of difference (as with most dishes). Make sure to get good yogurt (I love Greek Gods®), Persian or English cucumbers, and I recommend squeezing lemons to get fresh lemon juice as well as using fresh garlic cloves (rather than the pre-minced type).
Hummus: You can prepare your own hummus, but I recommend buying it so this dish doesn't become overly complex. Pick a good store-bought hummus or use your favorite homemade recipe.
Tzatziki: I recommend preparing this sauce while you're working on the chicken. The longer this sauce can sit in the fridge, the more time it has to develop deeper flavor. It also makes throwing everything together when you're ready to eat that much easier.
Foil: When you take the Shish Tawook off the grill, immediately cover it with foil to trap the moisture and give you even juicer chicken.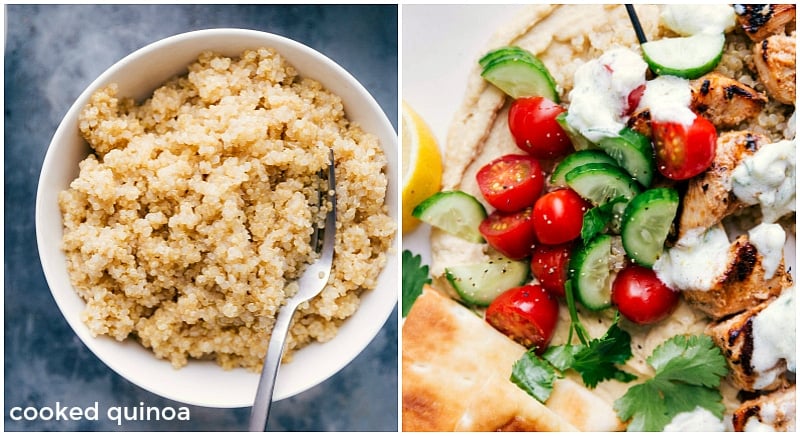 Is Shish Tawook healthy?
When you look at the nutrition facts for this recipe(below), keep in mind that the numbers reference the chicken, marinade, and quinoa since the other additions to the bowl will vary greatly from product to product. Also note that not all the marinade is consumed so numbers are slightly inflated. Shish Tawook is a great healthy recipe with wholesome, good ingredients!
Quick recipe note
While the ingredient list is fairly long, many of the ingredients overlap. They're written out twice for clearer reading. And despite the many components, Sihsh Tawook really does come together quickly, because you can prepare the chicken and tzatziki sauce up to a day in advance. Then, when it's time to put it together, it falls into place easily.
More easy chicken dishes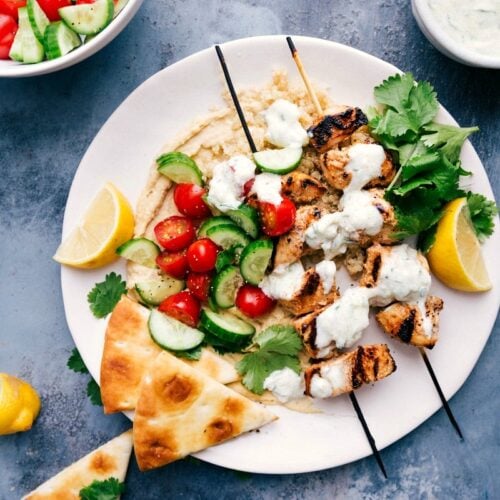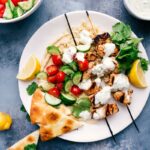 Shish Tawook
Marinated and grilled Shish Tawook (chicken on skewers) is served over cooked quinoa with smooth hummus and a cool, creamy tzatziki sauce.
Course:
Dinner, Main Course
Cuisine:
Lebanese, Mediterranean
Keyword:
chicken tawook, shish tawook
Ingredients
Chicken
1

large

juicy lemon

(1/4 cup juice)

1/4

cup

olive oil

(or vegetable oil)

3/4

cup

plain full fat yogurt

5

cloves

garlic,

finely minced

1

tablespoon

tomato paste

1/2

tablespoon

red wine vinegar

1

teaspoon

dried oregano

1/2

teaspoon

ground paprika

1/4

teaspoon

ground allspice

2

pounds

skinless boneless chicken breasts,

cut into even 2 inch pieces

Fine sea salt and freshly cracked pepper
For Serving
1

cup

uncooked quinoa + 2 cups water or chicken broth

(See Note 1)

1

10-ounce container

hummus

(or make your own)

3

Persian cucumbers,

(or 1 large English cucumber) halved and then thinly sliced

1

cup

cherry tomatoes,

halved
Pita Chips (Optional)
4

pieces

white pita bread

3

tablespoons

olive oil
Tzatziki Sauce
1

Persian cucumber (or 1/3 of 1 English cucumber)

(1/2 cup grated)

1/2

cup

plain full fat Greek yogurt

1

teaspoon

minced garlic

1 and 1/2

teaspoons

red wine vinegar

1

large

lemon

(1/2 teaspoon zest and 1 tablespoon juice)

1 and 1/2

tablespoons

olive oil
Instructions
MARINATE CHICKEN: Prepare the chicken breasts by patting dry with paper towel, cutting into even 2-inch pieces and placing in a large bowl. In a separate bowl, combine all the marinade ingredients: 1/4 cup lemon juice, 1/4 cup olive oil, 3/4 cup yogurt, 5 cloves of finely minced garlic, 1 tablespoon tomato paste, 1/2 tablespoon red wine vinegar, 1 teaspoon oregano, 1/2 teaspoon paprika, 1/4 teaspoon ground allspice, salt and pepper (to taste; about 1 and 1/2 teaspoons salt and 1/4 teaspoon pepper). Whisk until combined and then pour over the chicken. Stir to generously coat the chicken, cover, and chill. Marinate for 2-24 hours.

TZATZIKI: After making the chicken marinade, make this sauce so it can chill and flavors can develop before serving. Grate a cucumber with the large holes of a cheese grater. Line a small bowl with a few paper towels (or clean kitchen towel) and place the grated cucumber on top. Squeeze as much extra moisture from the cucumber as you can (to keep the sauce from being watery). Once it's drained, place in a medium-sized bowl. Add in the Greek yogurt, minced garlic, red wine vinegar, 1/2 teaspoon lemon zest, 1 tablespoon lemon juice, olive oil, and salt and pepper to taste (about 1/4 teaspoon salt and a pinch of pepper). Place in the fridge until ready to serve. Whisk with a fork right before serving.

COOK CHICKEN: Preheat an indoor or outdoor grill for medium-high heat (400-450 degrees F on an outdoor grill) and generously oil the grates. Thread the chicken onto metal or pre-soaked wooden skewers). Cook on preheated grill until the chicken is golden and no longer pink in the center, about 5 minutes per side.

PITA CHIPS AND TOMATO/CUCUMBER: Preheat the oven to 400 degrees F. Line a large baking pan with Silpat liner or parchment paper. Cut each pita into 8 triangles and arrange evenly on the prepared baking sheet. Drizzle olive oil over the triangles and then use a pastry brush to spread the oil evenly onto the pita bread. Flip the bread and repeat. Sprinkle with salt (about 1/4 teaspoon). Bake for 10 minutes, flipping the pita bread on the other side halfway through bake time. Serve warm with the chicken. For the tomato/cucumber salad, add the halved tomatoes and thinly sliced cucumbers halves to a bowl. Drizzle on a little olive oil and sprinkle on some salt and pepper (to taste).

ASSEMBLE: With the back of a spoon, spread hummus on the base of 4 large plates. Divide the cooked quinoa evenly among the plates. Divide chicken skewers evenly among the plates. Top with tomato/cucumber, and finally drizzle even parts of tzatiki sauce (or serve on the side) over plates. Divide up the pita chips. Season individual plates with salt, pepper and lemon juice as needed. Serve immediately.
Recipe Notes
Note 1: to cook the quinoa: add the quinoa, broth or water, and 1/2 teaspoon fine sea salt to a small pot. Bring to a boil and then reduce the heat to low and cover the pot. Simmer for 10-15 minutes or until all the broth/water is absorbed. Remove from heat, keeping the pot covered, and let stand for 5-10 minutes. Remove the lid and fluff with a fork.
Recipe adapted from AllRecipes.