A simple (30-minute) black pepper chicken stir fry with veggies and a delicious peppery stir fry sauce. Today I'm sharing how to serve this black pepper chicken over chow mein noodles or rice!
Serve this black pepper chicken alongside our favorite Asian cucumber salad!

My family will make fun of me for how much I love black pepper. I'll add "normal" amounts to whatever I'm making and then add a few extra dashes to my own plate. So naturally black pepper chicken is one of favorite things to eat. This quick stir fry recipe of black pepper chicken is loaded with flavor, but very simple to make. It's quickly become a family favorite!
The pepper does make this dish a bit spicy, but it's easy to adjust to personal preferences. We've made this stir fry over noodles and over rice and love it both ways; today I'm sharing how to prepare either 🙂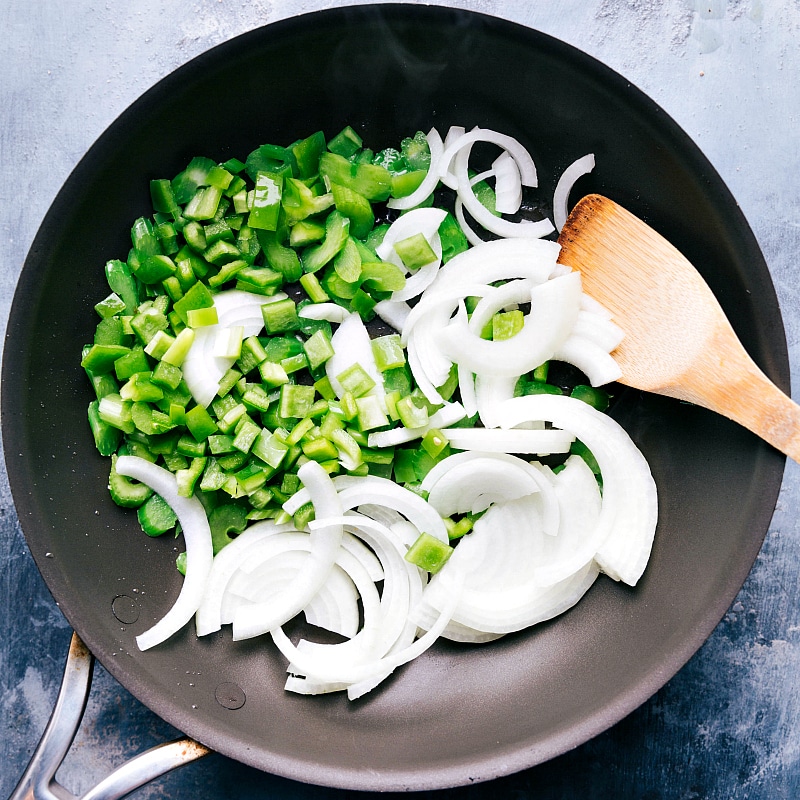 How to make black pepper chicken
This recipe is incredibly easy and QUICK to make. Once the veggies and chicken is all prepped out, the actual cook time is very fast.
Prep veggies: thinly slice/chop all the veggies: the pepper, celery, garlic, and ginger.
Prep sauce: all the sauce ingredients get whisked together in a liquid measuring cup or small bowl and set aside.
Cook noodles OR rice: follow package directions to prepare the noodles and then rinse in cold water. Alternatively prepare rice instead.
Now that everything's prepped, it's time to cook! Start with the veggies and then the chicken.
Add the sauce, toss to combine, and enjoy!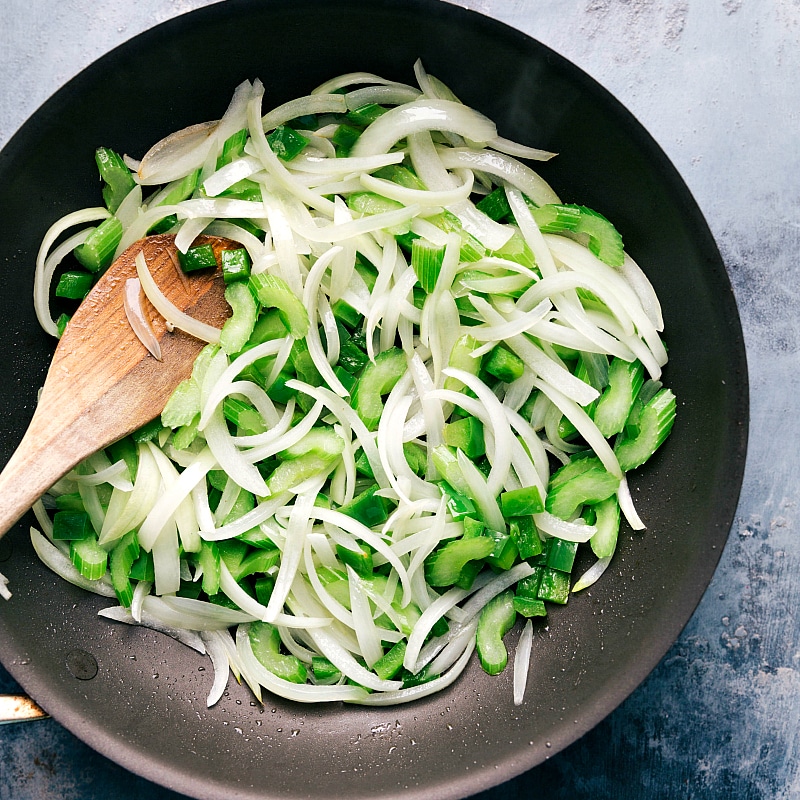 Make this black pepper chicken stir fry with rice or noodles
To make this black pepper chicken stir fry with rice:
Reduce the chicken broth/stock to 1 tablespoon
Remove the noodles entirely from the recipe (prepare rice separately)
Serve stir fry over rice 🙂
To make this black pepper chicken stir fry with noodles:
Cook chow mein noodles (click the link to see what I use) separately for 1 minute less than the container says, drain, rinse and in cold water
Increase the chicken broth or stock from 1 tablespoon to 1/3 cup
Toss the noodles along with the sauce to get everything nice and coated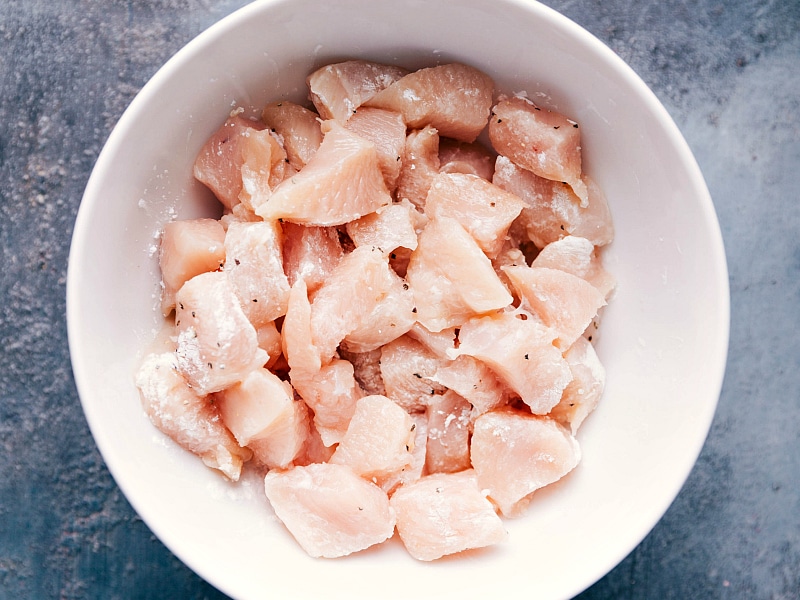 The "secret" to ultra tender chicken breast
Chop the chicken into small bite sized pieces (smaller the pieces = more even dispersed chicken throughout the dish and quicker to cook) and toss with baking soda.
Let stand for 15-20 minutes and then rinse the chicken in a strainer in cold water to get all the baking soda off.
Dry the chicken pieces with paper towel and then it's ready to use in this recipe!
While this is an optional step, it keeps the chicken super tender and sleek! Thanks to Cooks Illustrated for this tip!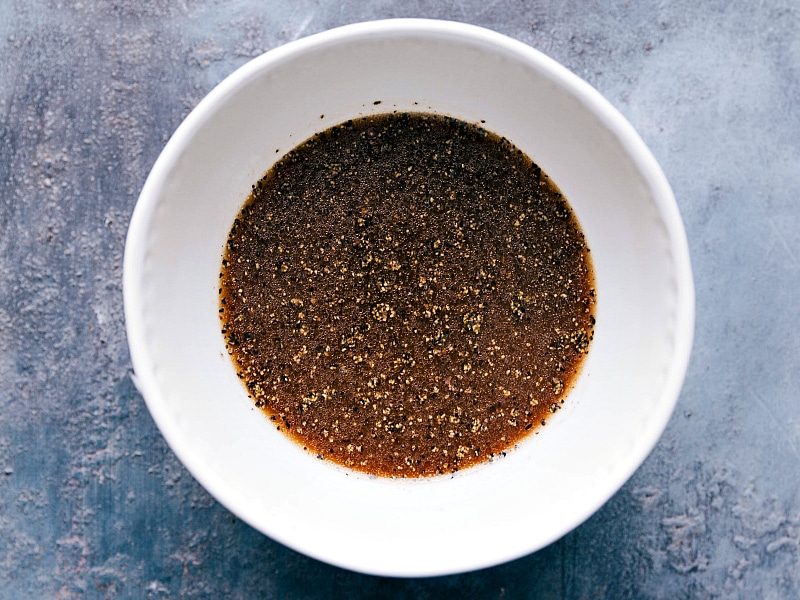 Black pepper chicken sauce ingredients
Cornstarch: just a little for thickening
Soy sauce: avoid dark or sweet soy sauce, use regular or lite
Oyster sauce: this gives an amazing depth of flavor (don't skip it!) Typically found on the international aisle with other Asian sauces and condiments.
Chicken stock: I prefer flavor of stock, but broth also works here. Use low sodium if worried about salt!
Honey: just a little to balance everything out. You can use brown sugar instead (1 tablespoon).
Rice vinegar: adds the perfect tang to the sauce
Sesame oil: adds a great authentic flavor
And of course black pepper (geek out on black peppercorns here) Make sure you're using freshly cracked pepper or a coarse ground black pepper for the best black pepper chicken.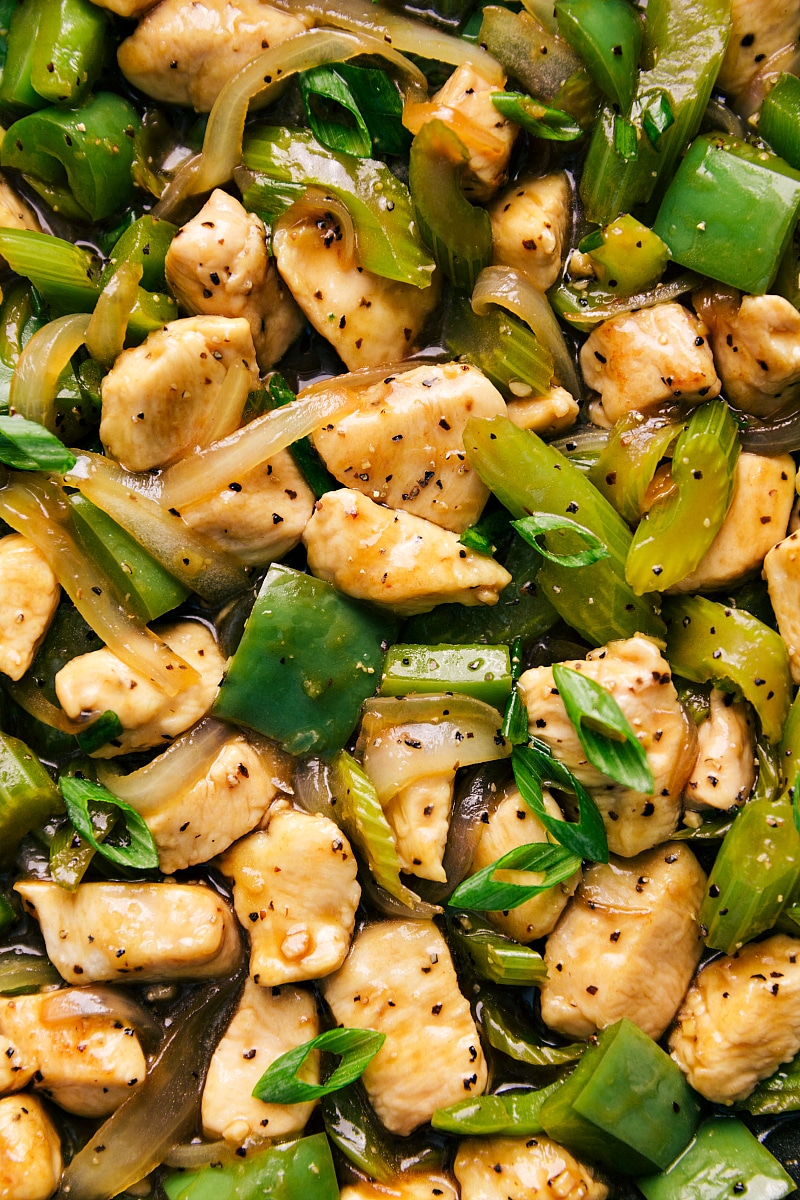 More delicious chicken dinners: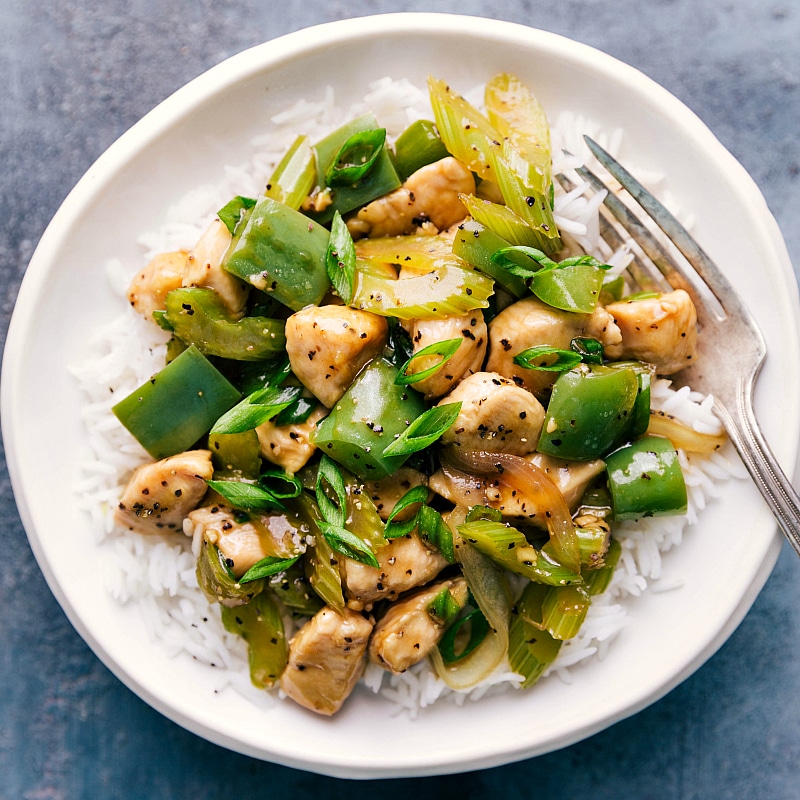 Quick recipe tip
It's important the veggies are chopped to even sizes so everything will cook through in the right amount of time. If the veggies are too big or thick, they'll take longer to cook and the chicken will likely be overdone. Also note that we're aiming for crisp tender veggies; you want the celery, pepper, and onion to still have some "bite" to them in this black pepper chicken.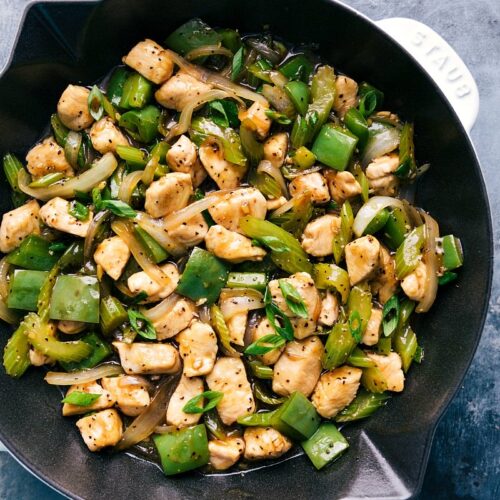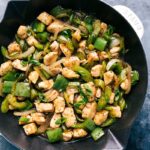 Black Pepper Chicken
A simple (30-minute) black pepper chicken stir fry with veggies and a delicious peppery stir fry sauce. This meal can be ready in 30 minutes or less!
Keyword:
Black Pepper Chicken
Ingredients
1/2

pound

boneless skinless chicken breasts (can use thighs)

(cut into small bite-sized pieces)

3/4

teaspoon

baking soda,

optional ingredient

Salt and pepper

1/2

teaspoon

cornstarch

1

cup

green bell pepper

(~1 large pepper)

1

cup

thinly sliced (on the bias) celery

(~3 stalks)

1

cup

thinly sliced yellow onion

(~1/2 large onion)

2

teaspoons

fresh ginger

minced (~1 inch piece) Note 1

2

teaspoons

garlic cloves

minced (~2 large cloves)

1 and 1/2

tablespoons

vegetable oil

Serve over: cooked white rice OR with cooked chow mein noodles

Note 2

Optional: fresh sliced green onions to top stir fry with
Sauce
1

teaspoon

cornstarch

2

tablespoons

lite soy sauce

2

tablespoons

oyster sauce

1

tablespoon

chicken stock

(chicken broth works) Note 2

2

teaspoons

honey

1

tablespoon

rice vinegar

1/2

teaspoon

toasted or plain sesame oil

Freshly cracked pepper (1/2 to 2 teaspoons depending on heat preference/tolerance)
Instructions
CHICKEN PREP: Chop the chicken into small bite-sized pieces. (This step is OPTIONAL, but will ensure super tender chicken): Place in a small bowl and toss with baking soda. Place in the fridge, covered, for 15 minutes. After 15 minutes, place chicken in a fine mesh sieve and rinse thoroughly in COLD water. Pat dry with paper towels and use in this recipe! (This step is optional; you can simply chop the chicken and use like that.)

Toss chicken with salt, pepper (to taste, I add about 1/4 teaspoon each) and 1/2 teaspoon cornstarch.

VEGGIE PREP: prepare the ingredients because the cooking goes fast: Chop the pepper into small bite-sized chunks, thinly slice the celery on the bias (diagonal) (Hold your knife diagonally across the celery stalk, and thinly slice. This helps obtain more area to brown the celery as well as to reduce the cooking time) Thinly slice the yellow onion. Mince the ginger. Mince the garlic.

SAUCE PREP: in a small bowl add remaining 1 teaspoon cornstarch and soy sauce. Whisk with a fork until completely smooth. Stir in the oyster sauce, chicken stock, honey, rice vinegar, and sesame oil. Add pepper to taste (I would start with 1/2 teaspoon and go up to 2 teaspoons -- all depends on the type of pepper you have and personal heat preferences or tolerances; start with less, you can always add more.). Whisk until smooth. Reserve for later.

COOK: Add vegetable oil to a large skillet pan and put over high heat. Add the bell pepper, onion, and celery. Cook for 5-8 minutes or until crisp tender (still have a bite to them, but not hard and not soggy). And in the garlic and ginger. Be very careful to make sure neither burn -- only cook for about 20 seconds. Now transfer veggies to a plate and set aside. Add chicken to the skillet (adding an additional tablespoon of oil IF needed) and stir constantly for about 2-4 minutes or until both sides are lightly browned (not fully cooked through; time will vary depending on size of chicken chunks).

COOK CONT.: Return all the cooked veggies and the sauce mixture (give the sauce a quick stir before adding in case ingredients have settled). Toss with tongs for 1-3 minutes or until sauce has slightly thickened and chicken is fully cooked through. Garnish if desired with green onions. Taste and adjust seasonings to taste adding more salt if needed and pepper if desired.

ENJOY: Enjoy immediately served over cooked white rice or with cooked chow mein noodles.
Recipe Notes
Note 1: Garlic/Ginger: I recommend using fresh of both ingredients so neither burn at the high cooking heats. Jarred or paste garlic and ginger cook much quicker at a high heat.
Note 2: if you'd like to serve this stir fry with noodles instead of rice, cook 6 ounces of chow mein noodles (I use WEL-pak) for 2 minutes in boiling water. Drain and rinse in cold water. Increase the chicken stock/broth in the sauce to 1/3 cup. Add the cooked noodles back in when you add in the sauce. Toss with tongs for an extra minute.
Nutrition Facts do not include rice or noodles.
With noodles: