So delicious and healthy (plus super easy), with toasted coconut and honey, Almond Granola is great to top off a parfait, mix in cereal, or just eat plain!
We're obsessed with this honey-almond variation on regular granola; some other flavors to try next are peanut butter granola or this chocolate granola.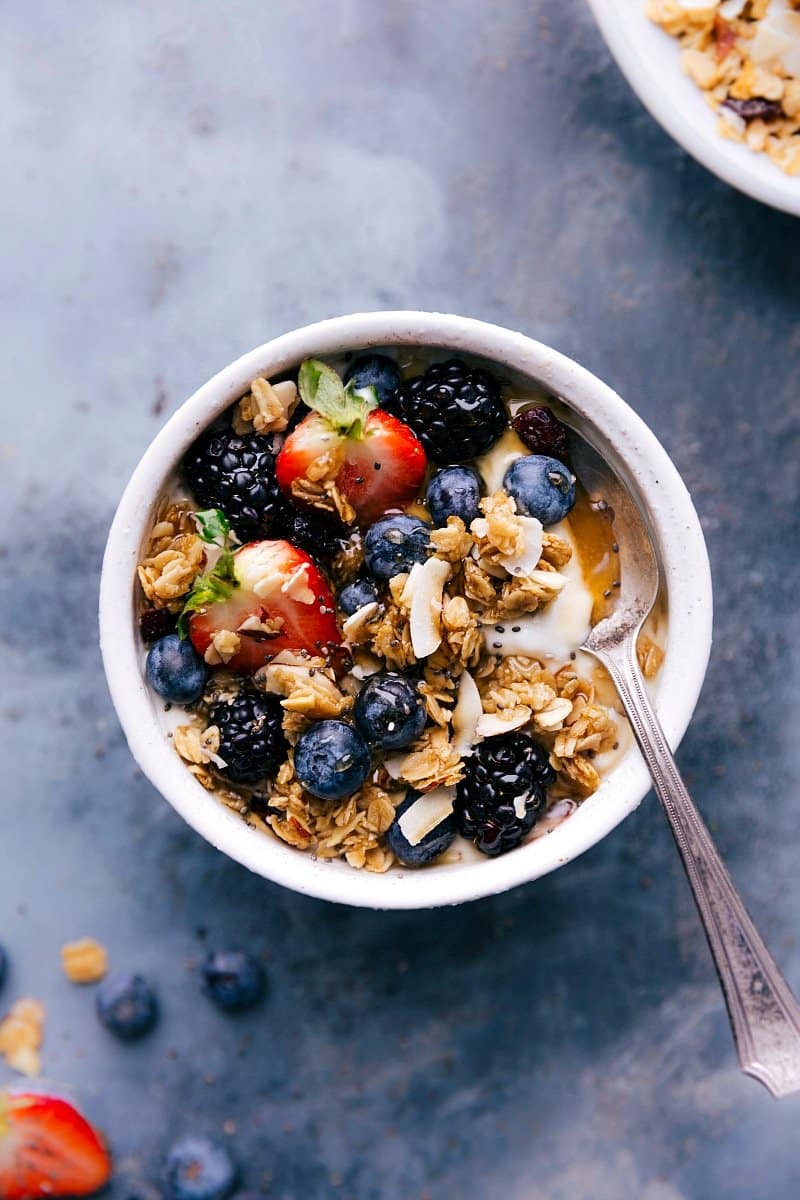 How to use Almond Granola
This Almond Granola is my husband's favorite! When we lived in Australia, he traveled up to five days a week for work, so I'd make a big batch of this granola and these healthy blueberry muffins for him to take on the go. With his busy schedule and lots of flights, I wanted him to have a few snacks he loved. Sometimes I'd make a double batch of Almond Granola so it would actually last the four or five days he was gone.
This granola is incredible on its own as a snack and it makes a delicious addition to a parfait, yogurt bowl, or açaí bowl. We even like it for cereal with some milk poured on top.
And if you're wanting to go further than the above ideas, here's a list of 34 other ways to use your homemade granola.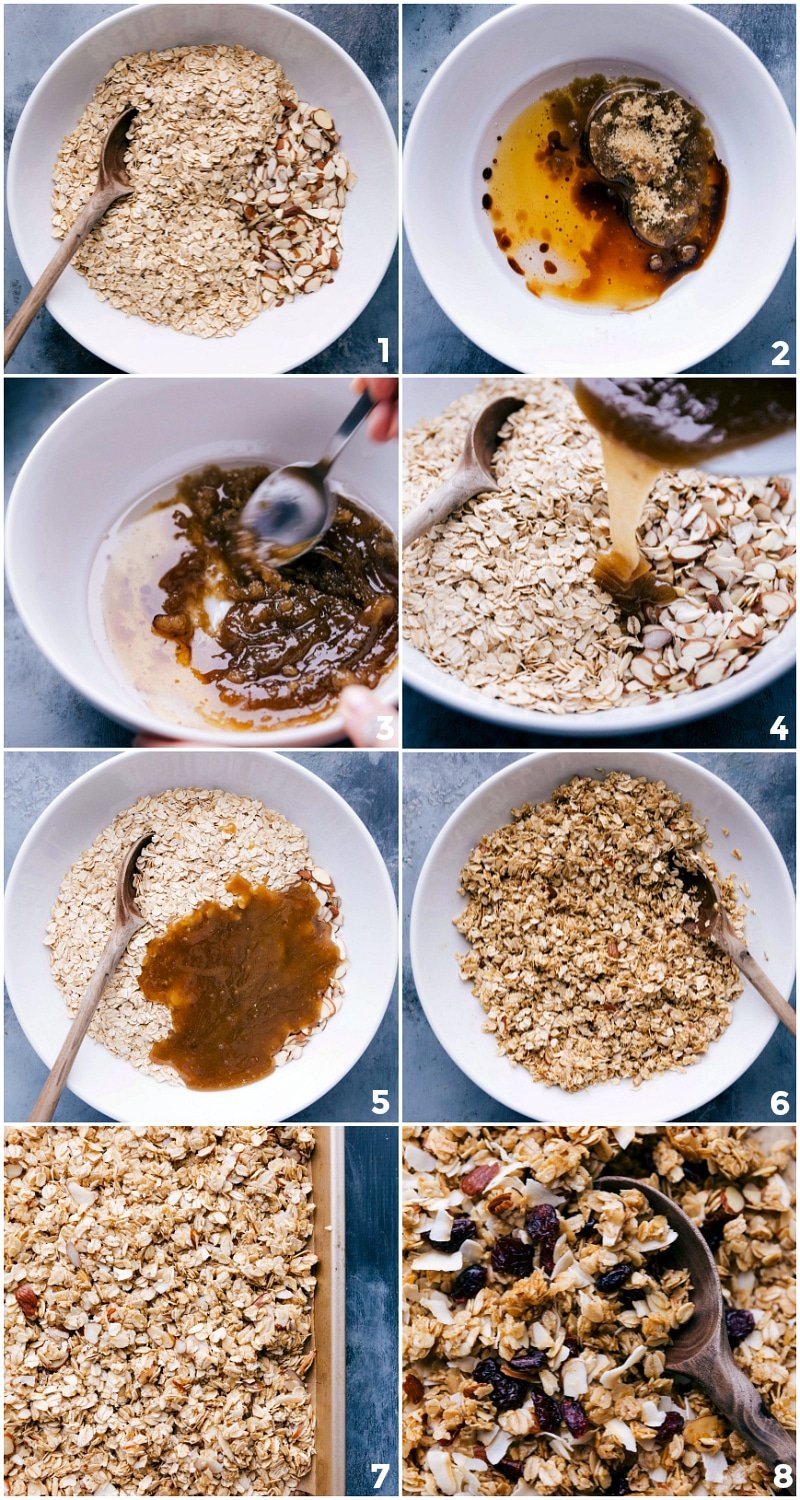 How to make Almond Granola
The collage of photos shows a quick overview of how to make this recipe. The numbered photos above correlate with the descriptions below.
Combine the oats and sliced almonds in a large bowl.
Add all the wet ingredients to a bowl: Coconut oil, brown sugar, honey, vanilla, and salt.
Stir to combine the wet ingredients until smooth.
Pour over the oats and almonds.
Scrape out every bit of the wet ingredients into the dry.
Stir until all the oats and almonds are well coated.
Spread out on a lined baking sheet and bake.
Toss cooled almond granola with toasted coconut flakes and dried cranberries or cherries.

Variations
Make this almond granola your own! Below are some ways to change it up to your preference.
Different dried fruit: Dried sweet or tart cherries are a delicious alternative to dried cranberries. Or try a different dried fruit like raisins, dried chopped mango, currants etc.
Add mini chocolate chips: If you love chocolate in granola, add 1/2 cup miniature chocolate chips to the cooled and hardened granola.
Switch up the nuts: Obviously this is almond granola, but really any nut works here. Walnuts, pecans, pistachios, etc. are all great; just make sure to give the nuts a quick coarse chop before adding them in.
Leave out the coconut: If you aren't a fan of coconut, this granola is totally fine without it (no other changes necessary).
Add seeds: Replace 1/4 cup of the almonds with sunflower seeds or pumpkin seeds.
Add a sprinkle of sea salt: If you like sweet and salty, add some Maldon® sea salt after pulling the granola from the oven.
More delicious snack recipes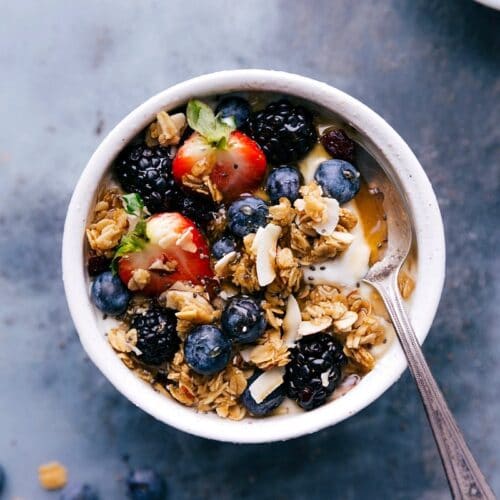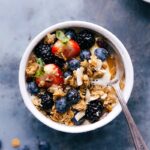 Almond Granola
Delicious and healthy (plus super easy) with toasted coconut and honey, Almond Granola is great to top off a parfait, mix in cereal, or just eat plain!
Ingredients
3

cups (291g)

old fashioned oatmeal

3/4

cup (67g)

slivered almonds

1/4 cup

+ 2 tablespoons (120g)

honey

1/3

cup (68g)

melted coconut oil

1/4 cup

+ 2 tablespoons (75g)

light brown sugar,

lightly packed

1

teaspoon

vanilla extract

1/2

teaspoon

fine sea salt

1/2

cup

toasted coconut flakes

1/2

cup

dried cranberries
Instructions
PREP: Preheat the oven to 325 degrees F. Line a large sheet pan with parchment paper or a nonstick Silpat liner and set aside. Measure out the oats and slivered almonds in a large bowl and set aside.

WET INGREDIENTS: In a medium-sized bowl, combine the 1/4 cup + 2 tablespoons honey, 1/3 cup coconut oil (measure when it's melted and not in the hardened state), 1/4 cup + 2 tablespoons brown sugar (measured lightly packed), 1 teaspoon vanilla extract, and 1/2 teaspoon salt. Whisk to combine (microwave for 10-15 seconds if needed to get to stir-able consistency). The oil tends to come to the top, but just mix until as well combined as possible.

COMBINE: Pour the honey mixture into the oat and almond mixture and stir with a wooden spoon until well combined and all parts of the oats and almonds are coated.

BAKE: Spread the granola evenly onto the prepared baking sheet. Bake for 21 minutes total, flipping and stirring the granola every 7 minutes.

LET HARDEN: Remove and allow the granola to set up at room temperature. (It may be soft and not very "granola-like", but it hardens as it dries out so be careful to not over-cook it). Once cool, stir in the toasted coconut flakes and the dried cranberries.

STORE: Store in airtight container, out of sunlight, at room temperature for 3-4 weeks (do not refrigerate). Freeze any leftovers for up to 3 months.