A delicious and healthy (plus super easy) toasted coconut and honey almond granola. This granola is great to top off a parfait, mixed in cereal, or just eaten plain!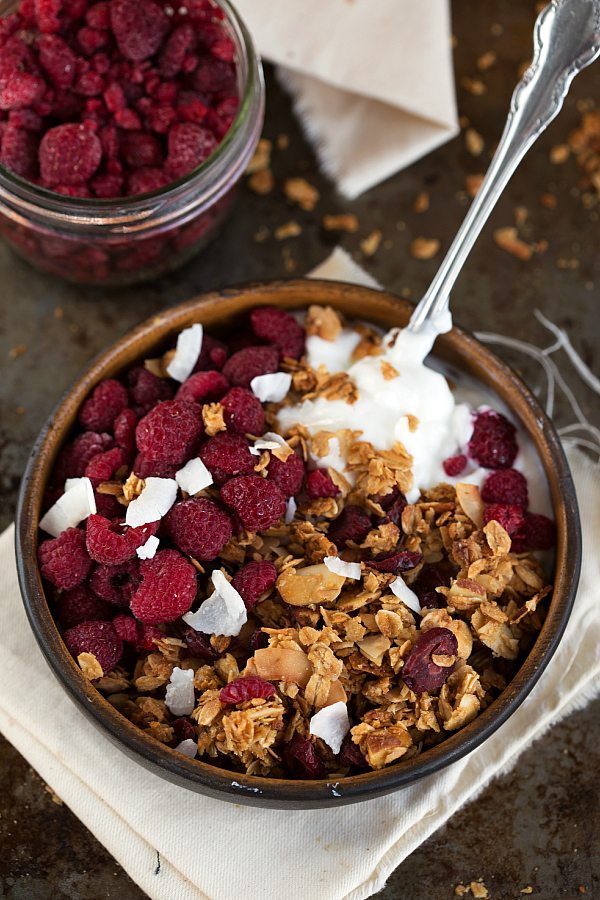 How was your New Years? Did you have a great first day of 2015?!
Mine was probably the best New Years Day I've ever had! Very late last night (thanks to several flight delays) we were able to welcome one of my very best friends, my sister, home from Helsinki, Finland! She has been there for the past 18 months serving a church mission.
Although we've been able to e-mail her weekly, the missionaries are only able to call home on Mother's Day and Christmas. Needless to say it was such a great reunion and so amazing to hear her voice and see her (and HUG) her after such a long time. I'm pretty much beside myself with excitement. It's also pretty cool to see how much she's changed. I mean, speaking a language like Finnish is one of the obvious things, but there's a lot more that I don't think I could ever articulate into words.
But speaking of Finnish, what a COOL language. All of my siblings and I probably drove her crazy with "say this in Finnish," or "how do you say this in Finnish?" or "say something else in Finnish." It's pretty fun to hear the language.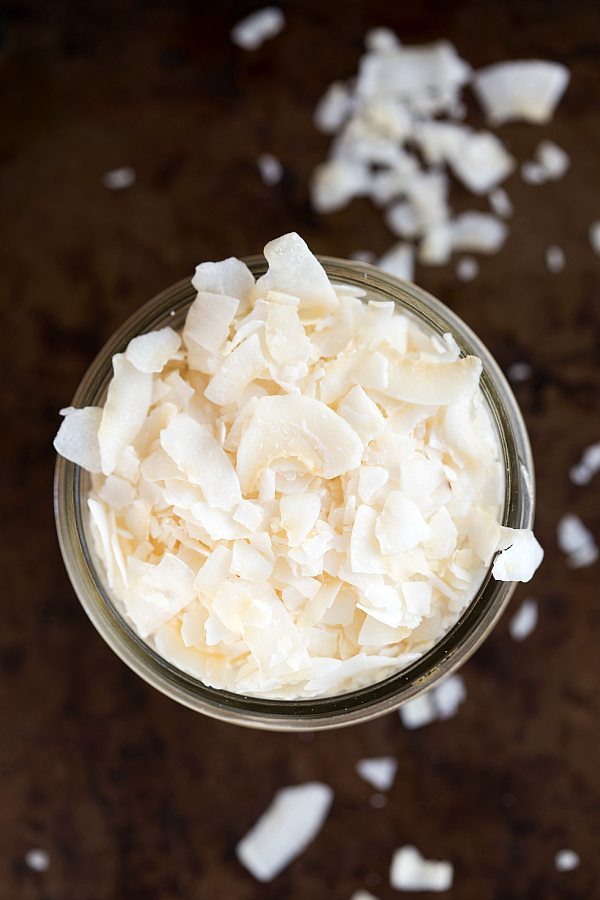 But let's talk about this granola because it's also something I'm super, super excited for! At a Christmas party this year, the husband's co-worker gave us a bag of some of the most amazing granola I've ever had in my life. I tried my hardest to save some for the husband, but it was just that good…. (Sorry babe..)
I immediately wanted to re-create it of course.
The flavor was a vanilla almond with pumpkin seeds. Vanilla almond flavored things tend to always be my favorite. Vanilla almond scented candles – you bet I have a bunch of those! Vanilla almond Special K? My favorite cereal evah. Vanilla almond granola now definitely needed to happen. As I was reading the ingredients on the back of the granola, I noticed coconut oil listed. Maybe I'm way late to the game, but I've never made a granola with coconut oil. I'm now convinced that is the secret ingredient to the best granola!
I added a tablespoon at a time alternating coconut oil and honey until the flavor to me was just perfect. After the slightly coconut taste, I knew I needed even more coconut. So coconut flakes it was. I decided to mix the flakes in with the granola before baking it so it get's lightly toasted and oh my word it's incredible. Also, in case you were wondering, I get those big coconut flakes from a health food store and the brand is Bob's Red Mill. (My favorite coconut.)
Then because I always like a little fruit or variety (usually chocolate chips, I'll be honest) in my granola, I added some dried cranberries and fell in love. This granola is officially the best I've ever had!
Plus it makes a fantastic (and healthy) breakfast to kick off this New Year!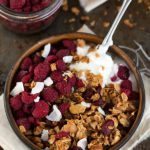 Toasted Coconut and Honey Almond Granola
Ingredients
3

cups

old fashioned oatmeal

3/4

cup

slivered almonds

6

tablespoons

honey

5

tablespoons

coconut oil

6

tablespoons

brown sugar

1

teaspoon

vanilla extract

Pinch of salt

1/2

cup

flaked coconut

1/2

cup

dried cranberries
Instructions
Preheat the oven to 325 degrees F.

Combine the oats and slivered almonds and set aside.

In a medium-sized bowl, combine the honey (measure exactly - don't overfill the measuring spoons), coconut oil (measure exactly when it's melted and not in the hardened state), brown sugar (measured lightly packed), vanilla extract, and salt.

Microwave mixture for 15 seconds and stir until well combined.

Pour the honey mixture into the oat and almond mixture and stir until well combined.

Add in the flaked coconut.

Spread the granola evenly onto a parchment lined baking sheet.

Bake for 20-30 minutes (depending on the heat of your oven) making sure to flip and stir the granola around every 6-8 minutes.

Remove and allow the granola to harden and set up. (It may be soft and not very "granola-like", but it hardens as it dries out so be careful to not over-cook it). Mine generally takes about 22 minutes and the coconut is a light brown color.

Once the granola is hardened, stir in the dried cranberries.
Here are some more healthy breakfast options:
Flourless Peanut Butter and Banana Muffins
No-Bake Healthy Breakfast Cookies