No-bake cookies packed with good-for-you ingredients and packed with protein powder. The perfect breakfast, snack, or pre-work-out treat that tastes just like a decadent cinnamon roll!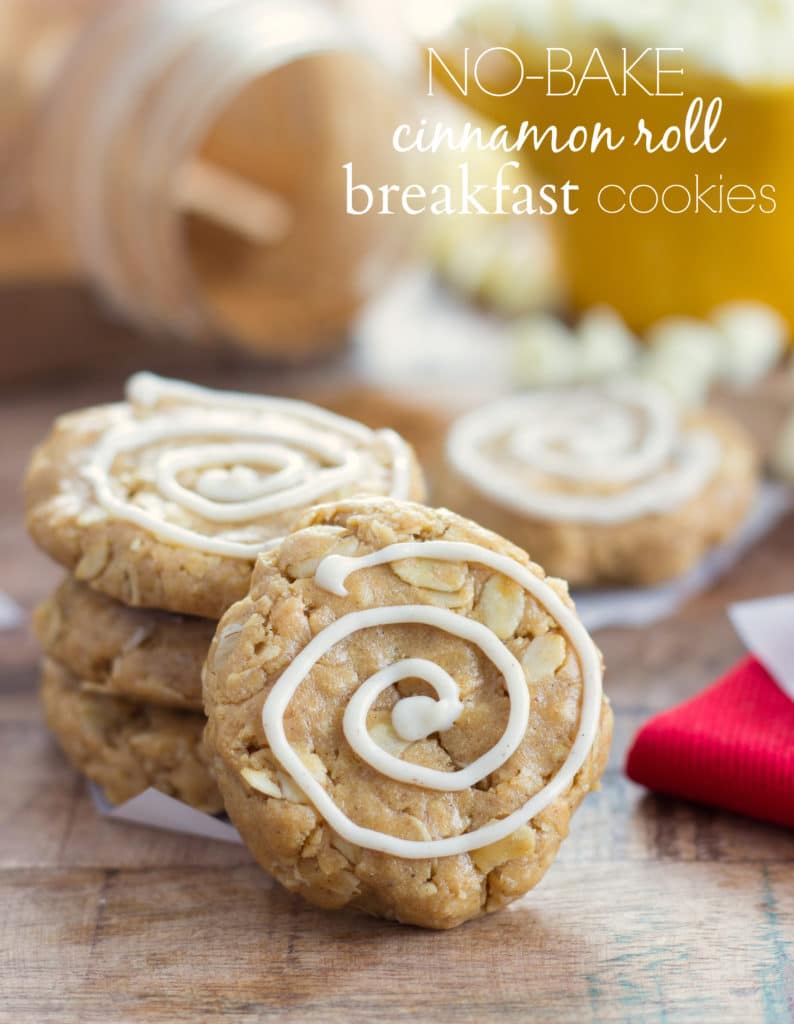 Aaaaand more healthy breakfast cookies are back. I just can't get enough of them! (Obvi.) This is the THIRD breakfast cookie recipe I've featured here. Plain peanut butter breakfast cookies were first and then came some double chocolate ones.
But, I have to admit. These ones are my favorite. I mean, they are CINNAMON-ROLL flavored people!!
And, I don't know about you, but I would love to eat like 5 cinnamon rolls every morning for breakfast, but my skinny jeans would not be so appreciative. Next best thing? Cinnamon-roll flavored breakfast cookies. And yes, my skinny jeans were so grateful I invented these.
They thanked me like twenty-eight times. And no, I'm not found in my closet talking to my skinny jeans for very long each day…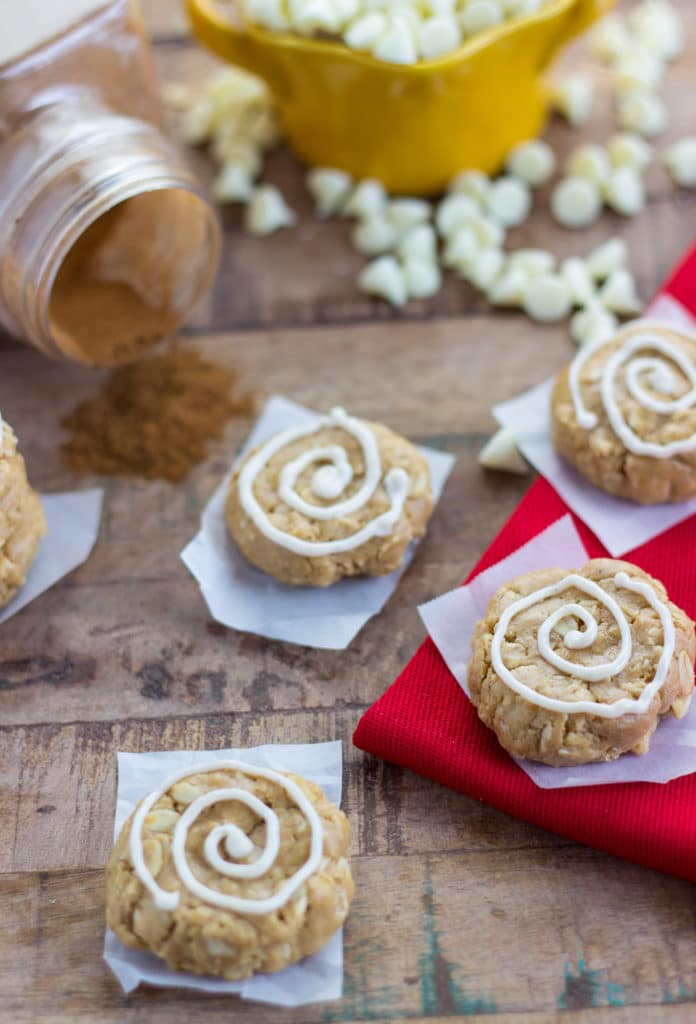 Back to these cookies. So dang good and protein packed. They have a couple different protein sources namely cinnamon bun protein powder. I know, cinnamon bun protein powder. It's preeety amazing!! And that contributes 22 grams of protein to this recipe. Then there is some peanut butter which also packs quite a bit of protein – 32 grams in the 1/2 cup I used for this recipe.
The other good ingredients in these cookies are old-fashioned oats, rice krispies, a little bit more cinnamon, some honey, and a tiny bit of vanilla extract.
And these cookies seriously take about 5 minutes to make. And that includes removing all the ingredients from your pantry and putting them back! Did I mention they are no-bake?!
The drizzle on these cookies isn't say the healthiest – so it's optional. But if these are for a snack, I'd say definitely include it! The drizzle is made from melted white chocolate and a little bit of vegetable oil. Some more of the cinnamon bun protein powder and cinnamon is added in.
I put the white chocolate mixture in a small resealable bag and then cut off the very tip so I could "pipe" the chocolate onto these cookies. You could drizzle the chocolate on a different way if you don't care about how they look 🙂
Just you wait til you try these. Not only will your taste buds be doing a happy dance, but your skinny jeans will thank you too!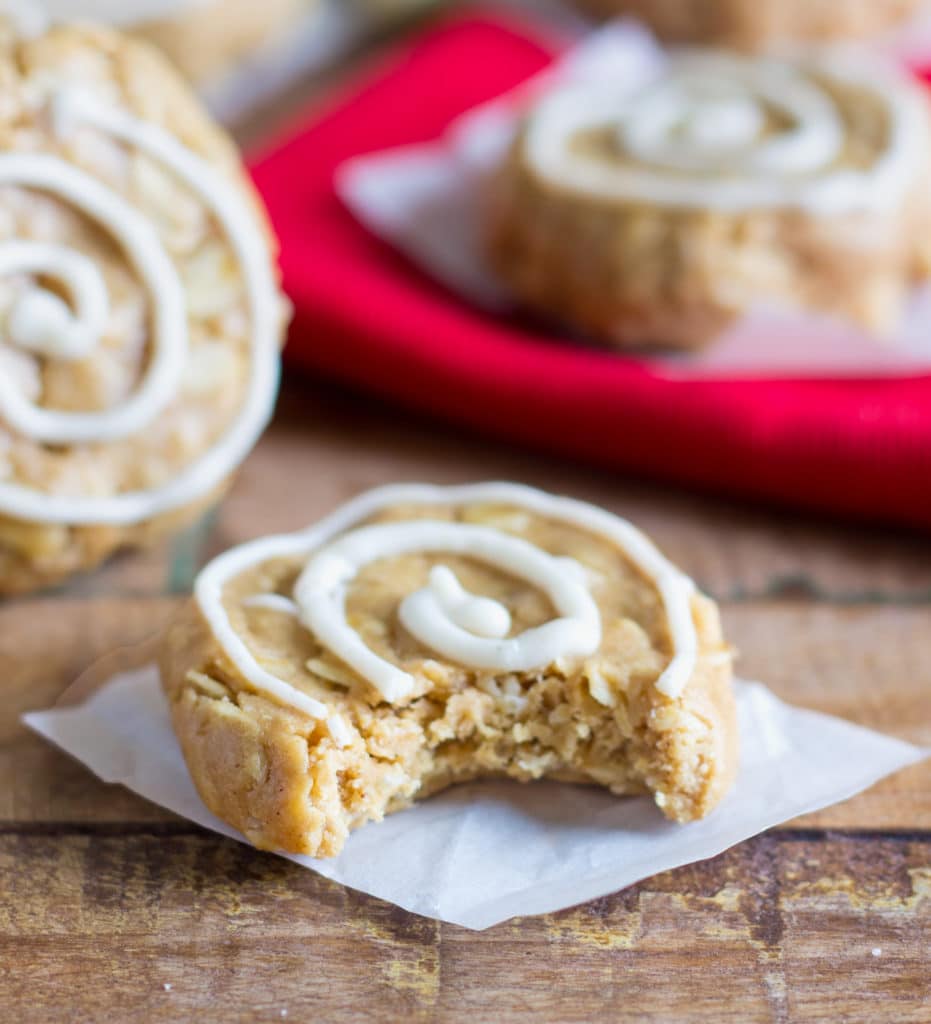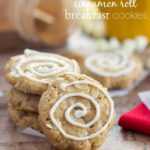 (No-bake) Cinnamon Roll Breakfast Cookies
Ingredients
Cookies
1/2

cup

creamy peanut butter

2

tablespoons

honey

1/2

teaspoon

vanilla extract

Pinch of salt

3-4

tablespoons

cinnamon bun protein powder

1/8

teaspoon

cinnamon

1/2

cup

old-fashioned oats

1/4

cup

rice krispies cereal
Drizzle
3

tablespoons

white chocolate chips

1

teaspoon

vegetable oil

1

teaspoon

cinnamon bun protein powder

Pinch of cinnamon
Instructions
Cookies:
In a small microwavable bowl, combine the peanut butter and honey.

Microwave for about 30 seconds and then stir until completely combined. Stir in the vanilla extract, salt, protein powder, and cinnamon. Mix well.

Add in the old-fashioned oats and rice krispies cereal. Mix until completely combined.

Separate "dough" into small balls and form cookies.
Drizzle
In a small microwave-safe bowl, combine the white chocolate chips with 1 tsp. vegetable oil. Microwave for 30 seconds, remove and stir and return to the microwave in 15 second increments until melted.

Stir in the protein powder and cinnamon.

Pour white chocolate mixture in a small bag and cut off the very tip with scissors. Pipe the white chocolate in a circle or however you would like over the cookies.