An easy, delicious, wholesome dinner of herb and parmesan pasta, ground Italian sausage & broccoli all made in just ONE pan.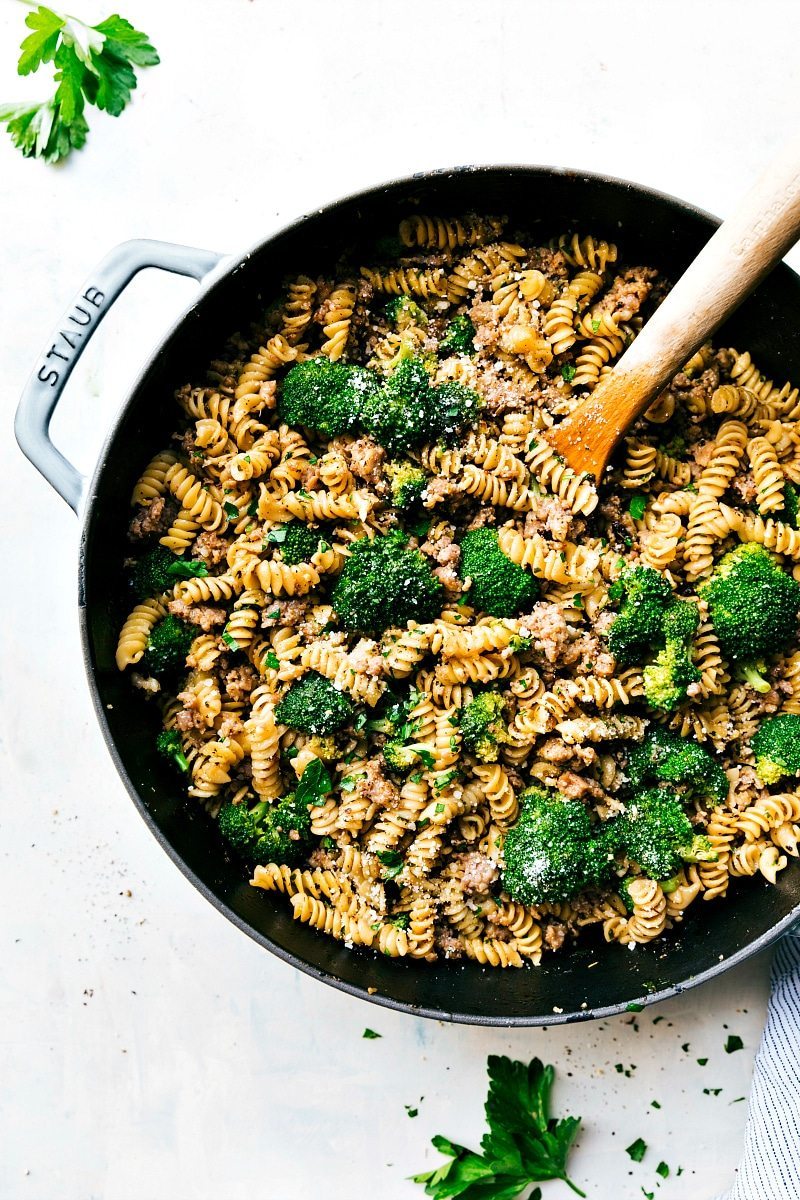 It's been FAR too long since I've shared a one pan pasta dish. But, luckily, the wait was worth it! This dish is crazy good and is packed with tons of flavor while still staying on the lighter side. Which, I don't know about you, but after one too many Christmas cookies, I'm ready for some more veggies!
This one pan pasta is a feel-good comfort food WITHOUT the heavy creams or cream-based sauces. Instead, there are a variety of herbs that make up the base flavor of this dish. With all those herbs, the spicy Italian sausage, and the parmesan cheese, you'll find there's tons of flavor with far less calories.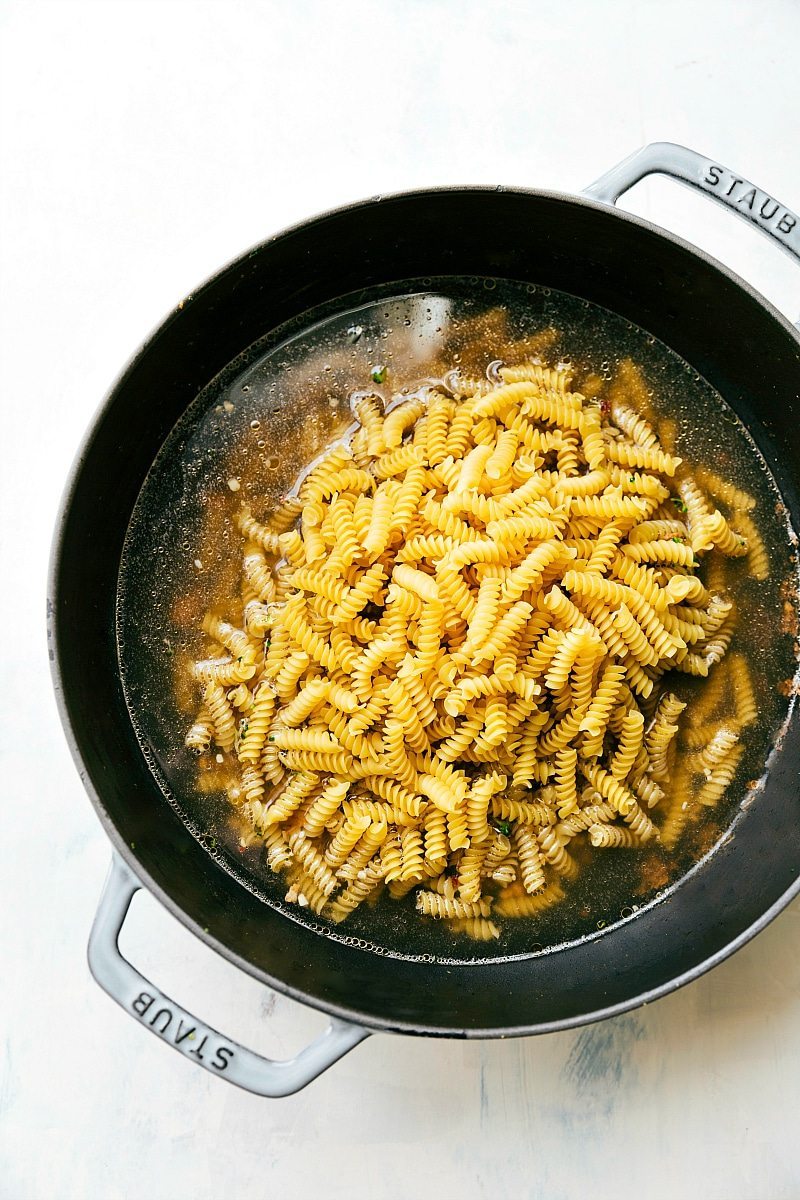 One of the best parts about this dish though? The pasta is specifically MADE for this kind of meal! I'm super excited about the product I'm using in this dish — Barilla Pronto pasta — the pasta takes just 10 minutes, can be done in 1 pan, and has NO need to wait for boiling water. If that doesn't scream convenience and ease, I don't know what does 🙂 You literally can pour cold water (or in this recipe's case — chicken stock/broth) over the noodles and they will be completely cooked in 10 minutes or less.
The pasta is able to maintain its shape, texture, and taste to deliver an awesome end product. What's also great, is there is no straining required! The chicken stock/broth is absorbed by the pasta in just 10 minutes. Simply add your ingredients to the pan & serve.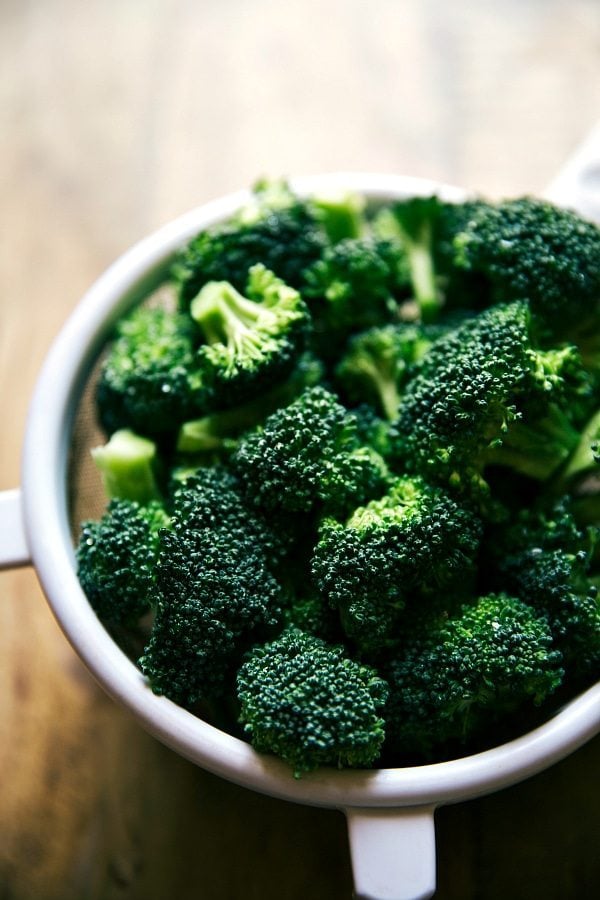 Basically this dish has 2 easy steps: first, cook the sausage and broccoli and then remove those to a plate. Second, add in the seasonings + pasta + chicken stock (or broth) and in 10 minutes (or less), you're ready to add the sausage mixture back in and dinner is ready. You don't even need to cover your pan! (Which is actually a big deal for me these days since I have a toddler that (oddly enough) has a fascination with hiding my pot lids in various places throughout the house…?)
This dinner is crazy fast, super easy, and packed with flavor! Enjoy!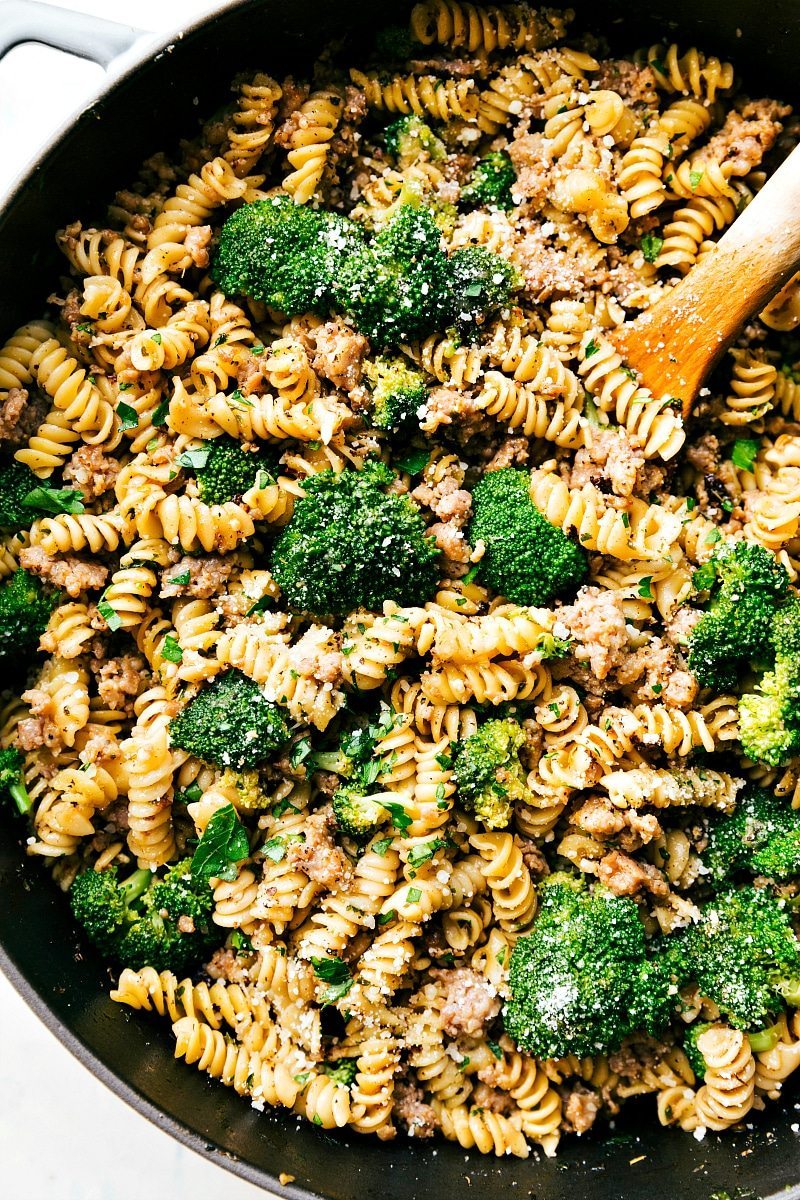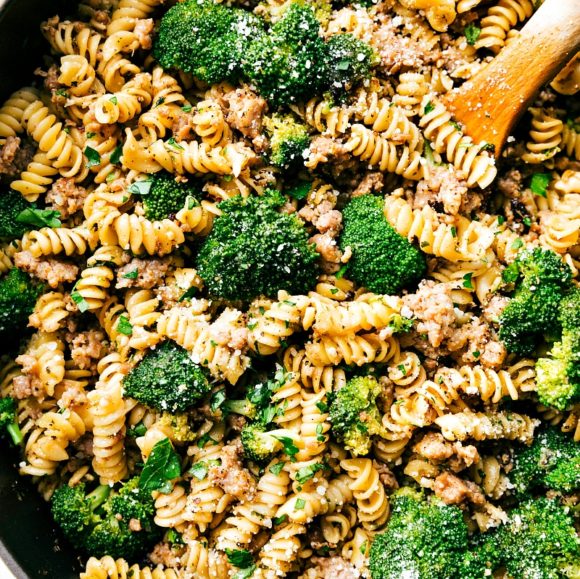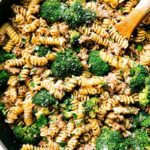 One Pan Sausage, Broccoli, & Parmesan Pasta
An easy, delicious, wholesome dinner of herb and parmesan pasta, ground Italian sausage & broccoli all made in just ONE pan.

Ingredients
3-4

tablespoons

olive oil

separated

1

package (16 ounces)

ground Italian sausage

make sure to use Italian since it has a ton of added flavor!

1

pound

broccoli

stems removed; coarsely chopped

2

teaspoons

minced garlic

1

tablespoon

dried parsley flakes

2

teaspoons

Italian seasoning

1

teaspoon

paprika

1/2

teaspoon

garlic powder

3

cups

chicken stock

or chicken broth

1

package (12 ounces)

Barilla Pronto noodles

I used rotini

3/4

cup

freshly grated Parmesan cheese

Optional: fresh parsley for garnish, squeeze of lemon, pinch of red pepper flakes

Salt and Pepper

to taste
Instructions
Pour 1 tablespoon olive oil into a large (at least 12 inch) nonstick pan over medium-high heat. Pan MUST be nonstick.

Add in the Italian sausage and break it up as you cook. Stir around until completely cooked through and then move the sausage to the edges of the pan.

Add in the chopped broccoli and sauté until crisp tender. Toss with the sausage and then transfer to a plate. (Add in an extra tablespoon or two of olive oil if needed here)

Drain all but 1 tablespoon of fat and add in one more tablespoon of olive oil Add in the garlic, dried parsley flakes, Italian seasoning, paprika, garlic powder, about 1/4 teaspoon pepper, and about 1/2 teaspoon salt (salt and pepper to taste and limit or omit depending on saltiness of stock/broth)

Add in the chicken stock. Mix well. Pour the entire box of rotini noodles on top of the stock and stir until just combined.

Turn the heat up to high (no need to cover the pan) and set your timer for 8 minutes.

At 8 minutes, check on the pasta. Stir if needed. Test for doneness and if not done, allow to cook for 1-2 additional minutes.

Add the sausage and broccoli back in. Top with freshly grated parmesan cheese and optional garnishes: parsley, lemon, and/or red pepper flakes.

Season to taste with salt and pepper. Enjoy immediately.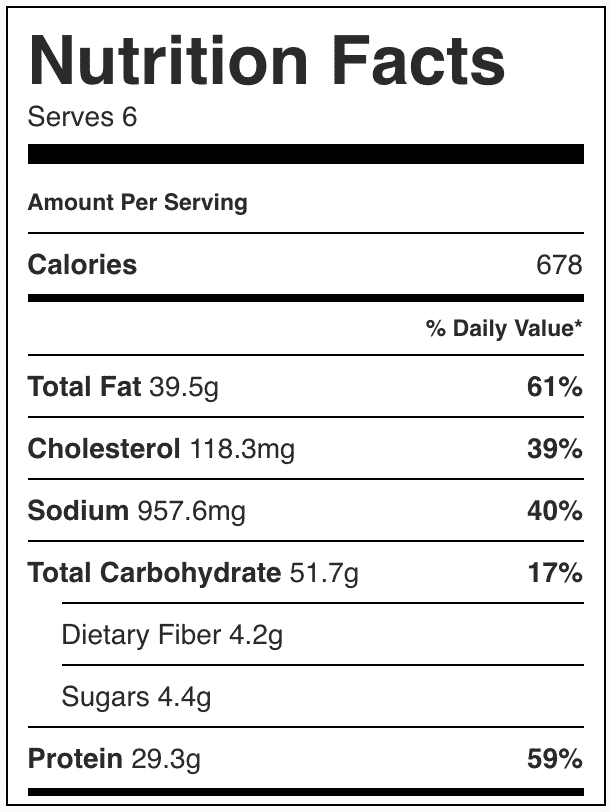 More One Pan Dinners: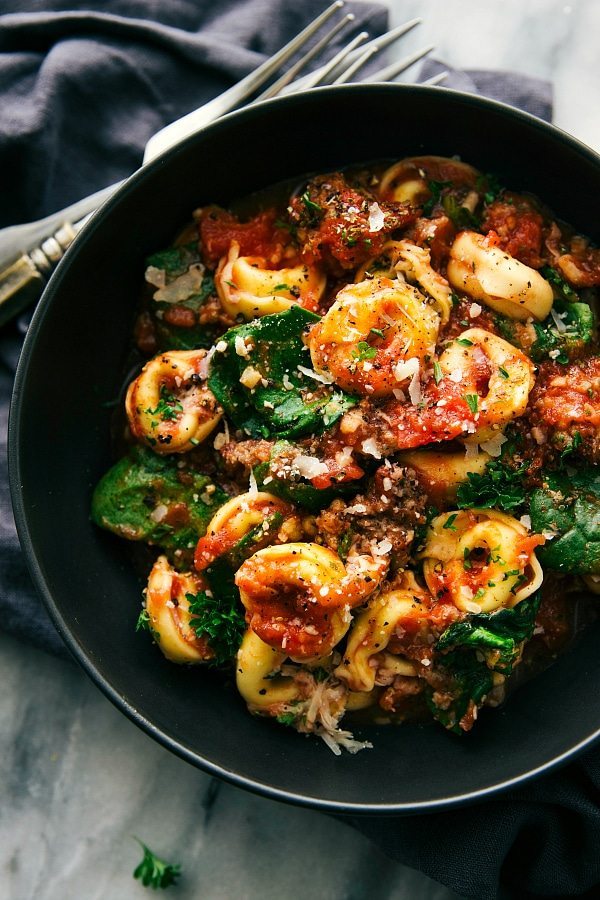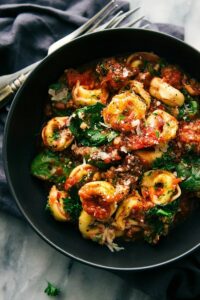 One Skillet Sausage & Spinach Tortellini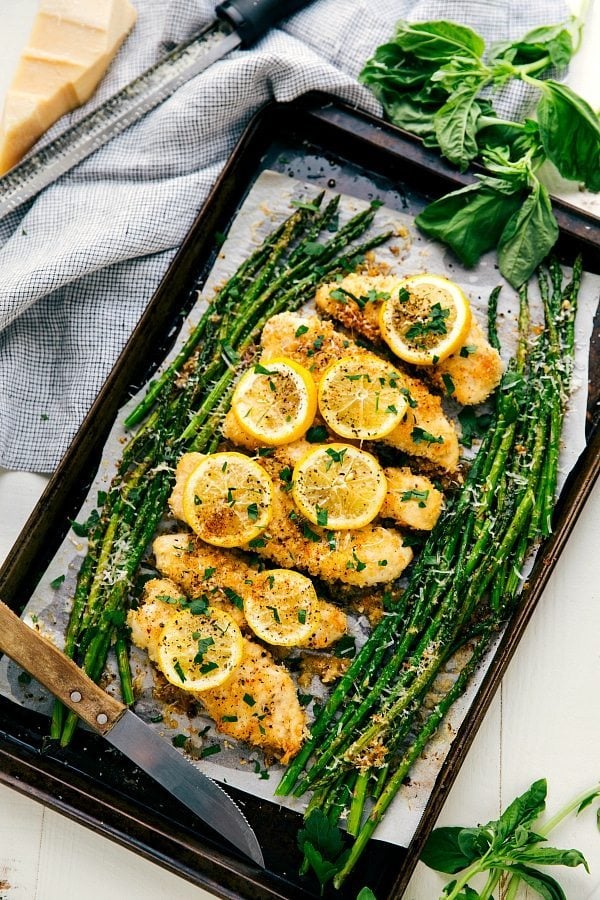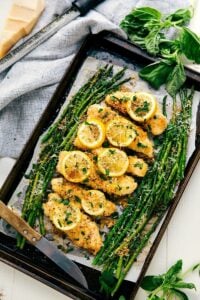 One Pan Lemon Parmesan Chicken and Asparagus