A delicious and rich chicken broccoli Alfredo with bacon that is secretly lightened-up. Half the calories, all the great flavors!
As a general rule most nights I cook pretty healthy for my family's dinner. That said, we have meals around these parts that are no where near close to being healthy and a lot of dishes that are somewhere in between. I'm a huge believer in balance and every now and again you need a pasta dish with heavy cream and all the cheese and you just can't even think about calories, because it would ruin how good everything tastes.
But having a rich chicken Alfredo pasta isn't something that happens all that often because, well, it's not even close to healthy and I never feel that awesome after eating it anyways. For the past couple of years I've experimented and worked on lighting up chicken Alfredo until it's something I think tastes just as good as a chicken Alfredo WITH all the heavy cream but leaves you feeling pretty great after the fact.
THIS is that dish.

There is grilled chicken and tons of broccoli and BACON in this Alfredo and everything is prepared to have MAXIMUM flavor without all of the calories.
But the sauce is the real wizardry here because it is literally less than half the calories of a full-fat Alfredo sauce and to be totally honest with you, I like it even better than a full-fat Alfredo these days.
So, first, the chicken. I grill it for this dish for a few reasons: first, because I love the flavor of grilled chicken. Second, because we eat this grilled chicken at least once a week so there are always leftovers of perfectly delish grilled chicken I can throw into something else (AKA this dish). And finally because it is so easy to do.
That all said, the chicken for this does not need to be grilled. You can cook it in a skillet and add some seasonings (salt, pepper, chicken seasoning, or Italian seasoning) and it will be absolutely delicious. You could also bake it in the oven or even in the crockpot with chicken broth and have shredded chicken for this dish. OR chop up some rotisserie chicken! To make this recipe as easy as possible I recommend using leftover grilled chicken or a chopped up rotisserie chicken.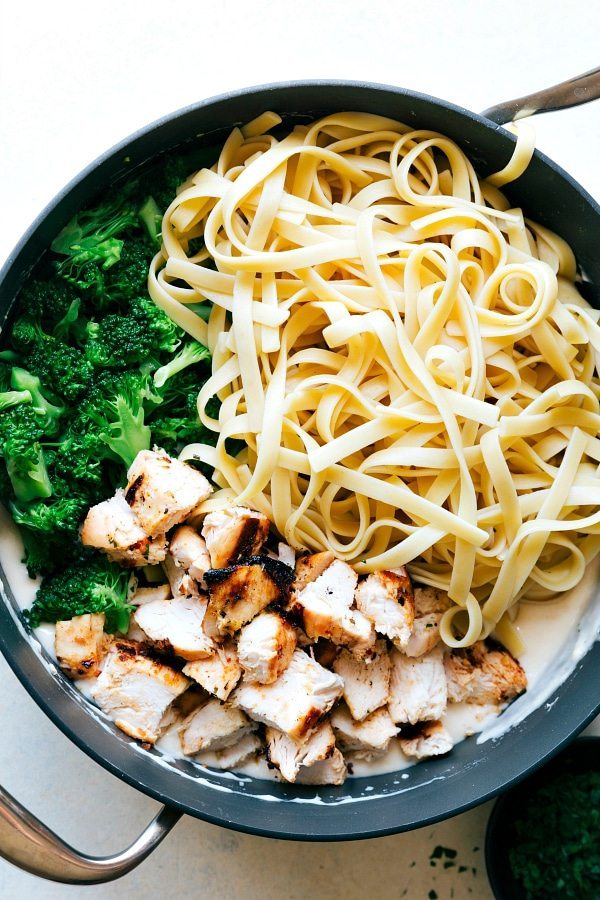 Next the broccoli is steamed until tender which makes it ultra flavorful without adding calories or extra oils.
And last up, the BACON. We're saving tons of calories by using TURKEY BACON here which you guys know I'm pretty obsessed with. I love all things bacon and turkey bacon does not disappoint. The toddler is literally so obsessed with turkey bacon. I've made it enough times that I'm pretty sure he'd pick turkey bacon over regular bacon any.day.
It may seem like this dish is a lot of steps, but it really flows well and you'll be surprised how quick it is to make. The broccoli and pasta are cooked in the same pot and you can use the same skillet for the bacon and sauce! Two dishes for a restaurant-quality (but LIGHTER) meal — not bad!
So if you are looking for a quick and easy cooking process with simple and affordable ingredients, this is your meal!
Lightened-Up Chicken Bacon Broccoli Alfredo
Ingredients
1 and 1/2

cups

chopped or shredded cooked chicken

rotisserie or leftover grilled chicken

1 and 1/2

tablespoons

olive oil

1/2

tablespoon

minced garlic

3

tablespoons

white flour

1

cup

chicken broth or stock

2 and 1/2

cups

1% milk

(2% or whole will work, not skim)

Seasoned salt

1/4

teaspoon

chicken seasoning

optional

2

ounces

reduced-fat cream cheese

at room temperature

3/4

cup

freshly grated Parmesan cheese

separated

Pinch of nutmeg

12

ounces

uncooked broccoli

8

ounces

linguine

8-10

slices

Butterball Turkey Bacon

Optional: 1 lemon, fresh parsley, freshly ground pepper, red pepper flakes (for a kick)
Instructions
Chop cooked chicken into small bite-sized pieces.

Fill a pot with a few inches of water, add a large pinch of seasoned salt, and put a steamer basket over top. Be certain the water does not touch the bottom of the basket. Bring the water to a simmer over medium-high heat. Add in chopped broccoli florets and cover. Steam for 3 to 5 minutes or until tender. Remove broccoli and add more water to the same pot, bringing the water to a boil.

Cook the linguine and drain.

Place the turkey bacon in a large dry skillet and cook until crispy, flipping occasionally. Coarsely chop.

Using the same skillet you cooked the bacon in (wipe out any grease), add in the olive oil. Heat to warm and then add in the minced garlic and stir until fragrant. Add in the flour and briskly whisk until a thick dough forms. Cook for about 1 minute over medium heat.

VERY slowly pour in the chicken broth while vigorously whisking. Whisk until completely smooth.

Again, very slowly add in two cups of milk (at room temperature preferred) whisking constantly. Save the last 1/2 cup for later.

Add in 1/2 teaspoon seasoned salt, chicken seasoning, and pepper (I add about a heaping 1/4 teaspoon pepper). Allow to slightly thicken.

Stir in the room temperature cream cheese, 1/2 cup Parmesan cheese, pinch of nutmeg, and if desired 1/2 teaspoon lemon zest and 1 teaspoon fresh lemon juice.

Add the chicken, pasta, bacon, and broccoli to the cream sauce. Toss and add the extra 1/2 cup milk if needed to thin. Add remaining 1/4 cup Parmesan cheese.

Garnish with fresh parsley if desired and a sprinkle of red pepper flakes for a little touch of heat.

Enjoy immediately.
Recipe inspired by Julia's Album (similar ingredients made a lot lighter/healthier)
More delicious dinner recipes:
Tin Foil Sausage & Veggie Packs
4-ingredient Honey Garlic Shrimp