No bake chocolate granola. An easy, on-the-go snack that takes less than 10 minutes to prepare!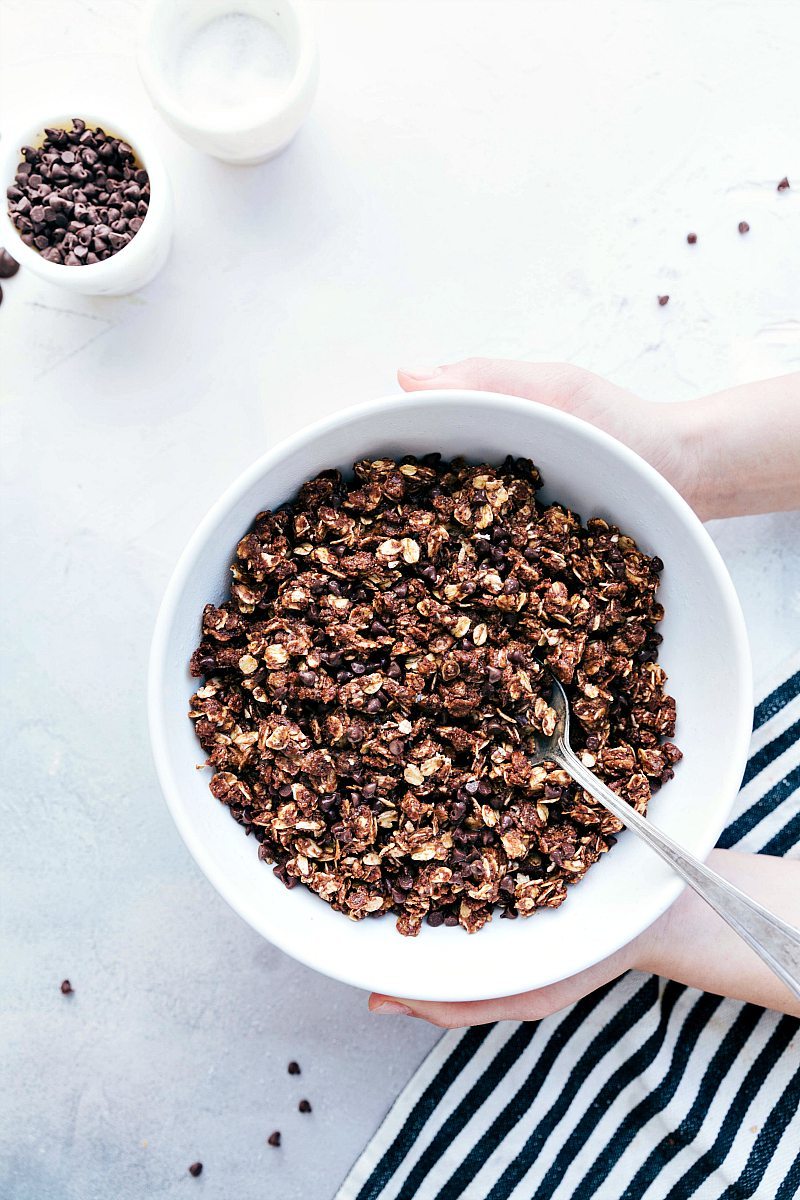 Years ago while I was in college, I was trying to make some granola bars and they did not turn out so well. They ended up super crumbly and not at all bar-like. Instead of throwing it all out, I threw all the crumbled up ingredients into a bag and set it out on the counter. It was eaten in less than two days — either handfuls grabbed and eaten or thrown in smoothies/yogurt bowls.
After that it became a "thing:" no bake granola. Yes, non-baked granola is not really "granola" and sounds a little bit odd. BUT I still make this snack all the time. A couple of months ago I made a few batches for my sister (one of her favorite snacks) and she told me I had to share it here 🙂
But WHY no bake chocolate granola?
First, it's very fast. We can whip this up in 10 minutes or less which means it's ready basically as soon as we want it.
Second, it's very easy. Not to say regular granola isn't easy, but it definitely takes more effort (particularly the baking process which can sometimes take up to 2 hours depending on the recipe).
Third, it's different. It's got those same ingredients you know and love in regular granola, but the texture is different and overall it makes for a fun snack.
And fourth, when it's burning hot outside, you can still have granola without turning on the oven and heating up your house!
I know it's a bit odd, but I hope you love it as much as we do! Enjoy 🙂

More Easy Snack Recipes:
Strawberries and Cream Oatmeal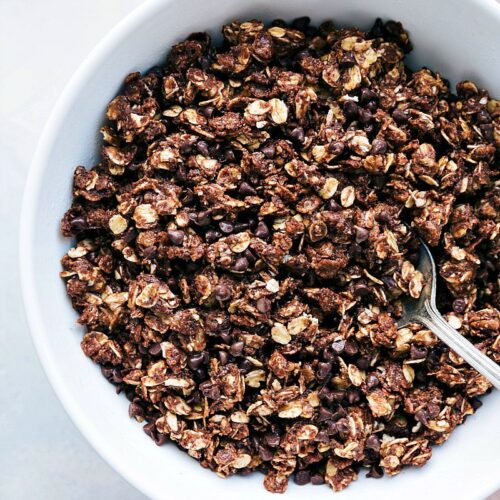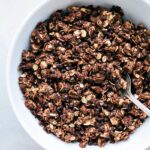 No Bake Chocolate Granola
No baking required chocolate granola. An easy, on-the-go snack that takes less than 10 minutes to prepare!

Ingredients
1/2

cup

creamy peanut butter

2 and 1/2

tablespoons

honey

1/2

teaspoon

vanilla extract

1/8

teaspoon

fine sea salt

3

tablespoons

dutch process cocoa powder

1

cup

old-fashioned oats

2/3

cup

cocoa krispies

(or sub rice krispies)

2

tablespoons

oat flour

(regular oats that have been blended)

1/2

cup

chocolate chips

(dark chocolate for a healthier granola)
Instructions
In a small microwave safe bowl combine the peanut butter and honey. Microwave for 30 seconds and then stir until smooth. Stir in the vanilla, salt, and cocoa powder. In another bowl combine the oats, cocoa powder, cocoa or rice krispies, and oat flour. Oat flour is just regular oats that you blend or put in a food processor and pulse until they are a flour consistency. Measure the oat flour AFTER blending.

Pour the peanut butter and honey mixture over the oat mixture and stir until combined. Keep stirring until a granola consistency is formed. You may have to lightly knead the mixture a minute with your hands.

Once the mixture has cooled, stir in the chocolate chips.

Store in an airtight container.