A Nature Valley® copycat recipe: soft-baked Oatmeal Bars! These peanut butter flavored bars are thick, chewy, and dotted with peanut butter baking chips. These naturally gluten-free bars are made with better-for-you ingredients.
Try our other gluten free treats: gluten free pumpkin cake, healthy chocolate cookies, or blueberry oatmeal bars.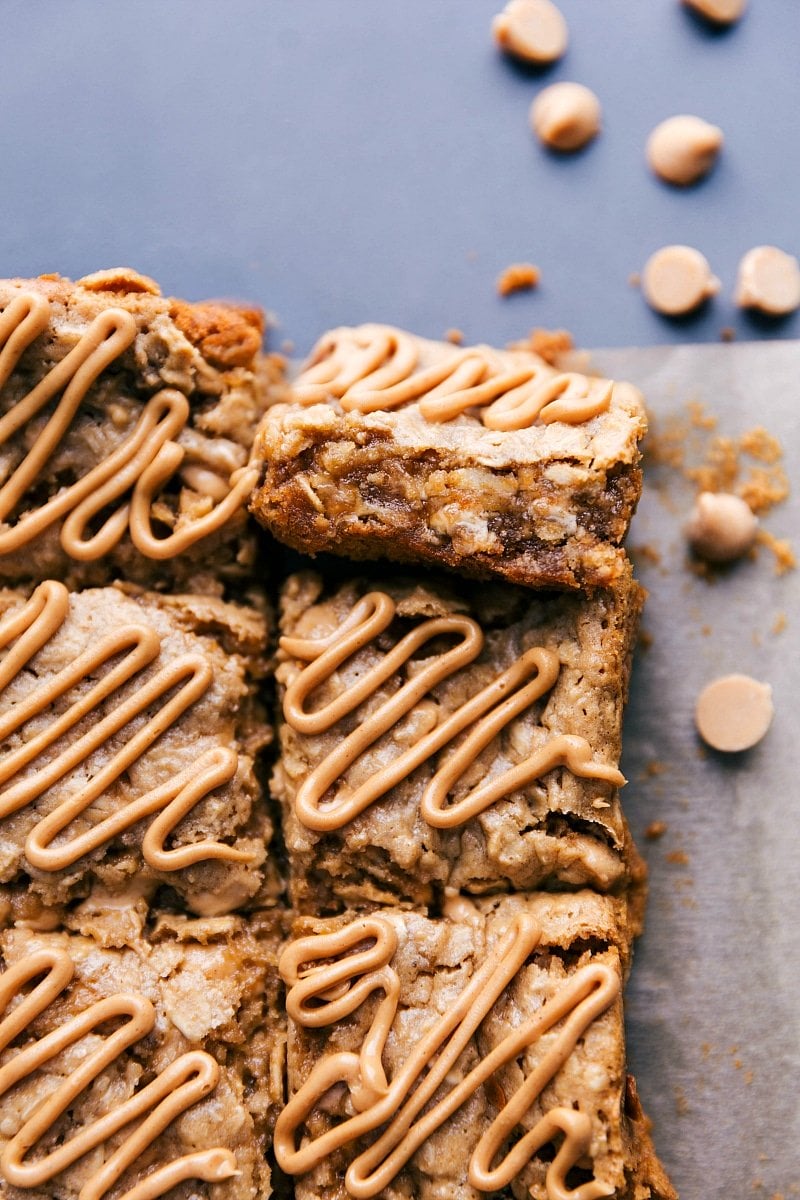 Oatmeal Bars
On a recent road trip, we grabbed a box of Nature Valley's Peanut Butter Soft-Baked Oatmeal Squares as a quick snack in the car. The kiddos loved the bars and I enjoyed the softness of the bars as opposed to the usual crunchy granola bars. If I'm honest though, they lacked flavor and I wasn't a huge fan of the ingredient list, so the moment we got home, I started to plan my own soft-baked peanut butter oatmeal bars.
While these ended up pretty different than the Nature Valley bars, they've still got that classic soft and chewy oatmeal bar texture. They have a rich peanut flavor, are soft, and gooey–they taste like a thick fusion of oatmeal and a peanut butter cookie. They also have a pretty impressive ingredient list: they're mostly naturally sweetened with peanut butter, honey, oats and oat flour (blended up oats) to name a few. There is still a bit of refined sugar, especially in the peanut butter baking chips, but those chips can be replaced with dark chocolate for an even-healthier treat.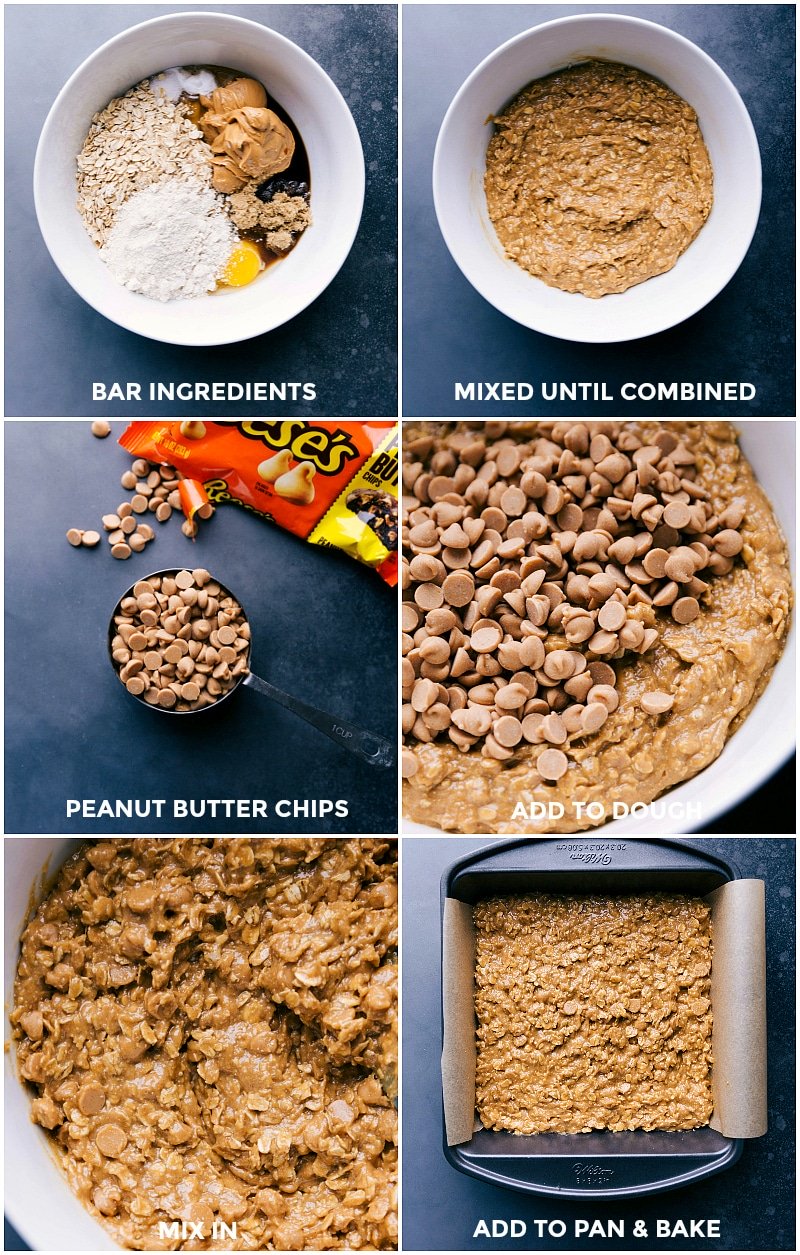 Oatmeal Bars ingredients
Peanut butter: This is the main flavor in these bars, and provides structure and stability. Protein is extremely satiating, so you'll be surprised at how filling Oatmeal Bars are.
Honey: Oatmeal Bars are primarily sweetened naturally with honey. Honey is rich in antioxidants and nutrients.
Light brown sugar: I wanted these bars to be totally naturally sweetened, but they really needed a bit more sweetness and were too moist with all honey. We used a little brown sugar in these bars, but it's only 1/4 cup.
Egg: The egg provides stability to the batter and adds flavor and protein to these bars.
Vanilla extract: Vanilla contributes to a nice subtle flavor.
Baking soda: This keeps the bars from being too dense.
Salt: Salt helps balance and intensify all the flavors. If you're using a salted peanut butter, you'll want to reduce the added salt in the bars.
Old fashioned oats: The oats form the base of these oatmeal bars and give them great structure as well as that delicious chewiness. Make sure to use old fashioned oats, though. Quick oats are too processed and will make the bars overly dry, and steel cut oats won't soften enough.
Oat flour: No need to buy specialty flour; oat flour can be made with quick or old fashioned oats. Read more on this below.
Peanut butter chips: These chips are definitely a treat, but are so much fun in these bars. If you want to make the bars healthier, simply replace the peanut butter chips with chopped nuts or dark chocolate chips.
How to make oat flour
If you have quick oats or old fashioned oats, you can have oat flour in an instant!
Place the oats (either old fashioned or quick oats) into the bowl of a food processor or small blender jar.
Pulse the oats until ground into a powder-like consistency that resembles flour.
Stir the oats around to be sure all the oats are finely ground.
Measure the oat flour after it's been turned to flour and not in the original whole oat form.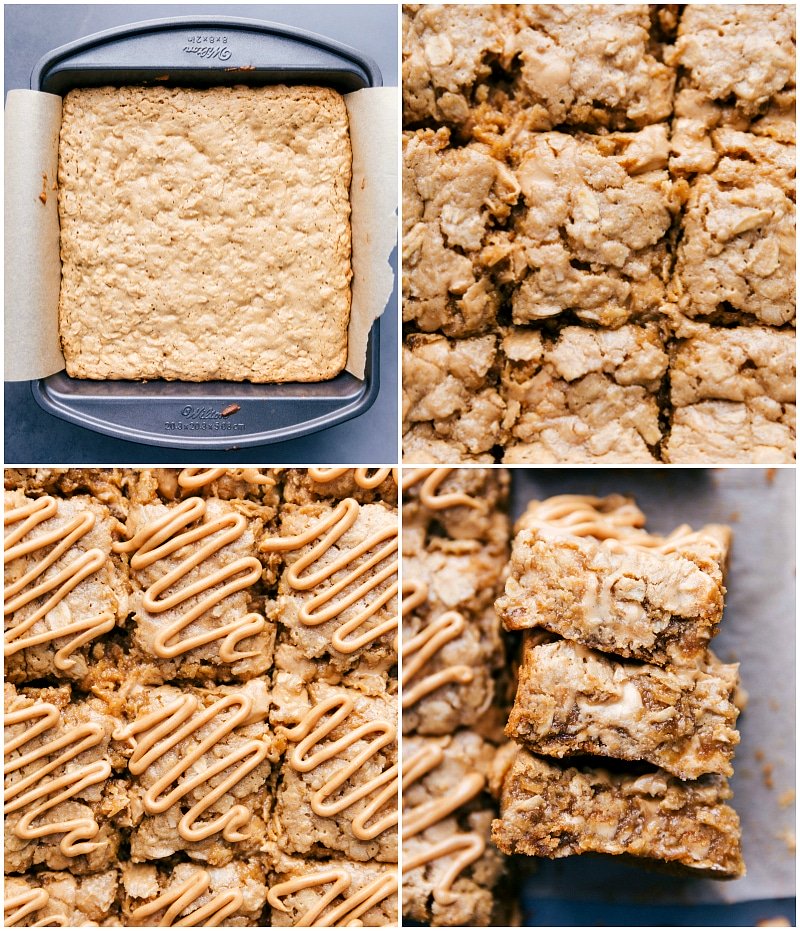 Oatmeal Bar tips
Line the pan with parchment paper and leave an overhang for easy bar removal. These bars stick to the pan and be nearly impossible to pull out without the parchment paper.
Let the bars cool: While it's so tempting to eat one straight out of the oven (and hey — you do you!) these bars crumble while hot. They thicken up significantly as they cool. I don't recommend cutting them into bars until they're completely cooled and set.
Don't over-bake: Remove the bars when they are slightly browned on the edges; the middle does still look a bit gooey but as long as the bars don't jiggle they're done. Over-baking the bars will give them an off flavor and they won't be nearly as soft and chewy. Again, these bars set up a lot as they cool.
More easy snack recipes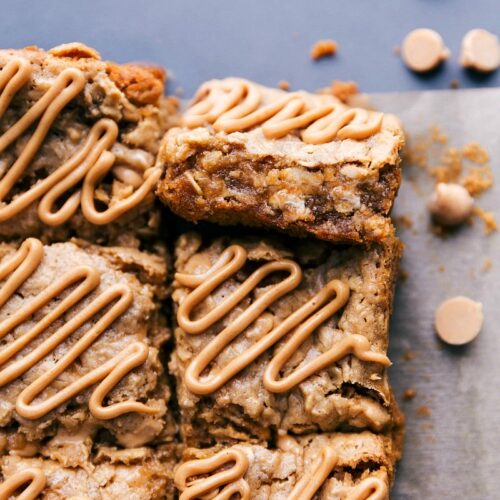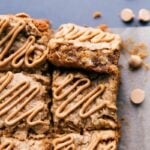 Oatmeal Bars
A Nature Valley copycat recipe: soft-baked Oatmeal Bars! These peanut butter flavored bars are thick, chewy, and dotted with peanut butter baking chips. They're made with better-for-you ingredients and naturally gluten free. (See Note 1)
Ingredients
3/4

cup (168g)

creamy peanut butter

1/2

cup (160g)

honey

1/4

cup (48g)

light brown sugar,

lightly packed

1

large egg

1

teaspoon

vanilla extract

1/2

teaspoon

baking soda

1/2

teaspoon

salt

1

cup (98g)

old fashioned oats

1/2

cup (44g)

oat flour

(See Note 2)

1

cup (170g)

peanut butter chips

Optional: 1/4 cup creamy peanut butter
Instructions
PREP: Preheat the oven to 325 degrees F. Line an 8x8-inch pan with parchment paper, leaving an overhang for easy bar removal, and set aside.

BARS: Combine all the ingredients except the peanut butter chips in a large bowl. Beat with a hand mixer until smooth. Add in the peanut butter chips and fold with a spatula to combine.

BAKE: Transfer batter to the prepared pan and smooth into an even layer. Bake for 18-22 minutes or until lightly browned around the edges. They may look a bit underdone or gooey in the center, but as long as they don't jiggle at all, they are done. These bars continue to set up and firm up as they cool.

CUT AND SERVE: Remove bars from the oven and let cool completely in the pan. Use the parchment paper overhang to pull out the bars and cut into 12 squares. Use a sharp knife to cut the bars.

OPTIONAL: (This is for the peanut butter fanatics!) Once bars are cut into squares, place 1/4 cup of peanut butter in a small resealable bag. Cut off a tiny corner tip of the bag and pipe the peanut butter on the top of the bars.
Recipe Notes
Note 1: While naturally gluten-free ingredients are used in this recipe, be sure to check your ingredients to  be sure they were not made in a facility containing gluten. If having a gluten free bar is essential for your family, buy and use only products manufactured in a safe (gluten-free) environment. This will be noted on product packages.
Note 2: To make oat flour, grind up oats in a blender or food processor until the oats are the texture and size of regular flour. Make sure to measure the oat flour after grinding the oats.