These Sloppy Joes are truly the best I've ever had! They've got the ultimate tangy, sweet, and savory sauce plus a few "hidden" veggies! Pile the meat sauce high on some toasted buns and be prepared to crave sloppy joes on the daily!
For an even healthier version, try these turkey sloppy joes.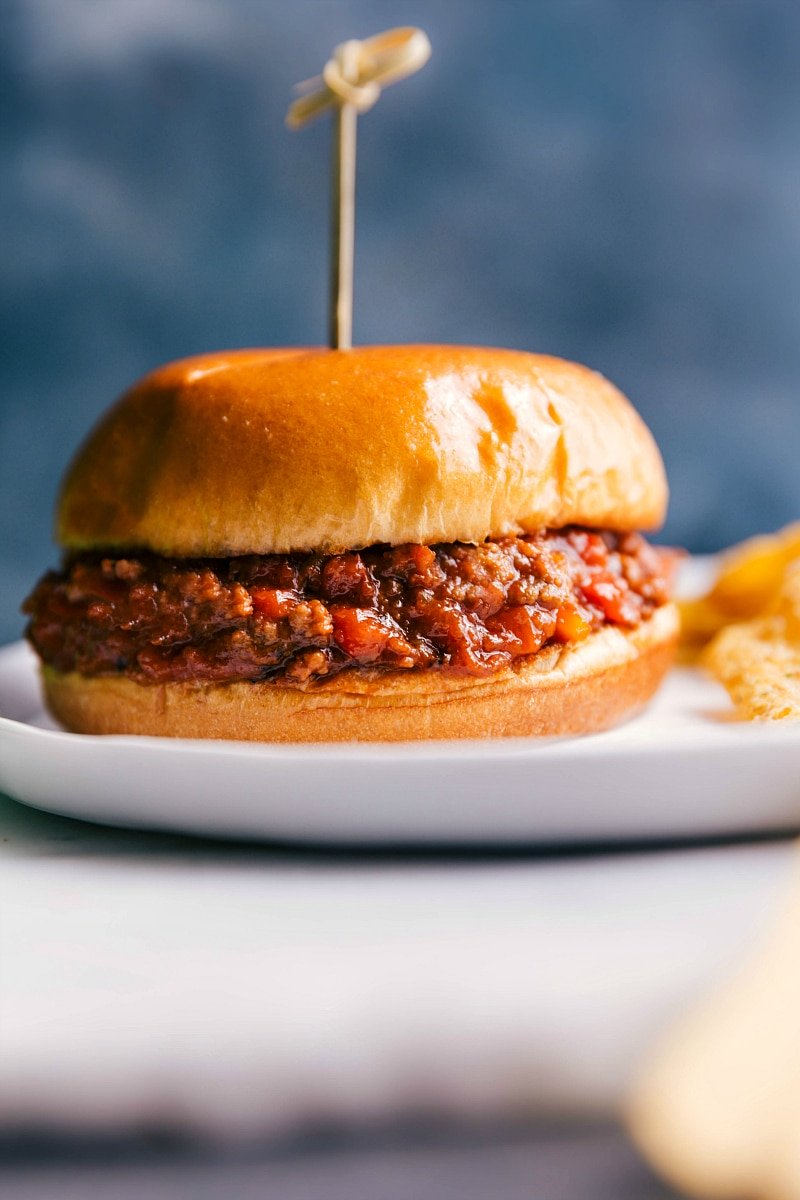 Why do they call it a Sloppy Joe?
If you're anything like me, you may wonder how this saucy tomato-and-beef sandwich got its name. It has a debated history — some say it was born in Sloppy Joe's Bar, (an iconic Florida restaurant), some say it was dreamt up in Havana at Sloppy Joe's Saloon, and others attribute sloppy Joes to a cafe in Iowa when a cook named Joe created a messy, loose meat sandwich with tomato sauce.
Loose meat sandwiches have been a staple for years in the Midwest. In the 19th century, ground beef gained popularity for being a cheap and nourishing food option. To help that ground beef serve more hungry mouths, creative cooks added "fillers" (think breadcrumbs, tomato, cheese, ketchup) to stretch it. So meatloaves, stews, meatballs, etc. were created and that's when "loose meat sandwiches" also came about. A sloppy Joe is a loose meat sandwich with tomatoes or tomato sauce added to it and served on a bun.
This Sloppy Joe recipe adds quite a bit more than just tomatoes, and you'll be amazed how absolutely flavor-packed and crave worthy this messy-looking sandwich is!
Another frequently asked question regarding sloppy Joes:
What's the difference between Manwich and Sloppy Joes?
Manwich® is a trademarked brand of prepared sloppy Joe sauce, sold by the ConAgra and Hunt's Foods companies. Truly, though, this recipe is so easy to make and tastes so fresh, I'd highly recommend making your sauce from scratch!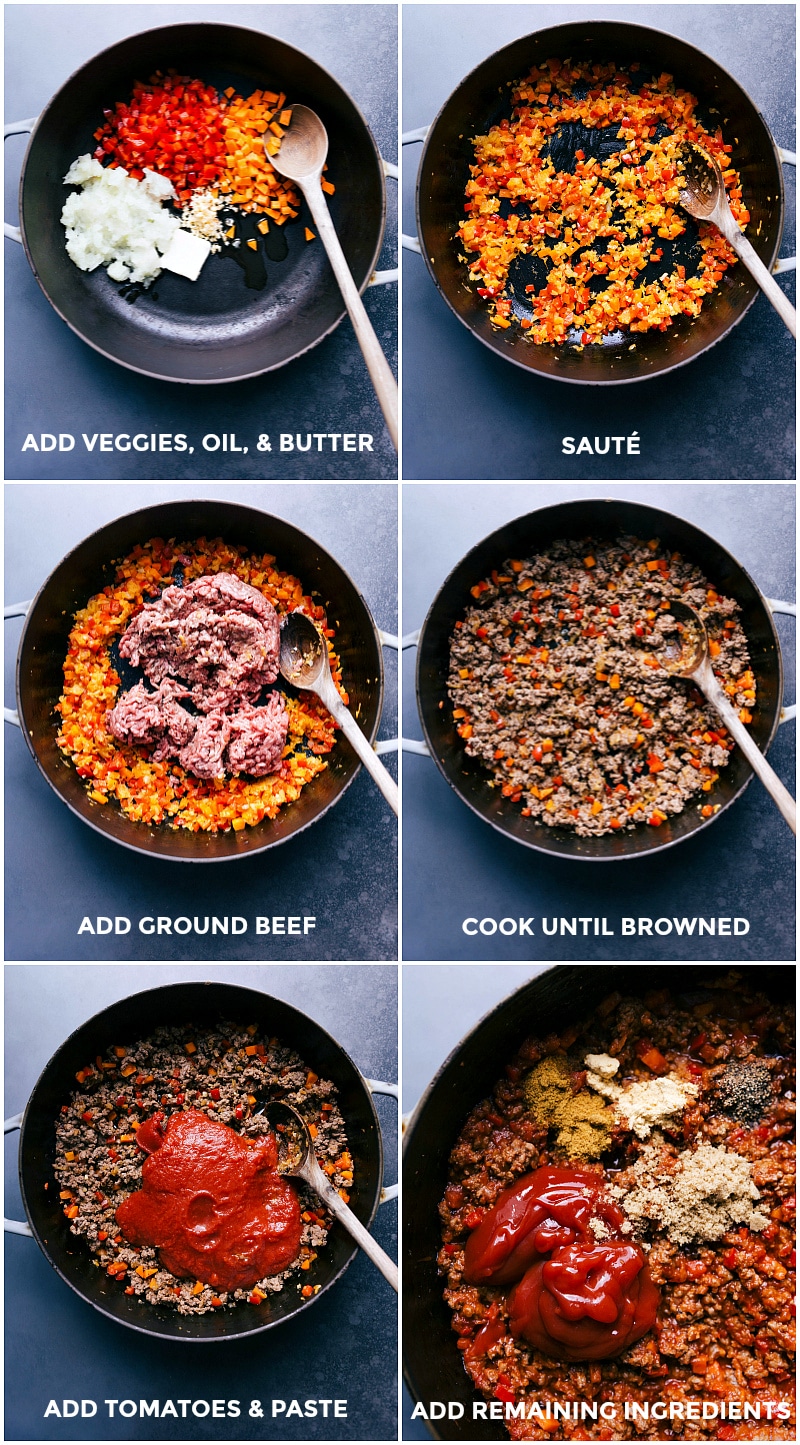 How to make Sloppy Joes from scratch
Sauté the veggies. This veggie base adds sweetness, texture, and stretches the ground beef. Take the time to really soften the veggies and help bring out their natural sweetness.
Cook the ground beef. Once the veggies are tender, we add the ground beef. Cook the beef over high heat: Let it stand in the hot skillet for 45 seconds to a minute before stirring, to get a bit of a sear from the hot pan. Browning on the beef = flavor.
Add the tomatoes and tomato paste. We add the tomatoes before the other ingredients to sauté them a bit and bring out their natural sweetness.
Add remaining ingredients. Next, we add everything else that perfectly seasons and flavors the beef. There are a few secret ingredients that really set these sloppy joes apart from most. The Worcestershire sauce adds a nice Umami flavor and saltiness, the beef bouillon intensifies the beefy flavor of the meat, and the dry mustard powder adds flavor and tang.
Simmer and serve. Once everything is in the skillet, we simmer the mixture to ensure a perfect sauce that is not too dry or too runny (see the photo below for my preferred sauce thickness for sloppy Joes). Serve the perfectly thickened sauce over buttered buns for the best sloppy Joe ever!
Serving suggestions
Our absolute favorite way to serve Sloppy Joes is on toasted brioche buns. (Here's how to toast buns — on a grill, in a pan, or in the oven). Before toasting the buns, I recommend buttering both of the insides (use softened butter or butter in a tub).
Add the sloppy Joe mixture to the bun right before eating. This helps to avoid soggy buns.
Use leftover meat mixture to top baked potatoes or fries. Bonus points for adding grated cheese on top of everything (similar to these loaded taco fries)!
Add some of the leftover meat to a grilled cheese sandwich or this Burger Recipe (doubling the meat is always a win).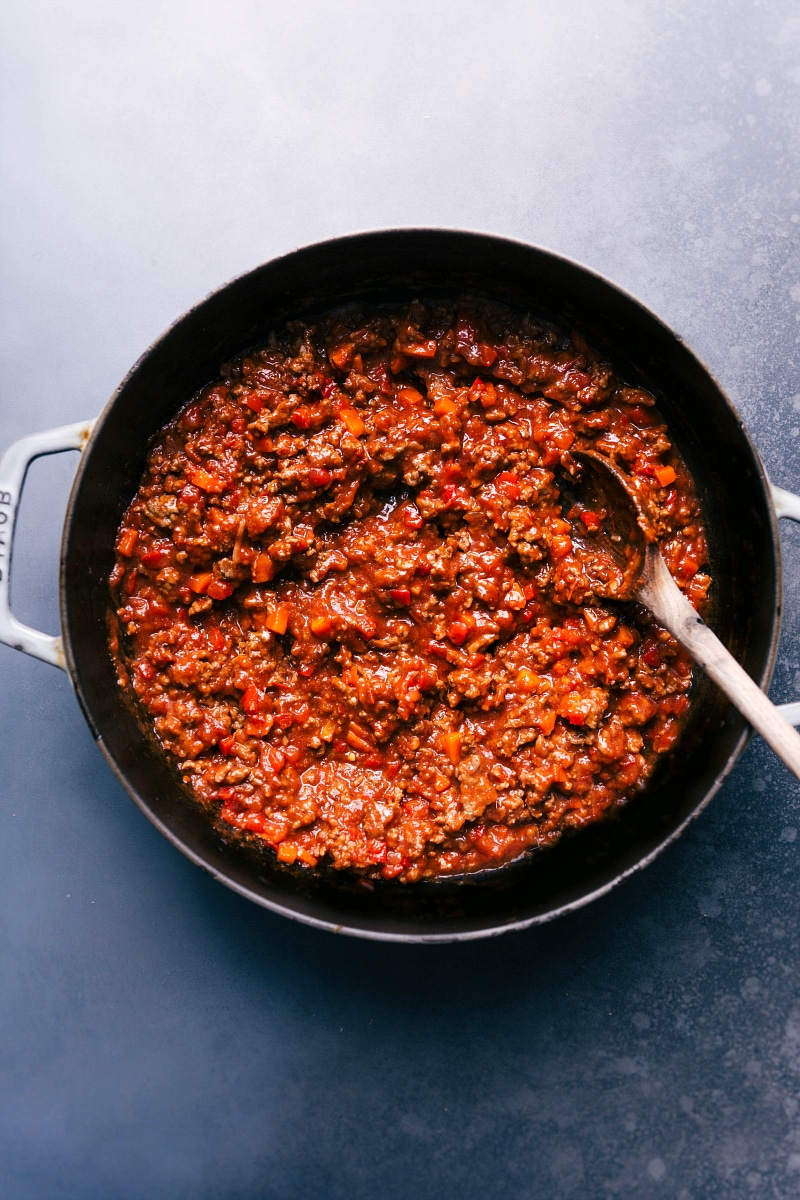 Quick tips
Sweeten to taste. You may want to adjust how much brown sugar you use, depending on the crushed tomatoes and the ketchup used (some are sweeter than others). I like Heinz® Ketchup. (This brand is not sponsored in this post).
Grate the onion on a cheese grater. Admittedly a weird step, I swear by grating an onion for Sloppy Joes! It ensures a perfect dispersion of onion throughout without inevitable crunchy onion chunks.
Use a food processor. This helps get your veggies finely chopped without spending forever chopping. Just add them to the processor bowl and pulse a few times. Don't over-pulse the veggies or liquefy them; just pulse enough times to get them into small pieces equivalent to a dice.
Once everything has been added to the skillet, simmer the sauce. This helps thicken up the sauce, meld all the flavors, and ensure the meat is very tender.
Make in the slow cooker: If you'd rather skip the simmering, there's another method to try. Once everything has been added to the skillet, transfer it all to a Crock-Pot. Cover and cook on low for 4-6 hours. Be sure to stir it before serving!
What sides go with Sloppy Joes?
Potato chips
Onion rings, French fries, or sweet potato fries
Baked beans
Bread and butter or dill pickles
Pickled red onions
Elote (or plain grilled corn on the cob)
A pasta salad like this Greek pasta salad
More ground beef recipes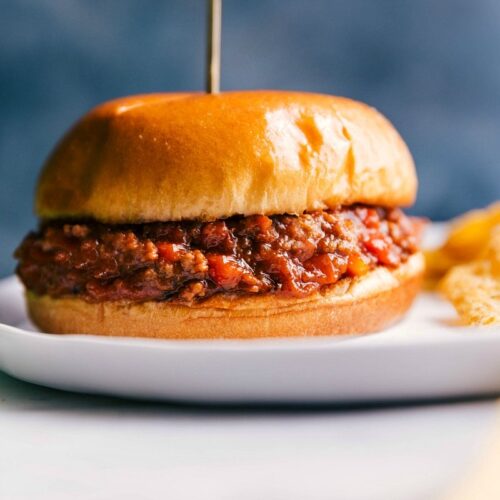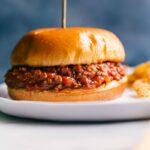 Sloppy Joes
These Sloppy Joes are truly the best I've ever had! They've got the ultimate tangy, sweet, and savory sauce plus a few hidden veggies. Pile the meat sauce high on some toasted Brioche buns and be prepared to crave sloppy Joes on the daily!
Course:
Dinner, Main Course, Sandwich
Servings
:
4
-6 sloppy joes
Ingredients
1

tablespoon

olive oil

1

tablespoon

unsalted butter

1/2

cup

grated yellow onion

(~1 small onion)

2

teaspoons

minced garlic

(2-3 cloves)

1/2

cup

finely chopped carrot

(~1 medium carrot)

1

cup

finely chopped red bell pepper

(~1 bell pepper)

1

pound

lean (90/10) ground beef

1

tablespoon

tomato paste

1

can (14.5 ounces)

crushed tomatoes

1/2

cup

ketchup

(Heinz recommended)

2

teaspoons

Worcestershire sauce

1

tablespoon

light brown sugar,

(See Note 1)

1

teaspoon

dry mustard powder

2

teaspoons

beef bouillon powder

1/4

teaspoon

pepper

1

teaspoon

red wine vinegar,

optional

Brioche buns

(or your favorite hamburger buns, for serving)

Optional: butter for toasting buns
Instructions
PREP VEGGIES: Peel an onion and grate it on the large holes of a cheese grater. Mince the garlic, finely chop (or grate on the large holes) a carrot, and finely chop the red pepper. ALTERNATIVELY, add a coarsely chopped carrot, coarsely chopped red pepper, and garlic to a food processor and pulse into diced pieces.

COOK VEGGIES: Add 1 tablespoon olive oil and 1 tablespoon butter to a large cast iron skillet and place over medium-high heat. Add in the onion, garlic, carrot, and bell pepper. Sauté for 6-8 minutes or until liquid from the veggies has evaporated and veggies are mostly tender. Using a wooden spoon, press the veggies to the edges of the skillet and add 1 pound ground beef in the center of the pan. Let stand for 45 seconds in the heat and then stir and crumble the meat into small pieces. Cook until no longer pink and cooked through, about 5-8 minutes. As you crumble and cook the meat, incorporate the veggies into the meat.

SAUCE: Add the 1 tablespoon tomato paste and 1 can crushed tomatoes. Stir for 2-3 minutes to bring out the sweetness of the tomatoes. Add the 1/2 cup ketchup, 2 teaspoons Worcestershire sauce, 1 tablespoon brown sugar (See Note 1), 1 teaspoon ground mustard/mustard powder, 2 teaspoons beef bouillon powder, and 1/4 teaspoon pepper. Stir well and then reduce the heat to low. Simmer the mixture until sauce has thickened, about 15 minutes, stirring every few minutes. Prepare the buns while the sauce is cooking. Once thickened, stir in the 1 teaspoon red wine vinegar if desired. Season sauce if needed.

FINISH: Remove the skillet from the heat. Spoon the mixture on top of toasted buns (See Note 2) and enjoy immediately.
Recipe Notes
Note 1: Depending on the tomatoes and ketchup you use (some are sweeter than others) you may want more or less brown sugar; add to personal preference.
Note 2: I like to toast the buns; it adds flavor and keeps the buns from getting soggy too quickly. Spread some softened butter over the inside of the top and bottom buns. Either grill the buns on a hot grill for 20-30 seconds, gently toast in a 350 degree F oven until buns are warmed through and barely crispy (about 5 minutes), or brown in a sauté pan for 2-3 minutes over medium high heat.