I'm excited to be partnering up with Heinz to bring you this incredible Peruvian chicken with a green sauce using creamy Heinz mayonnaise.
Cumin and paprika spiced chicken served alongside a crisp arugula corn salad and topped with an addictively tangy green sauce. This peruvian chicken is packed with flavor and sure to be a family favorite!
We've got texture, color, and flavor for this dish! And unlike roasting a full chicken (pollo a la brasa), we're sticking to just breasts (or thighs) to ensure you still have all the great flavors, without the 1+ hours of roasting time.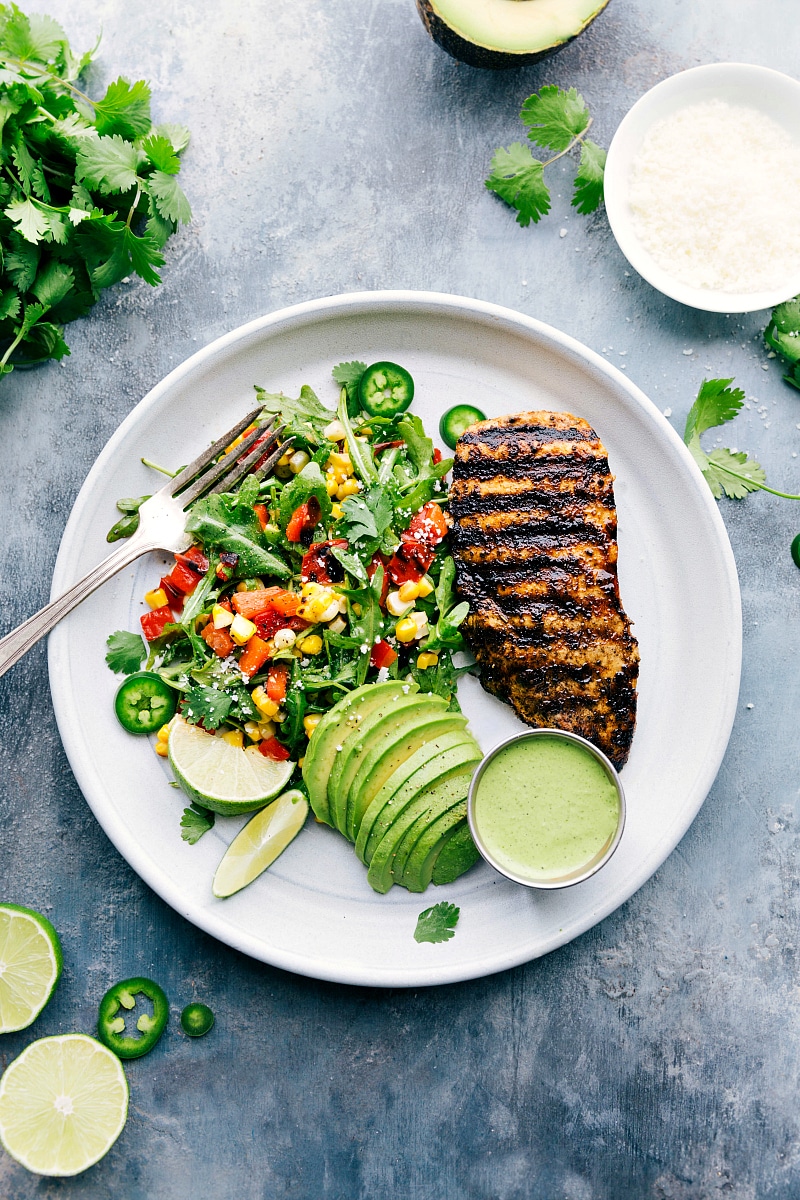 I have a favorite place to get peruvian chicken near me and I thought it was about time to recreate a (simpler) version. This peruvian inspired chicken, green sauce, and salad is everything I could ever want in a meal — so much flavor, all the perfect textures, and lots of color from veggies!
And if there's one thing we can all probably agree on, it's that dry and bland foods are forgettable and less appetizing. So today I'm using a deliciously creamy mayonnaise to create a sauce that is anything BUT forgettable. We'll smear the deliciously-spiced peruvian chicken with this sauce and then drizzle it over the simple arugula salad. I'm ready to make this dish again just writing about it! 🙂
How to make peruvian chicken
Marinate

: we'll start by throwing together a quick marinade/rub for the chicken breasts. You'll want

smoked paprika

(not sweet) for this recipe.

Make the salad

: this salad is quick and uses a lot of the same ingredients that are in the marinade. Whisk the dressing ingredients together, or shake it all up in a jar.

Don't toss with the salad until you're ready to eat.

Grill

: on a gas or charcoal grill, grill the chicken, red pepper, and corn on the cob. You can also use a grill pan or skillet for this recipe. More tips on grilling below!

Green sauce

: while the chicken is cooking, prepare the green sauce (see below!).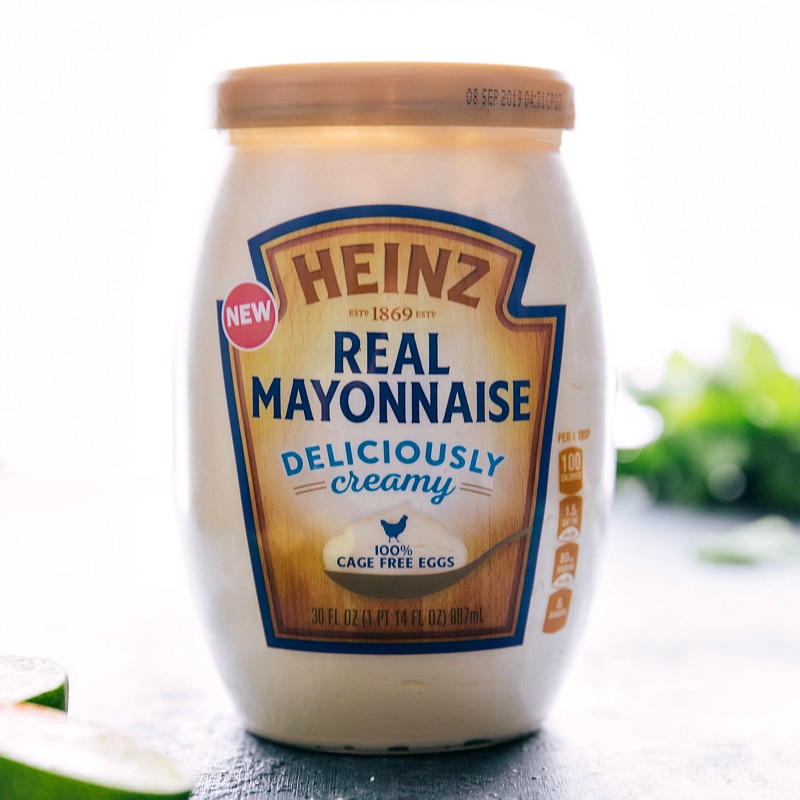 How to make the green sauce
The sauce is the crucial element to this peruvian chicken meal that ties it all together. It's essential to use a good, high-quality mayonnaise for flavor and creaminess which is why I recommend Heinz Real Mayonnaise. Heinz mayonnaise is what gives this green sauce it's deliciously creamy texture.
To make the sauce: you'll first give the jalapenos and garlic a quick coarse chop and then add to a high-powered blender. Pile all the other ingredients right on top and blend until smooth. It's important to test your sauce for personal preference. Adjust seasonings and lime juice first and then adjust for spiciness. To increase spiciness, add more of the jalapeno's seeds and ribs. I recommend starting without adding in seeds and ribs and slowly adding to personal heat preference. Keep in mind that not all jalapenos have the same amount of spiciness.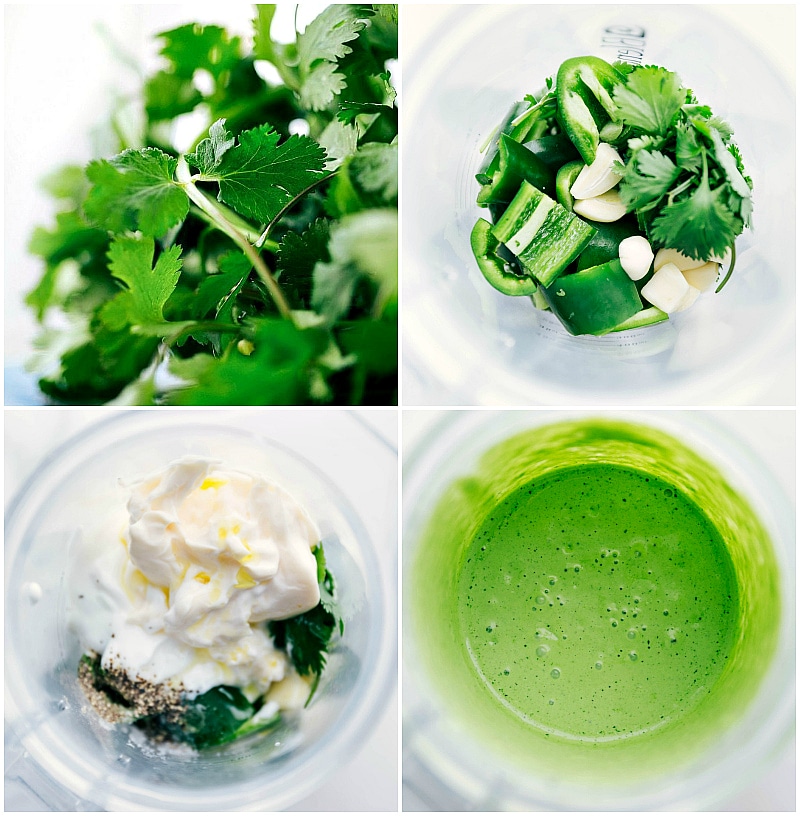 Recipe tips
Toss the salad with the dressing right before serving to keep it from getting soggy. Leftover salad doesn't sit well with the dressing.
If you have time, make the green sauce in advance so it has time for the flavors to meld and intensify (note that the spiciness also increases!)
Make sure to slice the chicken in half, and/or pound the breasts (this is best accomplished by a meat mallet) into an even thickness before marinating. This allows the chicken to soak up more flavor from the marinade (improves taste), and the even thickness will allow them to cook evenly.
Once it's finished, let the cooked chicken rest, tented with foil, for 5-10 minutes before cutting in. This allows for the juices to redistribute.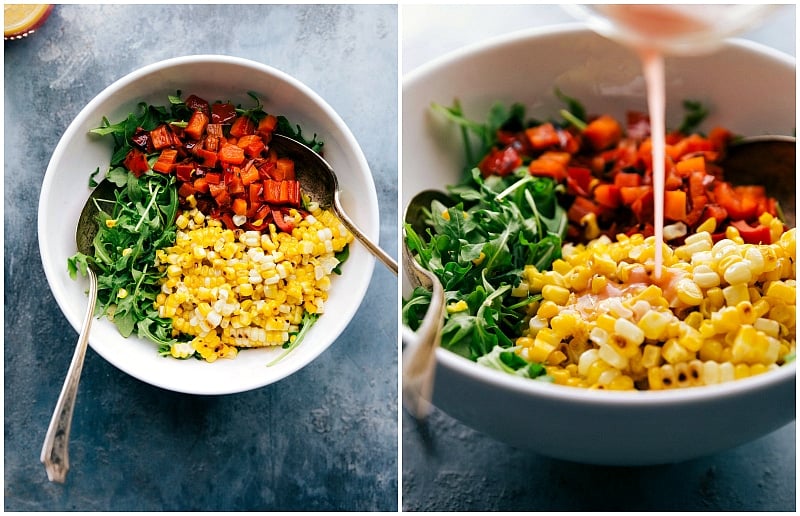 Serve this peruvian chicken alongside
Instead of serving the peruvian chicken alongside the salad, serve it over or with rice.
Add a hard boiled egg (see my tutorial on this deviled egg recipe) to the dish.
Add a side of beans (Peruvian style in the instant pot)
For a starchy side, try boiled fingerling potatoes tossed with butter and parsley (papitas al perejil)
Another starchy side option: fries!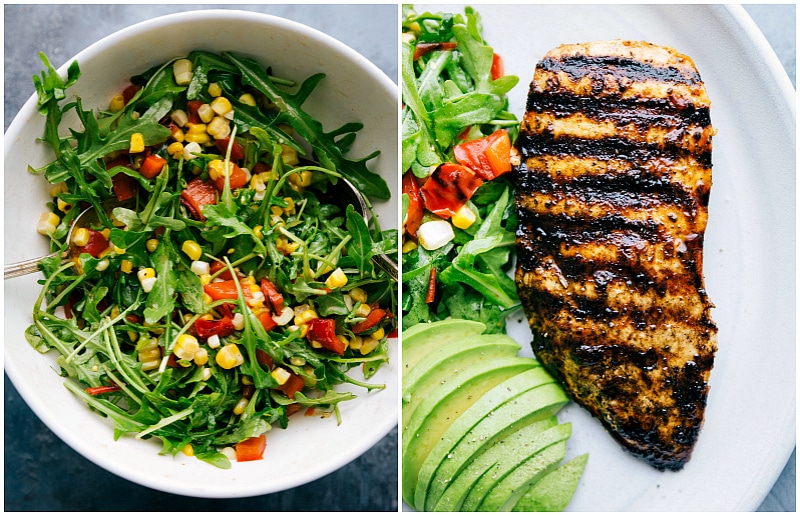 More delicious (chicken) meals: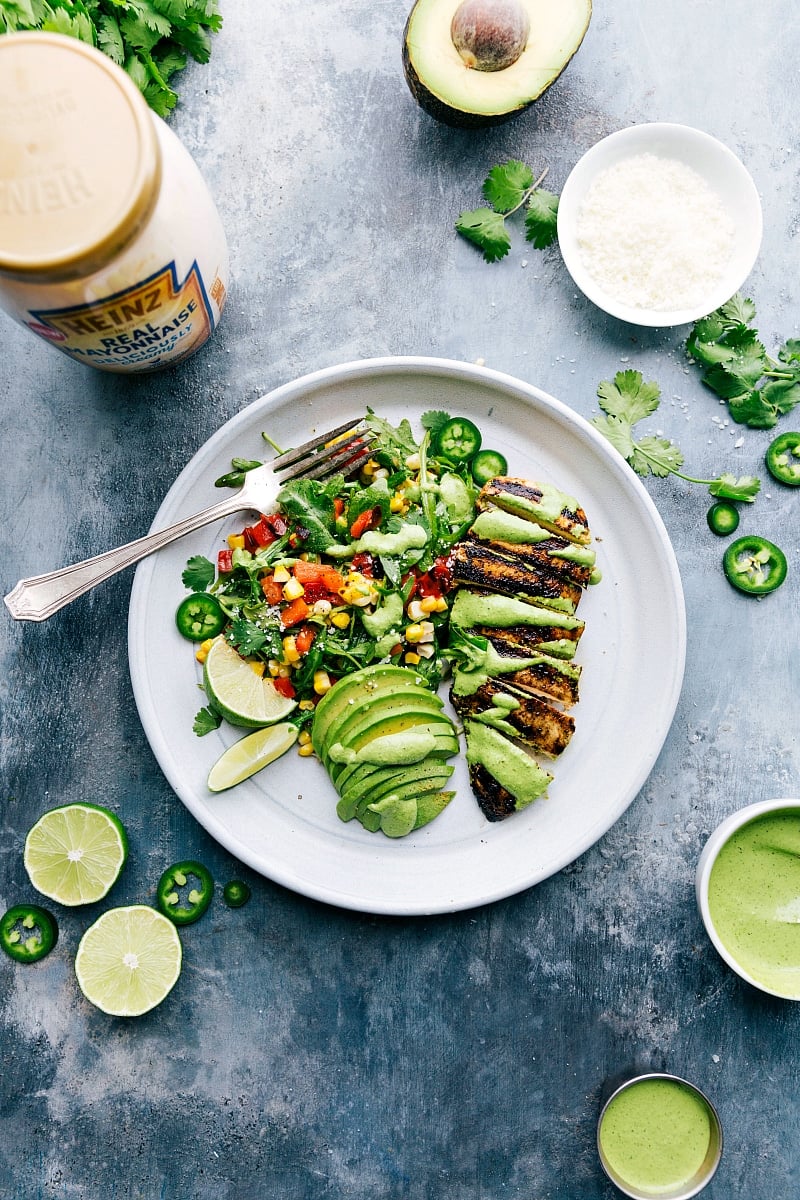 While this peruvian chicken recipe might look overwhelming at first glance, many ingredients are used multiple times, but written out twice (or three times) for easier reading.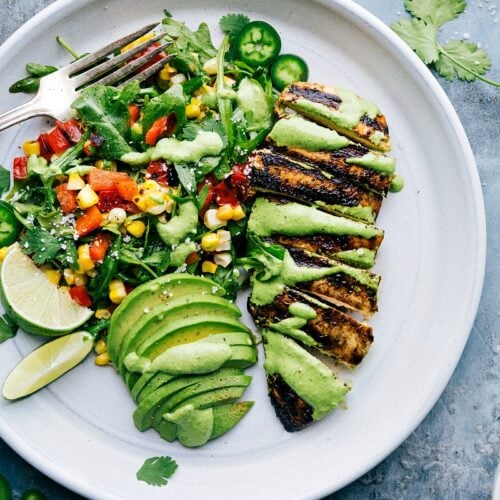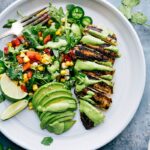 Peruvian Chicken
Cumin and paprika spiced chicken served alongside a crisp arugula corn salad and topped with an addictively tangy green sauce.
Keyword:
peruvian chicken
Ingredients
Chicken marinade
2

large (~1.5 pounds)

chicken breasts,

halved horizontally and pounded to even thickness

1

tablespoon

freshly squeezed lime juice

1

teaspoon

honey

1/2

teaspoon

minced garlic

1

tablespoon

olive oil

1/2

teaspoon

EACH: smoked paprika and ground cumin

1/4

teaspoon

dried oregano

Fine sea salt and freshly cracked pepper
Salad
2

fresh ears corn

1

large

red bell pepper

2

tablespoons

red wine vinegar

2

tablespoons

lime juice

2

teaspoons

honey

2

tablespoons

olive oil

3-4

ounces

arugula

Optional: cotija queso mix, 1 large avocado (thinly sliced or chopped)
Green Sauce
2-3

large jalapenos,

coarsely chopped (Note 1)

1

cup

cilantro,

lightly packed and coarsely chopped; some stems are fine

1

teaspoon

minced garlic

2

tablespoons

olive oil

1/2

cup

Heinz Mayonnaise

1/2

tablespoon

yellow mustard

1

tablespoon

freshly squeezed lime juice

1/4

cup

sour cream
Instructions
CHICKEN MARINADE: in a small bowl, whisk together 1 tablespoon lime juice, 1 teaspoon honey, 1 clove of minced garlic, 1 tablespoon olive oil, smoked paprika, ground cumin, and dried oregano. Season to taste with salt and pepper; I add 1/2 teaspoon salt and 1/4 teaspoon pepper. Halve chicken breasts horizontally. Using a meat mallet or the bottom of your frying pan, pound breasts to even thickness (you don't want the meat super flat, just even in thickness). Place the prepared chicken in a large plastic bag and pour the marinade mix over. Seal the bag without air and knead to coat all the chicken in the marinade. Place in the fridge for 30 minutes up to 6 hours. IF possible, make the sauce now too so it has a chance to sit and flavors can intensify.

COOK CHICKEN:  Preheat a grill or grill pan to medium-high heat (about 400 degrees F.) Generously oil the grill (I drench a roll-up paper towel in vegetable oil and, holding it with tongs, rub it over the grill grates. Don't skip this step.) (Grill pan: add 1 tablespoon oil to the pan) Place the marinated chicken on the grill. Discard any leftover marinade. Grill for 10-12 minutes, flipping once in between halfway, or until chicken juices run clear and internal temperature is at 165 degrees F.

SALAD: Grill the corn on the cob and red pepper (Note 2). In a mason jar, add the red wine vinegar, lime juice, honey, olive oil, and salt + pepper to taste (I add 1/4 teaspoon salt and 1/8 teaspoon pepper). Shake to combine. In a bowl, toss the arugula, corn cut off the grilled cob (slightly cooled), and chopped bell pepper. Add dressing right before serving (you may not use all the dressing, but we like a generous amount). Toss to combine, taste for seasoning.

SAUCE: In a high powered blender, add the following: jalapenos, cilantro, garlic, olive oil, mayonnaise, mustard, lime juice, and sour cream. Season to taste with salt and pepper (I add 1/2 teaspoon salt and a pinch of pepper). Blend until smooth. Taste and adjust to personal preference. Note the heat does increase as the sauce sits.

ASSEMBLE: Serve grilled chicken alongside a generous helping of salad. Sprinkle cheese on top. Add sliced avocado if desired. Serve with a side of green sauce or drizzle it over everything.
Recipe Notes
Note 1: this is about 1 cup chopped jalapenos, remove ribs and seeds before adding to the blender. Use less or more depending on heat preference. The sauce's heat does intensify as it sits.
Note 2: How to grill corn: Preheat a grill to medium high heat, around 400 degrees F. Once hot, clean the grill grates. Remove the husks and silk from the corn. Pour about 1 teaspoon of vegetable oil on each corn cob and rub that oil into all the sides. Very lightly sprinkle salt and pepper on all sides of the corn. (Remember the cotija cheese is quite salty, so you don't want to add too much salt here.) Place corn on grill grates (nothing needs to go down first/don't wrap in foil) and close grill. Allow to cook (temps remaining at 400F) for about 3 minutes per side undisturbed. Using tongs rotate and continue cooking for about 12 minutes total. When all sides are browned, remove from the grill onto a plate. How to grill pepper: Rub vegetable or olive oil over the pepper and sprinkle lightly with salt and pepper. Place on the grill, rotate every 3-4 minutes for a total of 10 minutes or until charred to preference. Remove all veggies and let cool before chopping.