Take the filling from your favorite egg roll recipe, saute it all together in a skillet, add some noodles, and you've got Egg Roll Noodles!
These egg roll noodle bowls are packed with fresh veggies, ground meat, lots of noodles, and the best sauce! Pair Egg Roll Noodles with a quick salad like this winter fruit salad.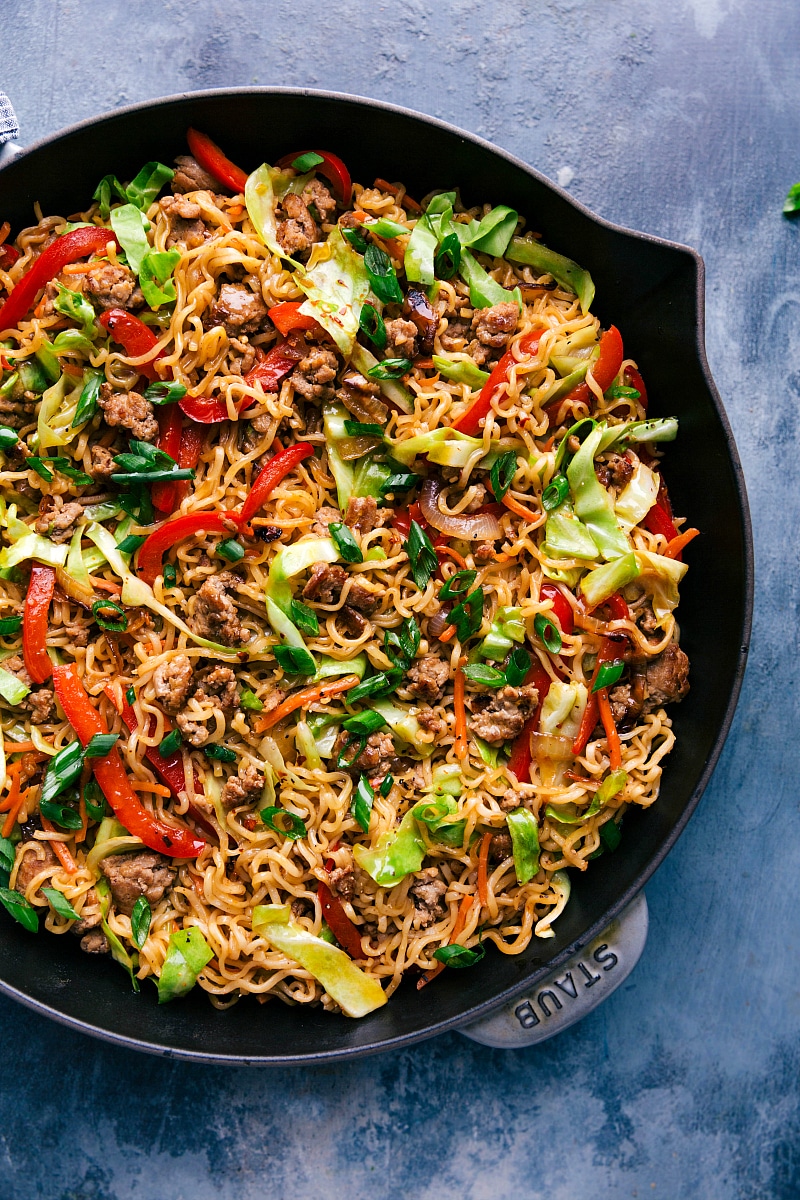 Within minutes of sharing the recipe for this Egg Roll in a Bowl, I received an email asking how exactly to add noodles to the dish. Should we double the sauce? What kind of noodles? Do the veggies stay the same?
Instantly I was intrigued with the idea and determined to make "egg roll noodles" a thing! I'm so grateful for the email (Thanks Sara!) because this dish is unbelievably good! Sauce-coated noodles, crisp-tender veggies, and perfectly browned pork? Egg Roll Noodles: I'm IN.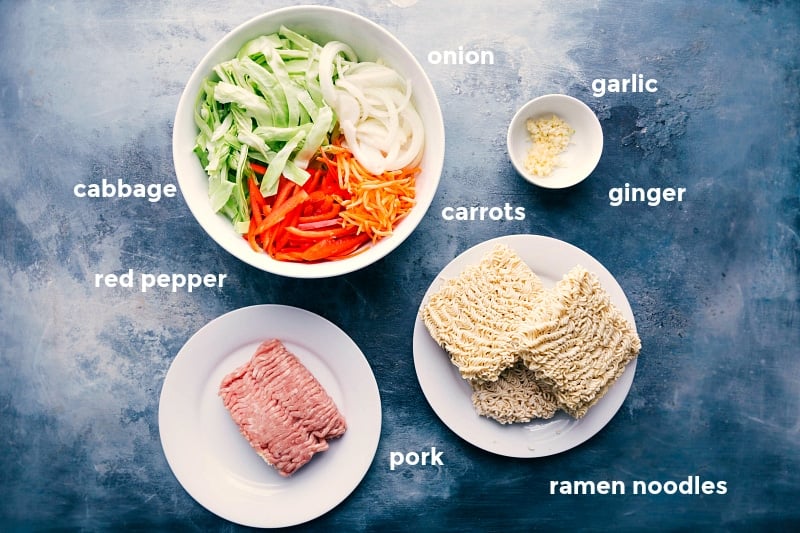 Egg Roll Noodle ingredients:
Below are the main noodle ingredients (excluding the sauce). I'm sharing some short-cut ideas and possible variations with each ingredient.
Onion: We thinly slice the onion for this recipe, but if you're looking for a shortcut (and as little chopping as possible), use pre-diced onions or frozen diced onions from the grocery store. Cook frozen onions just until water is evaporated.
Garlic: Use finely minced garlic cloves or use jarred, minced garlic for a quicker prep.
Ginger: Again, speed things along with finely minced ginger or use ginger paste. If you have neither on hand, add 1/2 teaspoon ground ginger.
Ground pork: We like ground pork best for flavor, but ground beef, ground chicken, or ground turkey will all work in Egg Roll Noodles.
Red pepper: Any sweet pepper works, or use a different veggie entirely such as water chestnuts, mushrooms, broccoli, or bean sprouts.
Green cabbage: You only need 3 cups for this recipe, so save the rest and use in this chicken chow mein later on in the week! You can also opt to use part of a bag of coleslaw (pre-chopped cabbage) as a time saver.
Matchstick carrots: This recipe requires 3/4 cup, so the leftover carrots will be delicious in this broccoli cheddar soup.
Ramen noodles: Discard the seasoning packets and just use the noodles. You can also use chow mein noodles instead of ramen; just make sure to have the right amount — 9 ounces is perfect for these Egg Roll Noodles.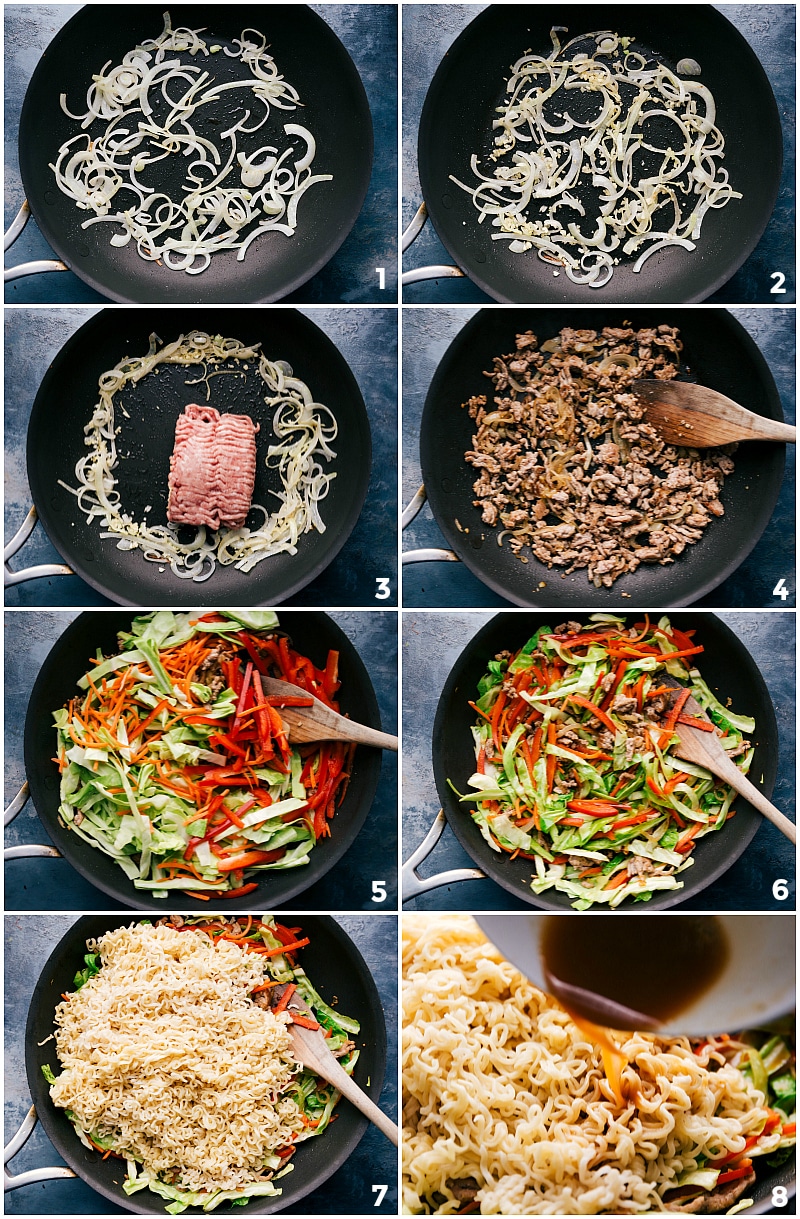 How to make Egg Roll Noodles
The step-by-step photos above correlate to the numbered descriptions below.
Saute the thinly sliced onions for a few minutes, in a good sized skillet, until they start to become translucent.
Add in the garlic and ginger.
Brown the ground pork (or other ground meat). Scoot the onions, garlic, and ginger to the sides of the pan while browning the meat.
Integrate the browned, crumbled, and fully cooked ground pork with the onion, garlic, and ginger.
Mix in the red bell pepper, chopped cabbage, and matchstick carrots.
Cook everything down for a couple of minutes over high heat.
Add in noodles (cooked and drained) right on top of everything.
Drizzle in the sauce and then vigorously toss everything with tongs until the sauce is integrated and coats everything nicely. Time to dig in to these Egg Roll Noodles!
Soy sauce: Use reduced or low-sodium soy sauce so this dish isn't overly salty. After all, you can always add some salt at the end, but you can't take it away.
Chicken broth or stock: Again, I recommend low-sodium products so you can control the amount of salt in this dish. If using beef, however, use beef stock or broth.
Cornstarch: This helps thicken the sauce. Here is a list of substitutes if needed.
Sesame oil: For a great authentic flavor, sesame oil really delivers! (This oil is typically found with Asian ingredients area, rather than with the other oils in the grocery store.) Sesame oil is a finishing oil which makes it great to drizzle on at the end.
Rice vinegar: This balances the sauce and adds a subtle tang. If you see a labels saying rice wine vinegar, it's the same thing.
Brown Sugar: Another balancing ingredient.
Oyster sauce: This ingredient gives this dish a restaurant-quality feel and adds the perfect umami flavor.
Sriracha® sauce: Sriracha adds heat and flavor to the egg roll noodles. You can of course reduce (or even omit entirely) this if you're not a fan of heat. And alternatively, add more or drizzle extra on your plate if you love the burn!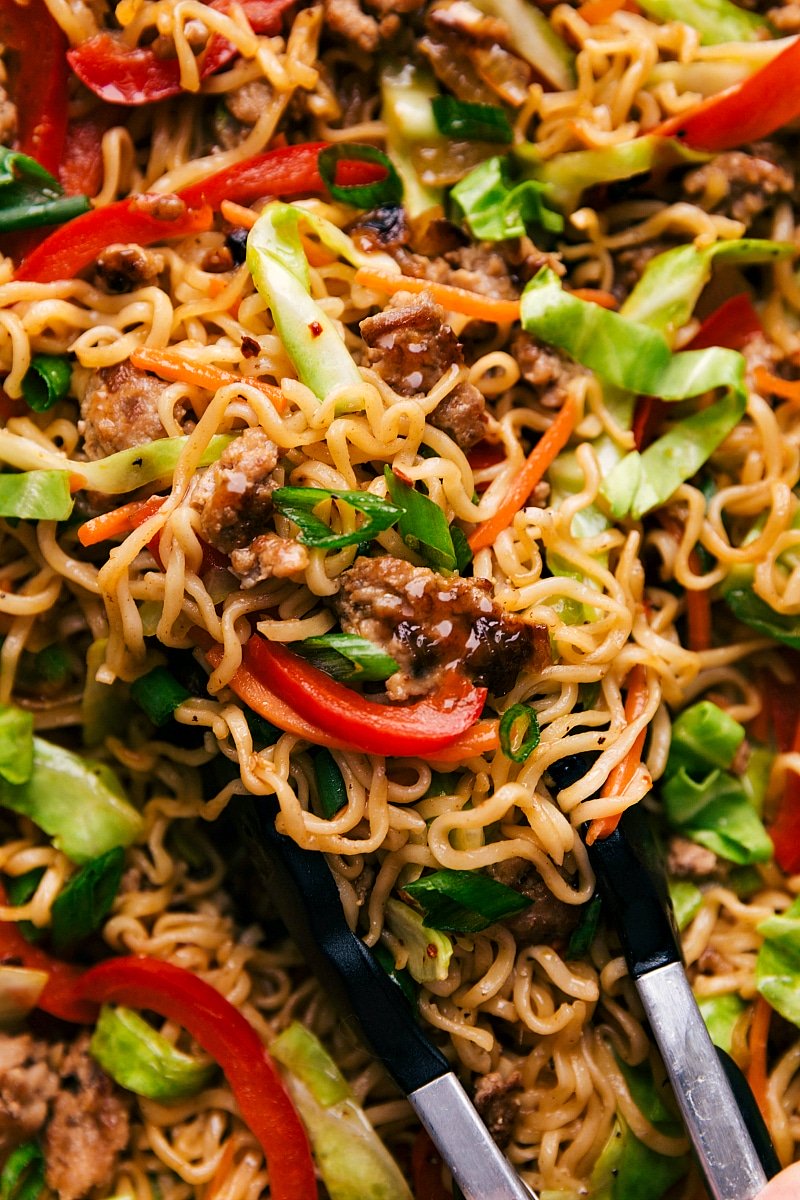 More easy dinner recipes: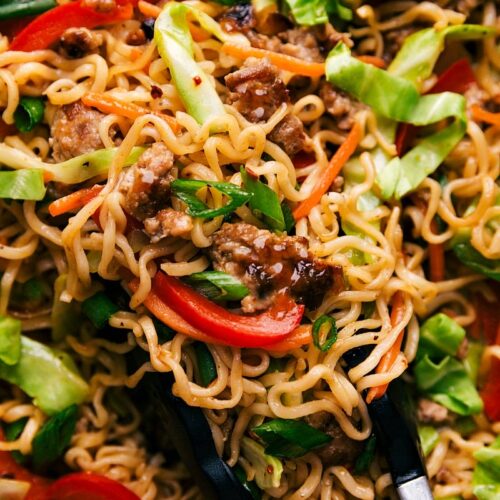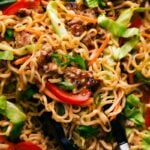 Egg Roll Noodles
Take the filling from your favorite egg roll recipe, saute it all together in a skillet, add some noodles, and you've got Egg Roll Noodles! They're packed with fresh veggies, ground meat, lots of noodles, and the best sauce!
Keyword:
Egg Roll Noodles
Ingredients
3

packages (3 ounces EACH)

ramen noodles,

seasoning packets discarded See Note 1

2

tablespoons

vegetable oil,

divided

1/2

large

yellow onion

very thinly sliced

1/2

tablespoon EACH:

finely minced garlic and finely minced ginger

(~2-3 cloves garlic, and ~1 inch piece ginger)

3/4

pound

ground pork

1

large

red bell pepper,

cut into very thin strips (~1 heaping cup)

3

cups

green cabbage,

thinly sliced

3/4

cup

matchstick carrots
Sauce
1/2

tablespoon

cornstarch

3

tablespoons

lite soy sauce

1/3

cup

low-sodium chicken broth

2

teaspoons

sesame oil

1

tablespoon EACH:

light brown sugar, rice vinegar

2

tablespoons

oyster sauce

1/2

tablespoon

Sriracha sauce,

optional

1/4

teaspoon

white or black pepper,

ground

Garnish with: 3-4 green onions, a few drizzles of sesame oil
Instructions
SAUCE: Start by whisking together the sauce. In a small bowl, use a fork to whisk together the 1/2 tablespoon cornstarch with 1 tablespoon soy sauce. Once smooth, add in the remaining 2 tablespoons soy sauce, 1/3 cup chicken broth, 2 teaspoons sesame oil, 1 tablespoon light brown sugar, 1 tablespoon rice vinegar, 2 tablespoons oyster sauce, 1/2 tablespoon Sriracha sauce, and 1/4 teaspoon pepper. Whisk until smooth and set aside.

VEGGIE PREP: Prepare the rest of your veggies, because the cooking goes quickly! Halve an onion and very thinly slice the half. Finely mince the ginger and the garlic. Thinly slice the cabbage. Remove the stem and seeds from the red pepper and slice it very thinly. Thinly slice the green onions.

RAMEN: Discard seasoning packets. Follow package directions to cook the ramen noodles, cooking for 1 minute less than the package directs. Drain noodles and immediately toss with 1 tablespoon vegetable oil. Set aside.

COOK PORK: Heat a wok or large and deep saute pan (12 inches minimum) over high heat. Add remaining 1 tablespoon vegetable oil and swirl to coat. Once the oil is shimmering, add in the onion. Reduce the heat as needed and cook for 3-4 minutes and then reduce the heat to medium high. Stir in the ginger and garlic, cooking for 30 seconds to a minute or until fragrant. Push the onions to the edges of the pan, return the heat to high, and add the ground pork in the center of the pan. Let it cook for 30 seconds without touching. Then, use a wooden spoon to break apart the meat into crumbles and cook until it's no longer pink, about 5-7 minutes. Integrate the onions, garlic, and ginger into the pork.

COOK VEGGIES: Reduce the heat to medium high. Add the red pepper, chopped cabbage, and matchstick carrots. It will seem like a lot, but it cooks down quickly. Stir-fry for 2-3 minutes and then add the noodles and the sauce. Continue to cook, tossing everything vigorously with tongs for about 2-4 more minutes or until sauce is absorbed into the mixture and the veggies are all crisp tender.

FINISHING: Taste and add additional soy sauce, Sriracha, and salt and/or pepper as needed. Top with green onions and enjoy while hot. Drizzle additional Sriracha or sesame oil on individual plates if desired.
Recipe Notes
Note 1: Alternatively use 9 ounces chow mein noodles.