A twist on the famous "Fruit Pizzas" — this one made in a tart pan with a sugar cookie crust and a delicious + light no-bake "cheesecake" filling.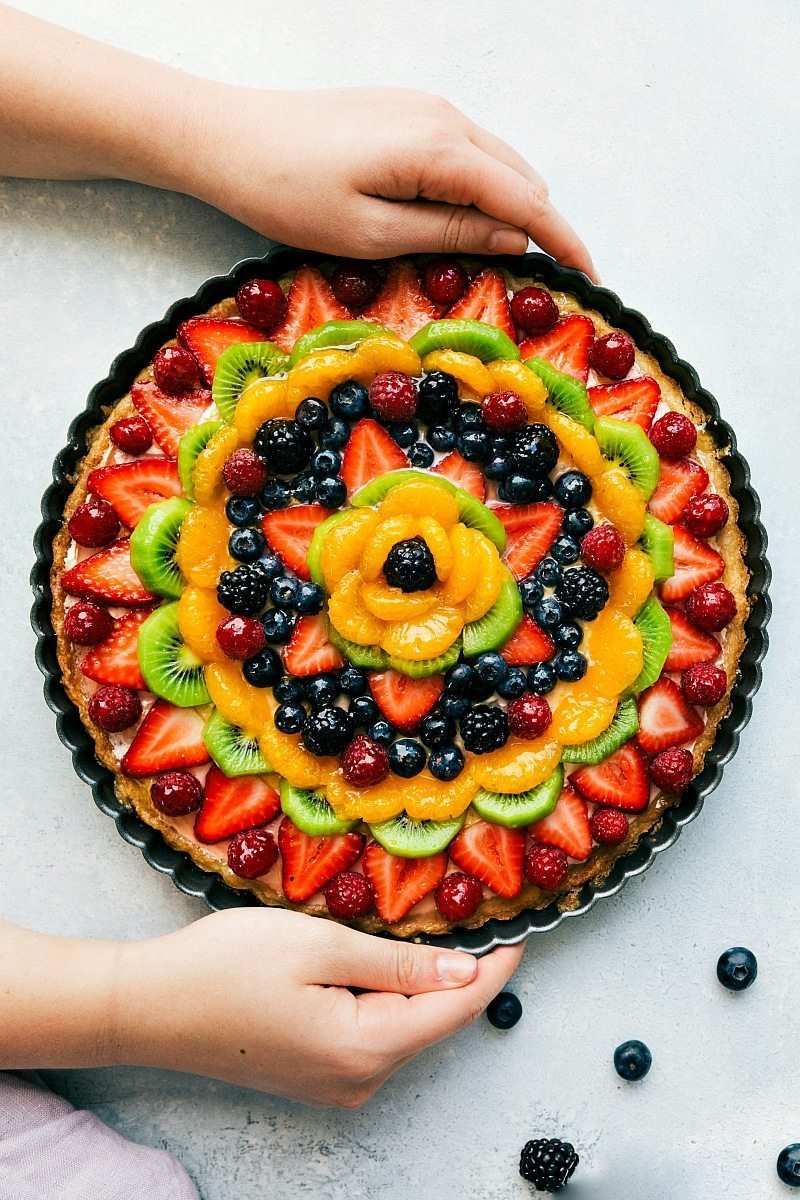 I know, I know. A fruit pizza isn't anything original and there are dozens all over the internet. But THIS fruit pizza cheesecake tart (or so I'm calling it) is an original adaptation that I think is literally the most amazing form of a fruit pizza ever.
The crust is thicker and chewier and there isn't just a thin coating of frosting — there is a thick layer of no-bake cheesecake that is crazy delicious. Seriously, I make the filling just for a fun dip for fruit because we love it that much! And then there is the beautiful arrangement of fruit glazed with some jam and this is the part we all know and love from the original fruit pizzas. So we're keeping the best things the same and just enhancing everything else (mainly changing a typical frosting for an easy "cheesecake" layer — a no-brainer to do this right?!)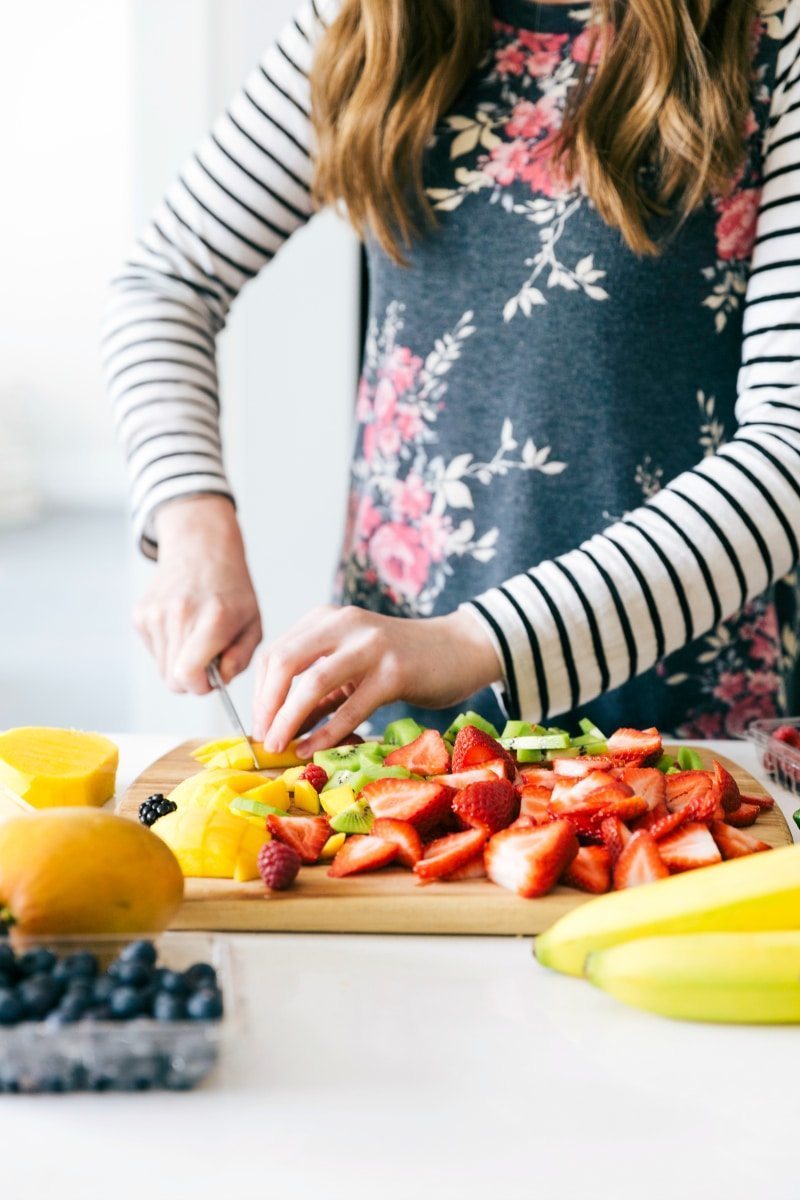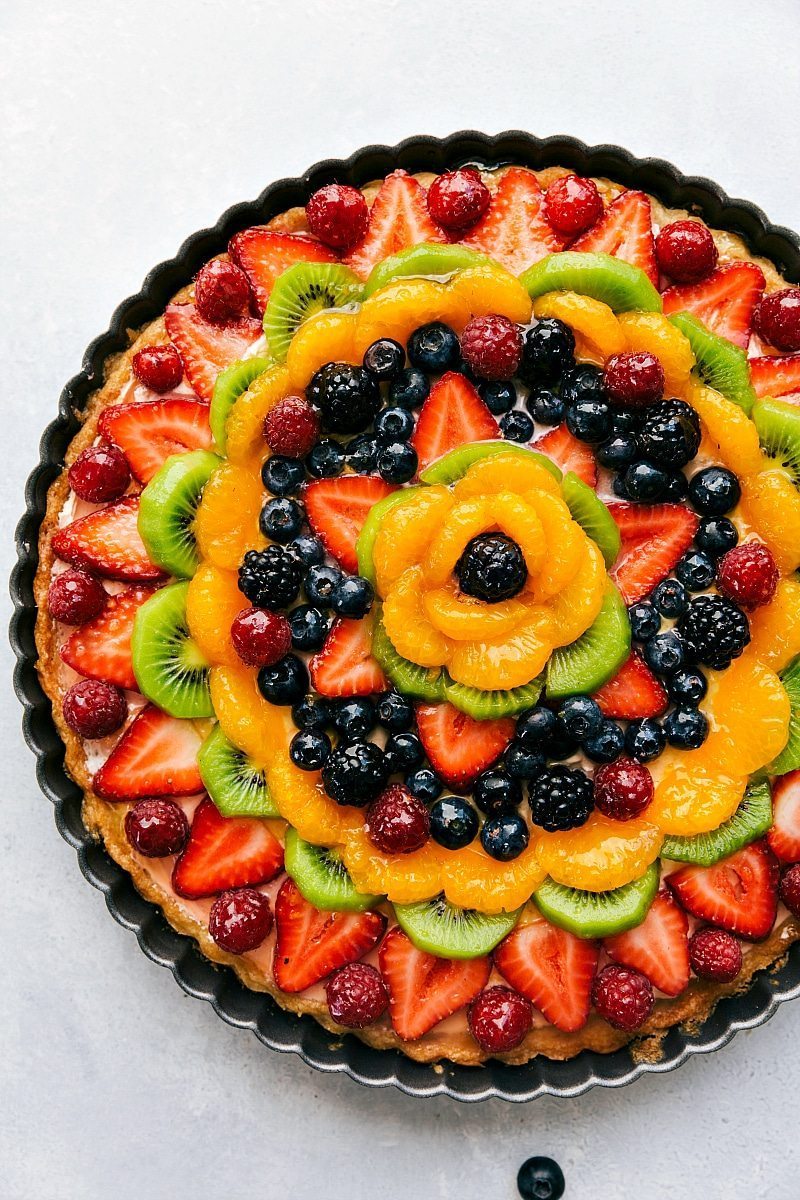 I've talked about the filling quite a bit, so let's dive into that for a minute. The filling has the flavors of cheesecake without the hassles of baking it. It's also light and airy like a mousse. It starts with cream cheese + sour cream and then you'll add quite a few flavorings — orange juice, almond extract, vanilla extract, and Orange jell-o mix (dry). You'll add just a tiny bit of powdered sugar and once this mixture is all smooth and creamy, you'll fold in some whipped topping. I recommend using frozen whipped topping that has been thawed as opposed to making your own whipped topping because it does hold up better in the tart and with the fruit.
This filling gets whipped together in minutes and chills as the crust is baking and cooling. It's got an insanely good flavor and the perfect texture to pair with a sugar cookie and fruit.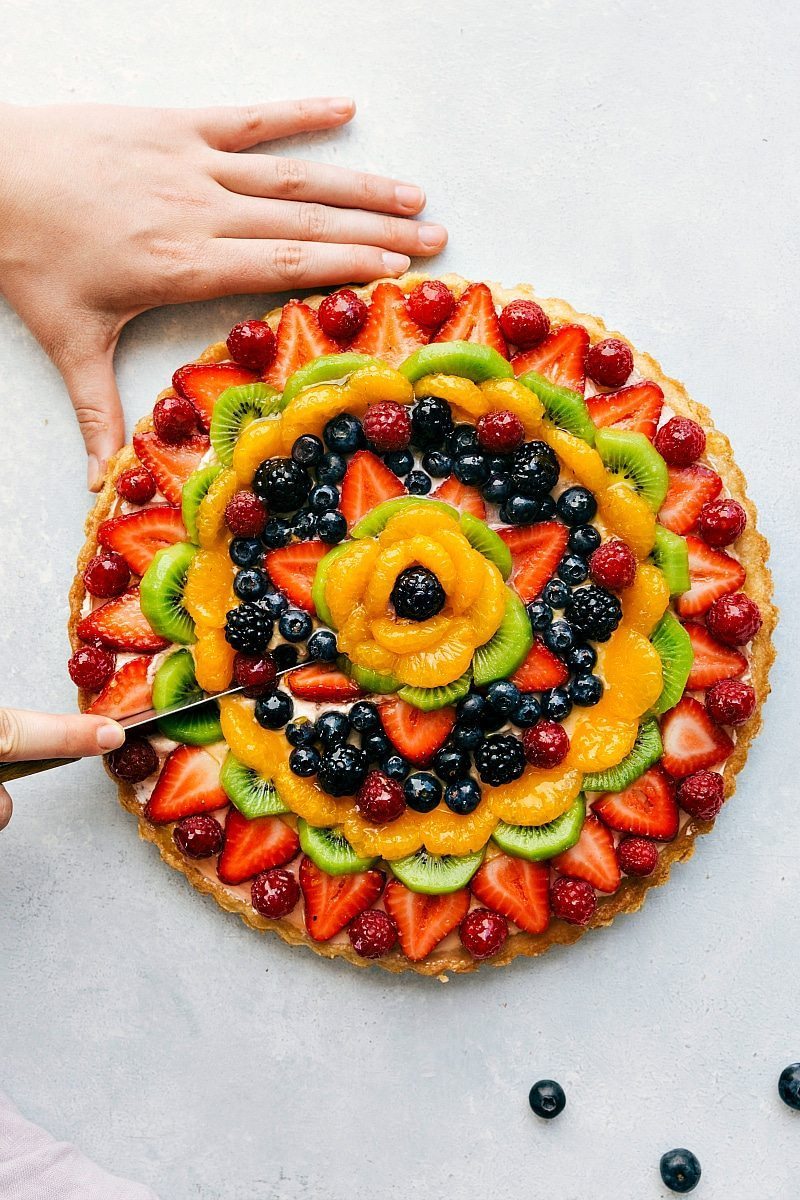 And once you've got that filling thickly slathered all over the crust you get to decorate! One of my favorite things about any kind of fruit pizza dessert is the creativity that comes in when decorating it — you can really do the top however you like and with whatever fruits are your favorite. I generally buy a whole bunch of fruit (let's be honest, whatever is on sale that we like!) and arrange it different every single time!
Today's version we've got:
Raspberries
Strawberries
Kiwi
Mandarin Oranges
Blackberries
Blueberries
And some other ideas:
Mango
Green Grapes
Red Grapes
Banana (if you plan on eating this pizza fairly quickly after making)
Pineapple
Canned Peaches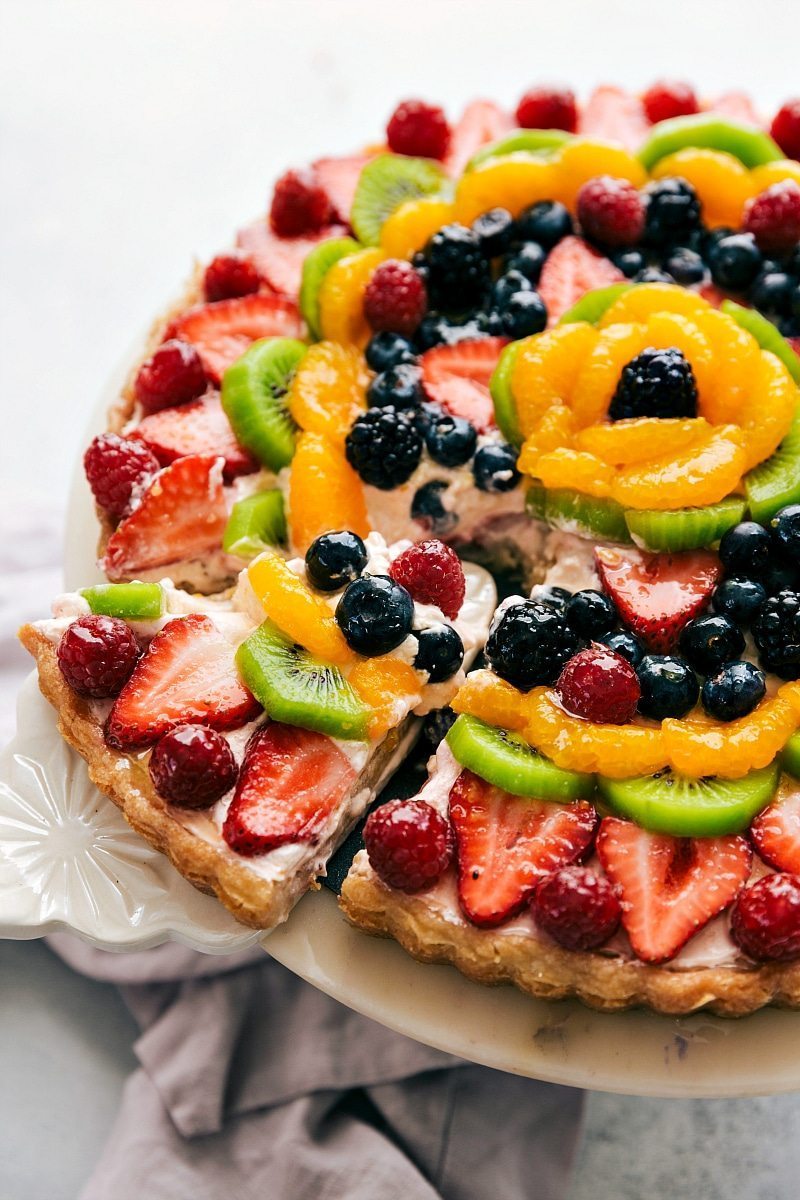 Smooth a glaze of apricot (or orange) jam mixed with a little bit of water all over this fruit and it's ready to be enjoyed. That is, after you take a million pictures because it's so pretty! (Seriously, making the first slice is a little painful. That is, until you take your first taste!)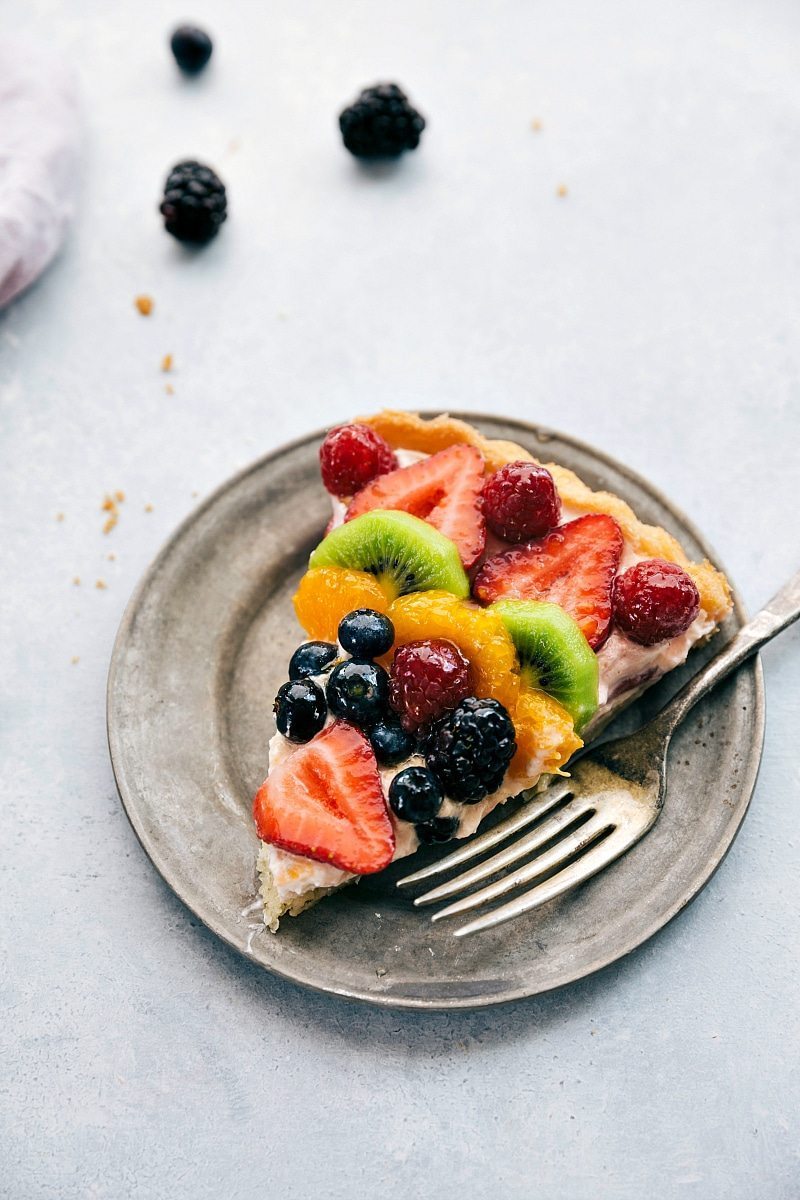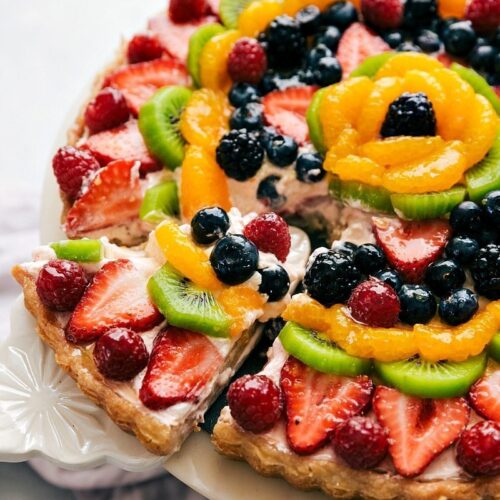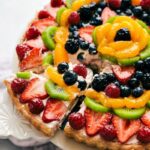 "Fruit Pizza" Cheesecake Tart
A fun twist on the ever famous fruit pizzas -- this one made with a thick layer of no-bake cheesecake
Servings
:
1
(11-inch) tart pan
Ingredients
Sugar Cookie Crust
1

package

(16 ounces) prepared sugar cookie dough (package should make 24 cookies), cold
Filling
1

package (8 ounces) cream cheese,

softened

1/2

cup

full fat sour cream

2

tablespoons

fresh orange juice

1

teaspoon

vanilla extract

1/4

teaspoon

almond extract

4

tablespoons

powdered sugar

3

tablespoons

orange Jell-o mix,

dry

1

container (8 ounces)

frozen whipped topping,

thawed
Topping
About

3-4 cups

Fresh fruit of your choice

(I used an assortment of strawberries, raspberries, kiwi, blackberries, blueberries, and mandarin oranges)

3

tablespoons

jam of your choice

(I used apricot and have also used orange marmalade)

1

tablespoon

water
Instructions
Crust
Preheat the oven according to package directions. Generously spray an 11-inch tart pan with nonstick spray and place the tart pan on a large sheet pan. Set aside.

Unwrap the cookie dough and press it all evenly and up the sides (3/4ths the way up) on the tart pan.

Bake in the oven for 18-22 minutes or until very lightly golden brown at the edges and center (be careful to not overbake). Remove and allow to cool completely.
Filling
Make sure the cream cheese is softened and the whipped topping is completely thawed.

Using hand mixers cream together the cream cheese, sour cream, orange juice, vanilla extract, almond extract, powdered sugar, and orange Jell-o mix. Beat until smooth and creamy.

Gently fold in the whipped topping. Chill, covered, in the fridge until the crust is completely cooled.

Fill the cooled crust with the filling mixture. (You don't have it use it all, but can. Use any leftover filling as a fruit dip for your leftover fruit!)
Fruit
Arrange fruit however you would like across the top of this pie.

Combine the jam and water in a small microwave safe bowl. Microwave the mixture for 10-15 seconds and stir well. (IF using a marmalade, press it through a fine sieve first)

Using a pastry brush, brush the mixture over the top of the fruit.

Serve immediately or cool in the fridge (covered). Store in the fridge; best enjoyed the same day it is made.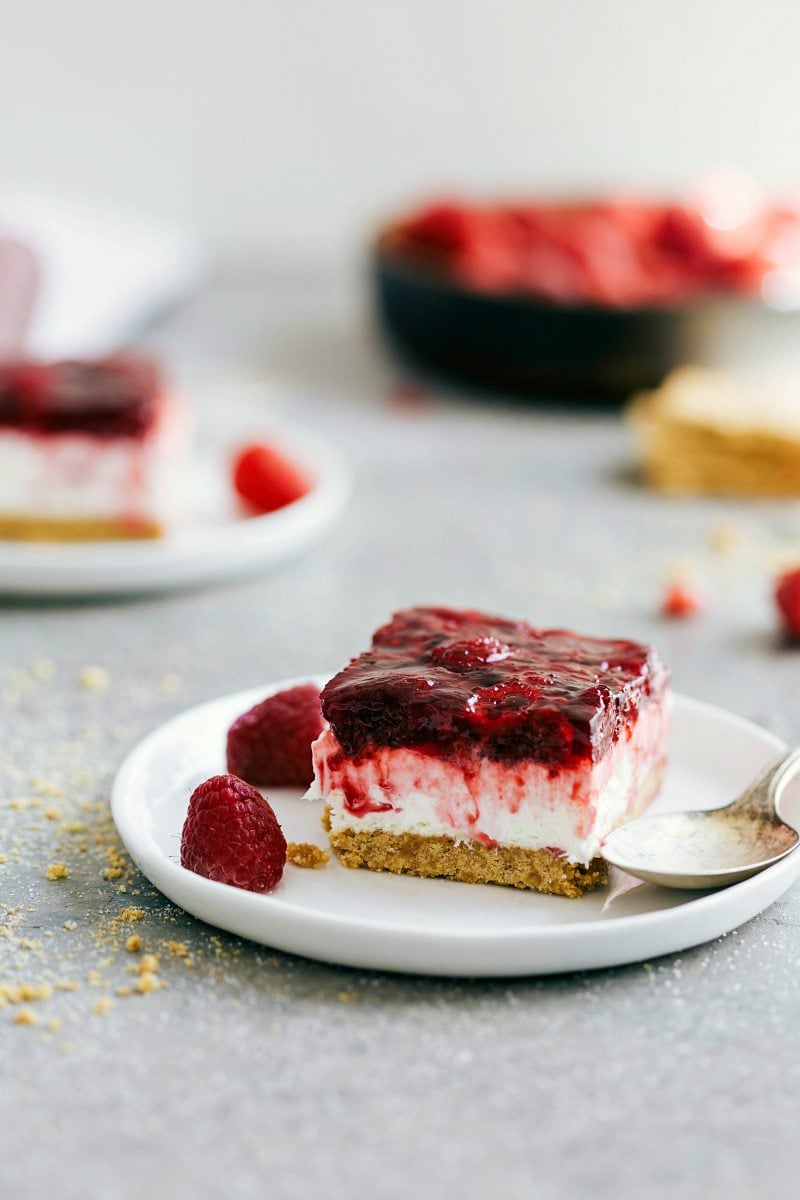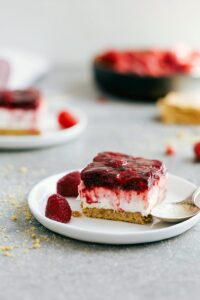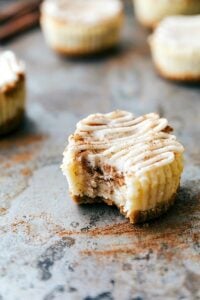 Miniature Cinnamon Roll Cheesecakes