Foil Pack Italian Sausage and Seasoned Veggies! A great outdoor grill or camping recipe. PLUS instructions to cook this in the stove and without foil!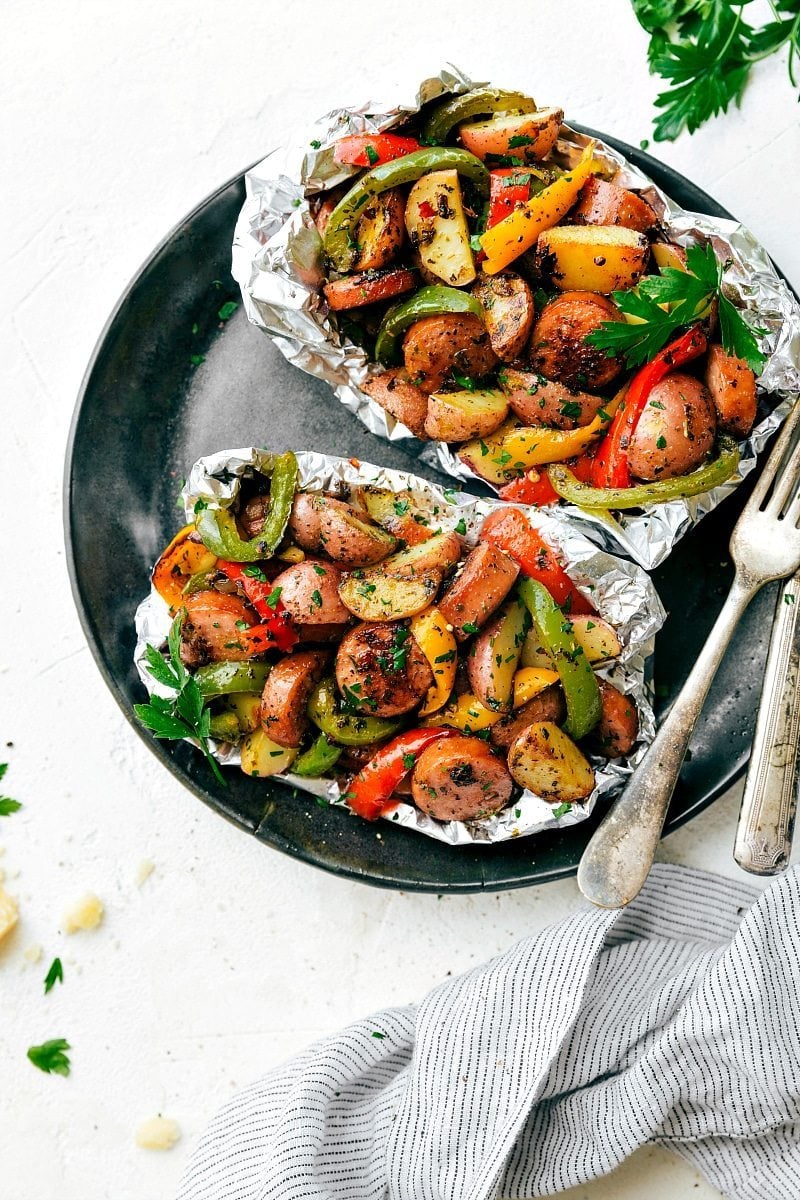 And just like that, Easter is over and the bunny won't be visiting us for another year. This truly tragic news has my boys, okay, mostly my toddler extremely distraught this morning.
I've been asked no short of a hundred times, "but, mama, who will hide the eggs now?" (as if Easter egg hunts were a daily occurrence in our house… they weren't.) and "why the bunny not coming back when I go to sleep?"
There have been too many tears to count and even though I've promised the bunny will in fact come back next year, the toddler has informed me, "but that be a long time!!" and that he "can't wait so much long time" and "but mama, the bunny will miss me!"
Being a toddler is hard.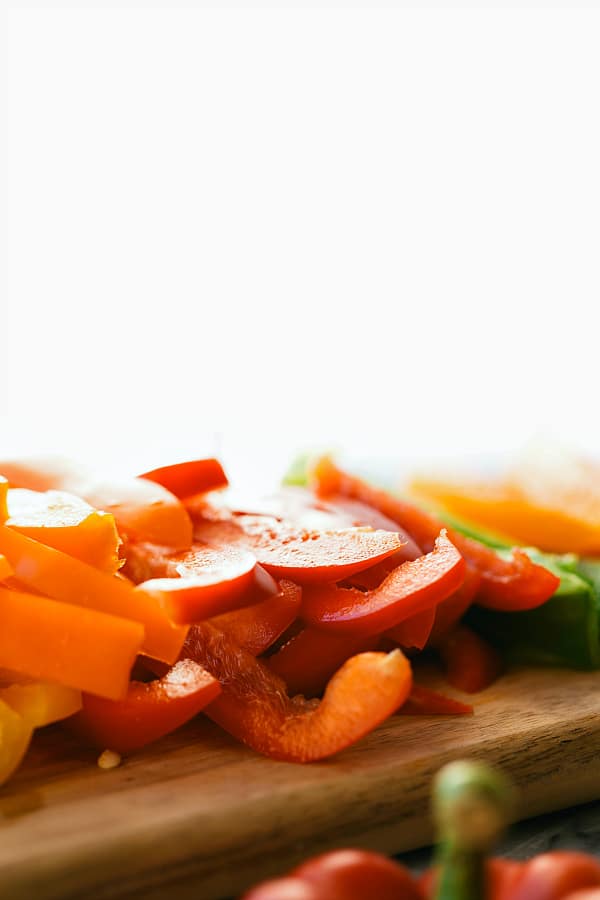 In other news, the boys cracked the shells on more hard-boiled eggs than they actually dyed, but apparently had fun in the process because they have since begged to dye all the eggs now before eating. So, trying to make them scrambled eggs out of plain white eggs this morning was unsuccessful. #pleasesendhelp
And in un-related to Easter news, I'm preparing you for summer with this recipe today because you all know I notoriously share recipes way before you'll actually want to use them. ?
Today we have a fun mash-up of two super popular dinner recipes on this site. Since you all have loved this Italian sheet pan sausage and veggies and raved over these tin foil sausage and veggie packs, I thought it was time to combine them into a seriously simple, delicious, & healthy dinner: Tin Foil Italian Sausage and Veggies!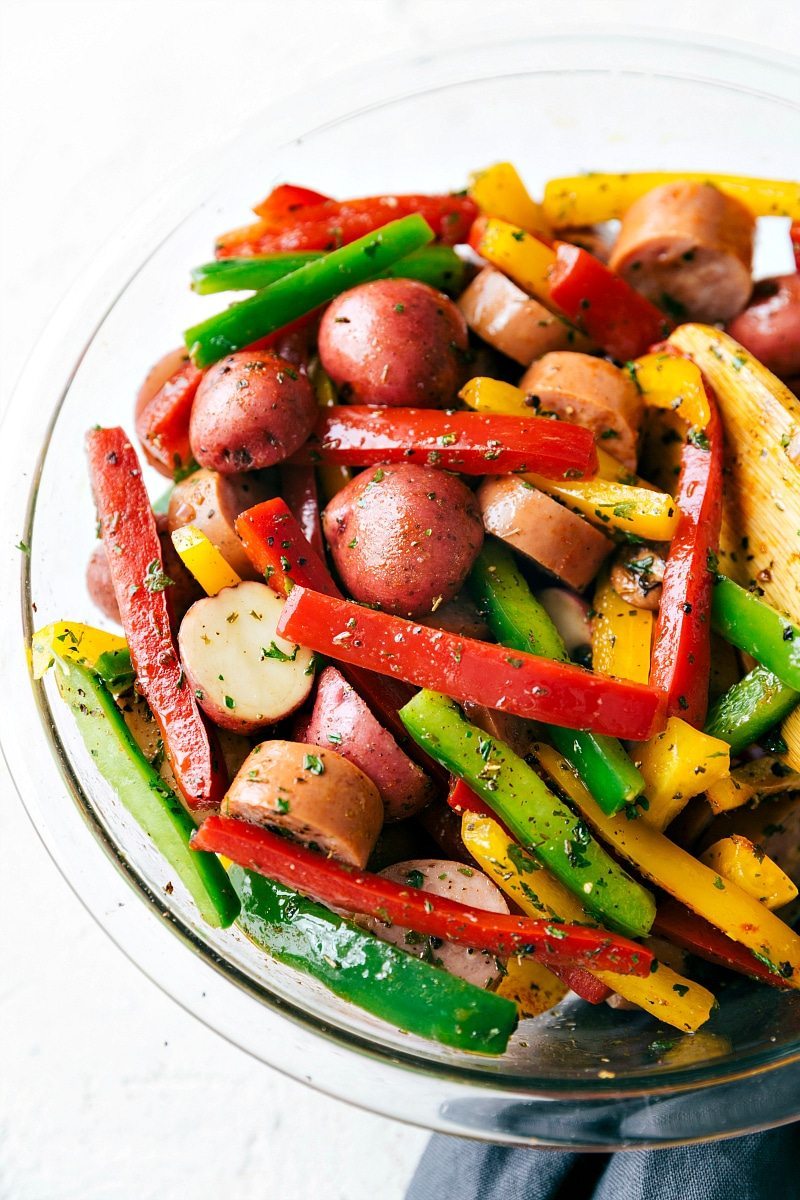 These foil packs are packed with delicious veggies and coated in an incredible Italian seasoning! As promised, I've also got a quick run-down of various ways you can cook these Foil Pack Italian Sausage & Veggies in case you don't have a grill, don't want to turn on the oven, or prefer to avoid tin foil in cooking. Here it goes:
Stovetop: throw the entire mixture into a large dutch oven (or half of the mixture into a large skillet) over medium-high heat. Stir occasionally until the veggies are crisp tender (about 12-15 minutes) adding in additional olive oil as needed.
Oven (no foil): grab a large sheet pan and line it with foil OR parchment paper so that none of the tray is exposed. Pour the entire mixture over it and bake at 425 degrees F for about 30-35 minutes, flipping the ingredients around once at the halfway mark. Toss that tin foil or parchment paper and cleaning up the tray shouldn't take more than a minute!
Oven (foil packs): separate the mixture evenly into 4-6 sheets of heavy duty foil and wrap them so the foil is completely sealed. Don't use more than 1 sheet of foil or these won't cook properly. Throw them right in the oven (you can place the foil packs on a sheet pan if you want for easier placement/removal from the oven, but it isn't necessary) and bake for 30-40 minutes. The time really depends on your preference — at 30 minutes, it's cooked, but pretty crisp for those that like their veggies a bit more crunchy. At 35 minutes, I'd say everything is "crisp tender" and this is where we like to pull 'em out. For super tender veggies, leave them in 40 minutes!
Grill (no foil): If you have a side burner on your grill, grab a large dutch oven skillet and add half of this mixture. Stir it around frequently, adding additional olive oil as needed, until veggies are tender (about 12-15 minutes).
Grill (foil packs): separate the mixture evenly into 4-6 sheets of heavy duty foil and wrap them so the foil is completely sealed. Place over a pre-heated grill (medium-high heat) and grill for 25-30 minutes. Make sure to check them at least once at around 10-15 minutes — if they are not pretty tender at this point, your grill needs to be hotter. Flip once in between the grilling process!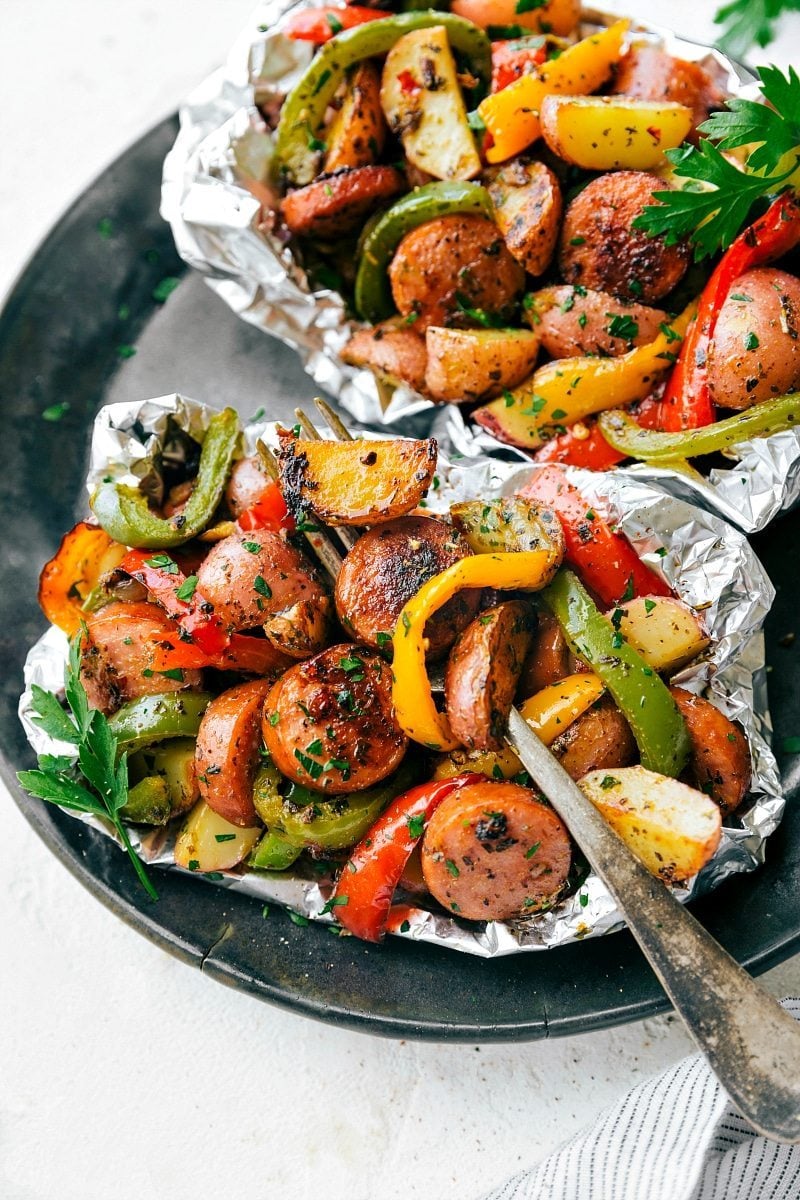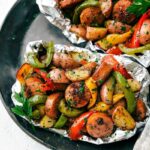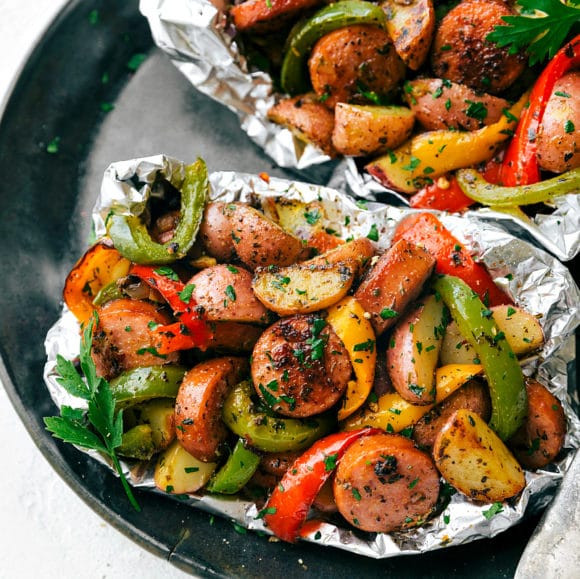 Foil Pack Italian Sausage and Veggies
Italian seasoned sausage and veggies made in a foil pack! A great outdoor grill or camping recipe. PLUS instructions to cook this in the stove and without foil!

Ingredients
Foil Packs
Heavy Duty Foil

16

ounces

Smoked Italian Turkey or Chicken Sausage,

coined

2

cups

baby red potatoes,

quartered

3/4

cup

yellow onion,

diced

1/2

cup

cremini mushrooms,

diced

3

small (or 2 large)

bell peppers

(whatever variety you'd like! I generally use 1 red, 1 yellow or orange, and 1 green)

4

cloves

garlic,

optional

4 and 1/2

tablespoons

olive oil
Seasonings
1/2

tablespoon

EACH: dried basil, dried oregano, dried parsley, garlic powder

1/2

teaspoon

EACH: onion powder, dried thyme

1/8

teaspoon

red pepper flakes optional

1/3

cup

Parmesan cheese freshly grated,

optional

Optional: fresh parsley, salt and pepper
Instructions
If using the OVEN; preheat the oven to 425 degrees F. If GRILLING, prepare the grill by heating to medium-high heat. Prepare 4-6 large sheets of HEAVY DUTY foil; lightly spritz with cooking spray. ALTERNATIVELY if you'd like to avoid cooking in foil and won't be grilling: line a large sheet pan with parchment paper (clean up is just as easy!)

Prep the ingredients: wash and dry the veggies. Coin the sausage. Slice the baby red potatoes in half and then half again. Dice the onion and mushrooms. Remove the stem and seeds on the bell peppers and thinly slice.

Add the sausage, veggies, and garlic to a large bowl. Toss with the olive oil and all of the seasonings (basil, oregano, parsley, onion powder, thyme, red pepper flakes, and a generous sprinkle of salt + pepper if desired). Toss until well combined.

Divide the mixture evenly among the prepared sheets of foil or prepared baking pan. Try to make sure 1 clove of garlic gets into each foil pack (you'll discard the garlic at the end, but it infuses everything with an awesome garlic flavor!) Seal the foil packs tightly so no air escapes, but do not double up foil (only one sheet of foil per pack).

GRILL: Grill for 25-30 minutes or until veggies have reached desired tenderness (flip the foil packs at the halfway point and check for doneness to insure your grill is hot enough). BAKE in foil packs: Bake for 30-40 minutes (at 30 minutes veggies are crisp; 35 is perfect for us; 40 is very tender veggies). You can set the foil packs right on the oven rack or on a sheet pan for easier removal from the oven. BAKE ON SHEET PAN: Bake for about 30-35 minutes, flipping/stirring the ingredients once at the halfway point. **See additional cooking methods in the last paragraph of the post)**

Carefully open the foil pack expecting steam to be released. Remove the garlic cloves and discard. Garnish if desired with fresh chopped parsley, any additional salt/pepper, and freshly grated Parmesan cheese.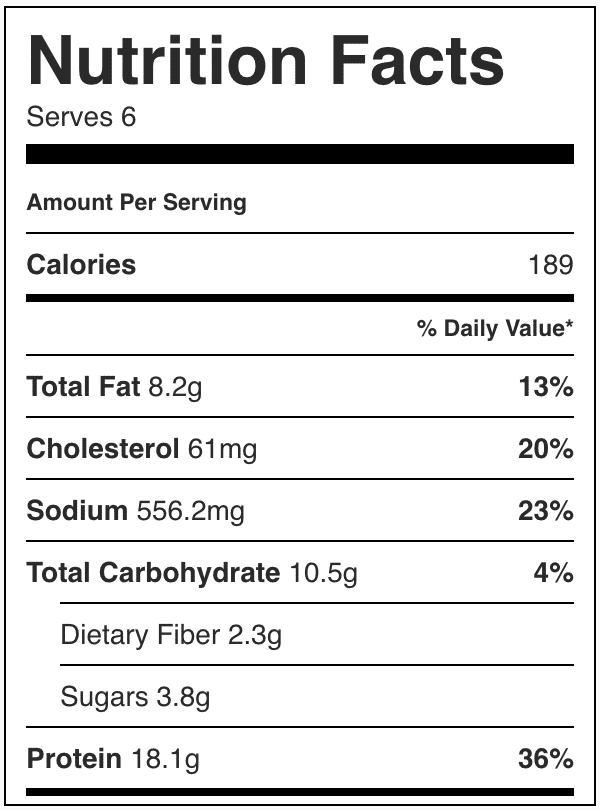 More Foil Pack Dinners: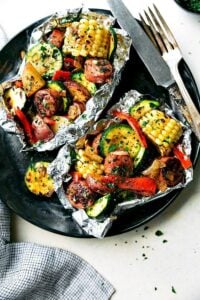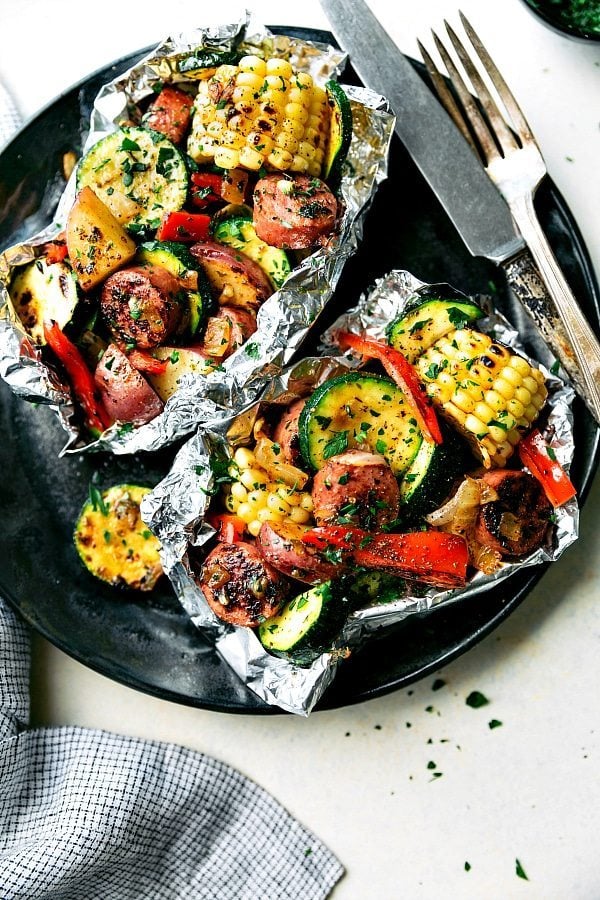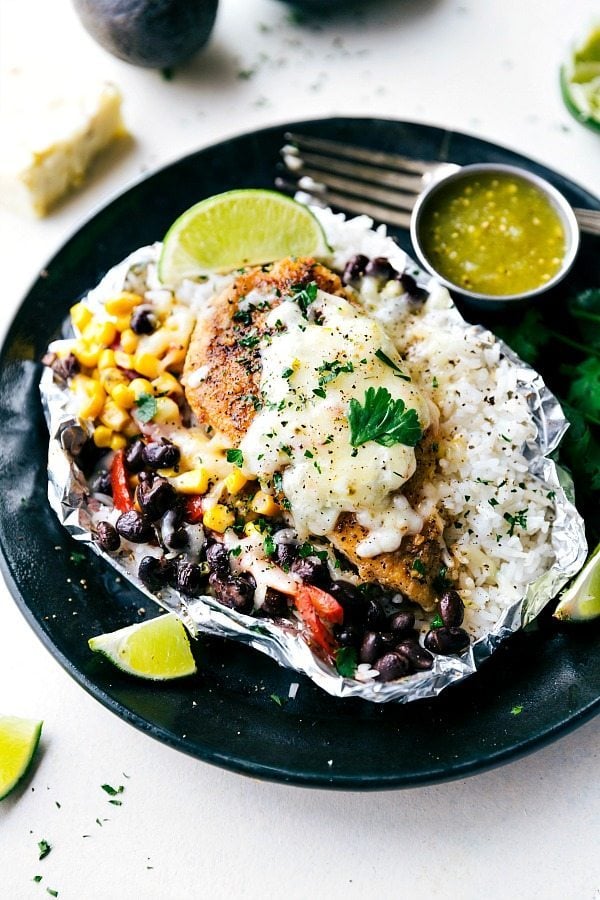 Foil Pack Salsa Verde Chicken and Rice