Easy and delicious veggie-packed tin foil packets! Perfect for the campfire, grill, or oven!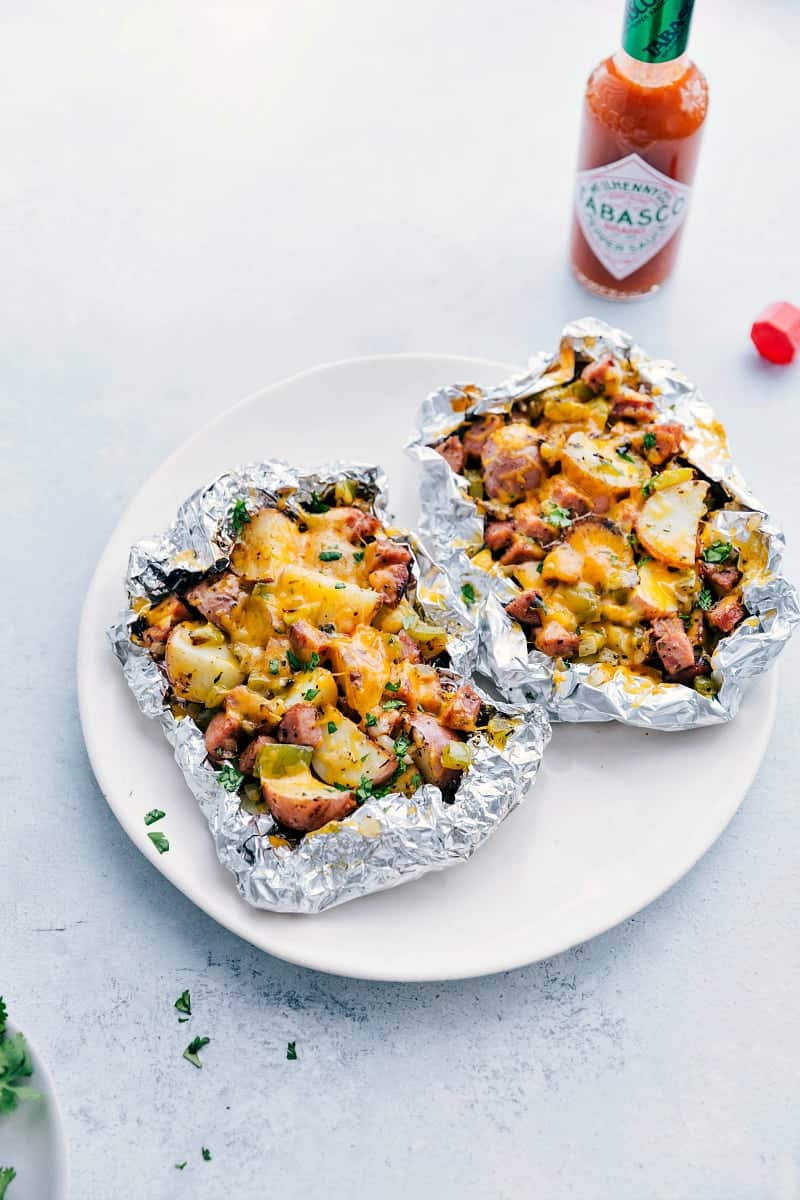 I'm excited to be partnering up with TABASCO® Brand this year to bring you delicious recipes, including this foil pack cheesy sausage & potatoes. As always, all opinions are my own.
I've mentioned before how much my toddler likes food with heat: he has a high tolerance for spicy food and absolutely loves it! One of his favorite snacks is chips and salsa, and he'll take his salsa medium or hot. Last year, when he'd get home from preschool, he would help himself to a bag of chips from the pantry and grab some salsa from the fridge. He loved having a snack he could prepare all by himself…and so did I 🙂
A few months ago he went to prepare his usual snack, but was disappointed to learn that we were fresh out of salsa. He was so upset! I explained that he'd have to find a new snack, and left the kitchen to take care of something else. When I returned a few minutes later I found him with a bottle of TABASCO® sauce, a bowl filled with the sauce, and a bag of chips. He told me he had found "salsa" and was absolutely thrilled. I won't tell if you won't.
When I told him I was going to be making some recipes with TABASCO® sauce, he made sure to confirm (about 100 times) that I would not use it all up so he could have some for his snacks. 🙂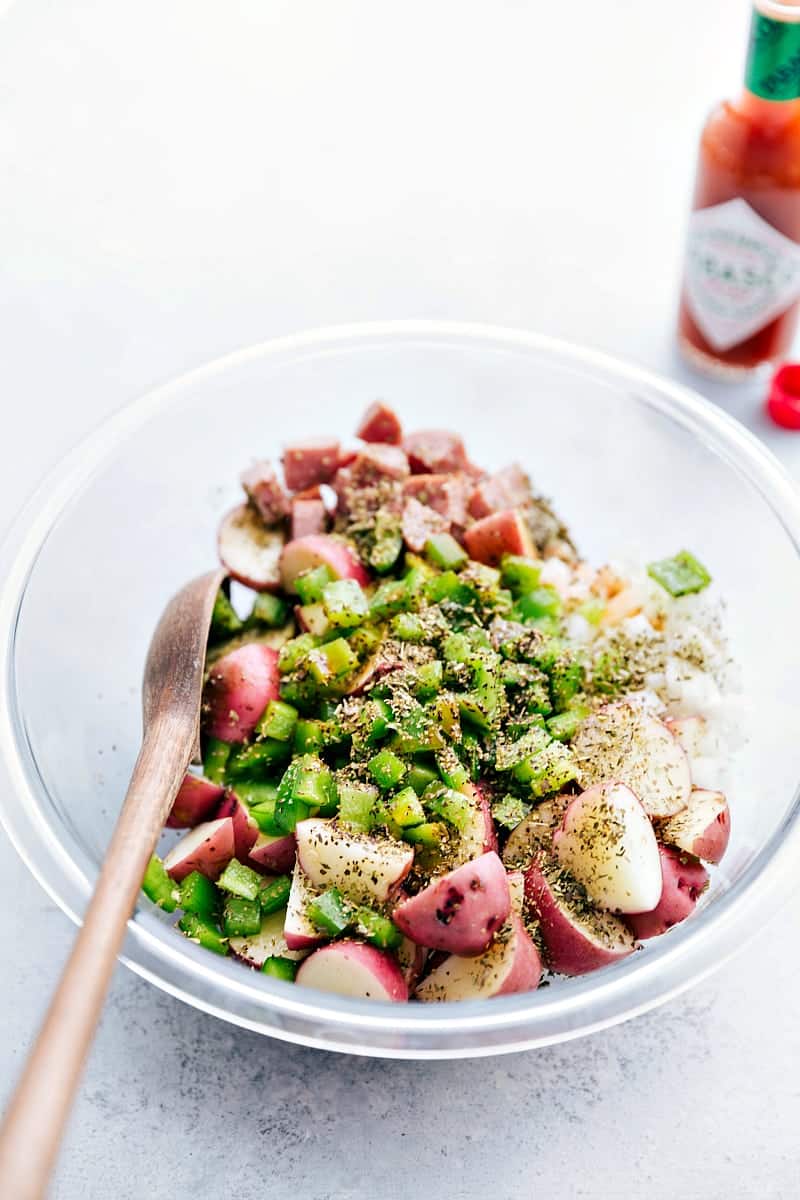 These tin foil packets aren't hard to make, but you'll want to make sure you have the ingredients uniformly prepared (to recipe specifications) so that everything can be cooked in time. Here's a quick run-down on the main ingredients:
Red Potatoes — the potatoes take the longest to cook, so it's important to prepare them correctly so they cook in time. I use baby red potatoes, and halve or even quarter them so they'll cook faster. If you're using regular red potatoes, you'll want to chop them into small bite-sized pieces. Err on the side of cutting the potatoes too small to ensure they'll be done along with everything else.
Sausage — to keep these foil packets on the healthier side, I'm using smoked turkey sausage. Smoked turkey sausage is not a raw sausage so you really just need to warm it through and infuse it with the other flavors in these packets. You can cut the sausage into coins, but I like it chopped up for this recipe.
Onion — chop!
Green pepper — chop!
As far as seasoning these packets, we keep it simple with salt, pepper, and a little Italian seasoning. The "secret" ingredient to these packets is some TABASCO® Sauce. This sauce ticks all the boxes: it's smokey, flavorful, spicy, and sweet. The sauce really amps up the flavor in this meal. We also like adding a few dashes (or more than a few if you're my toddler) to the cooked meal.
While these foil packs make a great dinner, they're also fun for breakfast. When I make these for break I add an egg on top of everything which my family loves. Finish these packets with some freshly grated sharp cheddar cheese, a sprinkle of cilantro (if desired), and a few extra dashes of TABASCO® sauce.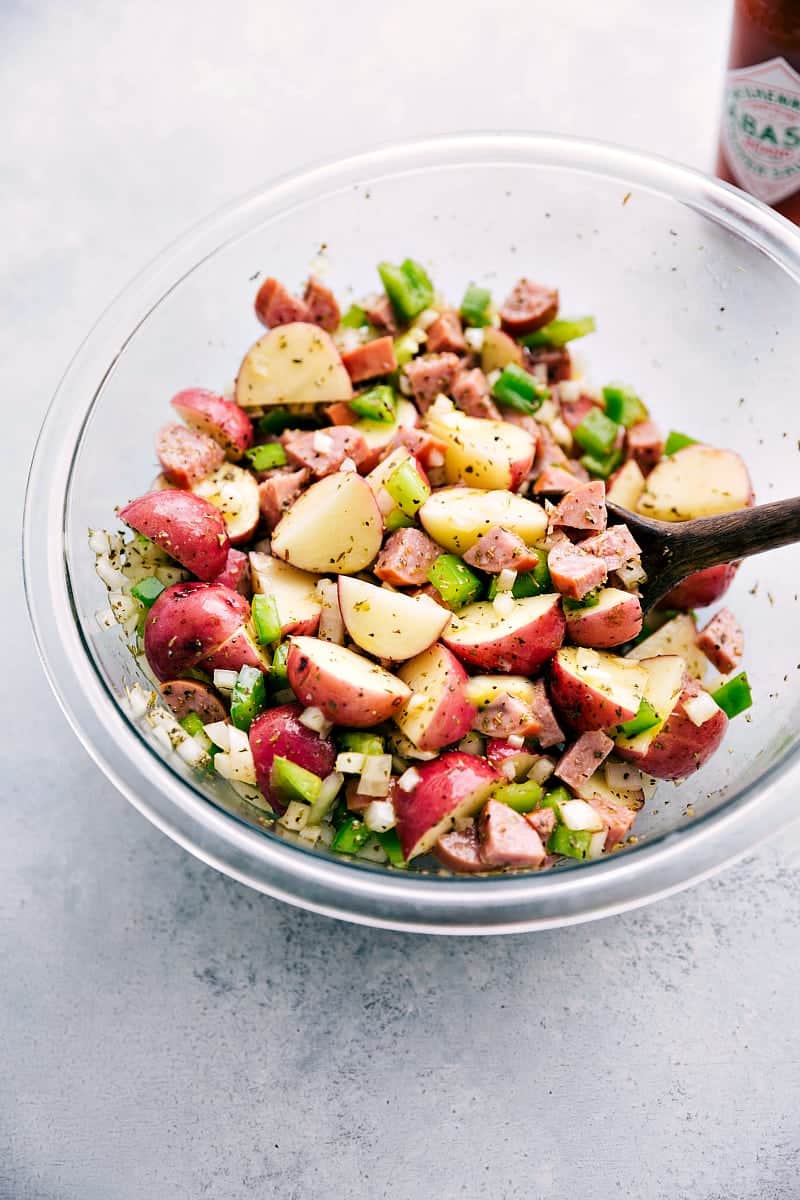 A few tips for the best Cheesy Sausage & Potato Foil Packs:
When grilling these cheesy sausage and potato foil packs, grill over HIGH heat (525-550 degrees F). At this temperature this will cook in as little as 15 minutes, depending on the actual temperature of your grill and size of your cut veggies.
Seal the foil packets tightly. Since these packets need to be flipped, make sure the seal is good and tight on these!
Make sure to toss the seasoning mix and olive oil thoroughly with all of the ingredients so you get a nice even coating over everything.
Use heavy duty foil for best results on the grill. There is no need to double-wrap these packets in multiple layers of foil (and if you do, they will take longer to cook).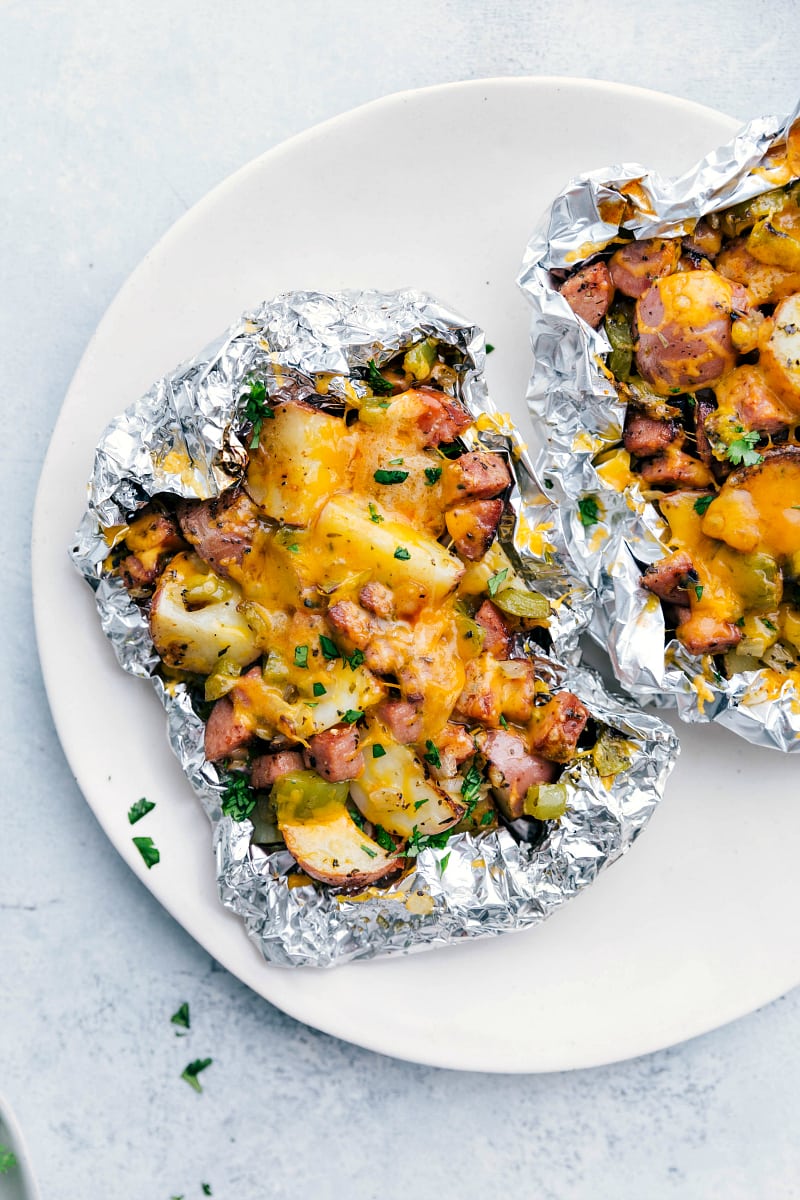 More Foil Pack Recipes:
Foil Pack Creamy Salsa Verde Chicken, Rice, and Veggies
Foil Pack Italian Chicken and Veggies
Foil Pack Italian Sausage and Veggies
For more delicious recipes, follow along on Pinterest, Instagram, Facebook, and YouTube ?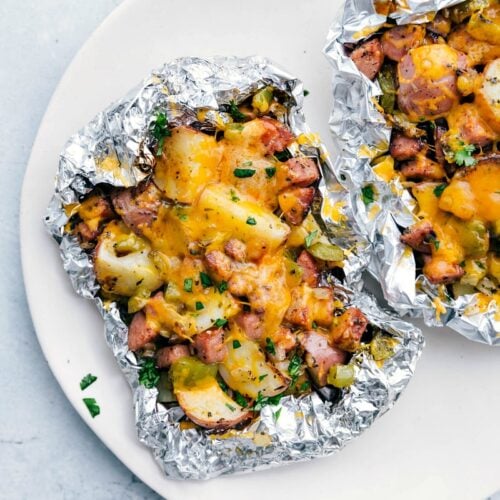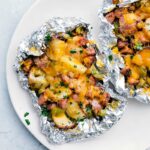 Cheesy Sausage & Potato Foil Pack
Easy and delicious veggie-packed tin foil packets! Perfect for the campfire, grill, or oven!
Keyword:
potato foil pack
Ingredients
Heavy Duty Foil and Cooking Spray

10

ounces

Smoked Sausage (I use turkey sausage)

1/2

of 1 large

Yellow Onion,

chopped (3/4 cup)

1

Bell Pepper,

chopped (3/4 cup) (red, green, yellow, or orange!)

1

pound

Baby Red Potatoes,

chopped

1/2

teaspoon EACH:

Fine Sea Salt and Freshly Cracked Pepper

1/2

tablespoon

Italian Seasoning

1

teaspoon

TABASCO® Sauce

3

tablespoons

Olive Oil

Additional TABASCO® Sauce and Chopped Cilantro, for serving

1/2

cup

sharp cheddar cheese,

freshly grated
Instructions
Set out 4 large pieces of heavy duty foil. Lightly spray with cooking spray and set aside. Preheat the grill to 500 degrees F.

Prepare the sausage and veggies: coin the sausage and then quarter the coins of sausage. Place in a large bowl. Chop the onion and bell pepper and add to the large bowl. Slice the baby red potatoes in half and half again (depending on size, halve again). You want the potatoes in pretty small pieces so they'll cook at the right timing!

Add the sea salt, pepper, Italian seasoning, TABASCO® Sauce, and olive oil to the bowl. Toss everything gently, but thoroughly to combine.

Separate mixture evenly into 4 parts on the prepared pieces of foil. Seal the foil packs leaving space for steam, but making sure the seal is 100% airtight.

Place on the 500 degree heated grill and grill for 10 minutes. Flip and grill for another 8-10 minutes. Remove from the grill and allow to sit for a few minutes before opening. Check for doneness and if not, add to the grill for another 5 minutes. Ours are always done at around 18 minutes!

Open gently and allow the steam to escape. Add a few additional dashes of TABASCO® Sauce to each packet. Sprinkle the cheese evenly over the foil packets and allow the heat to melt the cheese. You can also throw them back on the grill for another minute to speed up the process. Sprinkle fresh cilantro over the packs and enjoy!