Taco-flavored meat with pasta all covered in enchilada sauce and toppings. The best combo of Mexican foods and preparation time of 15 minutes!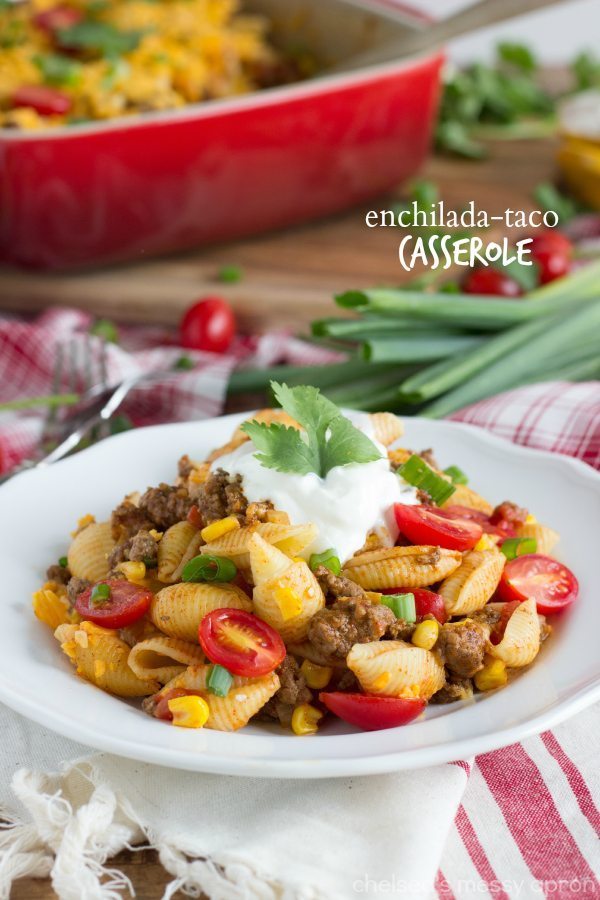 Let's talk food. AKA your new favorite dinner. And your kids and your friends and your distant relatives and even your pets. Too far? Yes. Please don't feed this to your pets.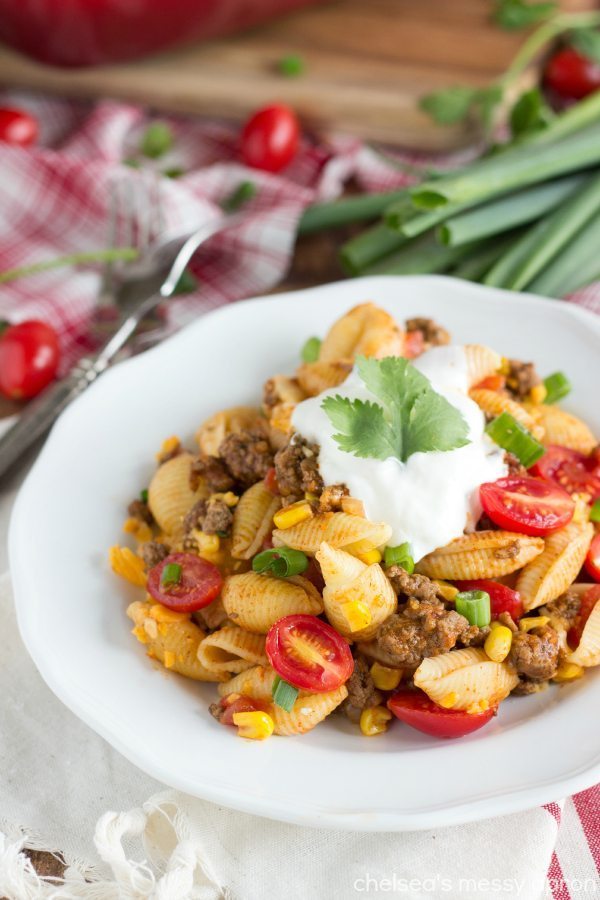 Basically this recipe is a combination of my two favorite Mexican meals – tacos and enchiladas.
Plus lots of carby goodness in the form of pasta. And it is super easy to whip up. Like all done being prepared in about 15 minutes and then just a little bit of time cooking in the oven. This casserole can even be made in say the morning or night before and then cooked when you are ready to eat. I love those kinds of meals. And especially love the meals when both the husband and babe are totally in love with it as well. We couldn't scoop this out and cut this up quick enough for the little guy.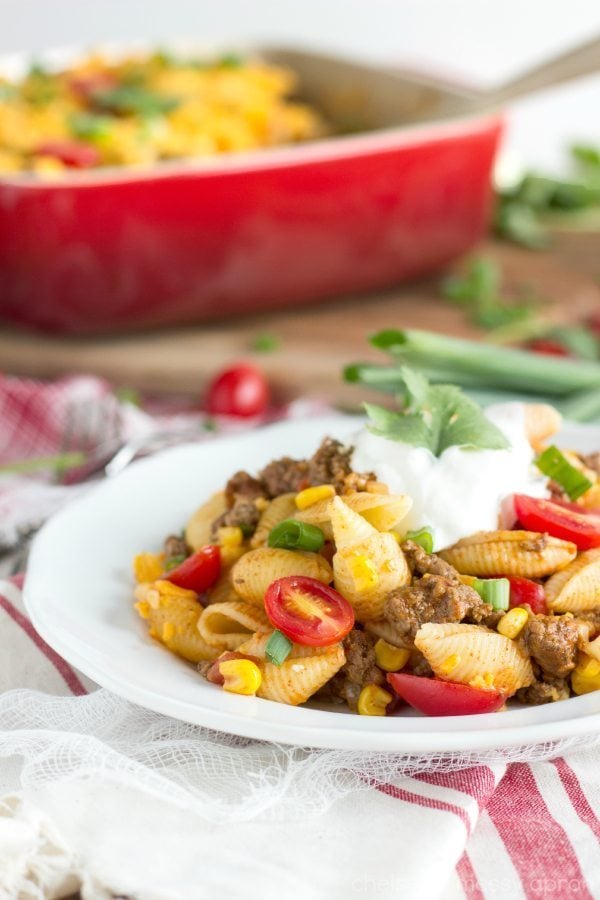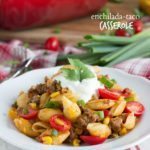 Enchilada Taco Casserole
Ingredients
1

package (16 ounces)

shells pasta

1

pound

extra lean ground beef

1/2

cup

yellow onion

1/2

teaspoon

minced garlic

1

packet

packet taco seasoning + 1/4 cup water

1

cup

corn

1

can (14.5 ounces)

petite diced tomatoes with green chilies*

1/2

cup

salsa

1

can (10 ounces)

medium red enchilada sauce

2

cups

taco blend or cheddar cheese

Optional toppings: sour cream, scallions, cilantro, cherry tomatoes
Instructions
Prepare the pasta according to package directions - cook until al dente, drain, and set aside.

Preheat the oven to 350 degrees F.

Meanwhile, in a large saucepan, brown the ground beef until completely cooked through (cook on medium heat). Drain any fat and return the meat to the saucepan.

Add in the onion and garlic. Stir and cook on medium heat for 2-3 minutes. Add in the taco seasoning and water. Stir until the meat is well coated with the seasoning.

Combine the pasta and meat mixture with the corn, (drained) petite diced tomatoes, and salsa.

Pour the mixture into a 9 x 13 casserole dish.

Cover with 1 (or 2) cans of red enchilada sauce. Cover with foil and bake for 20-25 minutes. Remove from the oven and top with cheese.

Return to the oven without the foil and cook for another 8-10 minutes or until the cheese is melted.

Top with optional toppings of choice and serve immediately.
Recipe Notes
*You can also use a can of plain diced tomatoes with no chilies or just increase the amount of salsa by 1 and 1/2 cups. Here are some other ideas or substitutions: you can add in black beans, double the enchilada sauce, and/or add some sweet bell peppers.
If you liked this dinner, you'll love these: