Slow cooked creamy chicken and wild rice casserole — easy prep and packed with flavor!
Today we're pulling out the crockpot and serving PURE comfort food. It's basically like a creamy chicken and wild rice soup but in casserole form. How do you do comfort food better than that?! It's the perfect cold weather meal!
As we think of creative dishes for Thanksgiving, Friendsgiving, or otherwise, this dish is the perfect alternative solution if you're looking for something beyond the classic Turkey.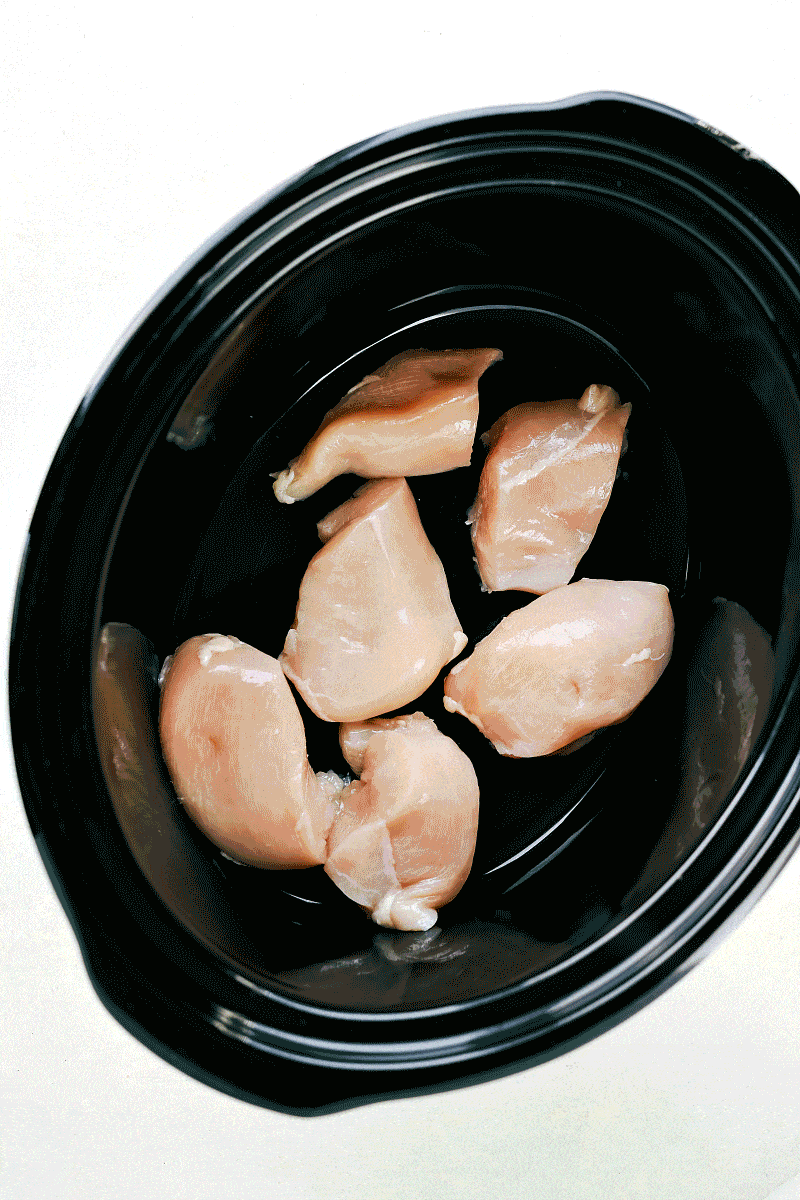 This meal has a little bit of veggie prep, but not too much so it can still be prepped quickly. If you're in a hurry you can grab pre-chopped veggies at the grocery store — there is usually a carrot-onion-celery mixture which is exactly what you need in this casserole. I also throw in a chopped sweet potato because I adore them, but that's totally optional.
In addition to those veggies, you can throw the rest of the ingredients into the crockpot. There aren't a whole lot of seasonings needed because I use chicken broth instead of water to cook the base of the casserole. Using chicken broth greatly elevates the end flavor of this dish.
The texture of the rice after slow cooking and adding to the creamy base ends up like a rich and creamy risotto. The rice is ultra-soft and melds perfectly with the cream addition. I use a wild rice blend in this casserole. Watch carefully what you buy — if you happen to get black (also called forbidden rice) it will turn your entire casserole purple!
You'll also want to watch the cooking time a bit. Unfortunately this casserole doesn't do well on low settings in the crockpot — it ends up with very unevenly cooked rice. At the high setting there will be variation in times since every crockpot is different. My crockpot cooks this casserole (tender rice and completely cooked chicken) in almost exactly 3 hours.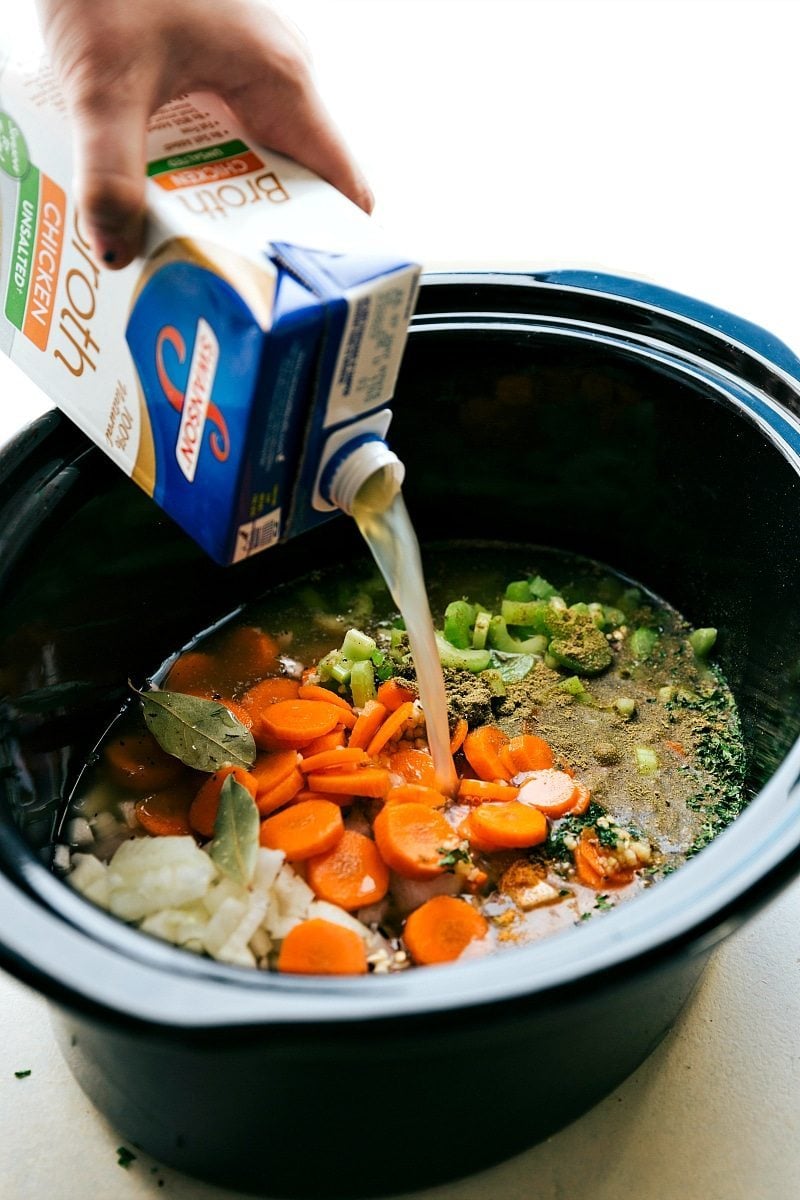 More delicious crockpot meals:
If your crockpot tends to run hot yours might be done sooner so I'd check around 2 and 1/2 hours. Crockpot that runs cooler could take up to 4 and 1/2 hours. You'll know it's done when most of the liquid has been absorbed and the chicken shreds easily.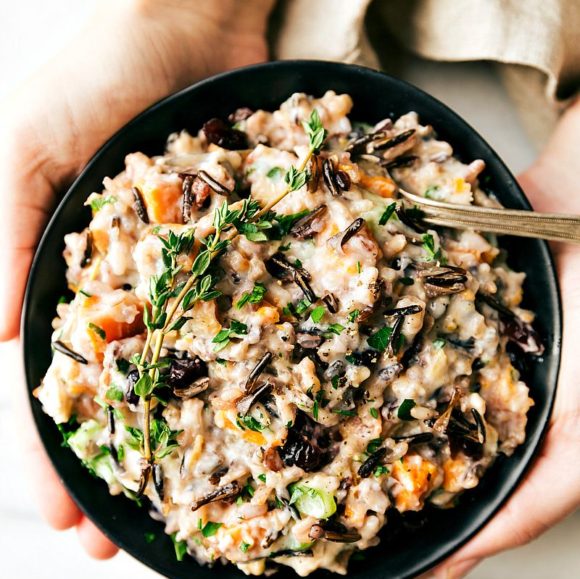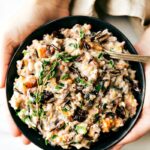 Crockpot Cheesy Chicken and Wild Rice Casserole
A risotto type creamy chicken and wild rice dish all made in the crockpot!
Ingredients
1 and 1/4

pounds

boneless skinless chicken thighs or breasts

1 and 1/4

cups

wild rice blend*

4

cups

Swanson Unsalted Chicken Broth

separated

2 and 1/2

cups

mixed vegetables

(use what you like OR 1 small onion, 1 carrot, 2 stalks celery, 1 small sweet potato)

1/2

tablespoon

minced garlic

1 and 1/4

teaspoon

poultry seasoning**

1 and 1/2

teaspoon

dried parsley

1/2

teaspoon

paprika

Salt and Pepper

2

bay leaves

6

tablespoons

unsalted butter

1/3

cup

white flour

1

cup

whole milk

1/2

cup

freshly grated cheddar cheese

Optional: sliced almonds, freshly chopped parsley
Instructions
Generously grease a large crockpot. I use a 6-quart crockpot for this recipe.

Trim the fat from the chicken breasts or thighs. If using chicken breasts, cut each breast into 2-3 even pieces (so they will cook at the same rate as the rice).

In a fine mesh strainer, rinse the wild rice blend to remove excess starch. Add to the crockpot.

Prepare the veggies: dice an onion, thickly coin a carrot, slice celery, and chop the sweet potato into bite-sized pieces. Add to the crockpot.

Add in the minced garlic, poultry seasoning, dried parsley, paprika, salt and pepper to taste (I use about 1 teaspoon of salt and 1/2 teaspoon of pepper), and bay leaves.

Pour 3 cups of chicken broth over everything and stir.

Cover and cook on high for 2 and 1/2 - 4 and 1/2 hours or until the chicken is cooked through, rice is tender, and most of the liquid has been absorbed. I do not recommend cooking this dish on low.

Near the end of cooking time, melt the butter in a small pot over medium heat.

Whisking constantly, slowly add in the flour. Whisk the mixture for 1 minute.

Very slowly whisk in the remaining 1 cup chicken broth. Allow the mixture to thicken. Again, very slowly, whisk in the whole milk. Allow the mixture to thicken.

Shred the chicken in the crockpot and then add in the cream mixture, cheddar cheese, and if desired sliced almonds and fresh chopped parsley. Taste and add any other seasonings to taste such as a pinch more of salt and/or pepper.

Enjoy immediately.
Recipe Notes
*Make sure you purchase a WILD RICE BLEND. Regular wild rice or black rice (forbidden rice) will turn the casserole purple. I do not recommend getting a wild rice blend from a box with seasoning mix in it. **Poultry seasoning can be found near all other spices. It is very important to not omit this because it adds quite a bit of flavor.