A blueberry cake with a hint of lemon, a cinnamon streusel, and cream cheese glaze. This dessert cake tastes like a blueberry flavored cinnamon roll in cake form!
Wowzas. This cake.
Definitely my new favorite dessert. Or can I call it breakfast? Because it does have "cinnamon roll" in the title.
And I've been eating it for breakfast for the past 3-4 days.
And then I've had it for dessert too. Hence my dilemma in appropriately naming it a breakfast or dessert.
Breaksert? No, weird. Dessefast? Double weird.
Good thing I was not tasked with creating a language or dictionary.
Okay focusing here. This cake. It tastes like a cinnamon roll. But eh, can I say better? Like in a cake-like form consistency.
The cake is pretty standard cake stuff filled with fresh blueberries, some lemon, and a bit of lemon zest.
Then the cake is piled high with a cinnamon-sugar streusel. Like the inside of a cinnamon roll times 10. Because this layer is thick, high, and s.u.g.a.r.y. In all the best ways of course.
And then this cake is generously covered in a cream cheese glaze. The same one I use when I make cinnamon rolls.
It is absolutely delightful. Breakfast OR dessert approved.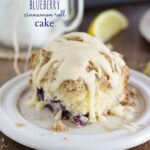 Blueberry Cinnamon Roll Cake
Ingredients
Blueberry Cake
3/4

cup

white sugar

1/4

cup + 2 tablespoons

unsalted butter

at room temperature

2

large

eggs

at room temperature

1

teaspoon

vanilla extract

1/4

teaspoon

almond extract

1

teaspoon

lemon zest

2

tablespoons

lemon juice

2/3

cup

2% plain Greek yogurt

1

teaspoon

baking powder

1/4

teaspoon

baking soda

1/2

teaspoon

salt

1 and 1/4

cups

white flour

1

cup

blueberries + 1 tablespoon flour
Streusel
1/4

cup

white sugar

1

cup

brown sugar

1

tablespoon

cinnamon

1/4

cup + 2 tablespoons

unsalted butter

softened

1 and 1/3

cups

white flour

1/4

teaspoon

salt
Glaze
3

cups

powdered sugar

1

ounce

cream cheese

softened

1/2

cup

unsalted butter

softened (not melted)

1

teaspoon

vanilla extract
Instructions
Cake
Preheat the oven to 350 degrees F. Grease and flour and 8 x 8 cake pan.

In a large bowl, mix together the white sugar and butter until fluffy. Add in the eggs one at a time.

Mix in the extracts, lemon zest, lemon juice, and Greek yogurt.

In a separate bowl, combine the baking powder, baking soda, salt, and flour.

Combine wet and dry ingredients being careful to not over-mix.

In a separate small bowl, combine the blueberries and flour. Lightly stir the blueberries into the cake mixture.

Pour the mixture into the greased cake pan and set aside.
Streusel
Beat all of the ingredients together until combined and crumbly.

Crumble evenly over the cake to form a very thick streusel layer.

Bake at 350 degrees for 45-50 minutes or until a toothpick comes out clean when inserted.
Glaze
Beat together all of the ingredients until smooth. If needed add a little bit of milk to get a thinner consistency.

Drizzle the glaze over the cooled cake.
Recipe Notes
Cake recipe highly adapted from AllRecipes
More cinnamon roll delicious-ness: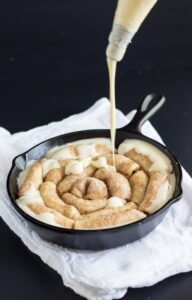 30 Minute Skillet Cinnamon Roll Cake
Cinnamon Roll Cupcakes with a Brown Sugar Streusel