The best way to use your leftovers from Thanksgiving! A delicious flatbread piled with chipotle-ranch covered lettuce, leftover turkey breast, tomato, avocado, and bacon! Recipe video right below printable recipe.
Okay, who gets more excited about the Thanksgiving LEFTOVERS than the actual Thanksgiving food? It's a toss up for me — I love both! Cop out answer right?! I know…
SO if we are comparing Thanksgiving turkey + mashed potatoes to this flatbread or a cranberry turkey salad (recipe coming soon!) then I would have to say leftovers. This flatbread and the salad I have coming at ya soon are in my opinion the very best way to enjoy turkey. Oh, and those mashed potatoes can always be a side. What, you don't eat mashed potatoes on the side of your flatbread meals usually? Weird.
This flatbread is pretty much a fun way to serve a salad. At the restaurant I worked at (for seven years ?) one of my favorite salads was served on a pita flatbread. Basically they would lightly toast the flatbread and then pile it high with dressed lettuce. On top of that they would lay on some steak, cucumbers, olives, and tomatoes. Then drizzle some more dressing over top everything else.
So I got the idea for this flatbread from that. I used store-bough Naan bread (just because that's my favorite), but you can use pitas or another type of flatbread. Homemade or store-bought is up to you! Spread on some cheese (I used spreadable pepper-jack cheese, but pick your fave). Then pile it high with dressed iceberg lettuce, chopped roma tomatoes, some chopped avocado, your leftover chopped turkey (or chicken!), and some cooked crumbled bacon. You can add some other things like red onions, green onions, sunflower seeds, etc. Whatever you like on a turkey-avocado sandwich will be awesome on this flatbread.
After that drizzle on some more dressing and this flatbread is ready to be devoured. ❤️
The dressing is actually inspired by the chipotle ranch dip I shared a little bit ago. I've been eating that dip with EVERYTHING and making it so often I thought it was about time to turn it into a salad dressing. And all it takes is 1 extra ingredient so it's still super simple and easy to make.
All you do is thin out the dip with some buttermilk. I used 1/2 cup because I like it thick, but add buttermilk until you get to your desired consistency. If you don't have buttermilk and don't want to get some *just* for this recipe, you can also quickly make your own. Place 2 teaspoons of fresh lemon juice (or vinegar) in your 1/2 measuring cup. Fill up the rest with regular milk and stir it. Let it sit for 5 or so minutes and it's ready to go!
For the dressing you'll need some dry Hidden Valley Ranch Dip Mix (I use 1 and 1/2 tablespoons). It makes this dressing a cinch to throw together and turn your Thanksgiving leftovers into a wonderful meal that is quick and easy! There is also chipotle peppers in this so make sure to add slowly (start with 1/2 of one) until you reach the heat that you like. Note that it does get hotter after sitting and being stored!

Okay and now a quick video to see the assembly of this flatbread!! A few notes though: I completely forgot the bacon on the video, but if you love turkey, avocado, bacon combos you'll love the bacon on the flatbread! So definitely make sure to add it 🙂 Next note, I didn't include in the video how to make the dressing because it is literally the exact same recipe (and would have been the same video) as this chipotle ranch dip except you thin it with buttermilk. So if you want to watch the dressing being assembled, click over to this video and note that the only difference is adding that buttermilk!

Turkey Avocado Flatbread (Video)
Ingredients
Flatbread
2

large pitas, or flatbreads, or Naan bread

4

wedges

spreadable cheeses (Laughing Cow makes these)

I used spicy pepper-jack

2

cups

iceberg lettuce

chopped

1

roma tomato

1

large

avocado

1

teaspoon

lime juice

1/2

cup

leftover turkey

3

strips bacon
Chipotle Ranch Dressing
1/2

cup

regular mayo

substitutes not recommended

1/2

cup

sour cream

I've used regular and low fat -- not too much difference in flavors

1 and 1/2

tablespoons

Hidden Valley Ranch Dips mix

dry

1

tablespoon

packed fresh green onions

1/2

tablespoon

fresh lime juice

1/8

teaspoon

dried minced garlic

or 1/2 teaspoon fresh minced garlic

Pepper

to taste

1-2

in

chipotle peppers adobo sauce *

NOT the entire can

1/2-1

cup

buttermilk

or regular milk + 2 teaspoons lemon juice
Instructions
Flatbread
If you want to toast the naan, preheat the oven to 425 degrees F. Brush 1-2 teaspoons olive oil over the flatbread and place on the rack (not on a tray) for 2-4 minutes or until lightly toasted. Watch carefully to avoid burning.

Spread 2 cheeses on each flatbread.

Toss the chopped iceberg lettuce with the dressing (instructions below) and pile on top of the cheese.

Cut up the tomato and avocado. Toss the avocado with lemon or lime juice. Place half of the chopped tomatoes and avocado on one flatbread and the remaining on the other.

Chop the turkey into small pieces.

Split the leftover turkey onto each flatbread.

In a skillet over medium heat, cook the bacon until crisp. Remove on to a paper towel lined plate and dab off the excess grease. Crumble and top the flatbreads.

Add any other optional toppings and then add a bit more dressing.

Slice and enjoy
Dressing
Combine all of the ingredients in a blender or food processor.

Blend until completely smooth.

Taste and adjust -- adding more seasonings to taste preference or increasing the chipotle peppers to heat preference.

Pour in the buttermilk until you reach your desired consistency (I only add 1/2 cup). If you don't have buttermilk you can quickly make your own. Place 2 teaspoons of fresh lemon juice (or vinegar) in your 1/2 measuring cup. Fill up the rest with regular milk and stir it. Let it sit for 5 or so minutes and it's ready to go!
Recipe Notes
The quantities of flatbread ingredients are a general guideline. Add more or less of your favorite fixings depending on your personal preference 🙂
Related Thanksgiving Recipes (add leftover turkey to these recipes!):
Roasted Sweet Potato and Wild Rice Salad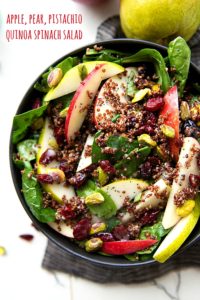 Quinoa Spinach Fall Salad with Apples and Pears