As soon as Fall comes around, I go a little crazy with squash. Remember the nine butternut squashes I bought? Yeah, they have quickly dwindled down to only 2 left. I just. can't. get. enough. !
Along with all those butternut squashes I bought, I also got a few acorn squashes. I've had fun experimenting in the kitchen with squash recipes — and the recipe I'm posting today? It's definitely a winner. This dish is the perfect medley of Fall flavors including a crisp granny smith apple, dried cranberries, chopped pecans, flavor-packed sweet potatoes, crunchy celery, and nutty-flavored brown rice (we'll get to that in a minute).
If you don't like squash, you probably haven't made it to this point of the post. Buuuut in case you have, let me tell you about how great this recipe is. You see, the filling in this squash is good enough to stand alone! It's flavorful and filling and squash-free. (I even think it would make a fantastic Thanksgiving side-dish if you are looking for one.)
Oh yes. So, I was going to tell you about this "nutty-flavored rice." To get a deeper, richer, and ultimately nutty tasting rice I added some flaxseed to it. Is that weird? Just trust me on this one — you can't taste the flaxseed. Adding just a bit adds a depth of flavor that perfectly complements the other ingredients in this dish.
Another fun ingredient in this dish is the granny smith apple. The apple adds a tart crunch to each bite that is mellowed out by the slightly bitter-sweet crispiness of the celery. I'm begging you — do not leave out this apple!
Another confession about my obsession with squash (as if my buying 9 butternut + 4 acorn isn't enough evidence): when I was first experimenting with this recipe, I stuffed butternut squash inside the acorn squash (instead of sweet potatoes the recipe now calls for). Too much squash? Is that even a possibility?! So if you happen to be as obsessed with squash as I am, feel free to stuff squash inside of squash. And if not, the sweet potatoes are equally delicious.
I hope you enjoy!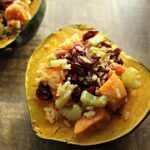 Stuffed Acorn Squash with Brown Rice, Pecans, & Cranberries
A medley of Fall flavors including a crisp granny smith apple, dried cranberries, chopped pecans, flavor-packed sweet potatoes, crunchy celery, and nutty-flavored brown rice packed into an acorn squash
Ingredients
4

acorn squash

2

cups

brown rice

3

tablespoons

olive oil

1/2

teaspoon

minced garlic

or 1 garlic clove

2

cups

sweet potato

chopped into small pieces

1

teaspoon

chicken bouillon powder

2

cups

celery

chopped

1

(about 1 and 1/4 cups)

granny smith apple

diced

2

tablespoons

golden flaxseed

optional

2/3

cup

dried cranberries

Salt and Pepper

to taste (about 1/4 teaspoon of each)

Chopped pecans to top

optional
Instructions
Microwave the squashes for about 8-10 minutes. Let cool, slice in half and remove the seeds. Preheat the oven to 350 degrees F.


Follow package directions to make 2 cups of brown rice.


In a large saucepan, add in olive oil and saute garlic for 30 seconds. Add in the chopped sweet potatoes. Saute for about 10 minutes or until sweet potatoes are tender. Add in the chopped celery, diced apples, salt, pepper, and chicken bouillon.


When the brown rice is finished, mix in the flaxseed and then combine the rice with the vegetable mixture. Add dried cranberries and mix until ingredients are well incorporated.


Stuff the squashes with about 2/3 cup of the vegetable and rice mixture. Cover the stuffed squashes with tin foil. Place the squashes on a large cookie sheet and cook for 45-50 minutes or until squash is tender.


Remove from the oven and top with chopped pecans if desired.