Fresh and flavor packed salad with an incredible strawberry balsamic vinaigrette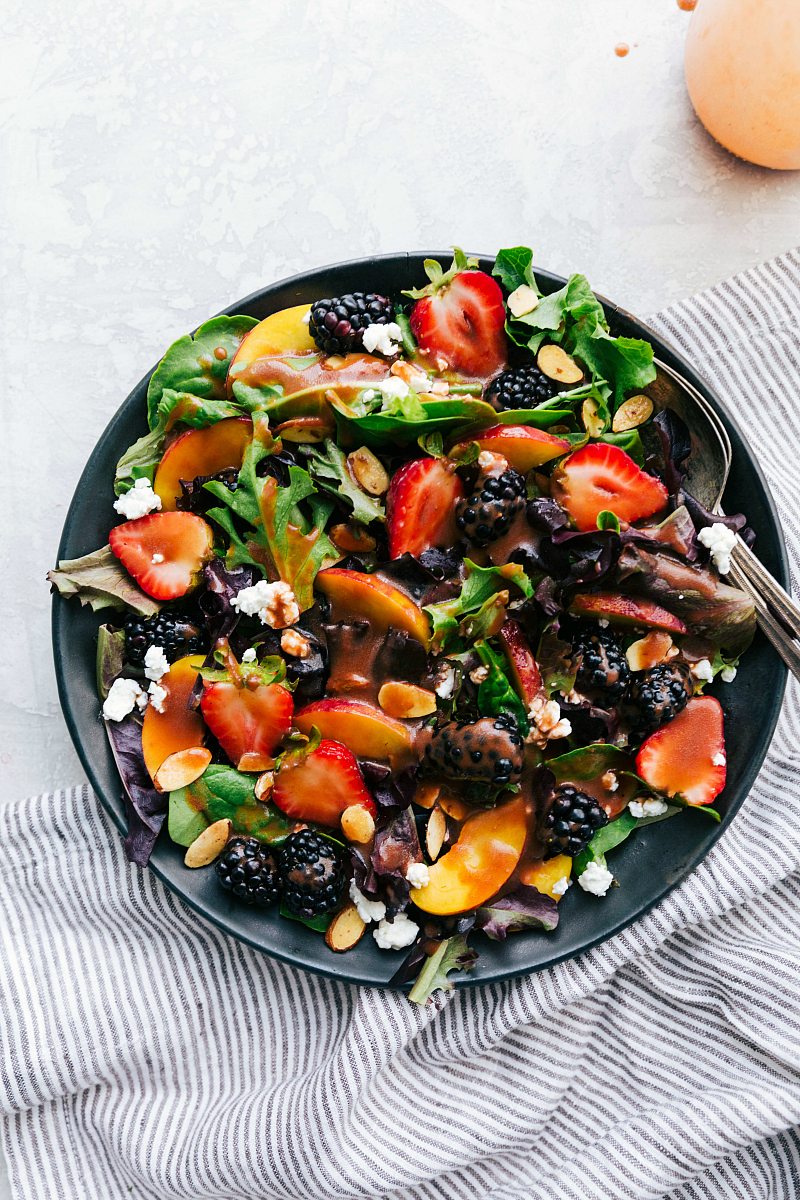 Pin this Strawberry Balsamic Vinaigrette to your Salad Boards!
My husband planted a garden this year (our first one!) and we've all been loving the fresh fruits and veggies. We've been eating salads and roasted veggies like crazy all summer long!
Lucky for me, the husband and both my boys love salads. They'll eat just about anything if it's in a salad and they'll even order salads when we go out to eat. I credit their salad obsession with how often I make them and good homemade salad dressings. In my opinion, not too many things beat a good salad dressing and I love finding new ones to try and sharing our favorites here on the blog. This strawberry balsamic vinaigrette definitely checks off those boxes and I'm excited for you to give it a try!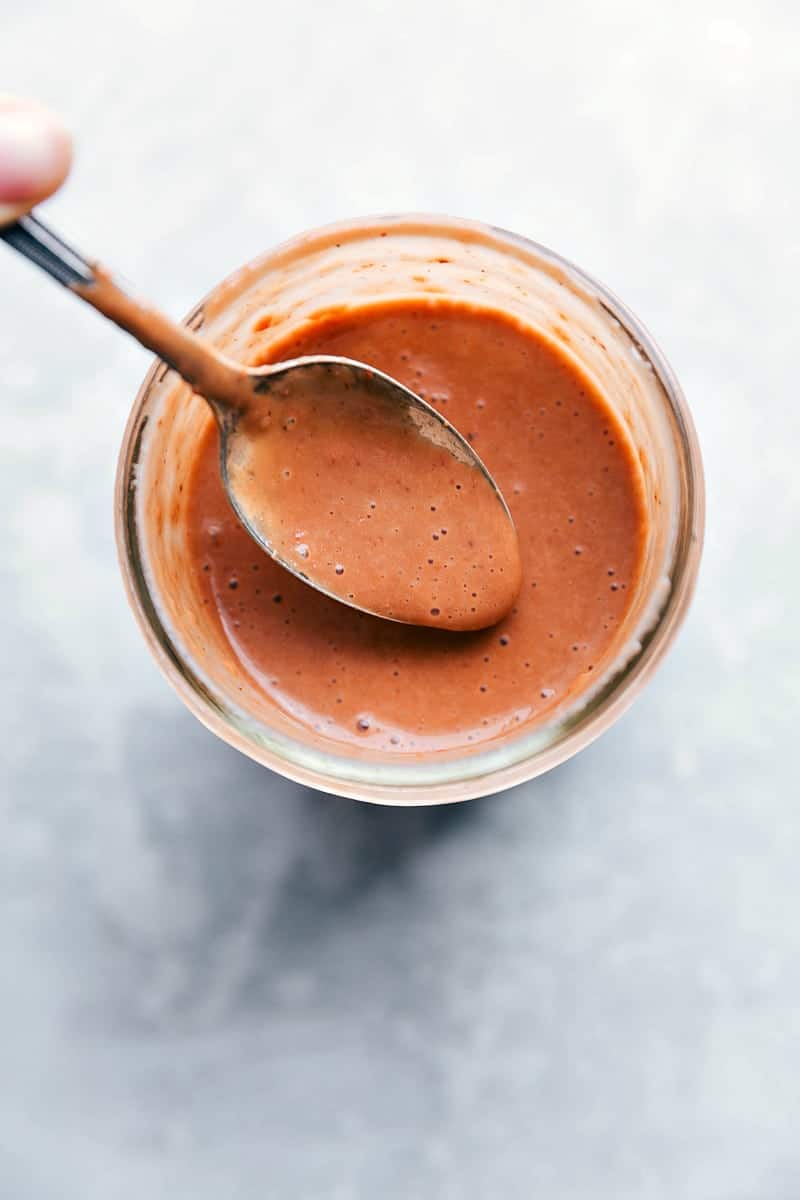 I can't take credit for this balsamic vinaigrette, but I can for sharing it with you all 😉 My friend, Jessica Gavin of jessicagavin.com, recently released her first cookbook, Easy Culinary Science for Better Cooking. Jessica is a certified culinary scientist and uses her knowledge of science to teach you how to transform good dishes into great dishes. Her book helps you to remove the "mystery" of cooking and become the best cook possible!
Her book is filled with 75 approachable and delicious recipes (including this strawberry balsamic vinaigrette!) and snippets teaching you the science behind the methods that ultimately affect your finished dish. Her cooking tips and step-by-step guides are so helpful as you learn the WHY behind the method of recipes and the HOW to maximize the flavor potential.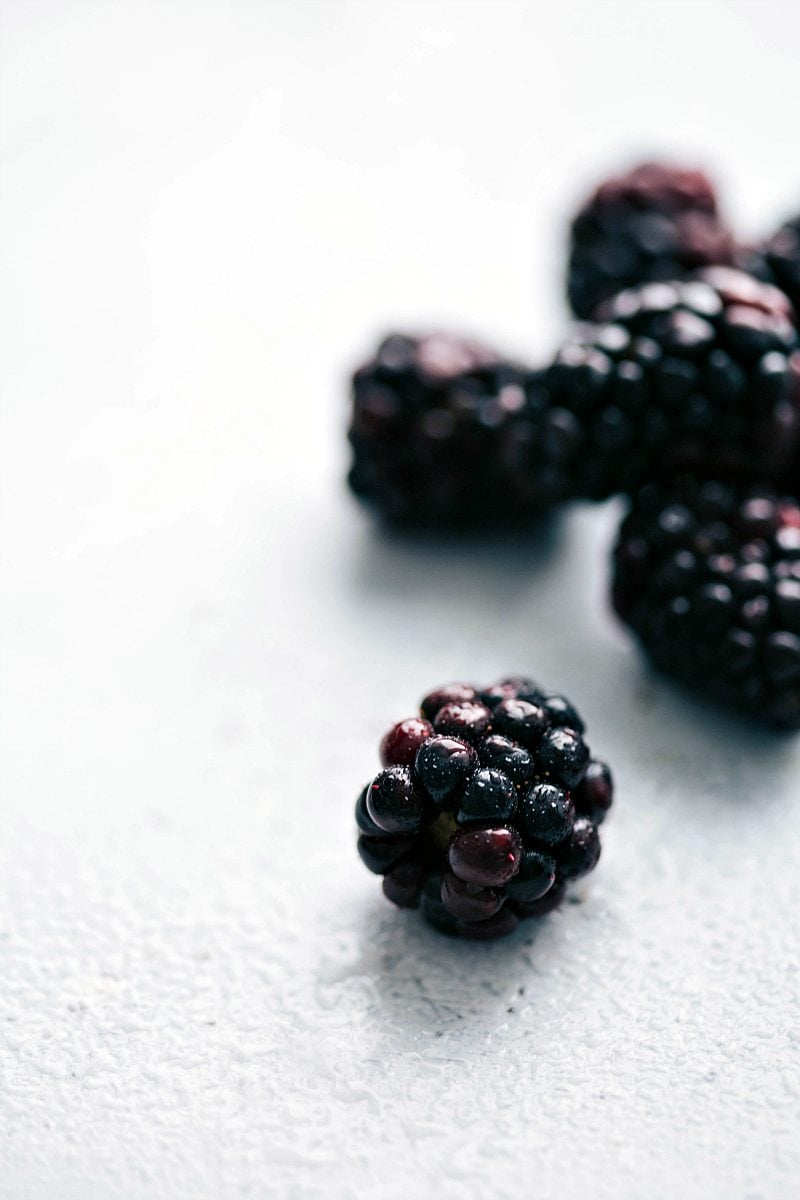 Jessica's cookbook goes through fundamental techniques and tips to help you hone or expand skills and become a more confident cook. The techniques she goes into depth on:
Dry-Heat Cooking
Moist-Heat Cooking
Braising & Stewing
Slow Cooking
Emulsification
Thickening
Chemical Leavening
Yeast Leavening
And for this very recipe (shared in her book), she's teaching all about emulsification. This strawberry balsamic vinaigrette is a type of emulsion-based dressing. As she defines in her book, a vinaigrette is a "temporary emulsion made without an emulsifier. A common ratio of three parts oil to one part acid is used." To create a semi permanent emulsion for this strawberry balsamic vinaigrette, you'll blend the ingredients in a blender. That shear and rapid force of the blender blades creates superfine strawberry particulates that stay suspended into the mixture and helps to increase the thickness of the dressing.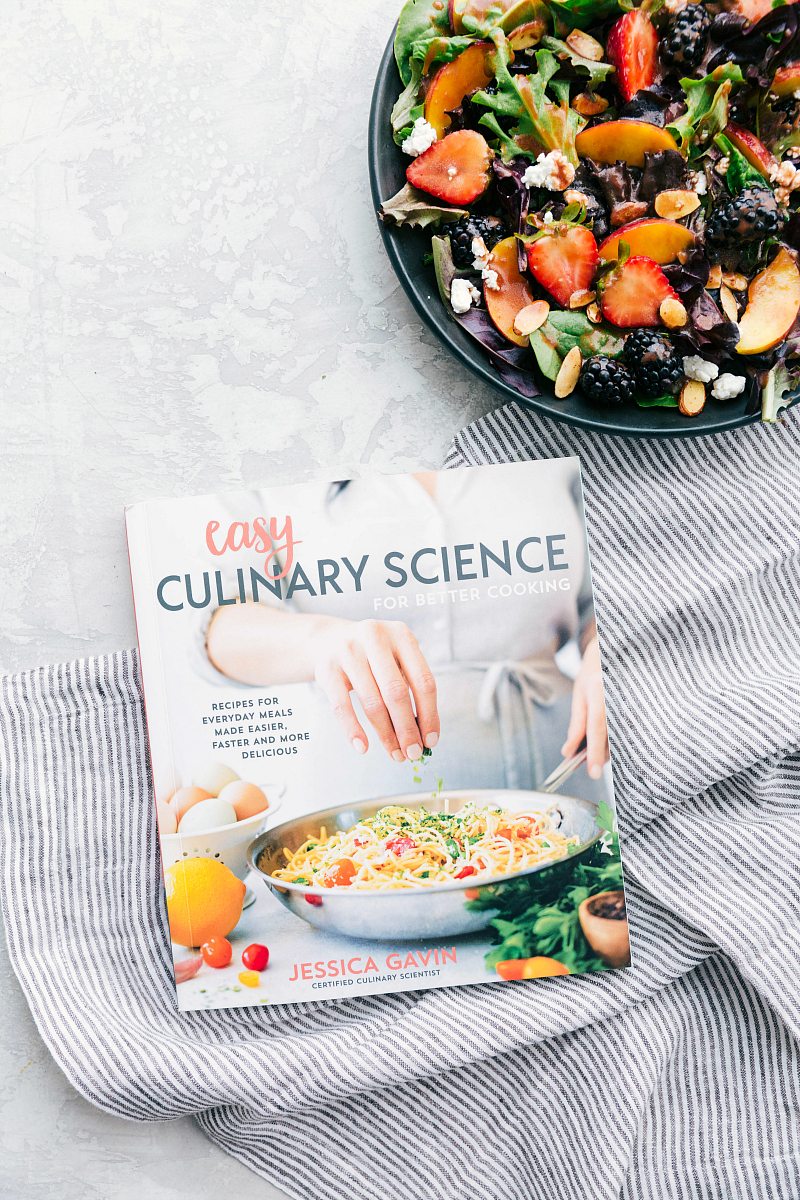 This strawberry balsamic vinaigrette is creamy, sweet, and perfect to top off any and all of your summer produce!
Like I mentioned, we've been eating a lot of salads this summer and this dressing pairs perfectly with fresh fruits and a good creamy goat or feta cheese. My favorite combination: blackberries, strawberries, peaches, candied almonds, and goat cheese over a bed of mixed greens with this fresh strawberry balsamic vinaigrette.
And fair warning — you might be so hooked on this dressing you'll have to grab Jessica's book to try the other 74 mouthwatering dishes!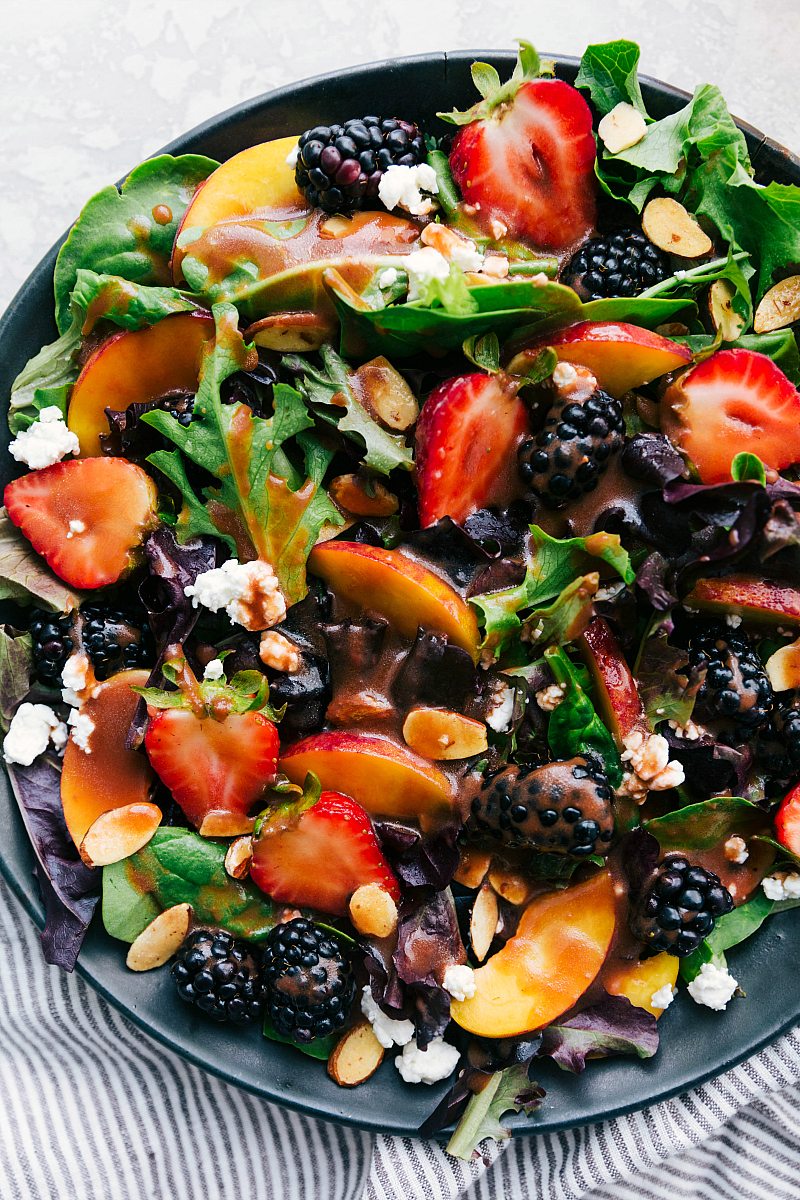 To purchase Jessica's cookbook, Easy Culinary Science for Better Cooking, click here.
More Delicious Salads: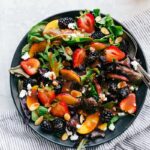 Strawberry Balsamic Vinaigrette
Fresh and flavor packed salad with an incredible strawberry balsamic vinaigrette
Keyword:
balsamic vinaigrette
Servings
:
1
and 1/2 cups dressing
Ingredients
Strawberry Balsamic Vinaigrette
1

cup

fresh sliced strawberries

2

tablespoons

water

1/4

cup

good quality balsamic vinegar

1

tablespoons

minced shallot

1

teaspoon

Dijon mustard

1

teaspoon

honey

1/2

teaspoon

salt

1/4

teaspoon

pepper

1/2

cup

extra-virgin olive oil
Berry Salad
5

ounces

Spring Mix Salad

1

ripe large

peach,

sliced into wedges (pit removed)

1

cup

strawberries,

sliced in half

1/2

cup

blackberries

1/2

cup

honey roasted sliced almonds

(I buy these pre-made at Smith's/Kroger!)

1/3

cup

goat or feta cheese
Instructions
Strawberry Balsamic Vinegar
Add the strawberries, water, balsamic vinegar, shallots, mustard, honey, salt and pepper to a blender. Blend on high until a smooth puree is formed, 10 seconds.

With a blender running on medium speed, slowly add the olive oil in a thin stream. The dressing should be thickened and emulsified as the vinaigrette is achieved. Taste the vinaigrette and adjust the seasoning as desired.

Cover and refrigerate the vinaigrette until ready to serve. It is best to use the dressing the same day. Vinaigrette can be stored in an airtight container and refrigerated for up to 2 days.
Salad
Wash and completely dry fruit. In a large bowl add the mixed green lettuce. Top with sliced peaches, sliced strawberries, blueberries, almonds and feta/goat cheese. Right before serving add the desired amount of dressing to the lettuce (you likely won't use it all!)


IF you are making this ahead of time, do not add the almonds, cheese, or dressing. Those ingredients don't sit well with this salad. Additionally, if you plan on having leftovers, only add almonds, cheese, and dressing to the portions that will get finished in the same day.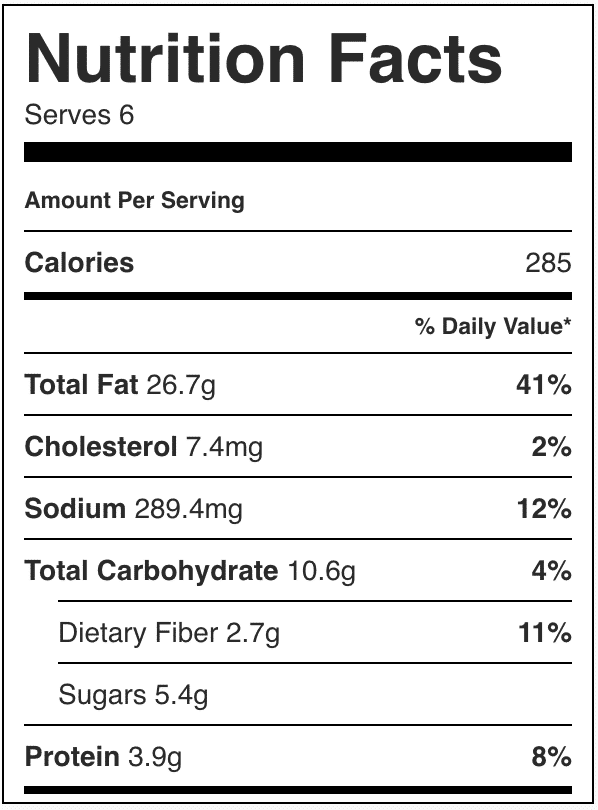 For more delicious recipes, follow along on Pinterest, Instagram, Facebook, and YouTube