A delicious mixed greens salad with red grapes, anjou pear, sliced almonds, dried cherries, and crumbled feta. Covered with an easy blender cherry sweet balsamic vinaigrette.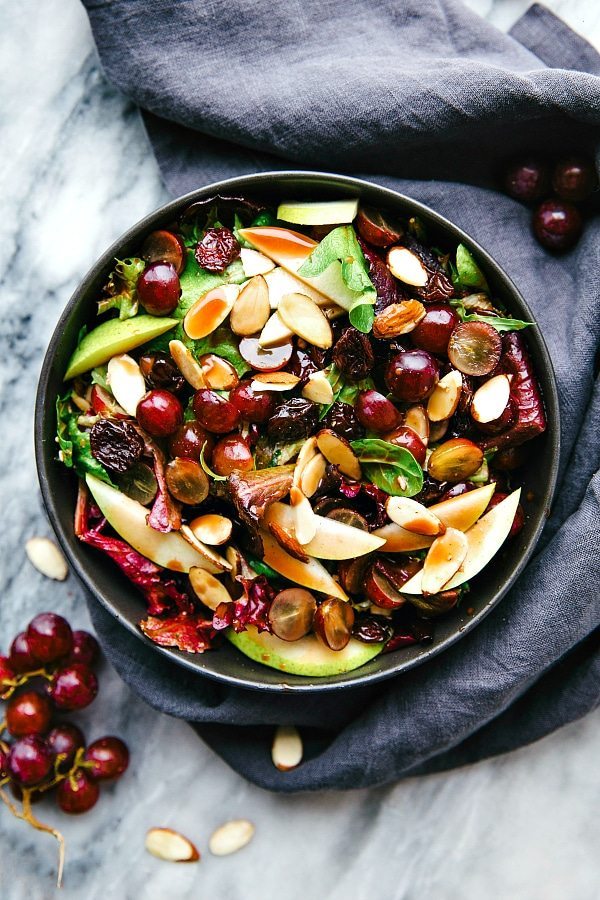 This salad may not look as good as I hoped it would (and trust me I really tried!), but it is absolutely one of the best tasting salads ever. Adding a dark cherry juice to balsamic vinegar gave the dressing a random shade of brown that is less than super appealing… BUT do not discount this salad based off the odd (okay, fine, gross) colored dressing!
And then there are grapes. Okay, but just hear me out! ☺️ This recipe is based off a similar salad that I tried a few weeks ago (Zupas!) and fell in love with. When reading that there were grapes in the salad I was a little intrigued and will freely admit I thought it might be a little weird. And now after having that salad and this similar one, I'm pretty sure I will put grapes in all my salads from here on out! The grapes totally work in this fruity salad, the same way that cherry tomatoes are delicious in a veggie salad. ??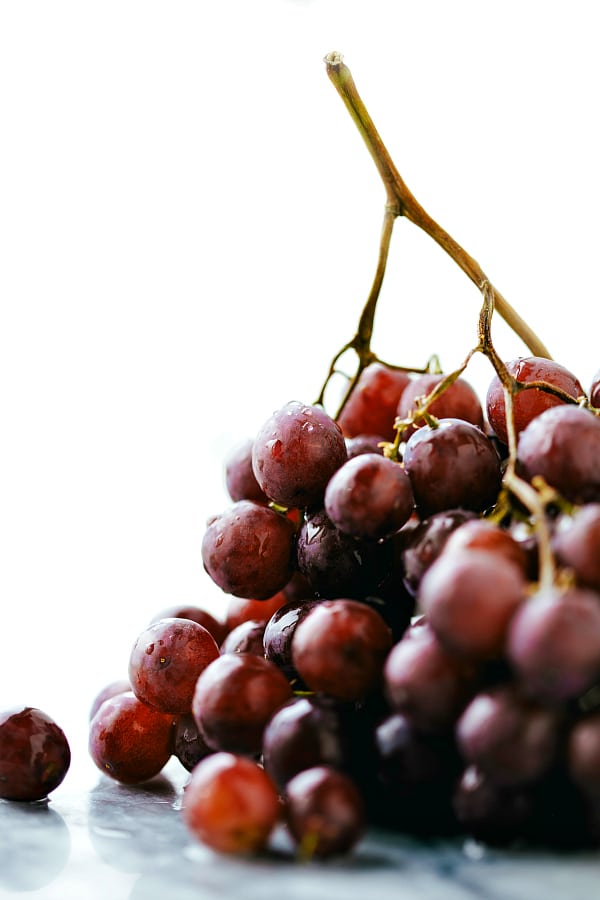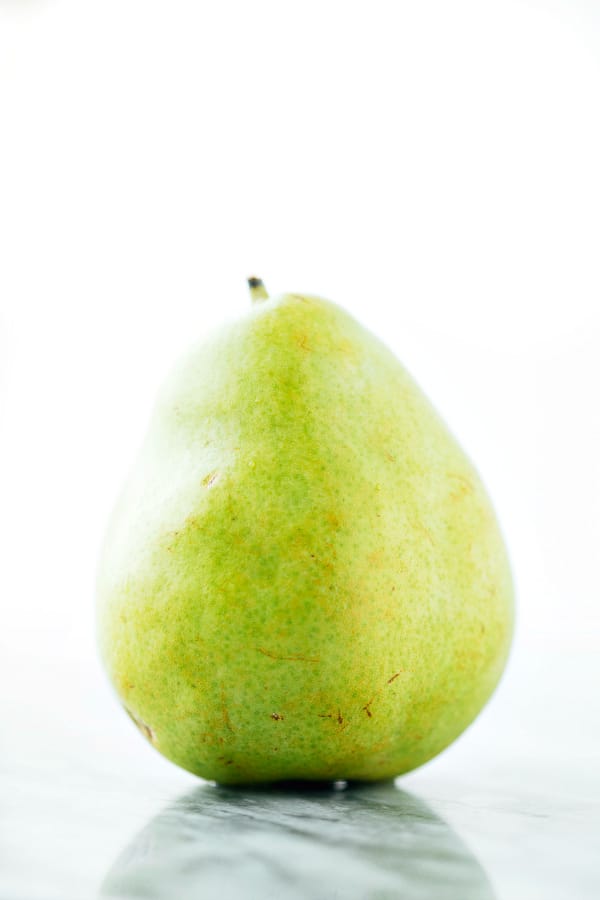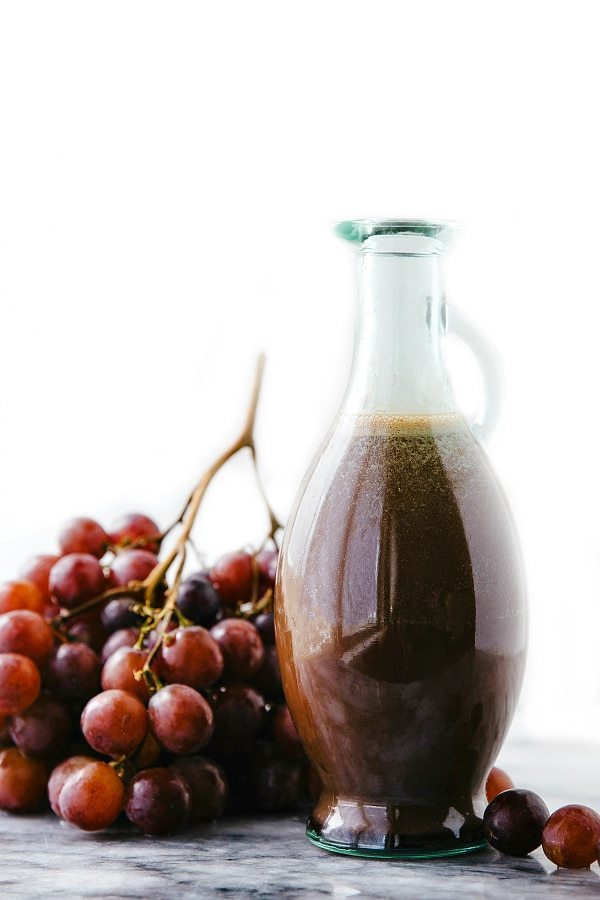 Like pretty much all my salad recipes, this sweet cherry balsamic dressing is incredibly easy to make. And totally worth the extra five minutes of prep time!
The definite star of the dressing is the cherry juice. I recommend using a juice that has 100% cherry. You can make sure the juice is 100% cherry by reading the ingredients — the only ingredient should be cherries. If it has filtered water, it will be watered down and probably less flavorful. In case you are wondering, I use the R.W. Knudsen Just Black Cherry Juice and highly recommend it (The ingredients read: juice from ripe, whole black cherries) But any cherry juice works as long as you make sure it is in fact, all cherries ??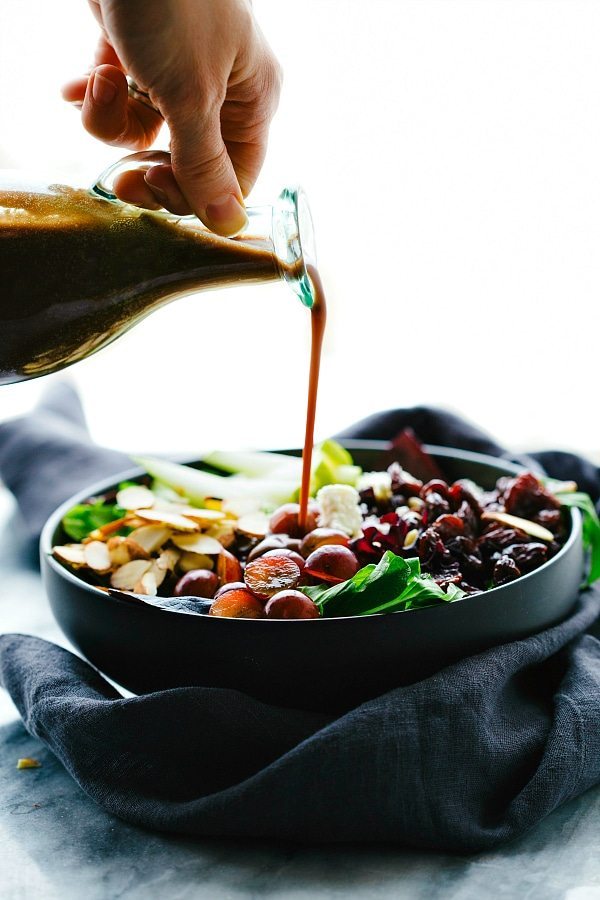 There are also dried cherries in this salad which are crazy good! Dried cranberries will also work. And since we've made this salad so many times (I try to always make a salad with our dinner) a few other things we've tried and loved: sliced strawberries (DO IT!), adding a chopped avocado, toasting the almonds, canned pears (in all their sugary syrup goodness – they are delicious in this!) and using crumbled bleu cheese instead of feta. We've also made it with no cheese at all and it's still so good!
I don't think you can go wrong with too many additions when covering them in the delicious sweet cherry dressing!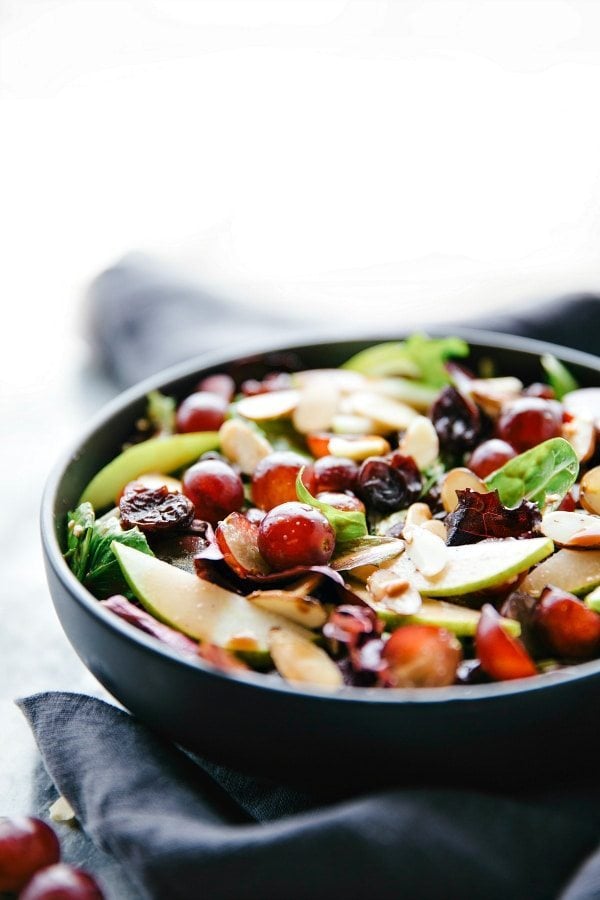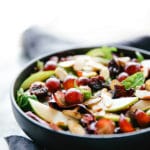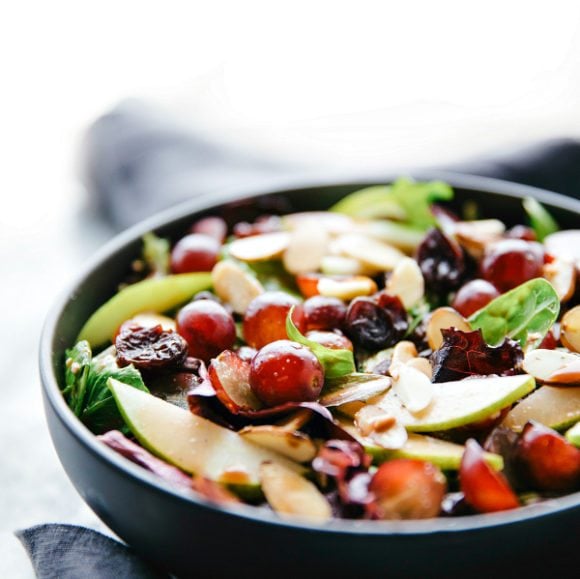 Cherry Balsamic Salad
Ingredients
Dressing
5

tablespoons

100% cherry juice

3

tablespoons

olive oil

2

tablespoons

balsamic vinegar

3

tablespoons

white sugar

1/4

teaspoon

onion powder

1/2

teaspoon

dijon mustard

don't use regular mustard
Salad
5-6

cups

mixed greens lettuce

5 ounces

1

large pear or canned pears are delicious

2

teaspoons

lemon juice

3/4

cup

red grapes

1/2

cup

sliced almonds

1/2

cup

dried cherries

1/3

cup

feta cheese

Optional: add some sliced strawberries!
Instructions
Pulse together all of the dressing ingredients in a blender.

For the salad: thinly slice a large pear and toss with the lemon juice. Alternatively use canned pears

Slice the red grapes in half (or leave whole).

If desired toast the almonds: add the sliced almonds in a single layer to a completely dry skillet (don't add any oil) and place on medium-high heat (don't want it too hot or they will burn). Stir the almonds every 15 seconds for about 1-2 minutes or until the color slightly darkens and they start to smell good. Watch these carefully as they can go from perfectly toasted to burned quickly!

Add the sliced pears, sliced grapes, almonds, and dried cherries to the mixed greens lettuce.

Toss with the dressing and add feta cheese.

The quantities of ingredients are a general guideline. Add more or less of your favorite salad fixings depending on your personal preference 🙂
Recipe Notes
This salad (like most) aren't very great leftover. If you aren't eating this immediately, keep the ingredients separate from the dressing and only toss with the dressing right before eating. Top with feta after dressing the salad.
More delicious salads: