A delicious and creamy slow cooker chicken quesadilla soup with quesadilla "croutons." This easy chicken quesadilla soup recipe is sure to be a huge hit!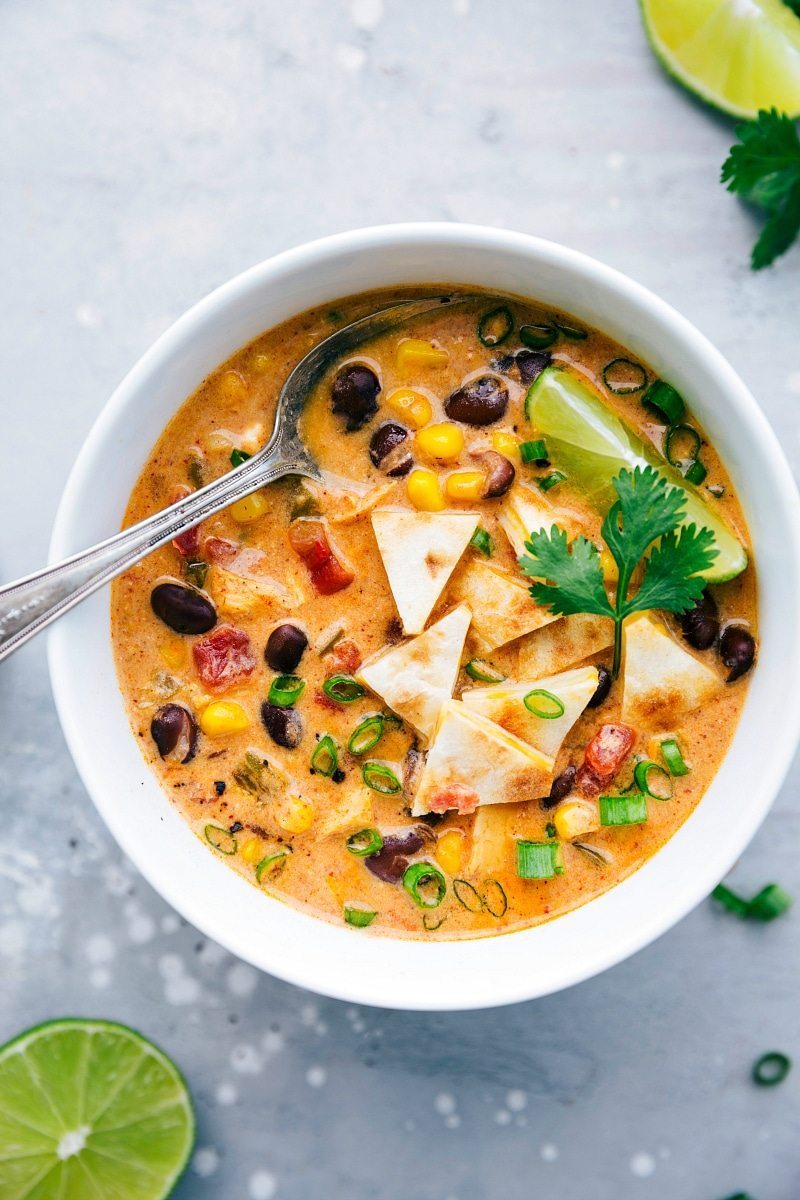 Both of my boys will tell anyone that their favorite soup is tomato basil. It's pretty cute to hear out of the mouths of such little guys, but they also aren't messing around. I've never seen anyone eat as much tomato basil soup as my toddler can and the babe can definitely put down some grilled cheese (that has been heavily dredged in tomato basil soup).
So whenever I try a new soup out, they whine to just have tomato basil instead. While I know they love the actual soup, I think they like dipping rolls, grilled cheese croutons/quarters, or bread in the soup the most. So, in attempts to get them to eat a different soup I thought of a variation on grilled cheese croutons — quesadilla croutons!
Sure enough, I served up bowls of this chicken quesadilla soup to hear the complaints that they wanted tomato basil instead and "didn't like this soup" (that they'd never tried). But the minute I whipped out some quesadillas (some cut into croutons and others cut into large quarters), they were willing to give it a try.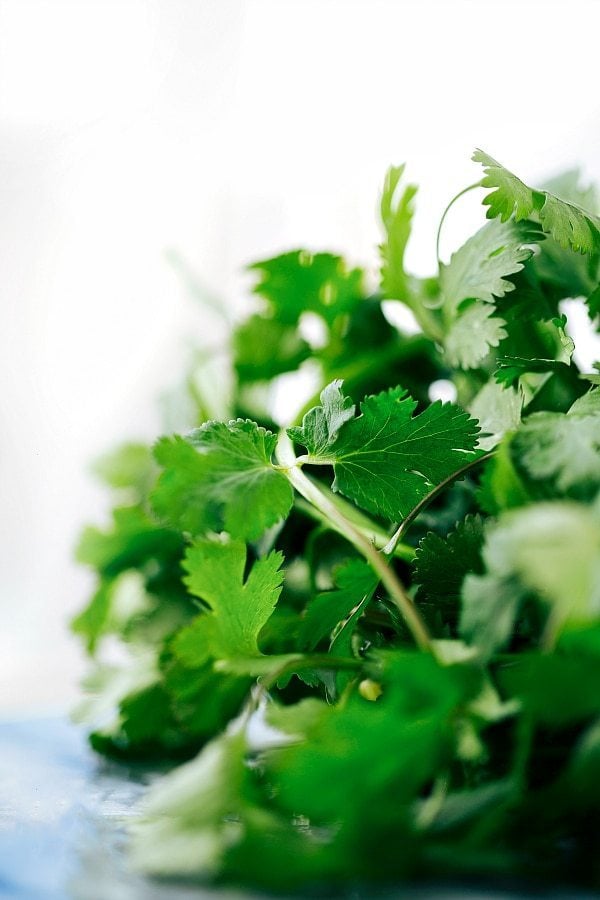 And, I'm happy to announce, we now a have a contender for the famous tomato basil soup!! Everyone, including the boys, LOVED this soup.
While the mini quesadilla croutons are certainly fun and we love them, it's also equally fun (and time saving) to cut the quesadilla into large quarters and dip them in the soup. The kiddos liked the croutons best, but I'll admit I liked the bigger quarters of quesadilla to dip into this soup!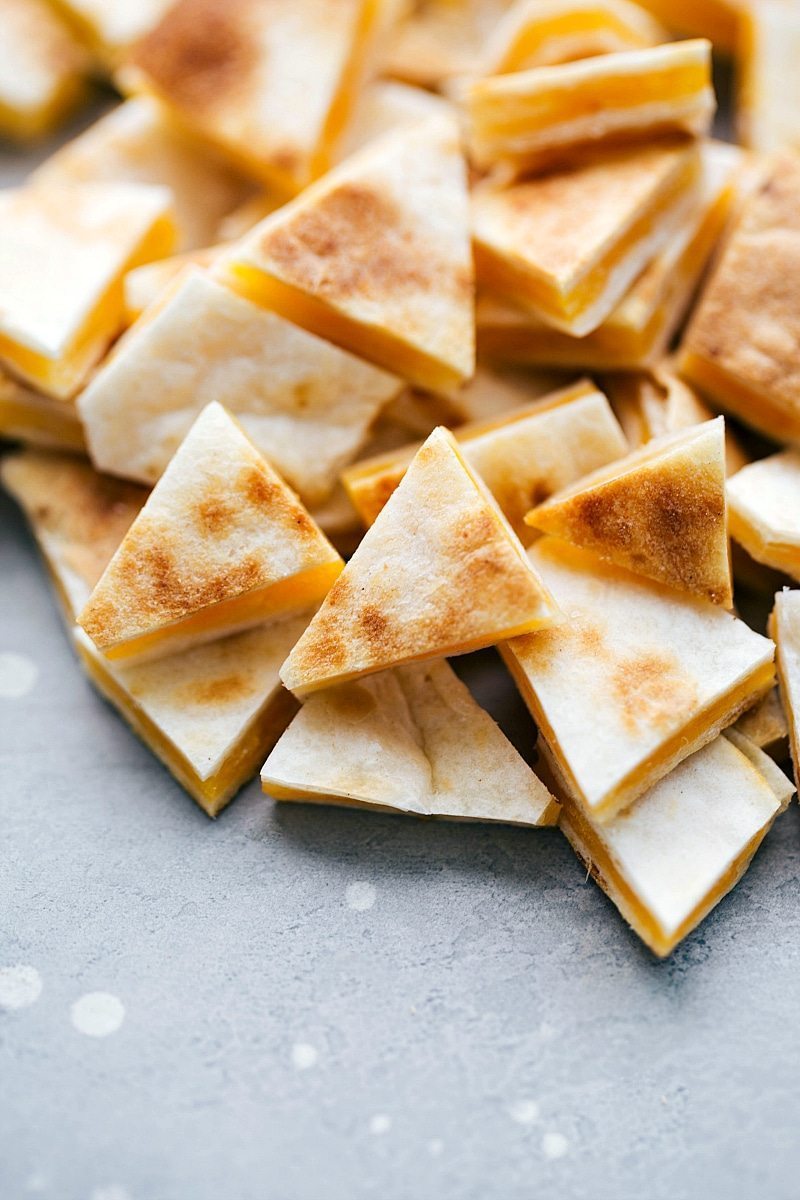 Although I've talked a lot about the quesadilla "crouton" addition, I can't miss talking about this soup because it is absolutely delicious. I know I've been calling it a "soup" for this entire post, but be aware it is more the consistency of a chili or very thick soup. I didn't want to call it a chili, because it doesn't really have "chili" ingredients, but it is definitely a thick and hearty "chili" like consistency.
And besides the quesadilla croutons or quarters, the actual soup is quesadilla inspired — it's got all the ingredients of a great quesadilla — shredded chicken, peppers, onions, tomatoes, black beans, corn, and plenty of Mexican seasonings. And it's also got all the great toppings of a quesadilla! We top this soup with a generous spoonful of sour cream, a huge handful of Colby Jack cheese, a squeeze of fresh lime, and plenty of green onions. With all these toppings and the quesadilla croutons or quarters, this is a seriously hearty quesadilla soup the whole family will love!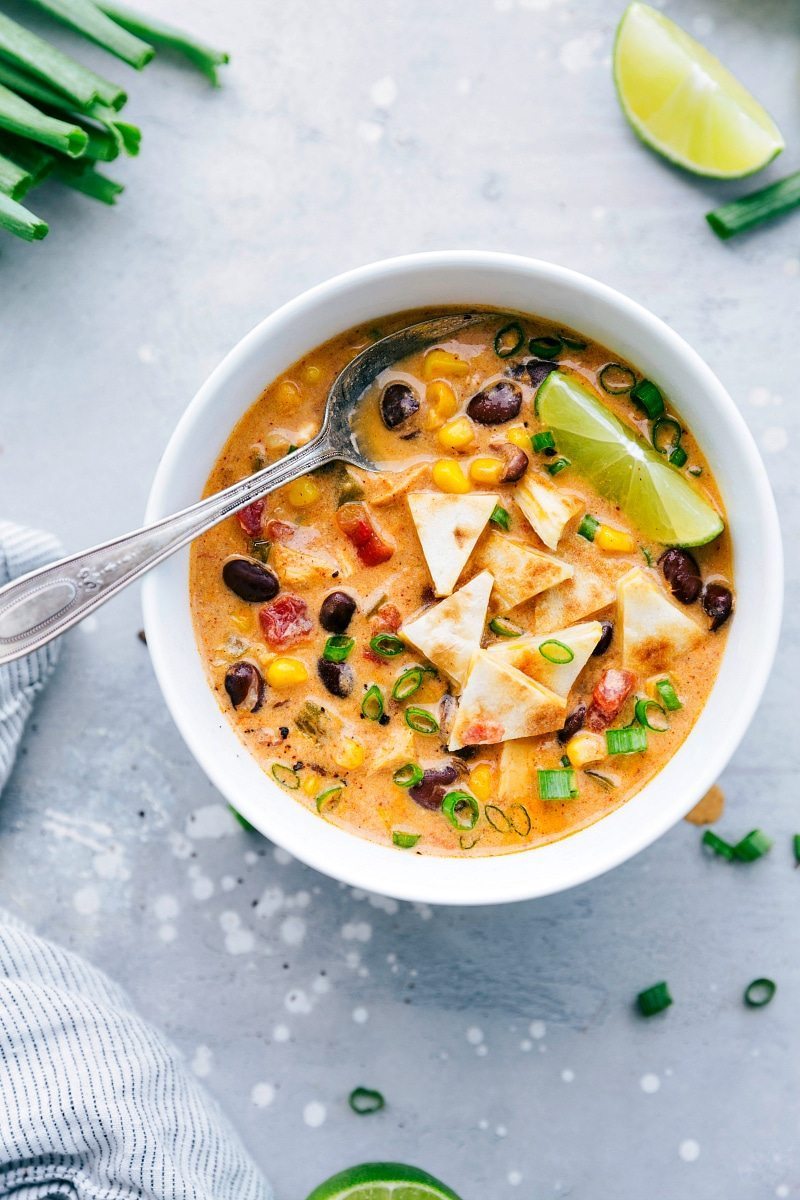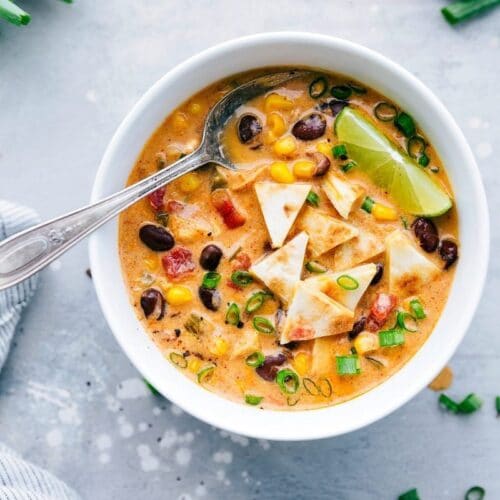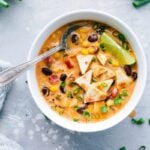 Crockpot Chicken Quesadilla Soup
A delicious and creamy slow cooker chicken quesadilla soup with quesadilla "croutons."
Keyword:
Chicken Quesadilla Soup
Ingredients
1

green bell pepper,

diced

1/2

cup

diced yellow onion

1

pound

boneless skinless chicken breasts ~2-3 large breasts

1

can (10 ounces)

red enchilada sauce

10 ounces red enchilada sauce*

1

can (10.5 ounces)

diced tomatoes with green chiles

2

cans (15 ounces EACH)

black beans,

drained and rinsed

1

can (15 ounces)

southwestern corn

(or regular sweet corn, or fire-roasted corn)

1

cup

chicken stock or chicken broth

1

teaspoon

minced garlic

1

package (8 ounces)

full fat cream cheese,

very softened

Seasonings

1/2

teaspoon

ground cumin

3/4

teaspoon

paprika

1

teaspoon

seasoned salt

1/4

teaspoon

pepper

1 and 1/2

tablespoons

chili powder

Toppings: sour cream (we use fat free), Colby Jack cheese, avocado, fresh lime, green onions or cilantro, and tortilla strips (as an alternate to the grilled cheese)
Quick Quesadillas
4-6

flour

tortillas

1 and 1/2

cups

Colby Jack cheese
Instructions
In a large crockpot (I use a 6 quart crockpot), add in the diced green pepper, diced onion, uncooked chicken breasts, enchilada sauce, undrained tomatoes, drained and rinsed black beans, undrained corn, chicken stock or broth, and minced garlic.

Add in all of the seasonings: the cumin, paprika, seasoned salt, pepper, and chili powder. Stir well and cover the crockpot.

Cook on high for 3-5 hours (or until chicken will easily shred) or low for 5-8 hours (again, until chicken will shred easily)

Remove the chicken from the crockpot and shred in another bowl using two forks.

Meanwhile, cube the cream cheese into small cubes (it should be very softened -- melt in microwave) and put them in the crockpot. Stir well and cover. Change temperature to high. Let it sit for a few minutes and then using a large whisk, briskly whisk the cream cheese to melt.

Add the shredded chicken back into the crockpot. Stir and cover. Cook on high until all the cream cheese is completely melted. Whisk once more.

Meanwhile, make the quesadillas. Warm a large skillet over medium to medium-high heat. Lay one tortilla in the skillet and sprinkle all over with 1/2 cup of cheese. Once the cheese starts to melt, lift a corner of the tortilla and check the underside. When the cheese is all melted and you see golden-brown spots on the underside of the tortilla, fold the quesadilla over in half and remove to the cutting board (I do cook these to very crisp since they'll be in soup/dipped in soup). Repeat until all the quesadillas are made. Cut into large quarters or smaller croutons. Serve hot with the soup!

Serve the soup bowls with sour cream, colby jack cheese, avocado, fresh lime, cilantro/green onions as desired. If you only do one topping, to me, the cheese is a MUST! If you don't serve with the quesadillas, add some tortilla strips to the top 🙂
Recipe Notes
The nutrition label doesn't include the toppings or the quesadilla croutons since it is highly variable on what/how much you add. The label includes all of the base soup ingredients.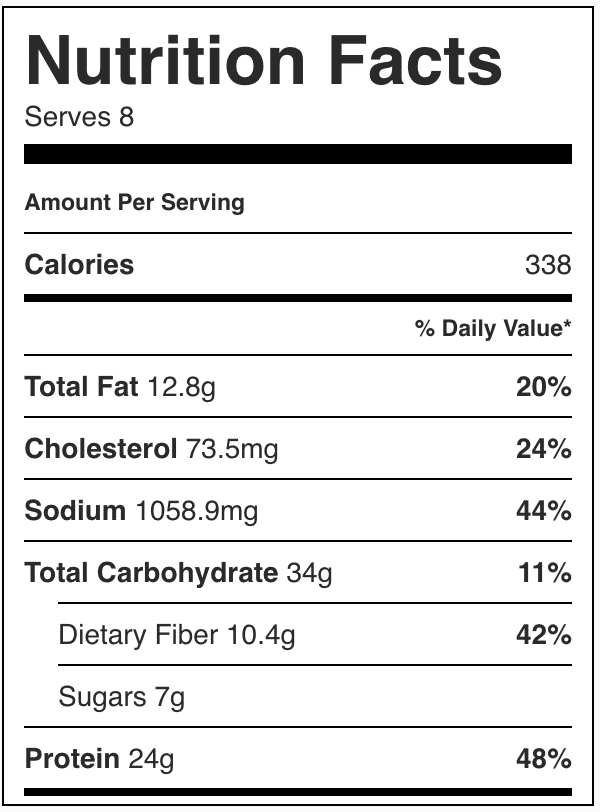 More Delicious Soups: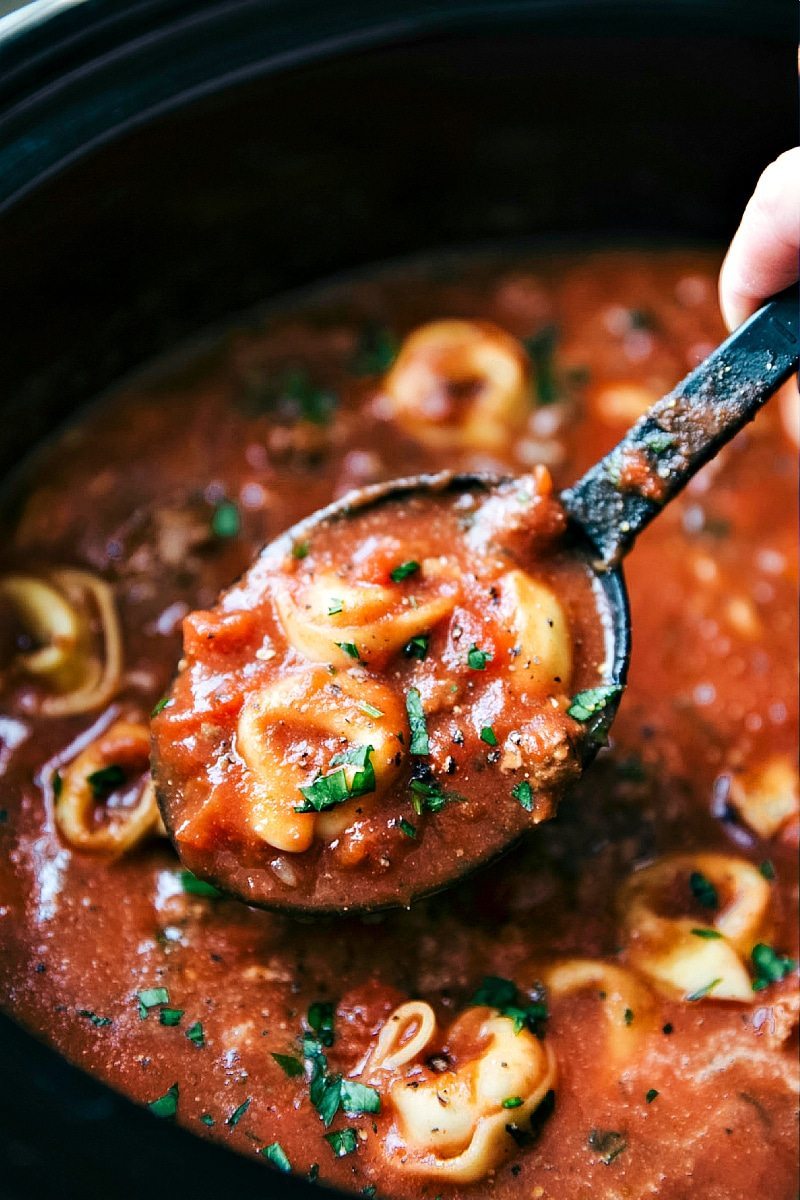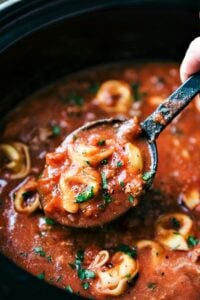 Crockpot Tortellini Lasagna Soup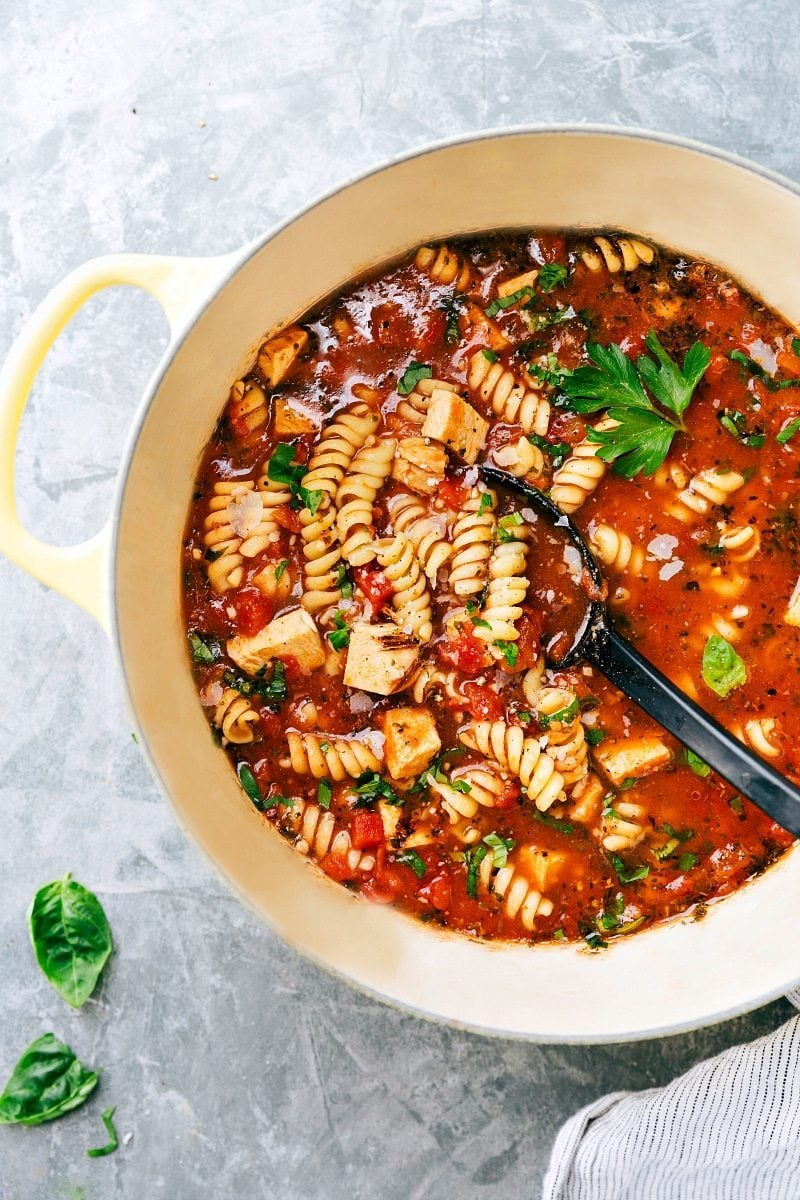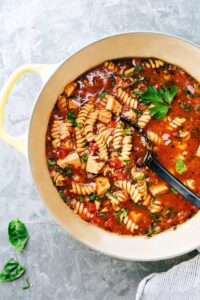 20-Minute Chicken Parmesan Soup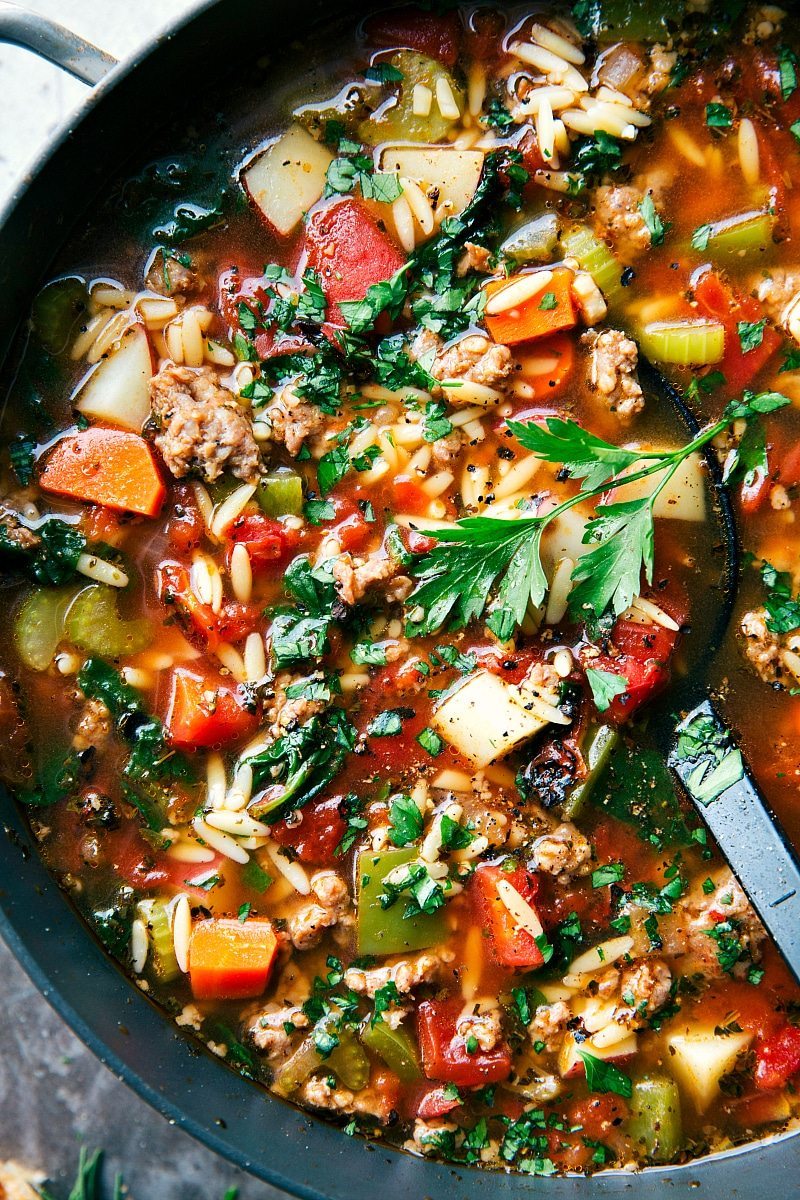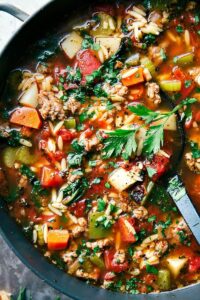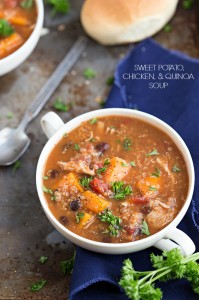 Slow Cooker Sweet Potato, Chicken, & Quinoa Soup
Similar soups from around the web: Hearty Quesadilla Chicken Soup, Cheesy Chicken Enchilada Soup