An easy one pot dinner of smoked sausage, tender cabbage, red potatoes, and carrots.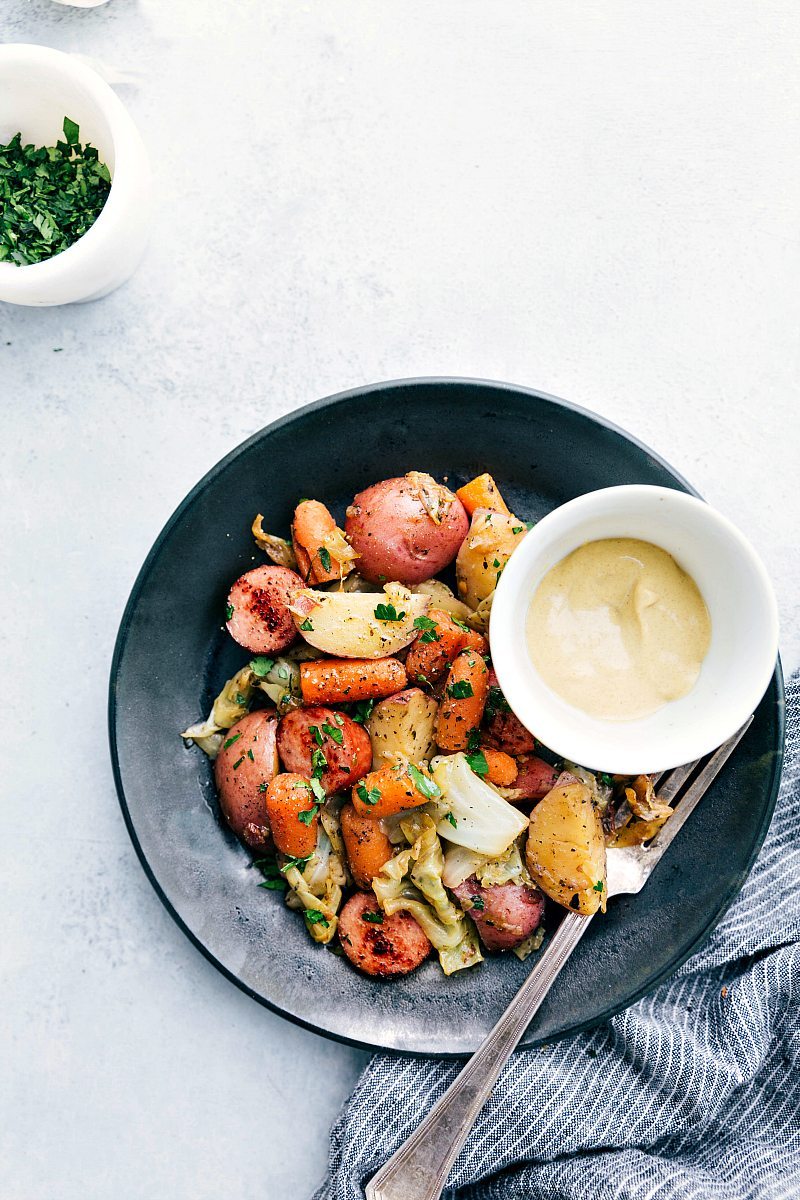 This One Pot Sausage, Cabbage, and Potatoes dinner has got to be one of the ugliest dishes I've ever had the challenge of photographing, but please do not let looks deceive you — this meal is INSANELY good. It's packed with flavor and it's on the healthier side with tons of veggies, turkey sausage, and plenty of herbs.
Since sharing this sausage, cabbage, and potato soup a few weeks ago, I've made it more times than I can count. My whole family is obsessed with the soup and it is so easy to make. So I've wanted to create a dish with similar ingredients and flavors, but morph it into a hearty type dish instead of soup. After working through the timing of this dish and tweaking the herbs and ingredients a bit, I'm thrilled with the outcome of this dish and am excited to be sharing it with you all.

How do you make this One Pot Sausage, Cabbage, and Potatoes Dinner?
This One Pot Sausage, Cabbage, and Potatoes Dinner does require just one pot and not too much prep time, but it does take a bit to get everything cooked through. A lot of that total cook time is hands off while you can prepare other parts of the dish, a side dish, the sauce, or just relax! 🙂
This Sausage, Cabbage, and Potatoes dish starts by browning the sausage. I use smoked turkey sausage, but use whatever sausage you like best. If you don't have a pre-cooked (or smoked) sausage this step will take a little longer since you'll want to make sure the sausage is cooked all the way through. You'll remove the sausage to a plate, drain off any fat, and return the pot to the stovetop.
Next you'll add in the bacon and while that is crisping up, you can mince the garlic and dice the shallots which will get cooked in the bacon grease along with some of the seasoning mix. The seasoning mix is easy to toss together; essentially an Italian-inspired seasoning mix with basil, thyme, garlic powder, onion powder, and oregano. Once everything in the pot is smelling delicious and fragrant it's time to cook down the cabbage with some stock.
While the cabbage is cooking you can prep the potatoes and carrots and then once you've gotten to this point of the dish, everything is pretty hands-off! The carrots and potatoes plus the rest of the seasoning mix go right on top of that cabbage. Place a lid on the pot and then everything cooks together until the potatoes and carrots are tender and the cabbage is ultra soft and tender. Add back in the sausage + bacon and dinner is ready to be served!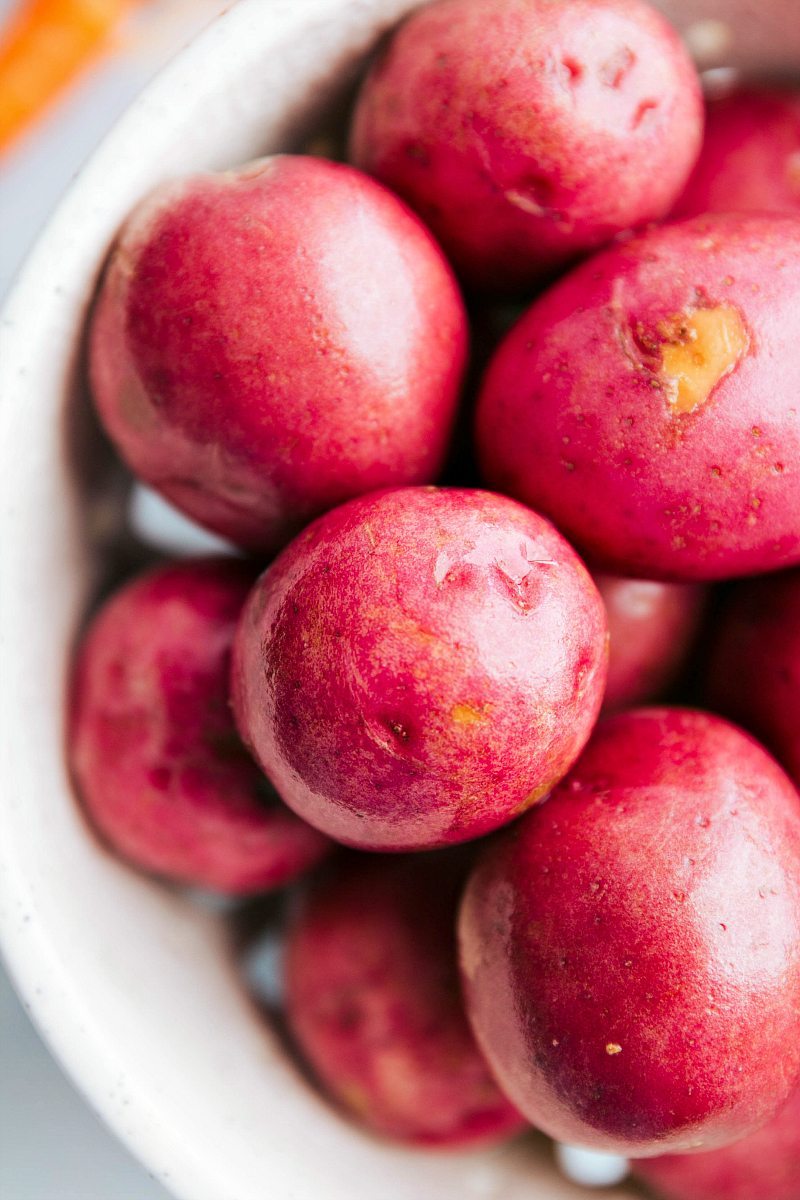 Ever since sharing this smashed potatoes and sausage sheet pan meal, I've been obsessed with pairing the sauce in that dish with sausage, so I'm including the sauce recipe here. I think it's absolutely delicious with the sausage, but it's certainly optional. There is plenty of flavor in this actual sausage, cabbage, and potato dish if you want to omit that sauce 🙂
Although, it's not anything too difficult to make — just mayo + mustard + lemon juice!
Enjoy!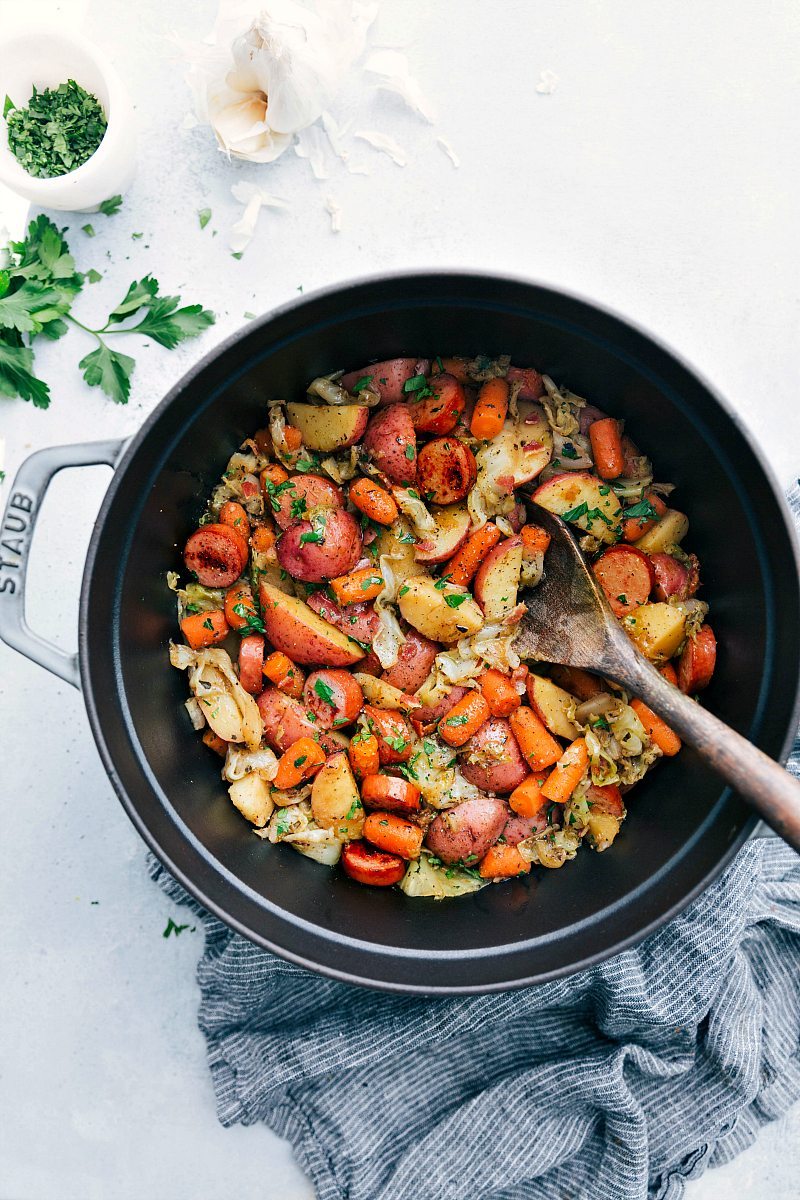 More One Dish Dinners:
One Pan Healthier (Baked) Fish and Chips
One Skillet Creamy Sun-dried Tomato and Chicken Tortellini
One Pan Roasted Garlic Potatoes, Asparagus, and Sausage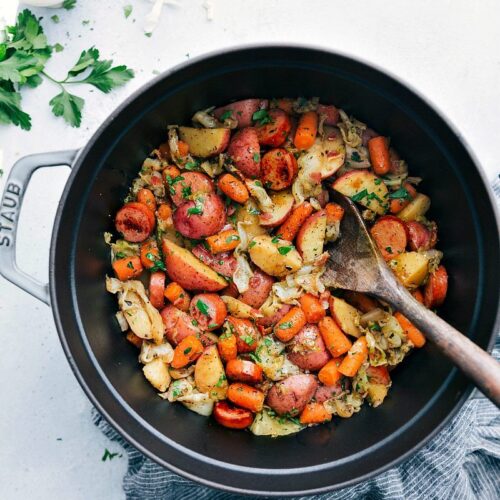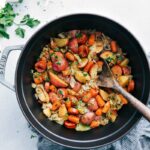 One Pot Sausage, Cabbage, and Potatoes Dinner
An easy and delicious dinner: ONE POT sausage, cabbage, and potatoes. Simple, healthy, and packed with amazing flavors.
Ingredients
1-2

tablespoons

olive oil,

optional

1

pound (16 ounces)

smoked sausage (we use Turkey sausage as a healthier option),

coined

5

slices

center cut bacon

1

shallot,

diced

2

cloves

garlic,

minced

1/2

tablespoon EACH:

dried basil, dried oregano leaves, garlic powder

1/2

teaspoon EACH

onion powder, dried thyme

Optional: 1/4 teaspoon red pepper flakes

1 and 1/2

cups

chicken stock,

separated*

1

medium

cabbage,

quartered and cut into 1/2-inch pieces

8

ounces

baby carrots,

halved

1 and 1/2

pounds

baby red potatoes,

quartered

Fine sea salt and freshly cracked pepper

Parmesan cheese OR dijonaise (see below)

1/4

cup

fresh flat leaf parsley,

finely chopped
Optional Dijonaise
1/3

cup

whole grain dijon mustard

3

tablespoons

mayonnaise

1

tablespoon

freshly squeezed lemon juice
Instructions
Start by coining the sausage and then place into a large heavy bottomed pot. IF using turkey sausage, I find you need a bit of olive oil in the pot. Use as needed. Brown the sausage over medium high heat, set aside, and drain any oil in the pot. Return pot to burner. Add in the bacon and cook to desired crispiness. Remove to a paper towel lined plate and leave the grease in the pot. When the bacon has cooled, crumble/coarsely chop it.

In a small bowl, toss together the seasonings: the dried basil, dried oregano, garlic powder, onion powder, thyme, and red pepper flakes. Add salt and pepper as well (I add about 1/2 teaspoon each, add to desired preference).

To the pot (over medium heat), add the shallot and cook for 2-3 minutes. Add in the garlic and cook until fragrant, about 30 seconds. Stir in half of the seasoning mix. Stir for another 30 seconds to a minute and then add in 1/2 cup stock. Scrape any browned bits from the bottom of the pot and then add in the chopped cabbage and remaining 1 cup stock. Stir and then cover the pot. Increase heat to medium-high. Let cook, covered, stirring occasionally for 8-10 minutes. At this time the cabbage should be very cooked down and starting to get pretty tender.


Remove the lid and then directly on top of the cabbage, place the quartered red potatoes, and halved baby carrots. Add the remaining seasoning mix on top and do not stir. Cover the pot and let cook for 18-23 minutes or until potatoes are fork tender. If needed, add up to 1/2 cup additional stock (if all has evaporated from the pot which will vary depending on your pot and heat of stove; there needs to be some amount of liquid so the bottom doesn't burn and the veggies properly steam).

Once potatoes and carrots are fork tender, and stock has all been cooked into the dish, add in the sausage. Stir everything together and season again with salt and pepper to taste (Remember the bacon will add some saltiness but the vegetables do need a good amount of salt!). Add crumbled bacon to individual plates. Serve individual plates with fresh parsley.

If desired, serve with parmesan cheese or dijonaise. To make the dijonaise: whisk all of the ingredients together, season with salt and pepper to taste. Serve on the side.
Recipe Notes
*You may need up to 1/2 cup additional stock.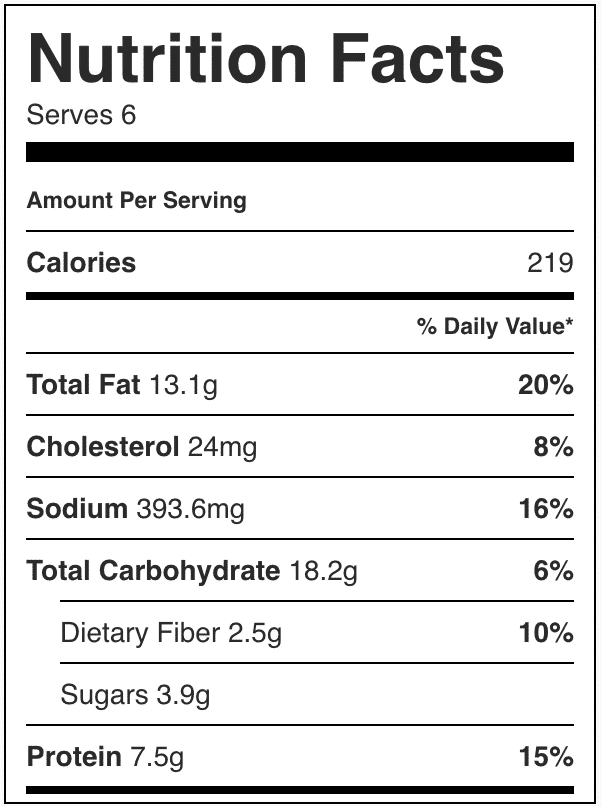 Nutrition Facts assume this dish is using turkey sausage and no sauce