A thick and hearty sausage, potato, and cabbage soup; a healthy recipe that is packed with flavorful ingredients!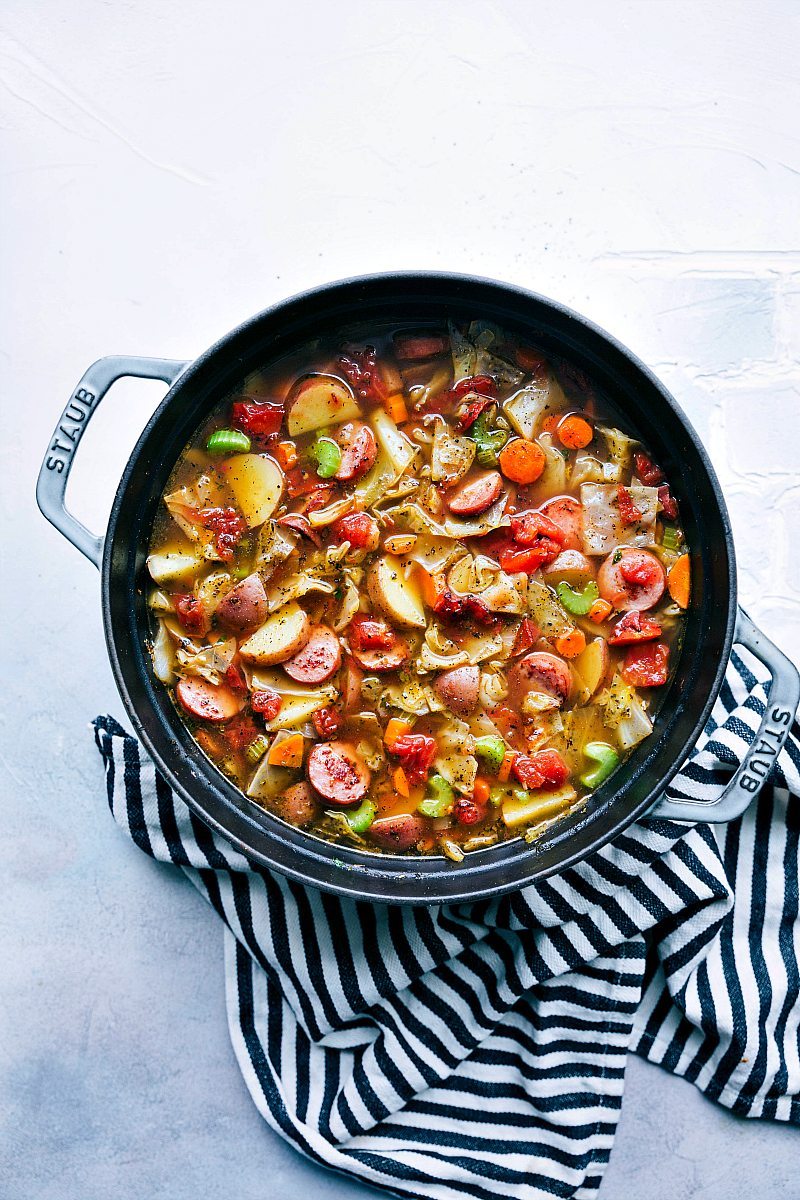 I'm excited to be partnering with Swanson as a blog ambassador this year to bring you delicious recipes, such as this Ssausage, Potato, and Cabbage soup using their stocks and broths!
Growing up my dad went through a phase where he wanted us kids to eat cabbage in some form every single day. He'd read something about the health benefits of cabbage and I'm certain he thought he could prevent us ever getting sick if we ate it constantly.
So he really did prepare cabbage in just about every way imaginable. We complained a lot at first, but over time we eventually got used to the taste.
The first time we ever ate cabbage willingly was in a soup very similar to this. One packed with veggies, red potatoes, ground beef, and Italian seasonings. His cabbage and red potato soup was a major hit with my family and I have actually been a cabbage fan ever since!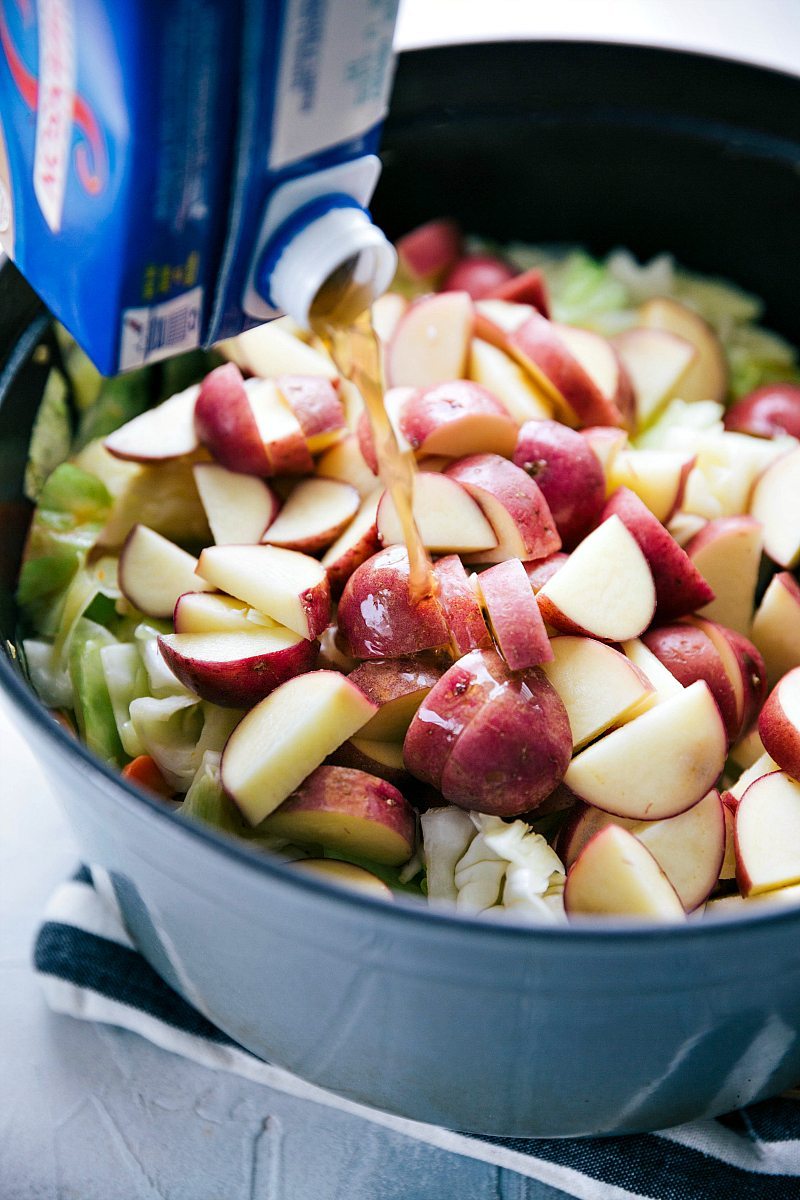 I'm changing my dad's soup up a bit by using sausage instead of ground beef, using a rich beef stock made by Swanson, as well as adding a few extra seasonings.
When I go shopping for recipes throughout the week I'm very deliberate in the brands I pick and the quality of the ingredients I get. Great meals come from good, high quality ingredients. Swanson Broths are made with ingredients you can trust and recognize. The chicken and beef is sourced from trusted farms and the vegetables and spices are picked at the peak of freshness.
I use Swanson Beef Stock in this soup recipe, but their beef broth works really well too.

How do you make this Sausage, Potato, and Cabbage Soup?
Start by prepping all of the veggies

you'll add to this soup. There are quite a bit of veggies that get a coarse chop: celery, carrots, onion, red potatoes, and cabbage. If you want to cut down on prep time find a pre-chopped mirepoix (celery, carrots, and onion) in the produce section of your local grocery store.

Next, cook the sausage in a little bit of olive oil

. I use turkey sausage to make this soup healthier but it's okay to use other types to your liking. I slice the sausage in rounds, but chopping it up into smaller pieces is a great option too. Once the sausage is cooked, remove it to a plate lined with paper towel to absorb some of that excess oil.

Now it's time to

add in all those veggies you chopped

. I use a little bit of oil + butter to saute the veggies in. Start with the onion, carrot, and celery. Once those are cooked down a bit add in some garlic. Lastly it's time to add the cabbage. It's going to feel like you're adding way too much cabbage to the dish, but it cooks down a lot and it really is the base ingredient in the soup. I also add in some tomatoes — we love getting fire-roasted tomatoes from the grocery store because there is so much more flavor. Add in the seasonings, potatoes, the sausage you cooked earlier, and finally the beef stock.

And now it's hands-off for a bit! While that

soup is simmering

you can make some easy sides to go along with the soup. Our favorites: this

salad

and some crusty sourdough bread!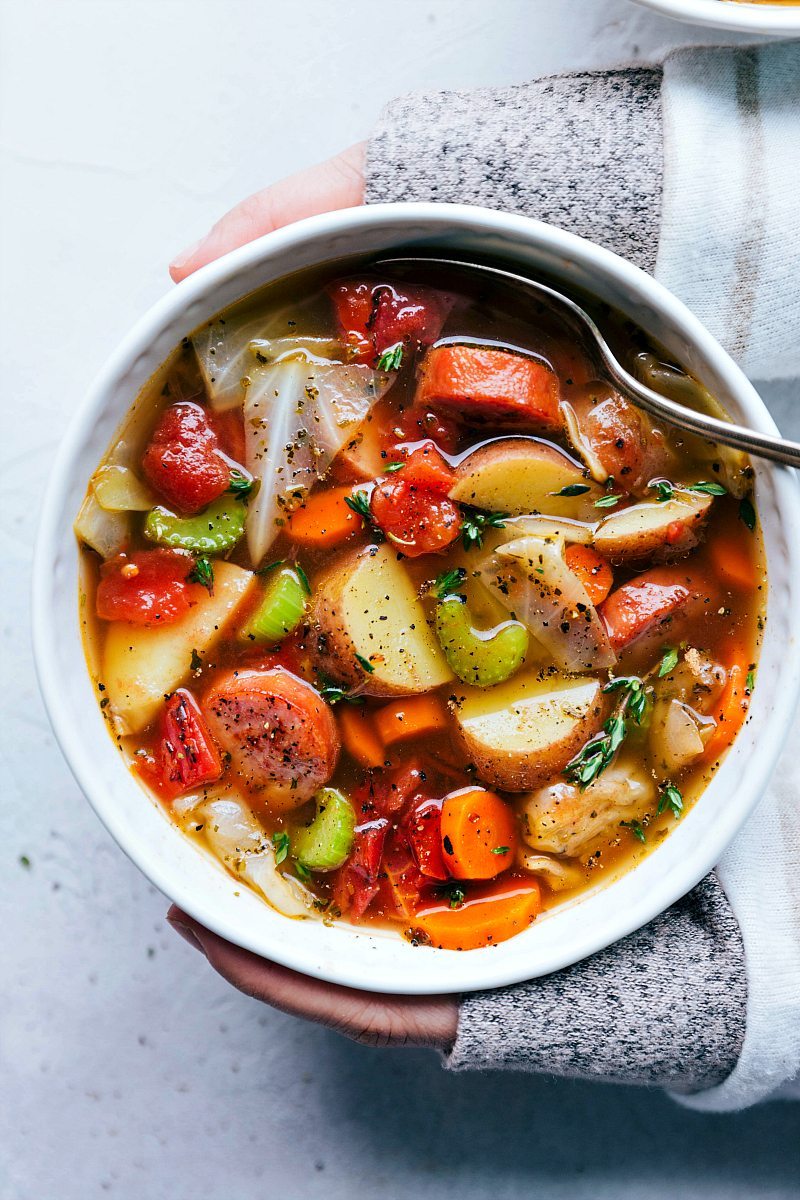 More Delicious Soup Recipes:
Crockpot Mexican Street Corn Chowder
20-Minute Chicken Parmesan Soup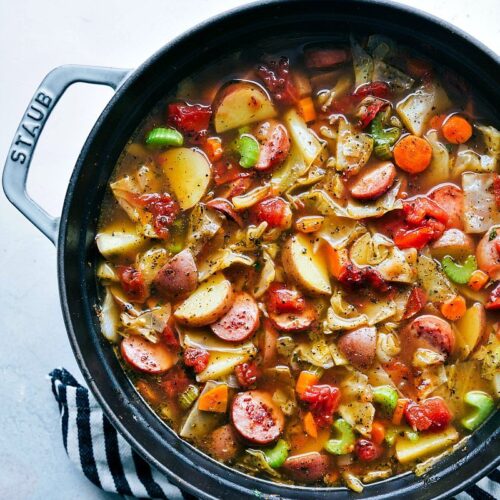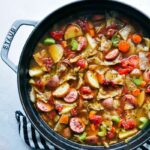 Sausage, Potato, and Cabbage Soup
A thick and hearty sausage, potato, and cabbage soup; a healthy recipe that is packed with flavorful ingredients!

Ingredients
2

tablespoons

olive oil,

separated

16

ounces (1 pound)

smoked sausage (for a healthier option we use hardwood smoked turkey sausage)

1

tablespoon

unsalted butter

1/2

of 1 small (~3/4 cup)

yellow onion,

diced

2

stalks (~1/2 cup)

celery,

thinly sliced

2

medium (~1 cup)

carrots,

peeled and diced

1 and 1/2

teaspoons

minced garlic

3/4ths

of 1 full

small green cabbage,

cut into bite-sized pieces

1

can (15 ounces)

fire-roasted diced tomatoes,

undrained

16

ounces (1 pound)

unpeeled baby red potatoes,

diced

5-7

cups

Swanson Beef Stock

(Swanson's beef broth will also work)

1/4

teaspoon

paprika

2

teaspoons

dried basil

2

teaspoons

dried oregano

2

teaspoons

Italian seasoning

1

bay leaf

Fine sea salt and freshly-cracked black pepper

Optional: fresh thyme

Serve with crusty sourdough bread!
Instructions
Warm up 1 tablespoon olive oil to a large stockpot over medium-heat. Once the oil is shimmering, add in the sausage.* Cook for about five minutes, stirring occasionally until the sausage is lightly browned. Transfer the sausage to a paper towel lined plate. Cover with foil and set aside. If there is extra oil left in the pot, drain anything over 1 tablespoon. If there isn't, add in the remaining 1 tablespoon oil and the butter.

Add in the diced onion, chopped carrots and sliced celery to the pot. Saute over medium heat for about 4-6 minutes and then add in the minced garlic. Saute for another minute and then add in the chopped cabbage. Stir to combine and ensure the bottom veggies aren't getting burned. Cook for another few minutes until the cabbage cooks down just a bit stirring frequently.

Add the potatoes, fire-roasted tomatoes (undrained), stock (I start with 5 cups and add more as needed up to 7 cups), paprika, dried basil, dried oregano, Italian seasoning, bay leaf, salt & pepper (add to your preference, I add about 1/2 teaspoon salt and 1/4 teaspoon pepper remembering that stock has a good amount of salt in it) and cooked sausage. Stir to combine (add stock to just cover everything). Cook until the soup reaches a simmer, then cover the soup, and reduce the heat to medium low. Simmer for 15-20 minutes or until the potatoes are fork tender. Taste and adjust seasonings if needed (any additional salt + pepper).

Serve with some crusty bread and fresh thyme as desired.
Recipe Notes
*You can slice the sausage into rounds like in my pictures, OR chop it into smaller pieces if you want a higher "sausage to soup bites" ratio.