Easy to make (no baking!) soft and chewy granola bars made to taste like an iced oatmeal cookie.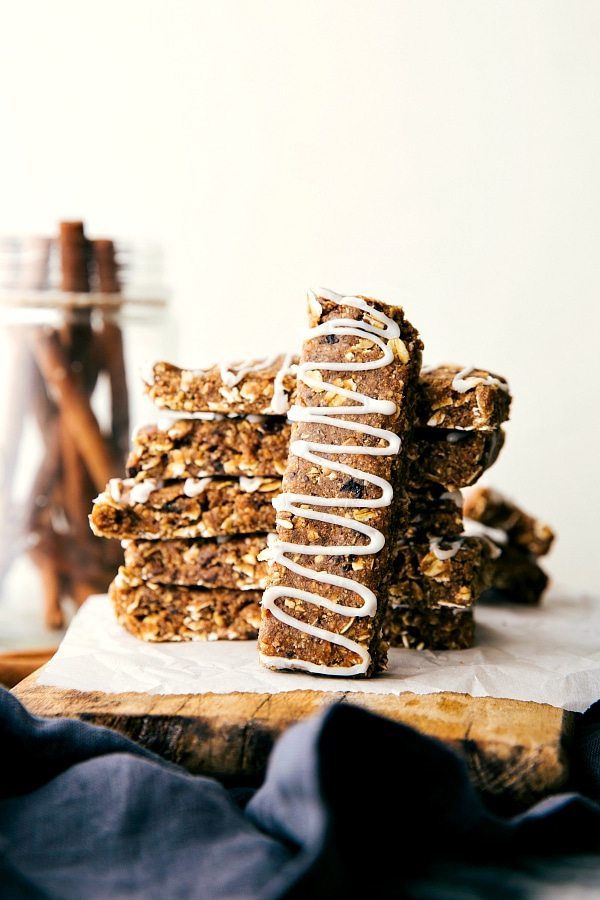 When I was in college, I had a professor that was obsessed with Clif Kid Z Bars. He would buy boxes of them to eat and then have as "rewards" for the teams that would win presentations (you know, we were all health majors so these were our kind of treats! ?). I'd never even heard of these bars, but as soon as my team won a presentation, I got an iced oatmeal cookie granola bar (as per his recommendation) and I've been hooked ever since.
Nowadays, I secretly pretend I'm being a good mom and buying healthy organic granola bars for my kids, but, just between me and you, I steal out the iced oatmeal cookies ones (hide them ?) and then eat them all. To be fair though, I do give my toddler the brownie batter and chocolate-chip cookie bar. Not that those flavors aren't good, but the iced oatmeal cookie is on a whole different level of good.
Since Clif Kid Z bars aren't the cheapest granola bars around, I thought it was time to try and make something similar. In all honesty and full disclosure this copycat is not identical, and not even really that close to the original iced oatmeal cookie Clif Z bars. BUT, they DO taste like an iced oatmeal cookie in a delicious soft granola bar form and I've stopped buying the bars because these are just as good to me, in a different sort of way!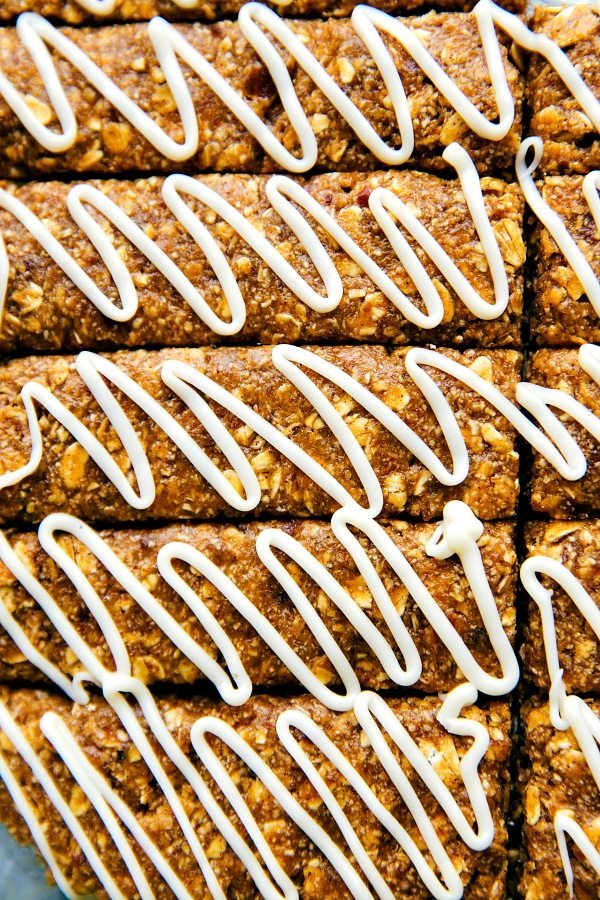 If I'm going to copycat a recipe there has to be a reasons why. One reason is it's going to be healthier/more natural (Clif Z bars were already pretty dang healthy and all organic so not really this reason), reason two, it's got to be cheaper, and reason three, it's got to be easy.
So cheaper — instead of buying all the crazy ingredients I read in the ingredient list of these bars, I use simpler and more "mainstream" ingredients (no ordering stuff online?). Which, can still add up pretty quick. My all time favorite combination for these bars is maple syrup and almond butter. And those two ingredients get expensive in a hurry. So, I've also tried honey and peanut butter which have a slightly different (and less oatmeal cookie tasting) flavor, but they work and are still good. The rest of the ingredients aren't too bad and you probably already have. Okay, so, maybe not the dates, but I generally get a bag of dates that will make 3 batches of these guys for around 3-4$.
And easy. Yes I realize buying a box is easier than making these, but the good news is these are still extremely simple to make. Namely: they don't require any baking! The original bars are definitely baked, but I actually prefer how these non-baked ones end up. They are softer and less dry (I've had a few dry Clif Kid Z bars; these you won't get dry at all!). They have a great moistness, flavor, and delicious texture.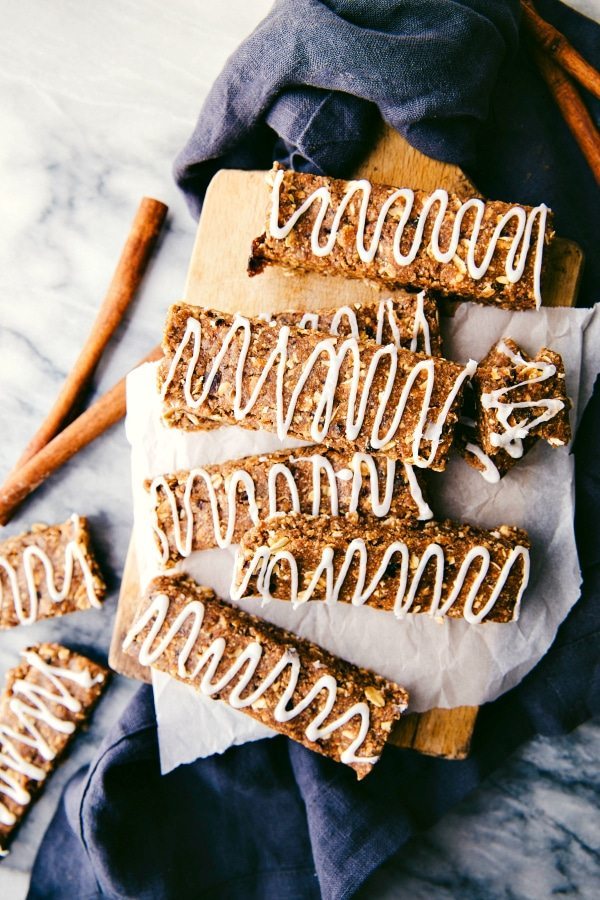 Lastly a note on making these. I've made these no short of half a dozen times now and they are always a little different texture-wise (usually occurs if using honey or peanut butter or using figs instead of dates). So in the recipe, I call out for the least amount of oats you'll need. Add extra oats to get to the texture and firmness you like in a soft granola bar. I like them pretty soft and straight out of the fridge so I usually just use the 1 and 1/4 cups. If you want firmer bars you'll definitely need some more oats.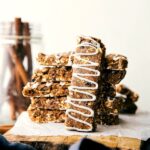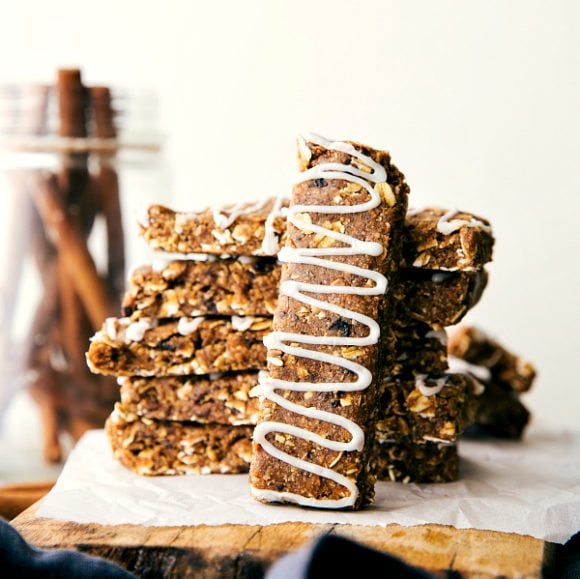 No Bake Soft Oatmeal Cookie Granola Bars
Ingredients
2 and 1/4

cups

old fashioned oats

separated

1

cup

pitted Deglet Noor dates

by dried cranberries in the grocery store

1/3

cup

almond butter

1/2

cup

maple syrup

or honey

1

tablespoon

vanilla extract

1/4

teaspoon

salt

1

teaspoon

ground cinnamon
Optional Glaze
2

tablespoons

white chocolate chips

1

teaspoon

coconut oil

1/4

teaspoon

vanilla extract

2

tablespoons

powdered sugar

1-2

teaspoons

milk
Instructions
Blend 1 cup of the old fashioned oats until they resemble flour. Pour into a bowl.

Blend the dates (soak in a bowl of warm water if they are hard and then drain and dry well) until a thick paste forms. Place in the bowl.

Add the almond butter, maple syrup, vanilla extract, salt, and cinnamon.

Add in the remaining 1 and 1/4 cup oats.

Using hand mixers blend until well combined. Add up to 1/2 cup additional oats. The mixture is quite wet, but it does set up a bit in the fridge. It's up to you and the texture you want for how many extra oats you add!

Line an 8 x 8 pan with parchment paper, foil, or plastic wrap.

Press the granola bar mixture evenly into the pan and place in the fridge to chill and set up for at least 1 hour.

Once the bars have set up, drizzle the glaze on. To make the glaze: combine the white chocolate chips and the coconut oil (measure when melted)

Microwave the mixture in 15 second bursts, stirring in between each burst for 10-15 seconds until completely smooth.

Stir in the vanilla extract, powdered sugar, and milk. Stir until a thick frosting has formed and transfer to a small plastic bag. Cut off the tip.

Remove the chilled bars from the fridge and cut into bars. Pipe the frosting onto the bars and allow to harden. (Return to the fridge).

Store in an airtight container in the fridge.