Quick and simple miniature baked oatmeal cups with an eggnog flavor. Made with healthier ingredients! (Gluten-free recipe)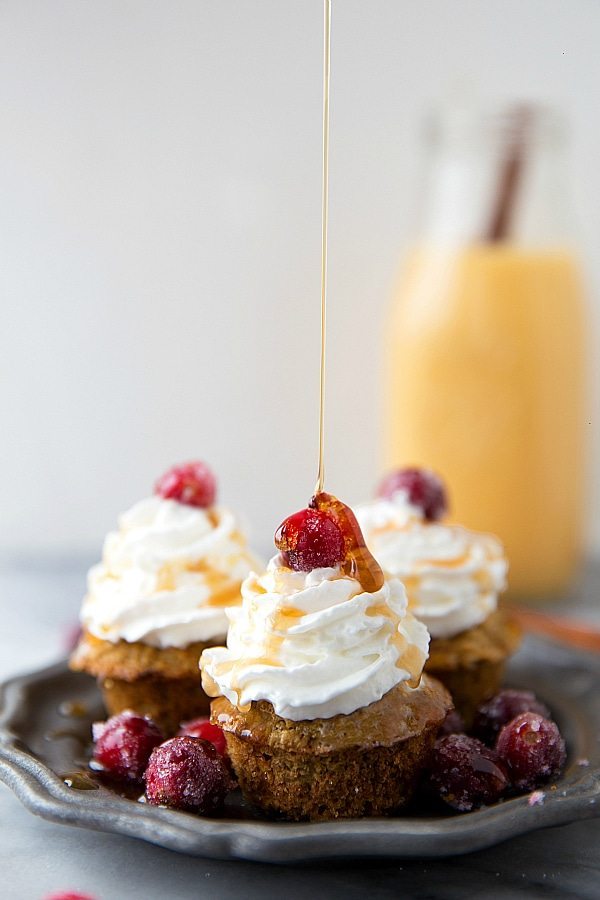 Happy Day after Thanksgiving!! How was your Thanksgiving? I hope it was filled with lots of family/friends and good food! ☺️
I'm going to try and not get too, too cheesy on you all, but I would be remiss if I didn't express my gratitude to YOU. Thank YOU for reading my blog, for trying my recipes (and telling me when you do!), for your comments, and virtual friendship-ness. ❤️ I'm so grateful!
I'm actually writing this post up the day before Thanksgiving so I can't quite tell you how mine was (will be?), but we've got some fun plans in the works that I'll be sure to update you on next week. It does involve some travel so I'm taking breaks on packing to write about the amazing breakfast we've been eating the past few days. AKA these mini baked oatmeal cups.
You've all had baked oatmeal before right? Or some kind of soft baked oatmeal bar? These are basically baked oatmeal, but in a different form (mini muffin-sized oatmeal bites). And they are slightly flavored to taste like eggnog. They are made in mini muffin tins for a few reasons — first, I think the texture and taste is the BEST in the miniature tins. While they worked out in a regular sized muffin tin baking for about 18 minutes, they weren't as good as in the miniature tin. By baking in the miniature tin the edges get crispier making the bite of the mini oatmeal cup have far more texture and almost a different overall taste then when baked in the regular sized muffin tin.
Second, they make a great on-the-go type of breakfast or even snack. While these are absolutely best right out of the oven, they are still pretty delicious later on as a snack. Or if you need to take breakfast on the go, these work well for that! You could even crumble up the baked oatmeal into a bowl and top it with some fruit for another fun breakfast with any leftovers. And third, mini baked oatmeal is just plain-out a fun way to eat breakfast. It's different than a typical breakfast and a unique way to eat baked oatmeal.
So real quick, let's talk about the taste. Eggnog flavored! These are not overpoweringly eggnog flavored, but they do have a faint eggnog taste and all the right spice. You could also add some rum imitation extract if you are looking for more of the traditional eggnog flavor. 1/4 – 1/2 teaspoon should do the trick on that! The great news about these little baked muffin cups is that the eggnog in them is a much healthier variation than regular eggnog. It's made by Silk and called Almond Nog (I got the pumpkin spice version and recommend it in these cups!). It's dairy-free, super flavorful, and far lower on calories/fat than regular eggnog. Win, win, win! If you don't use the pumpkin spice version, you may need to increase the spices in these baked oatmeal cups.
Oh, and Happy Black Friday!!
Healthier Mini Eggnog Baked Oatmeal Cups
Servings
:
20
mini baked oatmeal cups
Ingredients
3/4

cup

Silk Almond Nog Pumpkin Spice*

1

large egg

1/4

cup

melted coconut oil

1/3

cup

light brown sugar

lightly packed

1/2

teaspoon

ground cinnamon

1/4

teaspoon

ground nutmeg

1/4

teaspoon

salt

1

teaspoon

vanilla extract

1

teaspoon

baking powder

1/2

teaspoon

baking soda

1

cup

old fashioned oats

1

cup

oat flour

blend up regular oats

Optional: maple syrup, whipped cream topping, sugared cranberries
Instructions
Preheat the oven to 400 degrees F. Spray a miniature muffin tin with nonstick spray (liners not recommended as the oats stick and the oatmeal cups don't come out cleanly.)

In a large bowl, briskly whisk together the Silk Nog and the large egg.

Measure the coconut oil when melted and then add the melted (but slightly cooled to not cook the egg) coconut oil into the bowl.

Whisk in the coconut oil and brown sugar. (If you aren't used to healthier snacks/breakfasts increase to 1/2 cup)

Add in the cinnamon, nutmeg, salt, and vanilla extract.

Add in the baking powder, baking soda, and old fashioned oats (do not use quick or steel cut oats)

In a blender or food processor, blend up oats until they resemble a flour consistency. I just pulse the oats in the blender until they look like flour. Measure the blended oats AFTER blending them and not before.

Stir all the ingredients together and let the mixture set for 15 minutes to allow the oats to absorb some of the liquid.

Fill up the prepared miniature muffin tin with the mixture. Fill the muffin cavities 90% of the way full.

Bake for 9-12 minutes and then remove and allow to slightly cool (I like to eat them still hot/warm).

If desired, top with maple syrup, whipped cream topping, and sugared cranberries. To sugar cranberries,

click here for directions.
Recipe Notes
*If you don't use the pumpkin spice version eggnog, you may need/want to increase the spices as that Almond Nog has a lot of spice and flavor. If you want a stronger "eggnog" flavor add 1/4-1/2 teaspoon imitation rum extract.
More delicious and healthy breakfast ideas:
Skinny and Flourless Pumpkin Chocolate-Chip Muffins
A gluten-free, healthy peanut butter oatmeal breakfast cookie
Peanut Butter Cup Overnight Oats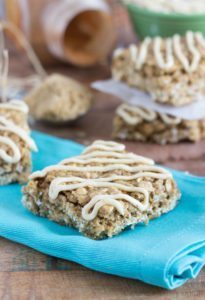 {Nature Valley Copycat} Cinnamon Brown Sugar Soft-Baked Oatmeal Squares