Hearty and comforting, American Goulash is an easy old-fashioned pasta and ground beef meal. Beef, peppers, and onions are simmered in a tomato-based sauce and then tossed with pasta and cheese to create an unbeatable savory dish ready in about 40 minutes!
Pair this goulash with some veggies! These roasted sweet potatoes, roasted broccoli, or Italian salad all make great side dishes.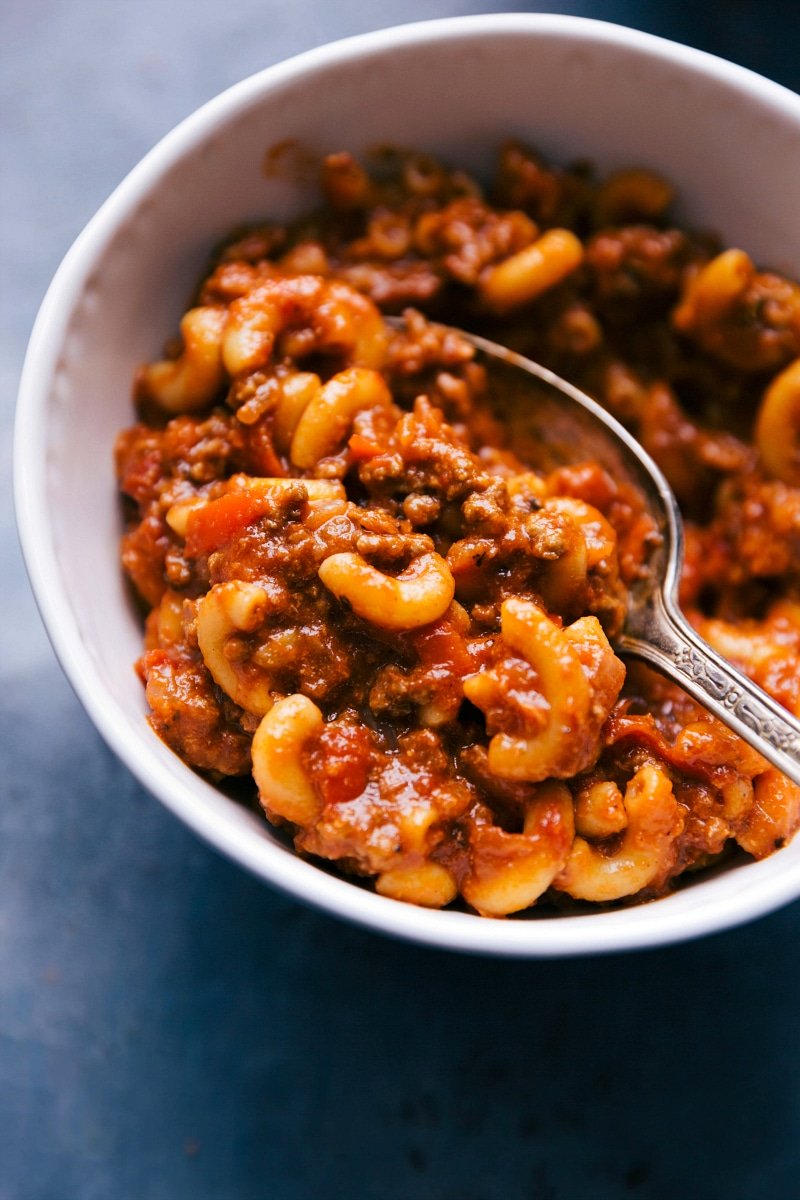 American Goulash: about this recipe
American Goulash, sometimes called slumgullion, is an American comfort food meal made with ground beef, elbow macaroni, and onions in a tomato-based sauce. Where I'm at, in the midwest, American Goulash is usually just called "goulash," but is not to be confused with Hungarian Goulash — the Hungarian version is made with stew meat and served over homemade dumplings (called Nokedli).
Most American Goulash recipes cook in one pot — the pasta get cooked in the beefy sauce. I personally don't prefer this method for a few reasons — one, it's easy to overcook the pasta and be left with an overly starchy meal. Two, it's hard to keep leftovers. The pasta continues to absorb liquid and bloats, making the leftovers less pleasant, and, well, mushy. And finally, I've found it really doesn't save time (a pot, yes, but time, no). So for this particular recipe, we cook the pasta separately. I think it makes for the very best goulash!
While the beefy tomato mixture is simmering, the pasta can be cooked and everything finishes about the same time to get tossed together and enjoyed. This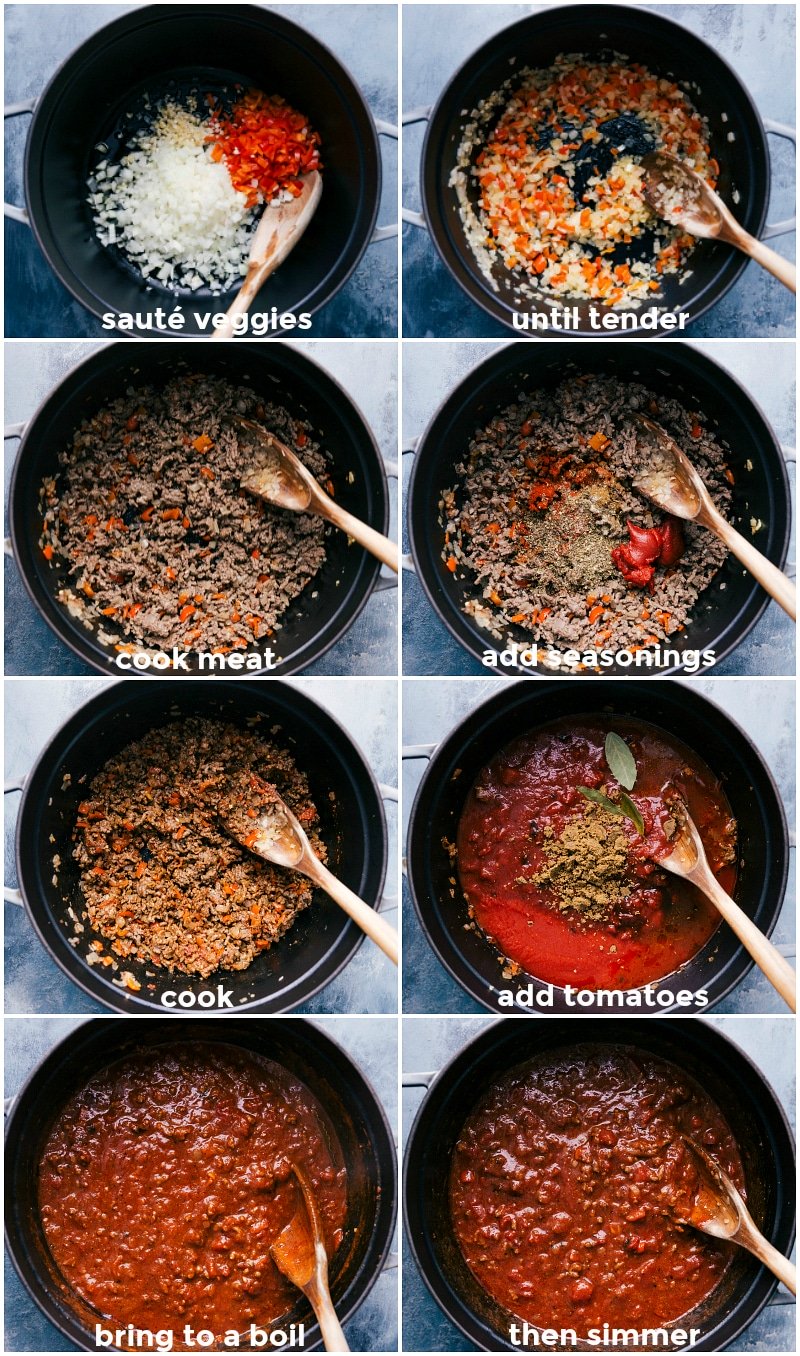 Recipe variations
What to serve with Goulash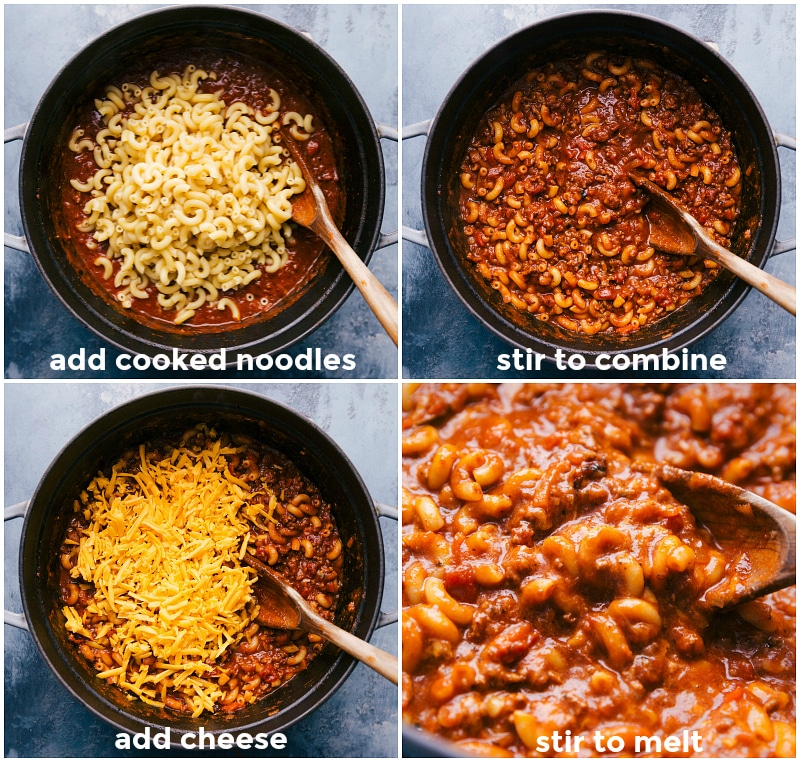 Making ahead of time
As the recipe is written, this meal is excellent prepared ahead of time; in fact, it gets even better as it sits (flavors intensify and meld together). I store the cooked macaroni separate from the cooked meat sauce.
Warm the meat sauce gently in a pot or skillet, over medium low heat, until warmed through. Warm the noodles through by tossing with the warmed meat sauce.
Freezing
The meat sauce and noodles together don't freeze and thaw well (the noodles become mushy), but the meat sauce alone does freeze and thaw nicely. To freeze, let the meat sauce cool completely and then place in an airtight, freezer-safe container. Date and label the package and freeze. When ready to eat, thaw overnight in the fridge and gently warm through on the stove top before eating. You may need to add in an extra splash of water or tomato sauce when re-heating.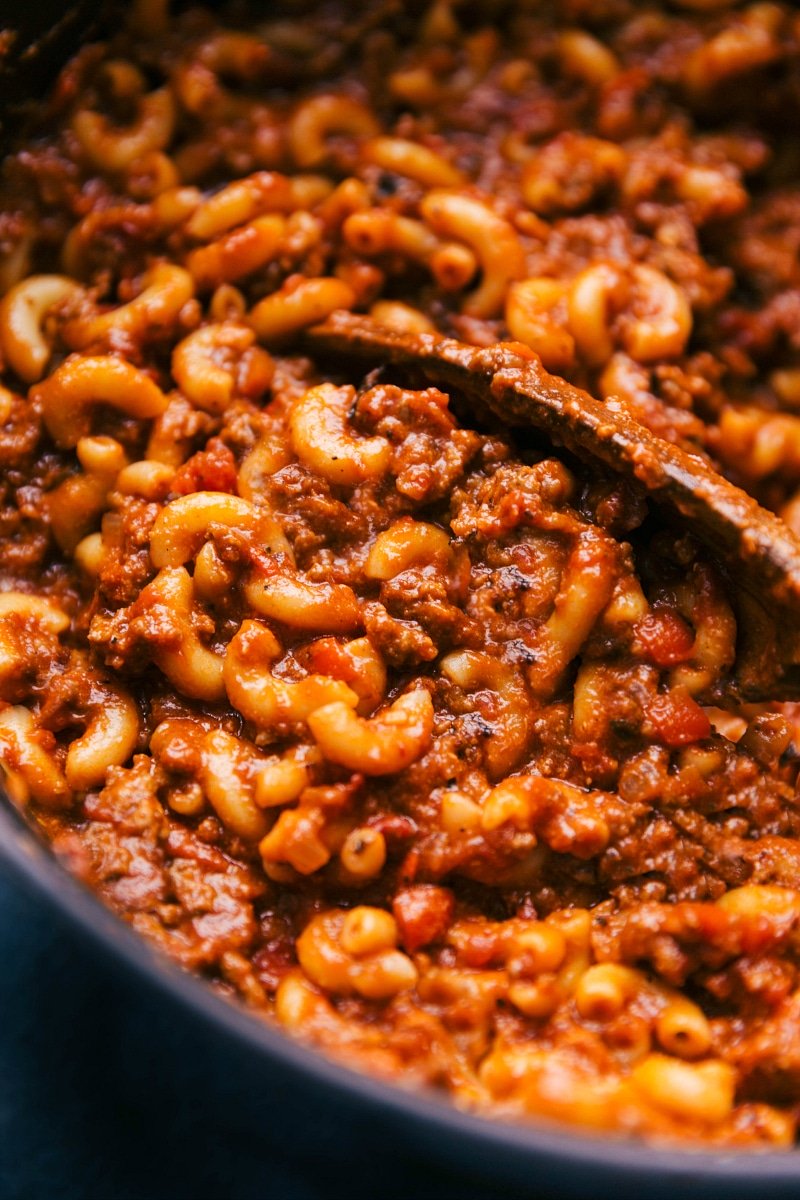 Goulash recipe tips
More ground beef recipes: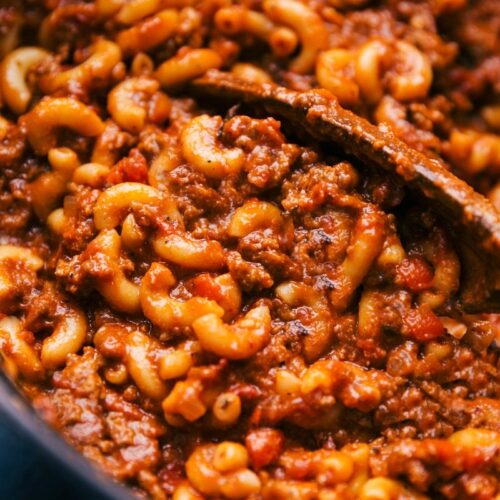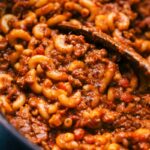 American Goulash
Hearty and comforting American Goulash is an easy old-fashioned pasta and ground beef dish. Beef, peppers, and onions are simmered in a tomato based-sauce and then tossed with macaroni noodles and cheese to create an unbeatable savory dish ready in about 40 minutes!
Course:
Dinner, Main Course
Ingredients
2

tablespoons

olive oil

1

cup

diced yellow onion

(~1 onion)

1

cup

diced red pepper

(~1 pepper)

1

tablespoon

finely minced garlic

(~3-4 cloves)

1

pound

lean (93/7) ground beef

2

tablespoons

tomato paste

1

tablespoon

italian seasoning

1

teaspoon EACH:

paprika and chili powder

1/4

teaspoon EACH:

garlic and onion powder

Salt and pepper

1

can (15 ounces)

tomato sauce

2

cans (14.5 ounces EACH)

fire-roasted crushed tomatoes

2

large

beef bouillon cubes

(See Note 1)

2

tablespoons

Worcestershire sauce

2

bay leaves

1

cup

freshly grated sharp Cheddar cheese

3

cups

uncooked macaroni
Instructions
PREP: Finely dice the onion, mince the ginger, and finely dice the red pepper.

COOK VEGGIES: Place a large cast iron pot on the stove and heat to medium high. Add in the 2 tablespoons olive oil. Once oil is warm and shimmering, add in the 1 cup finely diced onion, 1 cup finely diced red pepper, and 1 tablespoon finely minced garlic. Cook, stirring frequently, until tender about 5-7 minutes. If anything is browning too quickly or burning, lower the heat. Meanwhile, add another pot filled with water to the stove top. Set heat to high and bring to a boil.

COOK BEEF: Increase the heat to high and move the veggies to the side of the pot with a wooden spoon. Add the beef to the middle of the pot and let stand for 30 seconds. Flip and stir, letting the other side stand for 30 seconds. Continue to cook the beef, using the wooden spoon to break it apart, crumbling into small pieces as it cooks. Cook until no longer pink. Drain off any accumulated grease. Lower the heat to medium. Add the 2 tablespoons tomato paste, 1 tablespoon Italian seasoning, 1 teaspoon paprika, 1 teaspoon chili powder, 1/4 teaspoon garlic powder, 1/4 teaspoon onion powder, and pepper to taste. Stir until spices are fragrant, 1-2 minutes.

TOMATOES: Add in the tomato sauce and scrape any browned bits from the bottom of the pot. Add in the 2 cans of fire-roasted crushed tomatoes and stir together. Crumble in the 2 beef bouillon cubes, add in the 2 tablespoons Worcestershire sauce, and the bay leaves. Gently stir. Bring to a boil and then reduce the heat to low. Cover partially with a lid, leaving a little bit of the pot uncovered. Simmer, stirring occasionally, until fragrant and tender. (If you have extra time, simmer for 30-45 minutes for an extra thick, tender, and savory meat sauce; otherwise simmer until the pasta is done cooking). Meanwhile, shred the sharp Cheddar cheese.

MACARONI: By this time, the water should be boiling; season it with salt; I add about 3/4 tablespoon salt to the water. Add in the 3 cups macaroni and cook according to package directions. Once cooked, drain.

FINISHING: Remove meat mixture from the heat and add in the cheddar cheese. Stir until melted. If the goulash will be completely consumed the same day it's made, stir in the cooked macaroni noodles. If you plan for leftovers, add macaroni to individual bowls and stir the meat mixture into the bowls. This keeps the macaroni noodles from bloating when being chilled and stored (I like to store macaroni separate from the meat sauce).