Delicious and easy porcupine meatballs that take minutes to make and cook in your crockpot. Little prep and impressive results!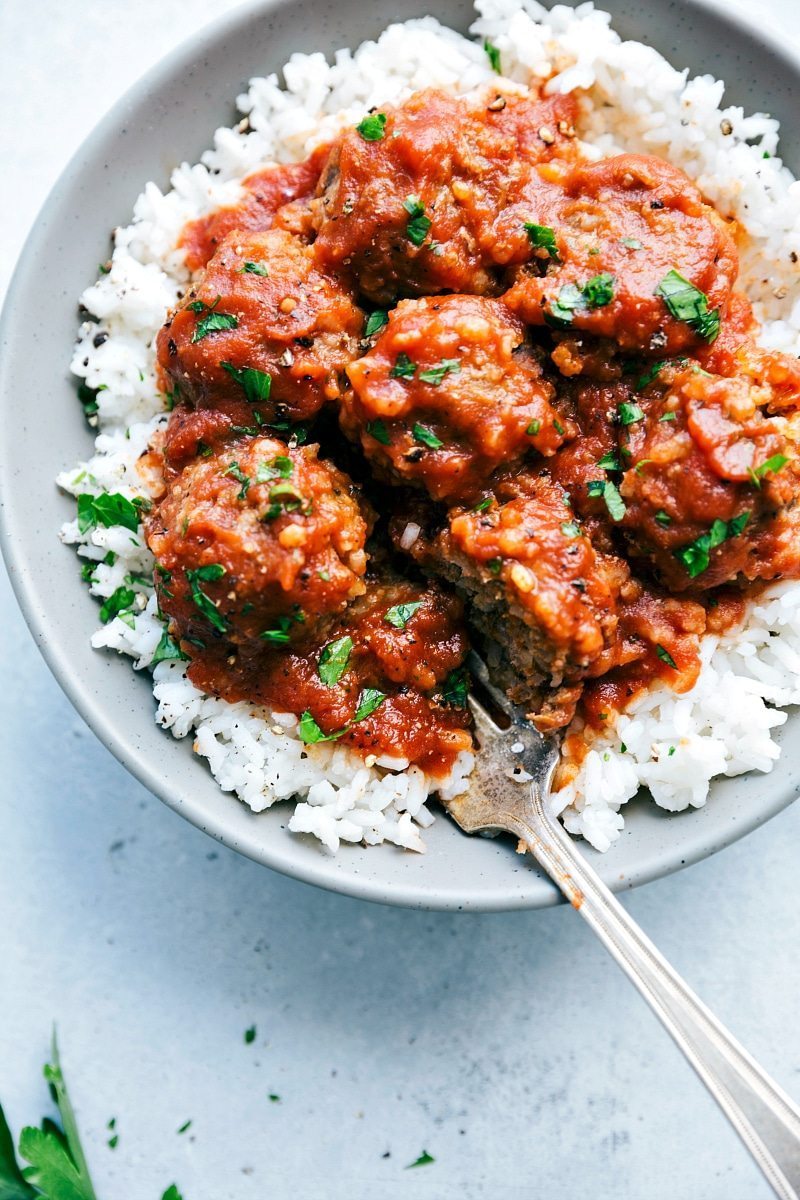 So far every single Valentine's Day the husband has cooked dinner for him and I. This is a really big deal for him, because he really doesn't cook besides the occasional freezer meal (he says those count), spaghetti + spaghetti sauce, and assembling a sandwich. Oh, he'd also be upset if I didn't mention pouring a bowl of cereal — that definitely counts as a meal…according to him.
I've told the story when we were dating once and he passed a gourmet meal off as his own. Later I found out that after a failed attempt, he frantically had gone over to his sister's apartment and she made it for him. But for me, it's totally the thought that counts.
We love to go out to eat, but Valentine's we like to skip the crowds and do a dinner at home just the two of us. Although, admittedly Grey has been a visitor for our Valentine's dinners because well, we are kind of bad at the whole getting a babysitter thing. And I think this year will probably be the same, but we love him too so why not let him be our Valentine and share in dad's impressive once-a-year gourmet meal. However, next year when we are living close to his aunt's I imagine one of them will be getting a call to babysit. 🙂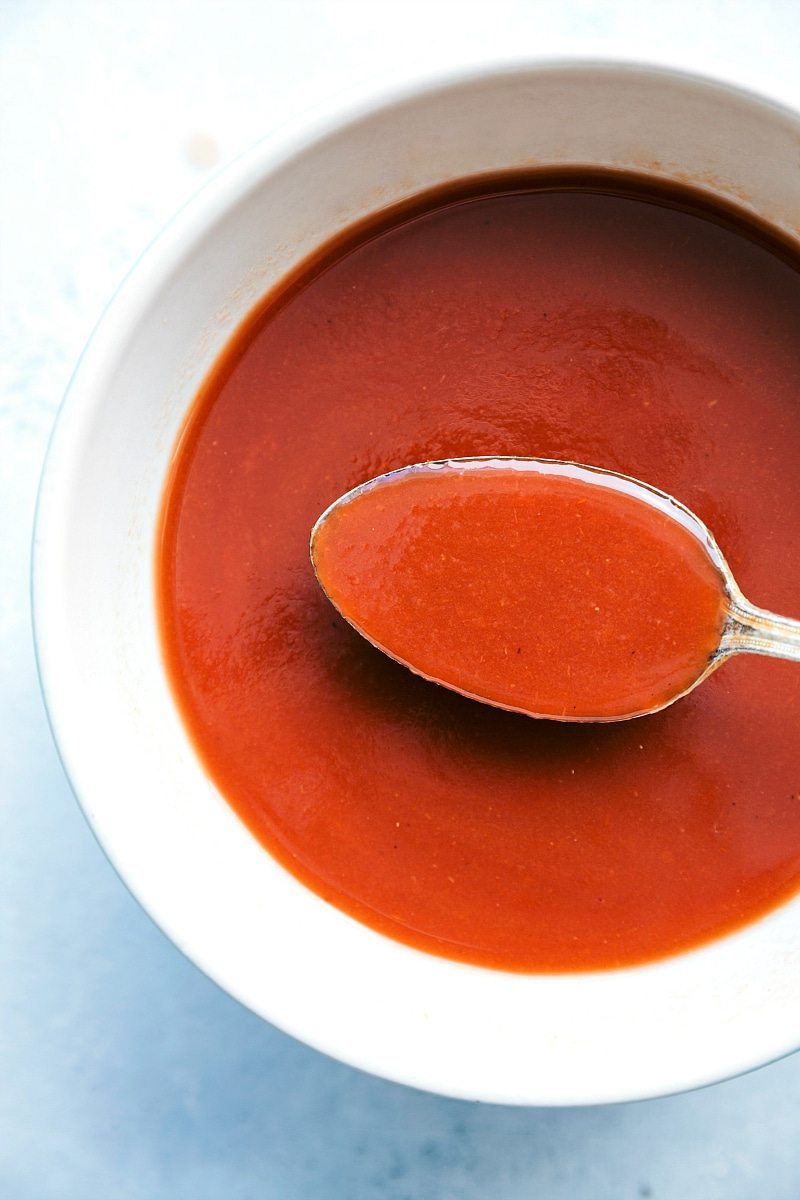 He's always done such a great job at dinners that I decided it was my turn this year! So this year for Valentine's Day I decided on porcupine meatballs over rice mostly because first of all, I love them AND he'd never even heard of porcupine meatballs. He thought the regular spaghetti and meatballs would be good, but when I suggested porcupine meatballs instead it definitely piqued his interest.
These are one of my all time favorite meals from growing up. So I've modified one of my favorite meals ever (as a kid) and cooked it in the slow cooker instead. There is NO porcupine in these, but they get the name because you stuff rice in the meatballs and they end up looking a little bit like a porcupine when they are finished cooking. 🙂
These are so simple to throw together and after slow cooking for most of the day you won't believe how flavorful and tender these are! Enjoy!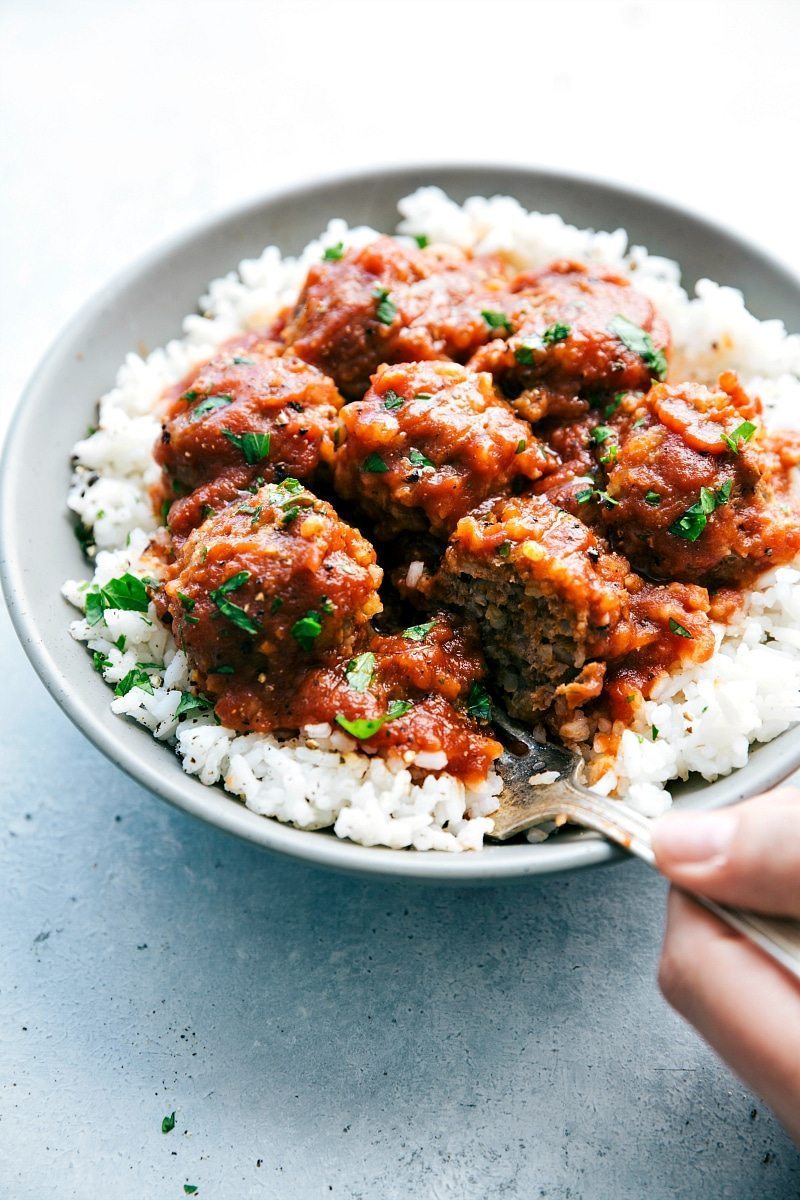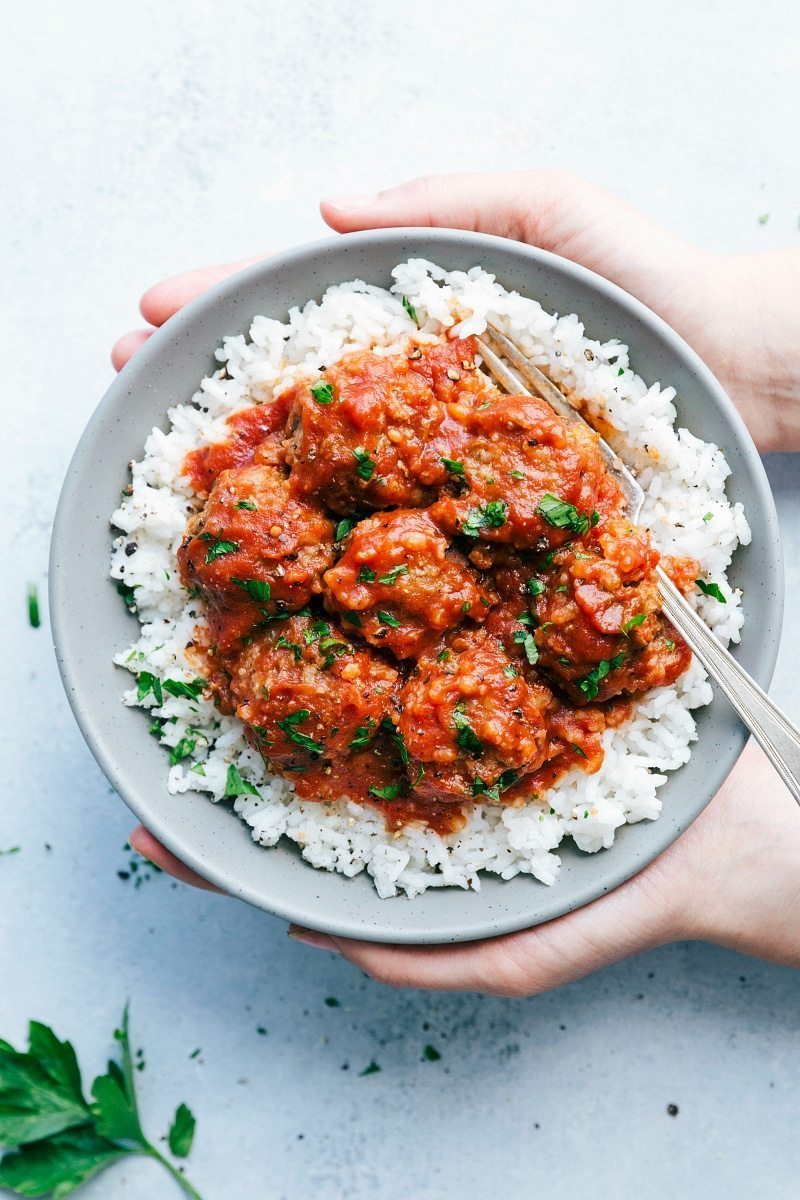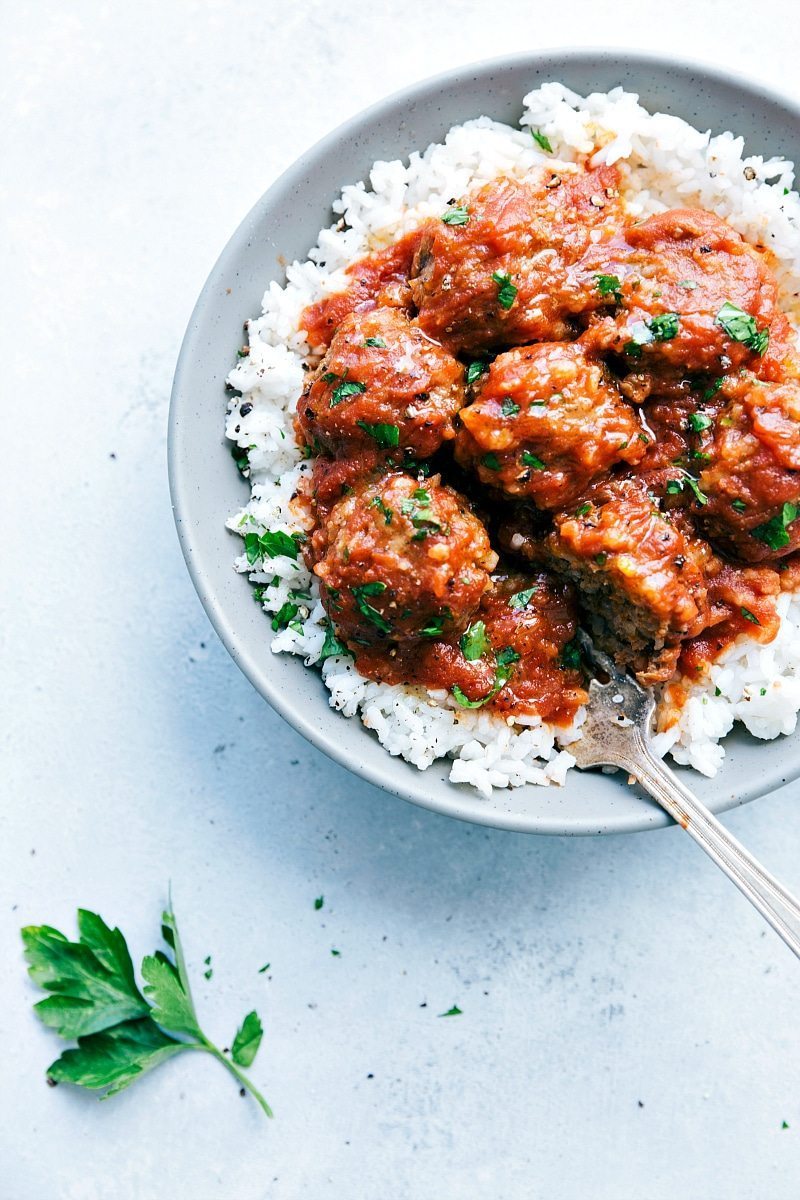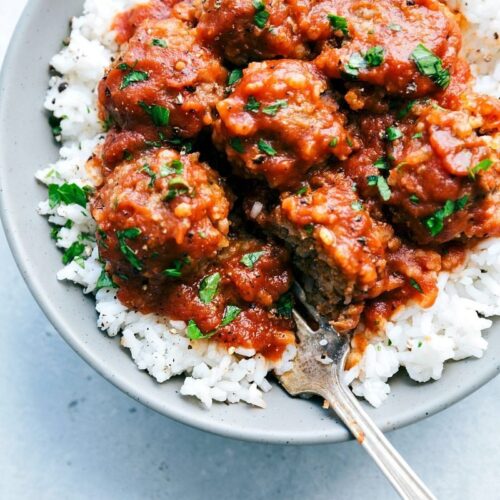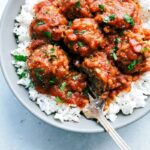 Crockpot Porcupine Meatballs over Rice
Delicious and easy porcupine meatballs that take minutes to make and cook in your crockpot. Little prep and impressive results!
Ingredients
1

pound

extra lean ground beef

1/2

cup

white rice

1/3

cup

white onion,

peeled (cheese grater) or finely chopped

1

teaspoon

minced garlic

1

large egg

1

teaspoon

seasoned salt

1/2

teaspoon

pepper

1/2

teaspoon

dried basil

Cooking Spray

1

cup

water

2

cans (15 ounces EACH)

tomato sauce

1/4

cup

light brown sugar,

lightly packed

1/4

cup

Worcestershire sauce

Optional: fresh parsley

White/Brown rice,

for serving
Instructions
Preheat the oven to broil (550 degrees F.) Line a large tray with tin foil and set aside.


In a large bowl, combine the ground beef, white rice, grated white onion, minced garlic, large egg, seasoned salt, pepper, and dried basil. Knead the mixture until just combined avoiding over-mixing (makes the meatloaves denser)


Form meatballs by tightly squishing the mixture together until a tightly condensed meatball is formed (I like to use a cookie scoop for size consistency and ease). Repeat until all of the mixture is used up. The mixture should make around 20 meatballs.


Place all of the formed meatballs on the tray, generously spritz with cooking spray, and then broil in the oven for 3 minutes per side (6 minutes total). This helps ensure they don't break apart in the crockpot. Remove.


Spray your slow cooker with nonstick spray. Add in the water, both cans of tomato sauce, brown sugar, and Worcestershire sauce. Stir.


Layer the meatballs on top (I used a 6 quart slow cooker) of the tomato mixture. Spoon the sauce over.


Cover and cook on low for 4-6 hours or high for 3-4 hours (watch carefully if you have a slow cooker that cooks a lot hotter than most).


Remove from the slow cooker and serve over a bed of white rice.


Garnish with salt and pepper if desired and freshly chopped parsley to taste.

More delicious slow cooker recipes: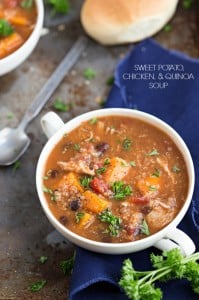 Slow Cooker Sweet Potato, Quinoa, and Chicken Soup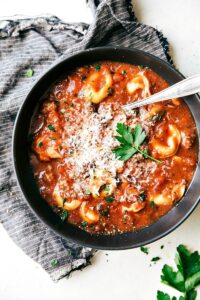 Crockpot Lasagna Tortellini Soup
Honey BBQ Pulled Pork Sandwiches