Delicious slow cooked beef, mushrooms, and gravy served over homestyle egg noodles.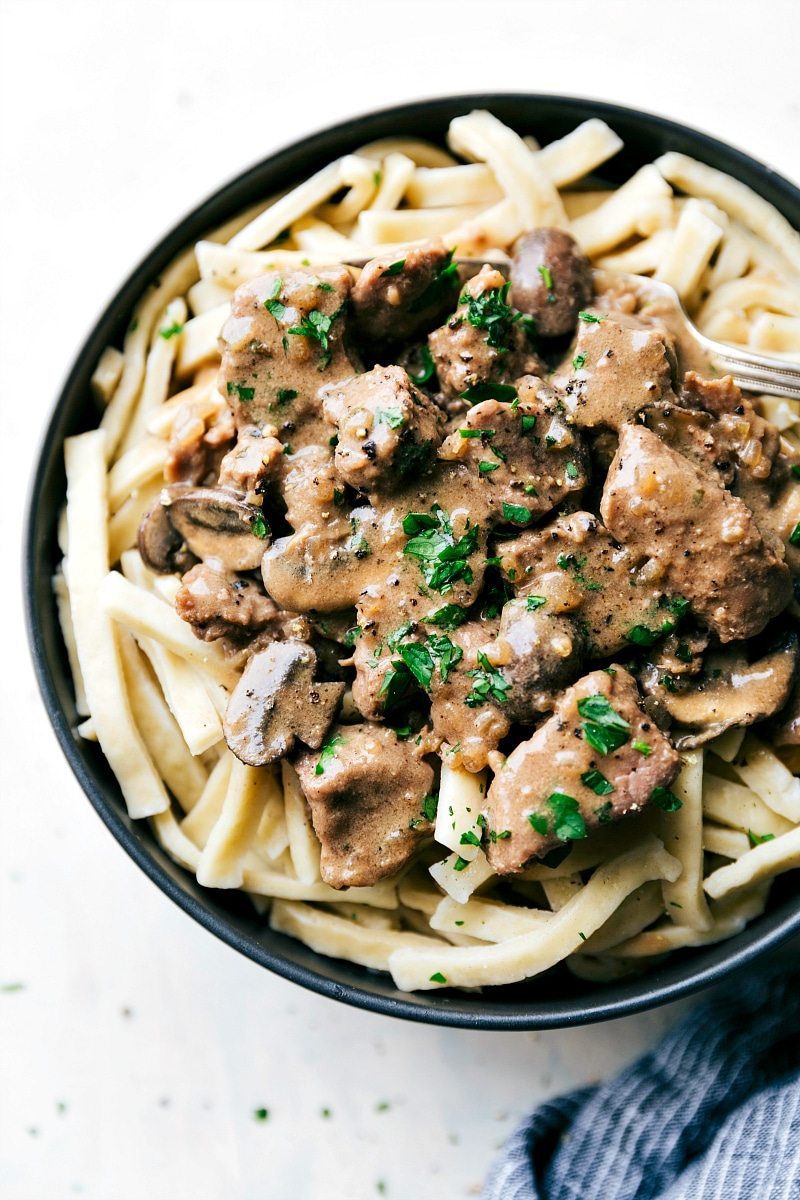 Lately, I've been texting the husband pictures of the "damage" done in the house every time I shower with the caption, "this is what my shower cost me." A few days ago the bottom shelf of my closet was strewn across the house and thrown over the balcony to the downstairs. A couple of days after that two rolls of toilet paper were ripped to shreds and evenly distributed among both levels of the house. And just yesterday? I came downstairs to find both boys contently playing by the Christmas tree…with toys that the husband and I had stayed up late the night before wrapping.
Yes, they had unwrapped their presents and started playing with them all. ?
The meltdown that ensued after taking away their presents (that hadn't been given them yet) was a little ridiculous, but on the plus side, at least I know they love their Christmas gifts. Side-note: I really don't take long showers! These boys and their destructive abilities are uncanny.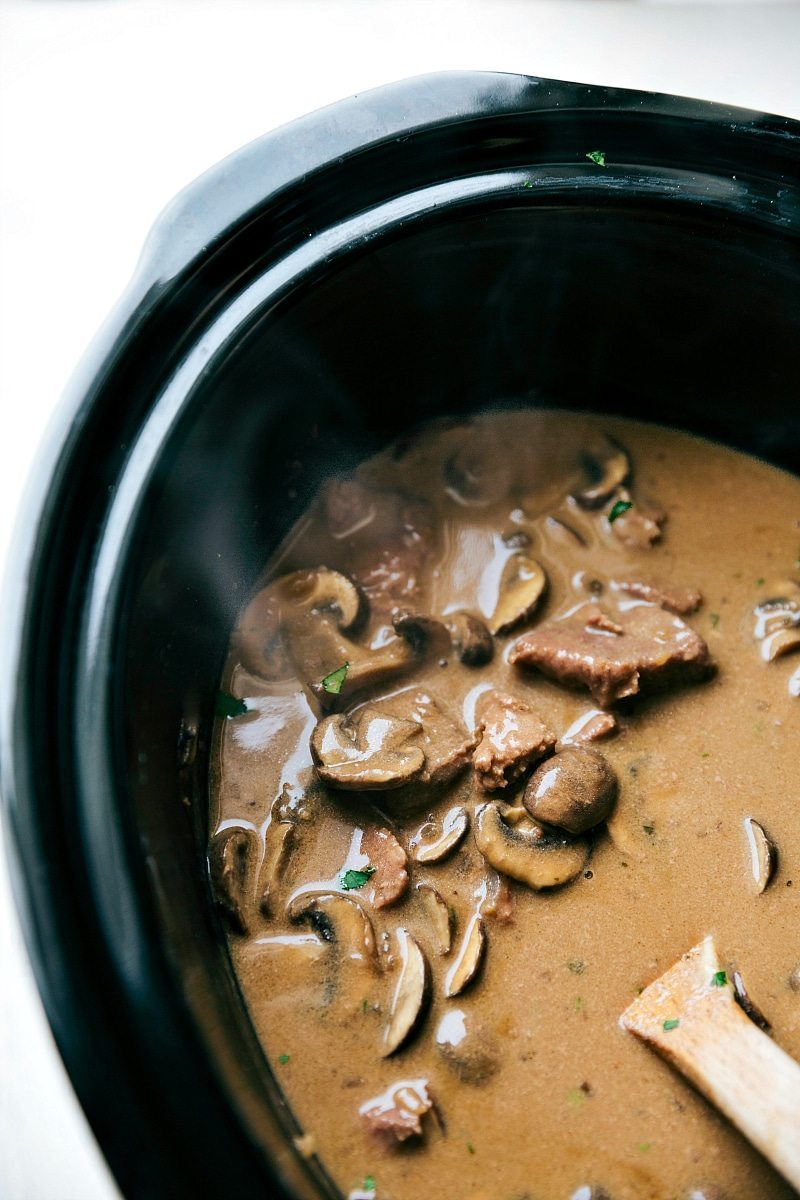 So while the presents are no longer under the tree, we're just about all ready for Christmas! It's been crazy cold arond here and we've been eating lots of warm comfort food.
Beef stew was a huge time comfort meal in my home growing up. My dad would make it frequently in the winter and we all obsessed over it. Whenever it gets really cold outside, beef stew is what I crave!
This dish isn't a beef stew, but it is every bit as comforting. A creamy beef and mushroom dish served over egg noodles — pure homemade goodness in a bowl and it couldn't be easier to make! Your crockpot pretty much does all the work. Nice tender beef, flavorful mushrooms, and the most creamy-smooth gravy is what you'll get after a slow cook in the crockpot.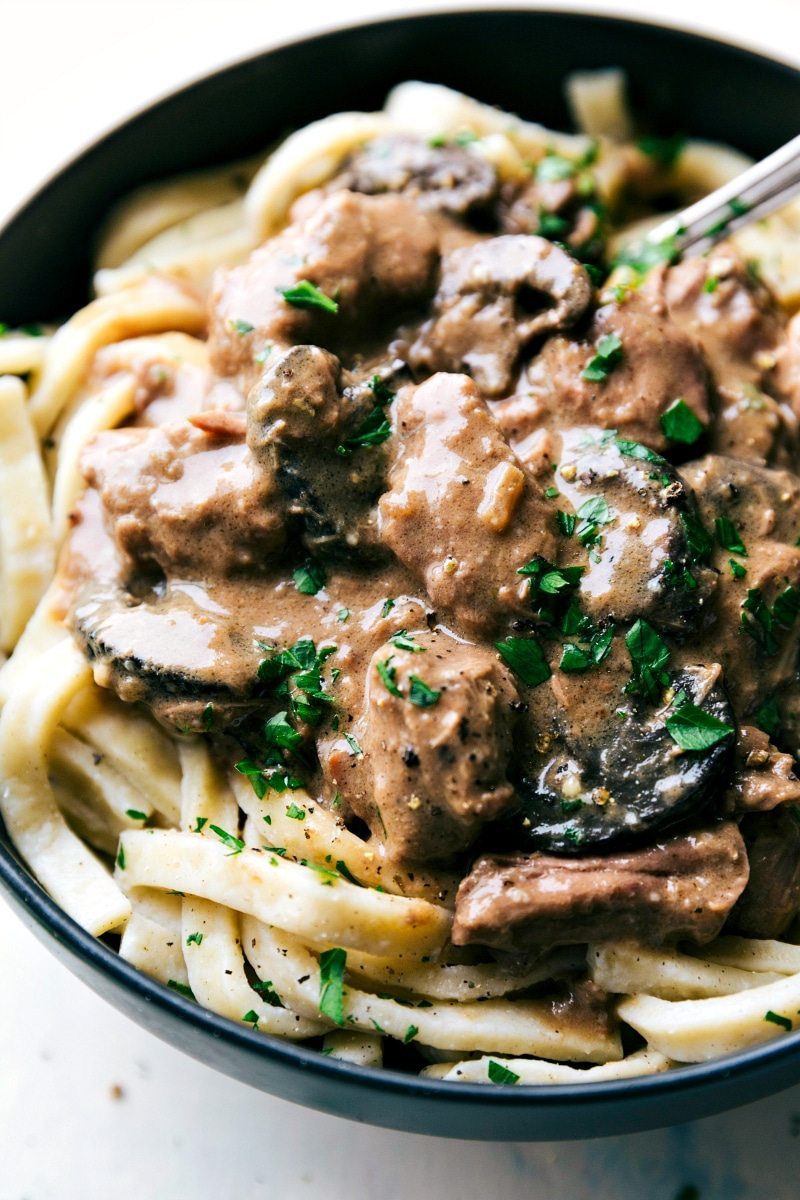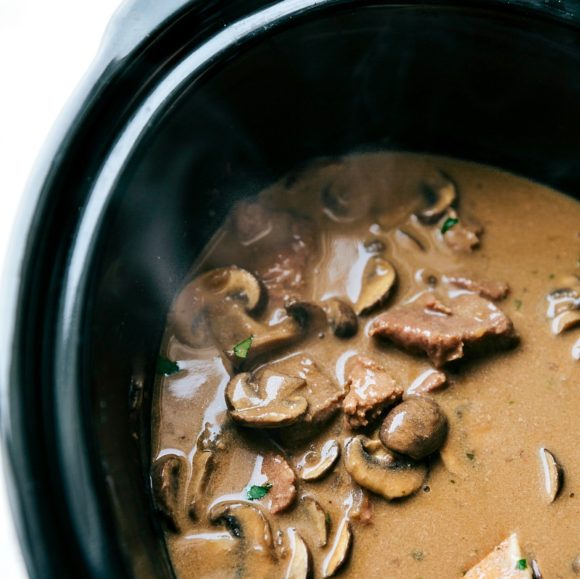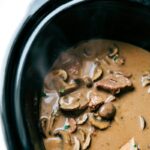 Crockpot Creamy Beef & Mushrooms Over Noodles
Delicious slow cooked beef, mushrooms, and gravy served over homestyle egg noodles.
Ingredients
2 and 1/4

pounds

beef stew meat or sirloin tip steak cut into 1 inch cubes

beef chuck roast can also be used*

1

packet (.87 ounces)

brown gravy mix,

unprepared

3

tablespoons

dried minced onion

1/4

teaspoon EACH

onion powder, parsley flakes, paprika, pepper

2

tablespoons

beef boullion granules

NOT teaspoons!

3

cups

low sodium beef stock

or beef broth (stock is best!), separated

1/2

tablespoon

minced garlic

1

package (8 ounces)

cremini mushrooms

sliced
Add Later:
3

tablespoons

unsalted butter

3

tablespoons

white flour

1/2

cup

half and half

or sub whole milk

Serve over:

Cooked egg noodles, such as Reames Egg Noodles

Optional:

fresh parsley, sour cream, additional salt/pepper
Instructions
In the Crockpot:
Generously grease or line your crockpot with a crockpot liner. You'll need a large crockpot for this meal; I use a 6-quart.

Add in the uncooked meat (if you use beef stew meat or sirloin tip steak -- cut it against the grain into 1 inch cubes), gravy mix, dried onion flakes, all the seasonings, boullion granules, 2 and 1/2 cups beef stock (reserve the last 1/2 cup for later), minced garlic and mushrooms (add mushrooms halfway through the cooking time if you want them to be firmer).

Stir together and cover. Cook on low for 6-9 hours or until the meat is tender. Stir occasionally if you're around.
Add Later:
Once the meat is cooked through and tender, prepare the roux.

In a small saucepan over medium heat add in the butter. Melt.

Briskly whisk in the white flour and then cook for 1 minute.

Add in the reserved 1/2 cup beef stock or broth and whisk until smooth. Whisk in the half and half and briskly whisk until smooth.

Pour the roux into the crockpot (be careful it can sizzle and steam when added) and briskly stir to combine.


Follow package directions to cook the egg noddles and serve over the prepared egg noodles. Optionally garnish with a spoonful of sour cream (stir it in) and fresh parsley if desired. Season to taste with salt and pepper if desired.
Recipe Notes
*If you use beef chuck roast put all of the meat in the crockpot (no need to cook first or cut) with all the other ingredients and cook on low for 9-11 hours. Shred the meat when finished.
More Easy Crockpot Meals: