A homemade healthy cream sauce coats your choice of fresh vegetables all over a bed of delicious cheese tortellini.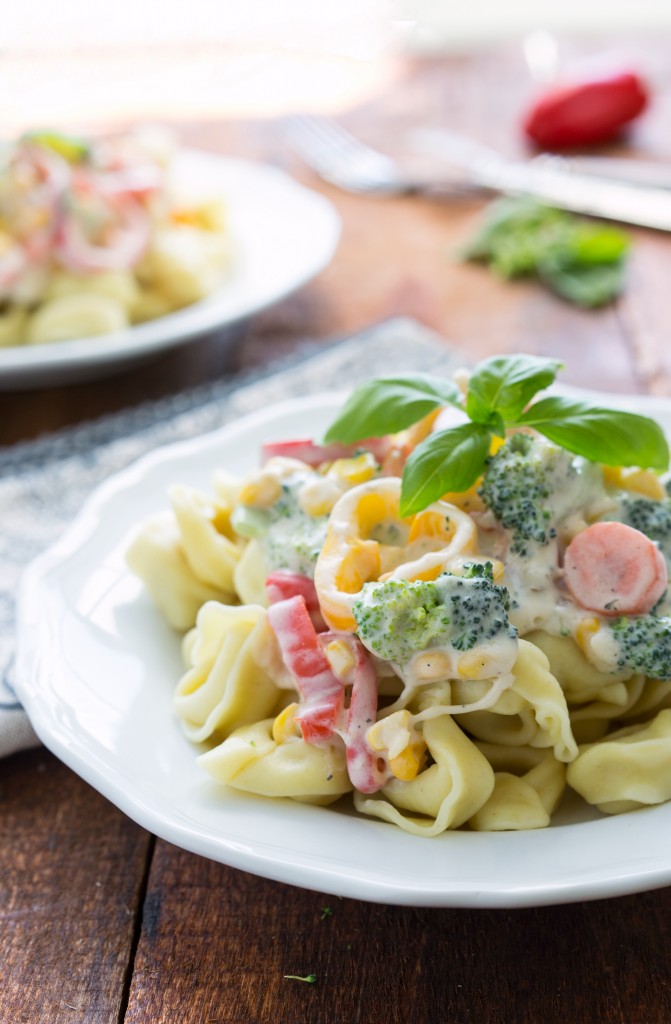 I always look forward to summer food for three main things: grilling, loads of ice cream, and farmer's market/fresh garden fruit and vegetables.
Growing up we always had a garden. Zucchini and tomatoes always did the best, but we had a lot of other things. Some of my favorite memories include making and canning salsa and making zucchini bread with my mom. It's quintessential summer to me and I love it.
I didn't get the chance to have a real garden this year (unless you count my ridiculous amounts of herbs growing by my window inside) since we were busy putting in the yard instead and weren't really sure how we wanted things set-up garden wise. So farmer's market it is!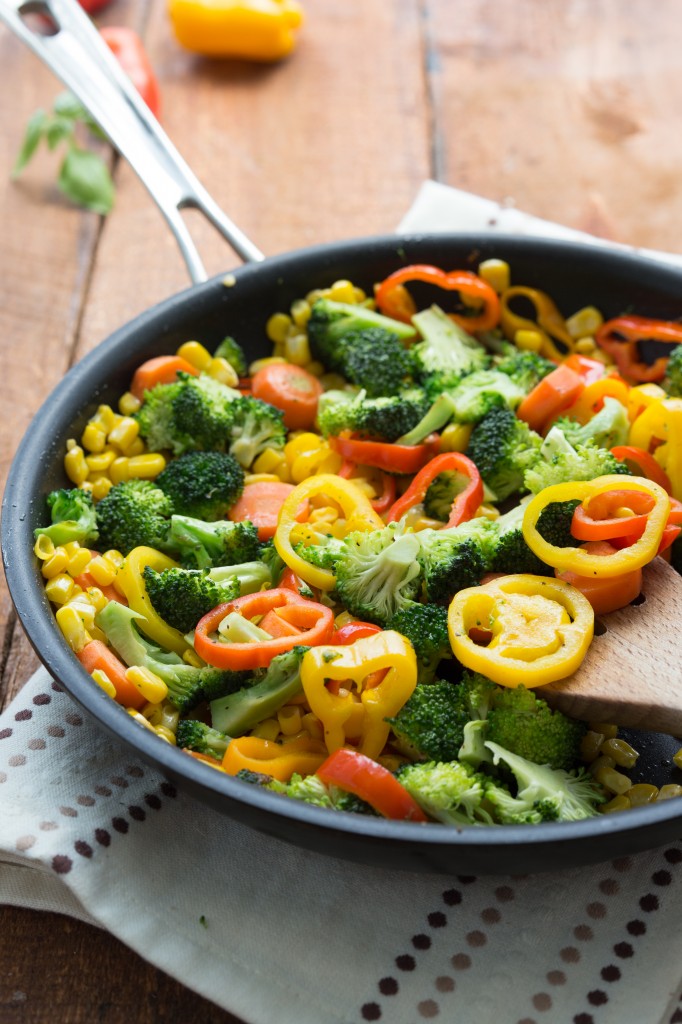 So the dish itself is pretty simple and not too much chopping of vegetables. If you follow the recipe exactly – only broccoli, peppers, and carrots. But you can change up the vegetables for whatever you have on hand – from your garden, the farmer's market, or the grocery store! Pretty much anything goes for this dish veggie wise!
While the tortellini is cooking, the cream sauce is made and the veggies are sauteed. It all gets mixed together and is ready to go. Under thirty minutes.
Plus if you want to add in some chicken or another type of protein, go right ahead. Some grilled chicken would go pretty well with this dish! Enjoy 🙂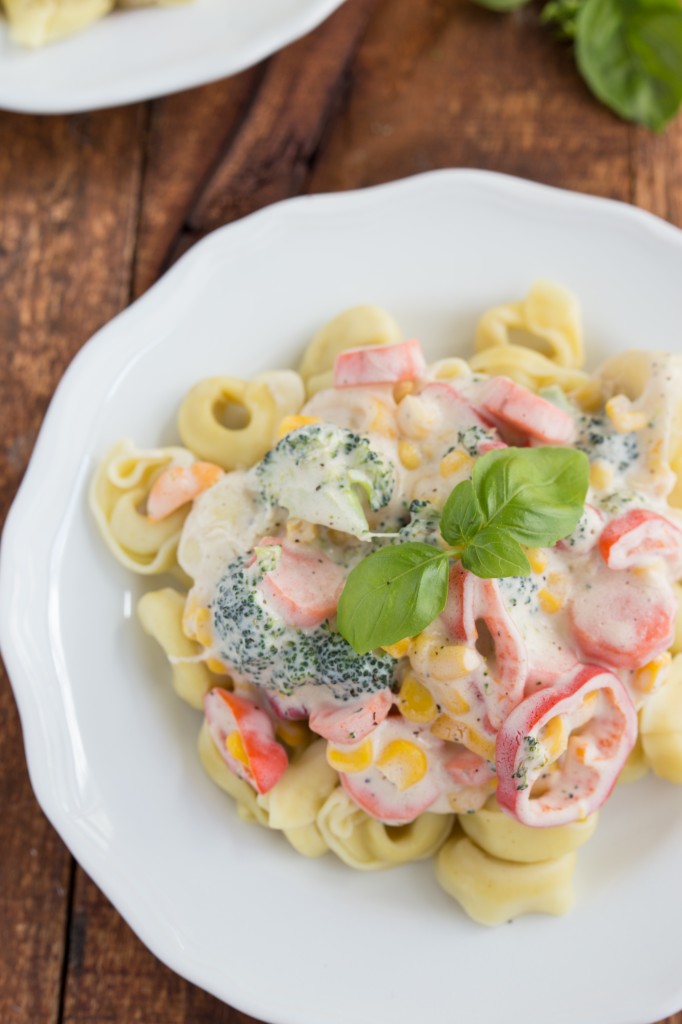 Tortellini and broccoli
A homemade healthy cream sauce coats your choice of fresh vegetables all over a bed of delicious cheese tortellini.
Keyword:
Tortellini and broccoli
Ingredients
1

pound (16 ounces)

frozen cheese-filled tortellini

2

cups

broccoli

stems removed and chopped

1

cup

carrots

peeled and choped

1 and 1/2

cups

assorted bell peppers

1

cup

corn

2

tablespoons

olive oil

1/2

cup

vegetable broth

chicken broth can be substitute if not vegetarian

2

teaspoons

flour

1/2

teaspoon

pepper

1/4

teaspoon

salt

1/2

teaspoon

garlic powder

1

package (8 ounces)

cream cheese

I used reduced-fat

3/4

cup

milk

I used 1%

1/2

cup

mozzarella cheese

Optional: fresh basil
Instructions
Bring a large pot of salted water to boil.

While the water is boiling, prepare the vegetables. Wash, remove the stems, and chop the broccoli.

Peel and thinly slice the carrots. Remove the stems and seeds of the peppers and slice or chop.

Pour the frozen tortellini into the water and cook according to package instructions adding in the carrots at the same time. Drain and rinse under cold water.

Meanwhile, saute the chopped broccoli and bell peppers with the olive oil until tender. Add in the corn for 1-2 minutes.

In a blender, combine the vegetable broth, flour, pepper, salt, and garlic powder. Pulse until combined. Add in the cream cheese (make sure it is at room temperature) and pulse until everything is smooth and creamy.

In a small saucepan, pour in the milk and bring it to a warm temperature. Stir in the cream cheese slurry slowly to the milk while whisking briskly. Once combined, stir in the mozzarella cheese.

Combine the tortellini and sauteed vegetables to the same pot used to boil the tortellini in.

Pour the cream sauce over everything and mix well. Adjust seasonings to taste and if desired, serve with fresh basil.