Simple, delicious, and flakey hand apple pies with a maple glaze made for dipping in a thick, rich, and creamy caramel sauce!
The best part about this recipe today is you do not need to make your own Caramel Dip! I'm using Marzetti''s Old Fashioned Caramel Dip with these apple hand pies. My family LOVES this dip with the hand pies and we absolutely love it with plain apples as well.
The dip was created to go with apples and to make it easy to celebrate fun Fall traditions. I swear at the start of every new year, when I look back on the last year, it is the Fall-time that holds my favorite memories. Corn mazes, apple picking, pumpkin carving, the holidays, family-time — it's all started in the Fall time! Not to mention, you all know Halloween is my favorite holiday. I mean, if you didn't, head to my home page where there is about a gajillion Halloween treats! Ha!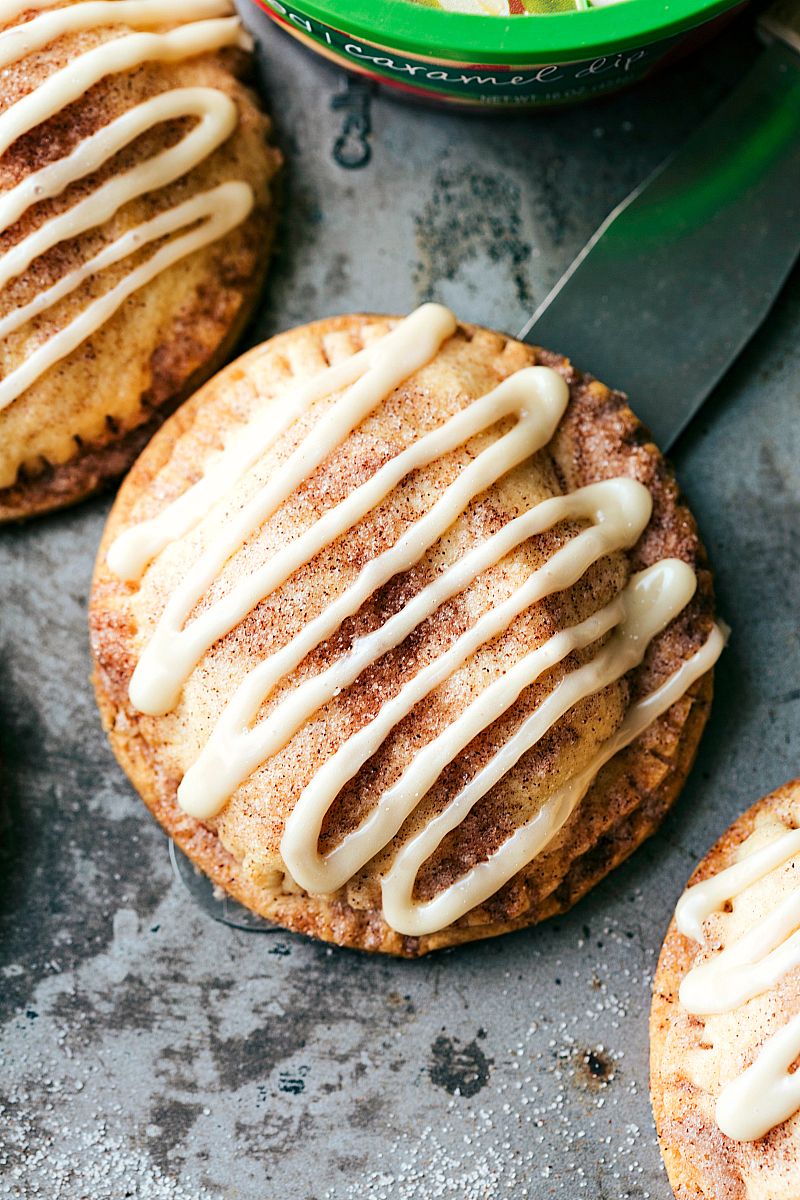 I've also got a little video tutorial today which I'll tell you right now is my favorite video to hit this site EVER. The toddler and I had the absolute best time making it for you all and he has talked about it for days. He also insists that he made the movie all by himself. 🙂 He's told no short of a dozen people about his movie making skills and has watched the video at least a hundred times.
I always talk here about how much we enjoy baking and cooking in the kitchen and now I'm excited to finally show some of the fun we have!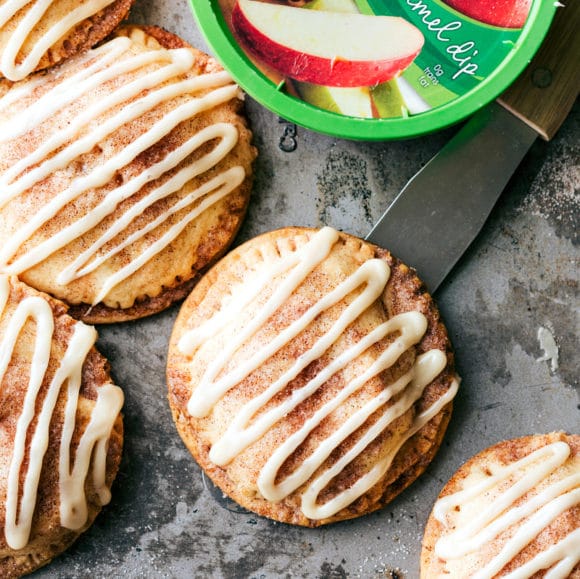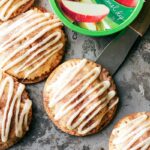 Caramel Apple Hand Pies
Ingredients
Marzetti Old Fashioned Caramel Dip

2

packages prepared pie crusts*

1

can (21 ounces)

Lucky Leaf apple pie filling

1

tablespoon

vanilla extract

3

tablespoons

melted butter

3

tablespoons

brown sugar

1

teaspoon

cinnamon

1

cup

powdered sugar

2

tablespoons

maple syrup

1

tablespoon

milk
Instructions
Preheat the oven to 400 degrees F.

Line a large tray with parchment paper.

Roll out all the pie crusts and using a large circle cutter, cut out 4-5 circles in each pie dough so you should have a total of 16-20 circles.

Set half of the circles on the tray.

Place the apple pie filling in a large bowl and add in the vanilla extract. Using two knives, cut the apple pie filling into small pieces.

Scoop the filling into the center of all the circles on the tray. You might not use all the filling, but close.

Place the remaining circles of dough on top of the apple filling and crimp the edges securely using the tines of a fork.

Brush the melted butter evenly over all the finished pies

Toss together the brown sugar and cinnamon and sprinkle that mixture on top of the melted butter.

Bake in the preheated oven until pies are a very light golden brown and filling is bubbling, 20 to 30 minutes.

Remove from the oven. Whisk together the powdered sugar, maple syrup, and milk as needed (add slowly and increase if needed) until a very thick frosting is formed.

While the pies are still warm (not hot), drizzle this mixture generously over the pies.

Allow to cool.

Dip the pies into the caramel sauce and enjoy!
Recipe Notes
*This will be 4 total pie crusts because each package has 2 crusts in it