Autumn Crunch Pasta Salad: A simple pasta + spinach salad with crunchy apples, celery, and toasted pecans, chewy dried cranberries, sweet mandarine oranges and coated in a delicious poppyseed vinaigrette.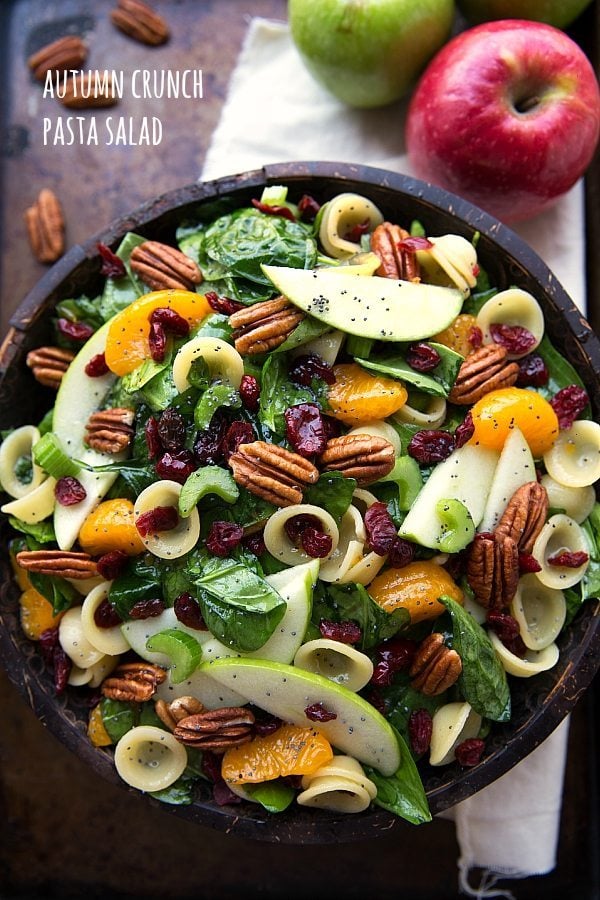 Since having the babe last weekend, I had all my posts pre written and scheduled. I still have quite a few pre-written and ready to go, but I missed talking (writing?) to you all. So this recipe that I was saving for closer to Thanksgiving time and hadn't written anything on is getting brought to you sooner.
So we can chat of course. 🙂
Because honestly I'm dying to tell you about the newest member of our family! For those of you that don't follow me on Instagram, we named him Bentley Scott and he was born last Friday evening. He got to come to our family a little early (he was induced 2 weeks early because he was deemed "growth restricted…" more on that here.)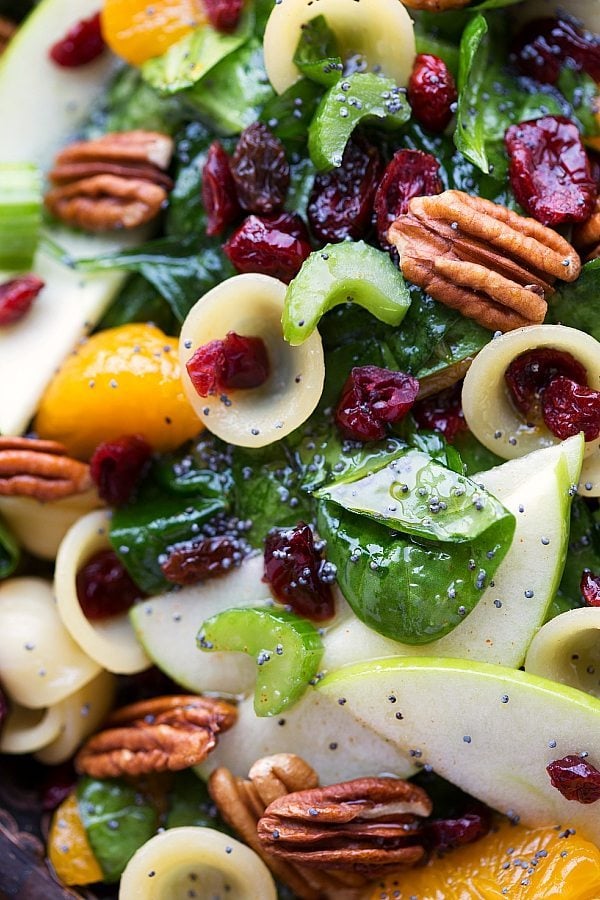 He ended up being a whole pound heavier than they thought he would be (ultrasounds were measuring around 4 pounds, 5 ounces). He was born at 5 pounds, 4 ounces and 17 and 3/4 inches long. He's definitely a teeny little guy, but healthy as can be! He had to be in the NICU a bit after he was born and we were in the hospital for three days but we couldn't feel more blessed and happy that he's doing so great!
He's the sweetest little guy and such a calm baby. My favorite thing? He's a MAJOR snuggler. Even the nurses knew if they swaddled him tightly that's about all it takes to make him happy. So he's hardly ever put down. 🙂 Someone is always snuggling the little guy and he couldn't be happier about it.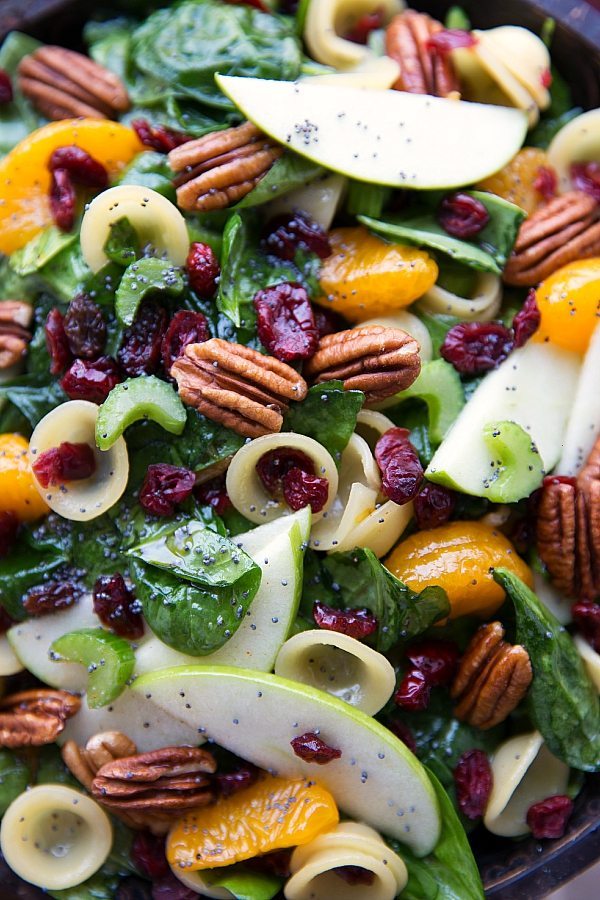 Thanks to all of you for your sweet comments, e-mails, and messages! It was so fun to read each and every message. XOX!
Okay and now I am forcing myself to stop talking baby otherwise I would go on for paragraphs! Time to talk a bit about this salad which has quickly become a family favorite and I hope you all try and absolutely love it!
We are all pretty obsessed with pasta salads at my home. And with Fall on the mind, I thought it would be great to combine a pasta salad with a Fall-appropriate salad. You know — apples, dried cranberries, pecans…Fall salad ESSENTIALS! I'm happy to report it was a great idea because this salad is crazy delicious.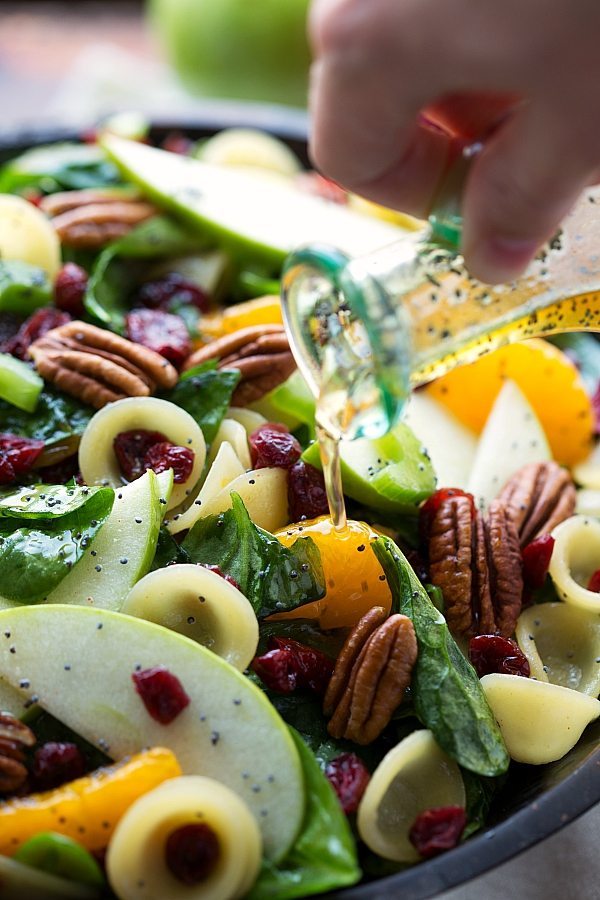 The dressing is literally the best possible complement and SO worth the extra minutes to whip it together. I promise you will not regret it!! Although, you may want to adjust the sugar to your personal preference — you may like it slightly less sweet or sweeter than we did so just keep that in mind 🙂
Another fun idea would be to candy the pecans. I lightly toast them which is also delicious, but if you are more of a candied nut person, that would be great in this salad! Click here for my all time FAVORITE candied pecans!
The last addition that is phenomenal on this salad is some feta cheese. The few times I made this I was pregnant so feta went on the side. However, the husband raved about the feta on this and now I am dying to try it out soon. If you are a feta fan I'm sure you'll love it on this salad!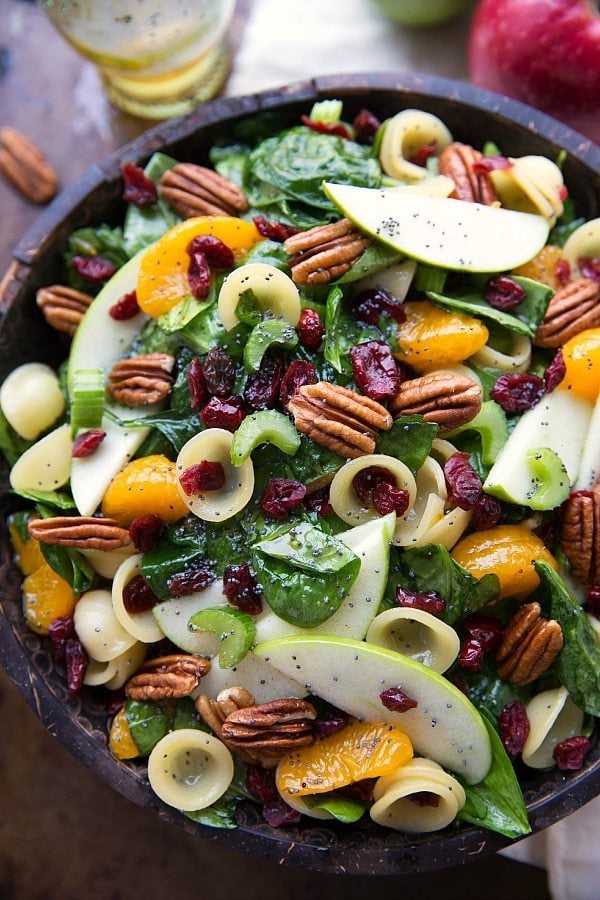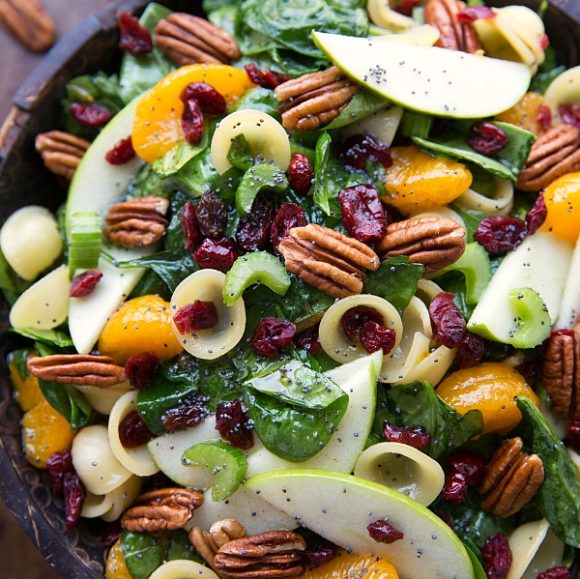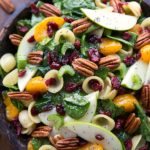 Autumn Crunch Pasta Salad
Ingredients
5

ounces

fresh spinach

half a 10 ounce bag

1 and 1/2

cups

dry small pasta

3/4

cup

chopped celery

3/4

cup

dried cranberries

1 can

(15 ounces)

can mandarin oranges

1

large Granny Smith Apple

1

teaspoon

lemon juice

1/3

cup

pecans,

coarsely chopped*

Optional: Feta cheese
Dressing
2

tablespoons

apple cider vinegar

2

tablespoons

white wine vinegar

2-4

tablespoons

white sugar

1/8

teaspoon each:

paprika & onion powder

4

tablespoons

olive oil or vegetable oil

1/2

tablespoon

poppyseeds
Instructions
Cook the pasta according to package directions.

While the pasta is cooking, prepare the dressing. In a food processor or blender (I used my small Twister jar on the Blendtec) combine the apple cider vinegar, white wine vinegar, sugar, (adjust -- more or less to personal preference, we like a less sweet dressing and use about 2 tablespoons) paprika, and onion powder. Pulse or blend for about 10 seconds. Slowly add in the oil and pulse until just combined. Stir in the poppyseeds. IF you don't have a blender or food processor you can combine the ingredients in a bowl or mason jar and whisk (or shake jar) vigorously.

Drain the pasta once it's cooked through and immediately toss a few tablespoons of the dressing with the pasta. This helps the pasta soak in the dressing and the flavor.

Chill the dressed pasta in the fridge.

Meanwhile, combine the (washed and de-stemmed) spinach with the chopped celery in a large bowl. Add in the cranberries and a can of drained mandarine oranges.

If desired peel the apple (We like to leave on the peel!) and then slice into thin slices. Toss with lemon juice and then add to the salad.

Pour dressing over the salad and toss. Add in the completely cooled pasta and toss with the rest of the salad.

If you want to toast the pecans, place them in a single layer in a dry saucepan (don't add anything) over medium heat. Stir constantly until the nuts are barely fragrant -- just a couple of minutes. Watch carefully as the nuts are VERY easily scorched/burned.

Alternatively, you can candy the pecans if desired. Check the link in the last paragraph of the blog text for how to candy pecans. *UPDATE: we've found we like this salad even more with the pecans coarsely chopped- you'll get more in each bite! 🙂

Top the salad with the pecans and (if desired) feta cheese.

Enjoy immediately.
Recipe Notes
This salad (like most) aren't very great leftover. If you aren't eating this immediately, keep the ingredients separate from the dressing and only toss with the dressing right before eating. Top with pecans and feta after dressing the salad.
More delicious salads: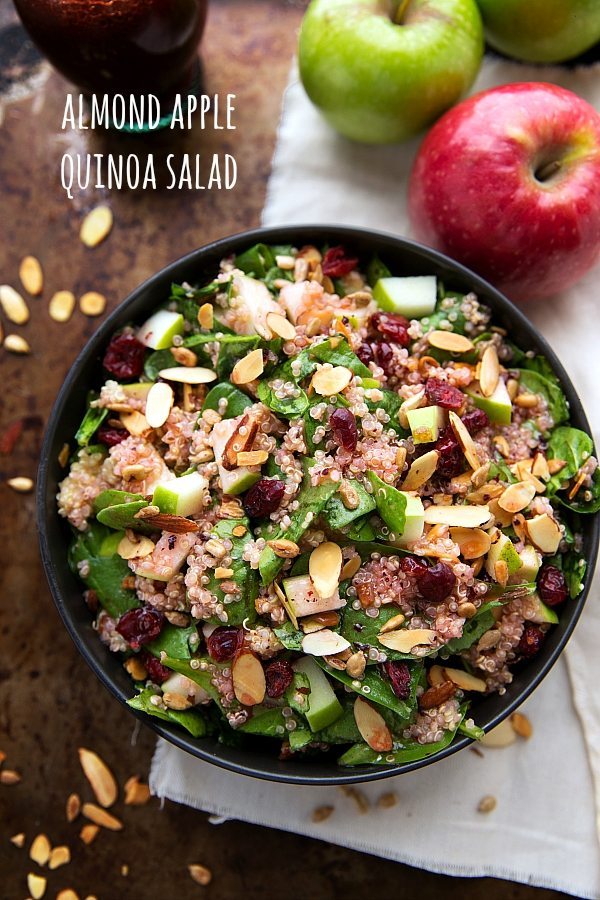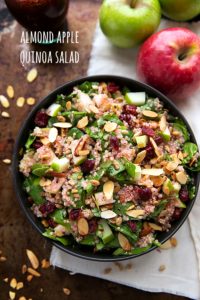 Simple almond, cranberry, and apple quinoa salad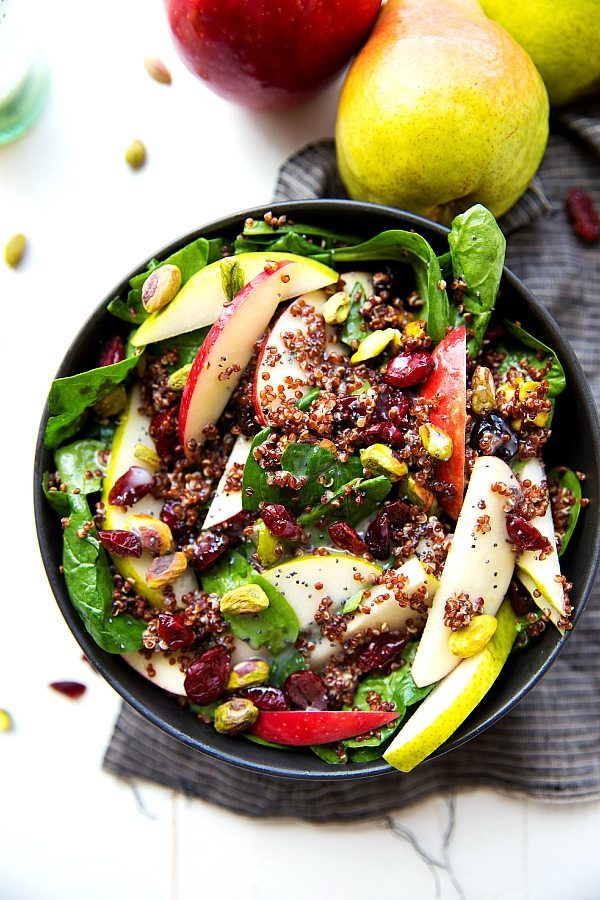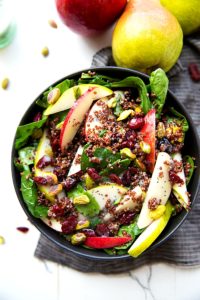 Easy Apple Pistachio Quinoa Salad