A fresh fruit pie with a sugar cookie crust, a light cheesecake filling, topped with loads of fresh fruit, and lightly glazed with fruit preserves.
I'm so excited about this post. I had it scheduled for April, but just couldn't wait anymore.
You all don't mind right?
Especially since y'all are probably going to stop whatever you are doing to make this right now.
Or at least you should… 😉
It's so fruity.yummy.sugar.cookie. sugar overload.
But sugar overload — it's all good since there is lots of fruit on top…..right?!
The filling is pretty light too. It's a fluffy and airy cheesecake – not the dense kind of cheesecake. There is cream cheese in the mix and Greek yogurt, but it's lightened right up with a tub of whipped topping.
I used full-fat cream cheese and whipped topping, but you could definitely use lighter versions, say 1/3 reduced fat cream cheese and lite Cool Whip would work great and reduce the calories on this dessert.
Other filling ingredients include orange gelatin (dry orange Jell-o mix), vanilla extract, and almond extract. These ingredients are to be included to your liking. If you love the extracts feel free to increase them. Or decrease or even omit either one. The Jell-o mix can be changed for a different flavor. It can also be increase or decreased in amount to your preference.
The crust is adapted from my favorite sugar cookie recipe. There is almond extract which I think adds a ton of flavor. There is also a tiny bit of almond extract in the filling. Which if you are big on that you can increase the amounts. And likewise, if you aren't a fan, you can omit or decrease the amounts.
The crust comes together quickly and then is pressed into a pie. You press it down to cover the bottom and up the sides. I fluted (or crimped) the edges of this pie.
To do this, you work with one hand on the inside edge, and one hand on the outside of the top of the crust. Using the index finger of your inside hand to push the dough between the thumb and index finger of your outside hand you form an upside down V shape. You continue this same motion all around the pie pan. It's very simple but adds a nice touch and makes this pie crust pretty.
The sugar cookie crust gets baked at 375 degrees for about 10-12 minutes, but watch it closely. You'll know its done with the inside is poofy and the edges are lightly browned.
Speaking of poofy, the middle of the crust will expand a bit and look large when you first remove it from the oven. But, don't worry, it will completely deflate and be ready for the filling.
Once the crust is completely filled you will pour the filling into the center. The filling recipe makes a lot so it needs to be compressed into this pie. Basically by pressing it down (with a spatula) and continuing to pile it on!
And then the fun part comes – decorating with fruit of your choice! I chose to do blueberries, red grapes, strawberries, kiwi, and a little bit of mango. You can choose whatever fruit you want and is appealing to you!
And finally the fruit gets a light glaze of watered-down jam. Choose whatever jam you like (I used apricot) and add some water to it. Microwave the mixture for about 15-20 seconds and, using a pastry brush, brush the glaze over all the fruit.
Last step: devour.
Have you entered to win $300 Cash or Amazon Gift Card? Only a few days left!!!
Fruity Cheesecake with a Sugar Cookie Crust
Ingredients
Sugar Cookie Crust
1/2

cup

butter

1/3

cup

white sugar

2

tablespoons

heavy cream

1

teaspoon

vanilla extract

1/4

teaspoon

almond extract

or more depending on preference

1

cup + 4 tablespoons

all-purpose flour

1/4

teaspoon

salt
Filling
1

package (8 ounces0

cream cheese

softened

1/2

cup

0% plain Greek yogurt

2

tablespoons

fresh orange juice

1

teaspoon

vanilla extract

1/4

teaspoon

almond extract

4

tablespoons

powdered sugar

3

tablespoons

orange Jell-o mix

dry

1

container (8 ounces)

whipped topping

thawed
Topping
Fruit of choice

(I used 3 kiwis, 3 strawberries, handful of blueberries, several grapes, and 3 tablespoons chopped mango)

2

tablespoons

jam of choice

I used apricot

1

tablespoon

water
Instructions
Crust
Preheat the oven to 375 degrees F. Grease a glass pie pan with nonstick spray and set aside.

Combine the sugar and butter in a medium sized bowl and cream with hand mixers or a stand mixer. Add in the heavy cream and extracts. Stir until combined and then add in the flour and salt.

Mix until completely combined and then press into the pie pan. Press up the sides and to cover the bottom.

Flute the rim of the pie if desired (instructions in post).

Bake for 10-12 minutes or until lightly browned and the middle becomes inflated. Remove and let cool completely. The middle will deflate completely as it cools.
Filling
Make sure the cream cheese is softened and the whipped topping is completely thawed.

Using hand mixers cream together the cream cheese, Greek yogurt, orange juice, vanilla extract, almond extract, powdered sugar, and orange Jell-o mix. Beat until smooth and creamy.

Fold in the whipped topping.

Fill the cooled crust with the filling mixture.
Fruit
Arrange fruit however you would like across the top of this pie.

Combine the jam and water in a small microwave safe bowl. Microwave the mixture for 10-15 seconds and stir well.

Using a pastry brush, brush the mixture over the top of the fruit.

Serve immediately or cool in the fridge (covered). Store in the fridge.
 Craving more pies or cheesecakes?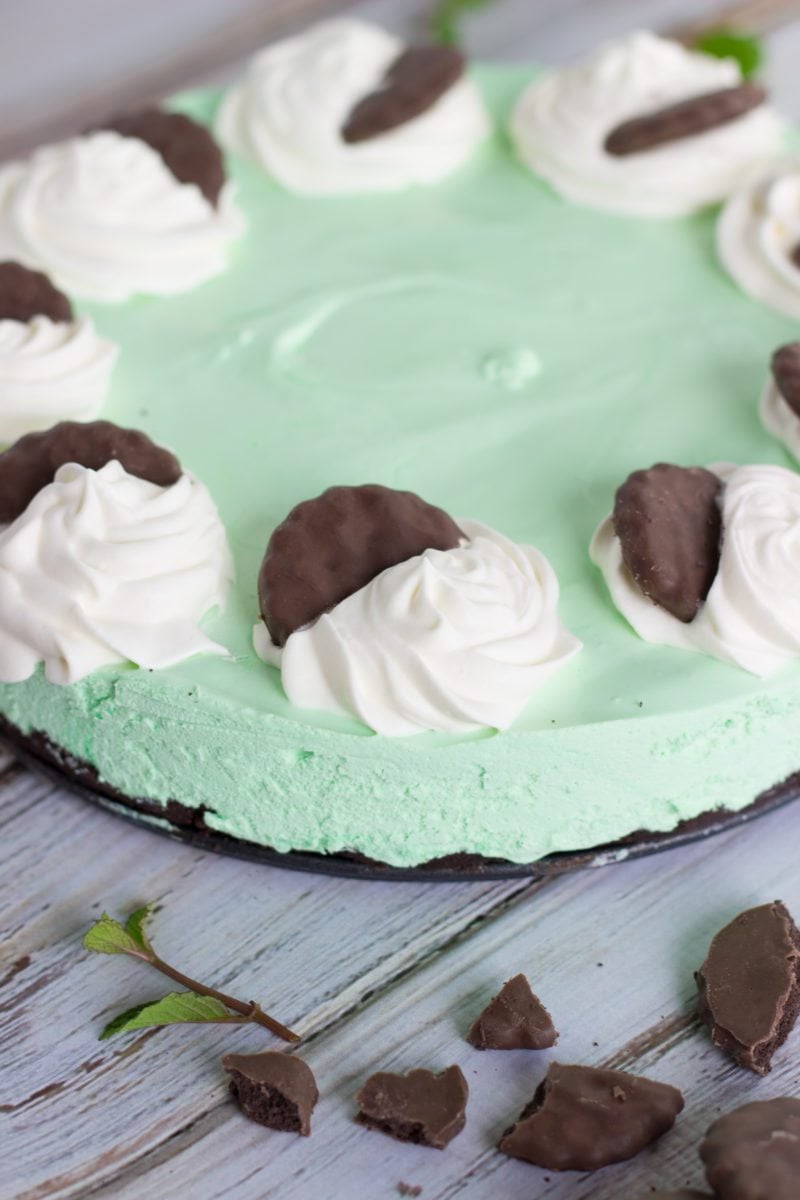 Miniature Lemon-Blueberry Cheesecakes
(2 serving size) Miniature Apple Pies