Foil pack "crustless" sweet BBQ pulled pork pizza with your favorite pizza toppings all cooked together with a side of veggies: broccoli and cherry tomatoes!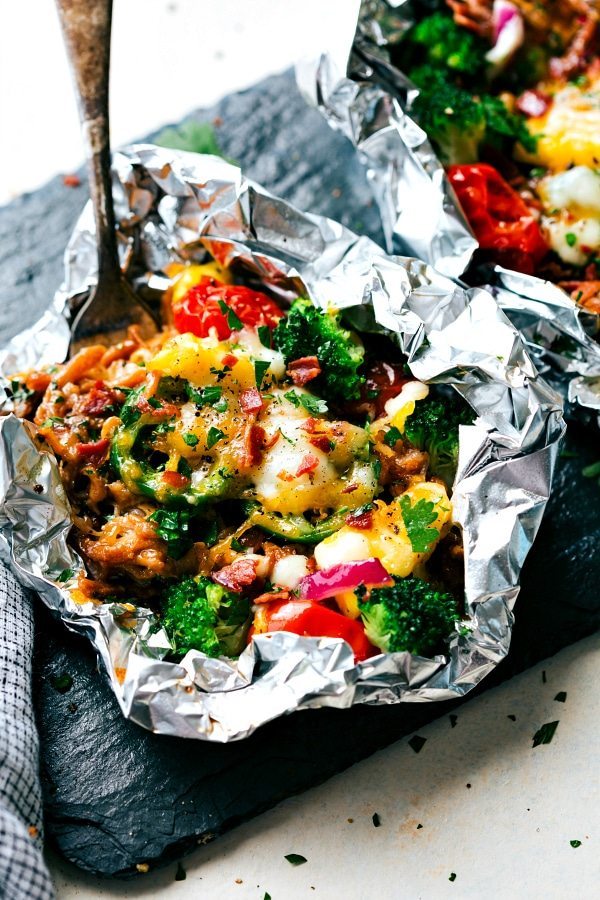 Return of the foil packets and this time we've got delicious cheesy BBQ pulled pork! So far I've shared sausage, chicken, and now pork foil packet recipes. Also, I do have a salmon foil packet recipe coming soon (crusted in lemon parmesan, YUM) so that pretty much hits all the bases for different kinds of protein in a foil pack.
Not turning on the oven and heating up our home, but still having delicious cooked meals is pretty much become my motto this summer. Hence the millions of foil pack recipes and non-stop grilling around these parts. I am a huge fan of grilling — keep that heat outside where it's supposed to be!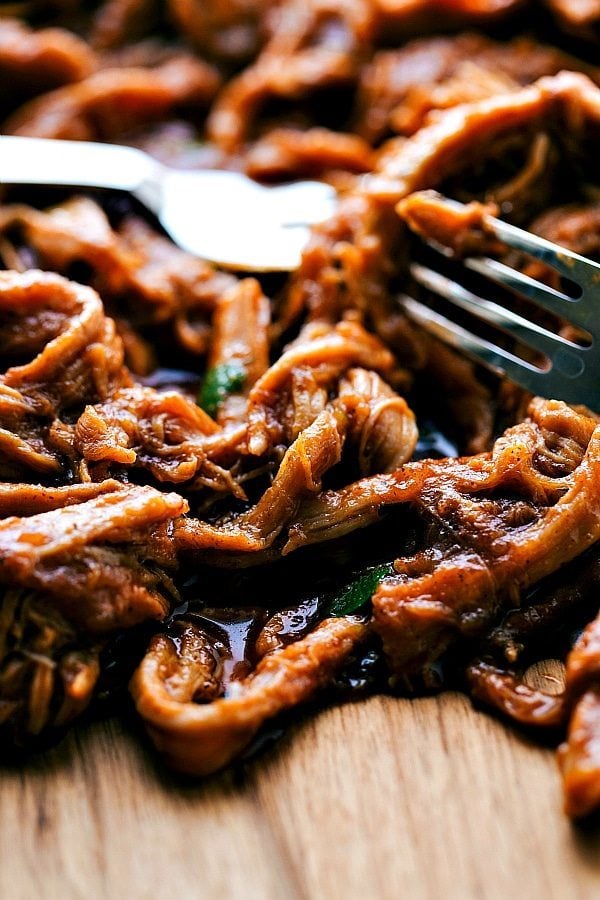 This recipe is inspired by quite a few different things, but first and foremost by a recipe challenge.
Sargento is currently holding a Chopped At Home Challenge where you can submit your recipe to FoodNetwork.com/ChoppedChallenge for the chance to win cash prizes (up to $10,000) and a trip to NYC to compete in an actual televised chopped cooking challenge. ? And, well, this is my entry! The requirements for this round is first, the recipe has to be GRILLED. And second, you have to use the following ingredients: pork tenderloin, broccoli, cherry tomatoes, and Sargento cheddar cheese.
This foil pack checks them all off. First, you've got some roasted veggies in the pack — that's the broccoli and cherry tomatoes.
Next the foil pack has pulled pork (from a pork tenderloin) and finally it's finished off with plenty of cheddar cheese.
You can enter too using your own recipe and following the requirements. The entry phase is from July 5th through August 1st and the voting will take place from August 1st through August 22nd. Good luck!!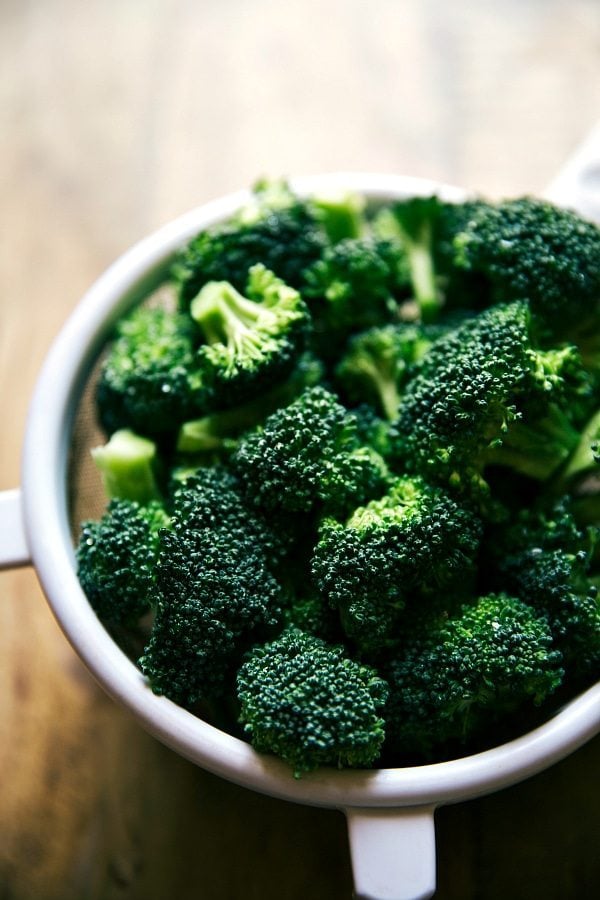 The other thing that inspired this recipe is one of my favorite meals: a pulled pork pizza. When we lived in Boston, there was a delicious pizza restaurant right by our apartment. The husband and I would get one of their pizzas at least weekly. It was a deep dish BBQ chicken pizza piled high with tons of cheese, red onions, pineapple, bacon, cilantro, and jalapeños.
So the pork in this foil packet is basically a crustless pizza — you pick your favorite toppings and pile them high on the pork! The red onions, pineapple, and jalapeños can go on pre-cooked and the rest gets thrown on after these packets come off the grill. The cheese, bacon, and cilantro are all put on right before enjoying this meal.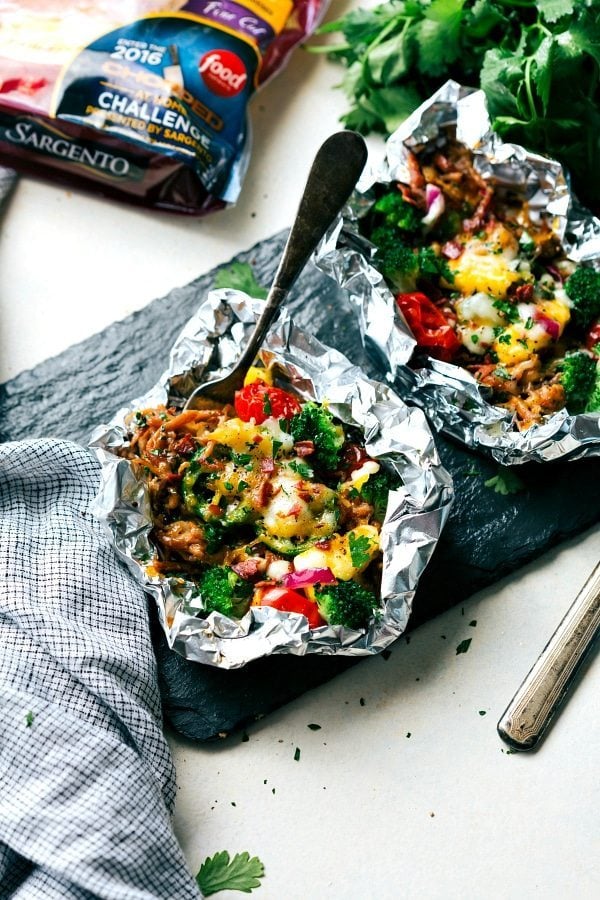 So you may be thinking that this isn't truly an authentic tin foil dinner because the pork has to be done before putting it in the foil and you are right. BUT, here's the deal: first, it makes for a great use of BBQ pork leftovers. By putting leftover pork in the foil it warms it up for you all while cooking a side dish (broccoli + tomatoes) and it really makes all the other ingredients super flavorful. It also gets a delicious smokey flavor from being on the grill.
And second, it's so easy. There are a few ways to make this meal even easier and make it so you don't have to cook any meat. If you buy the pre-cooked and seasoned pork in the refrigerated section of your grocery store you can use that. I've tried that and loved that in these foil packs.
And finally, it's quick. Since the pork is already cooked through, you are really only steaming the veggies and giving everything a good grill flavor. These packets are done super quickly. To ensure that they are, do make sure that the broccoli is cut into quite small pieces. This makes sure the broccoli and tomatoes are done in about the same time. While they are grilling, you can prep the bacon and chop the cilantro if you want those on top.
Since the cheese is already shredded, you don't even have to worry about prepping that. If you've read my blog for any length of time you know I'm a huge proponent in freshly grated cheese and do not love pre-shredded cheese. Sargento is the one exception! Their cheese is "off the block" from 100% real and natural cheese. They aren't adding anything so you get the legitimate feel of freshly grated cheese without the extra work of grating it!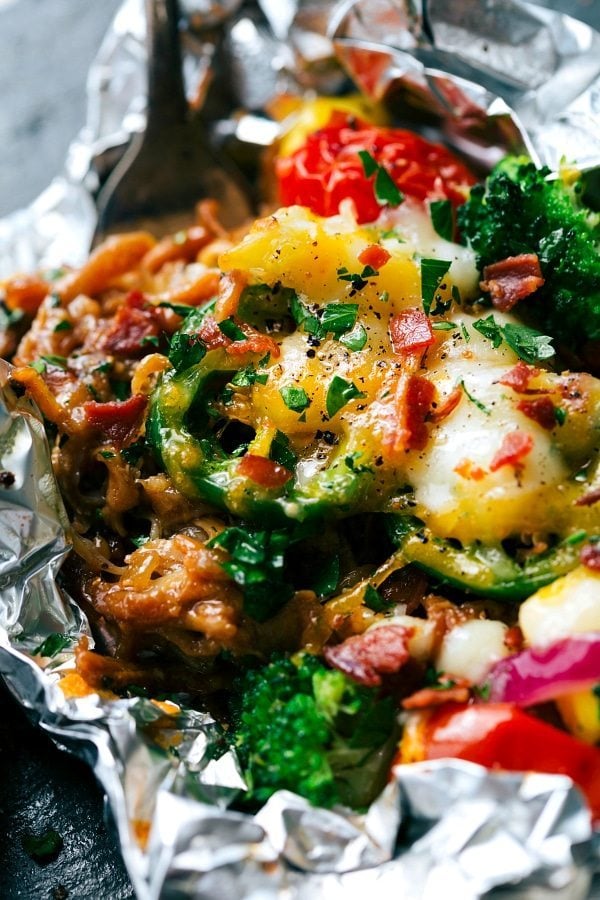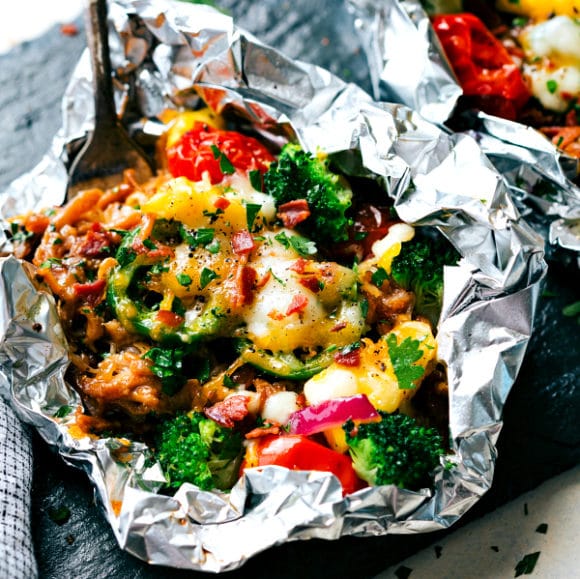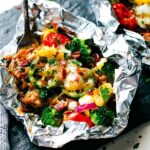 Tin Foil Cheesy BBQ Pulled Pork and Veggies
Servings
:
2
large foil packs
Ingredients
2

sheets heavy duty aluminum foil

1

cup

broccoli florets

1/2

cup

cherry tomatoes

1 and 1/2

cups

prepared BBQ pulled pork

recipe in notes

2-4

tablespoons

BBQ Sauce

Optional Pork Toppings: fresh or canned chunk pineapple, 1 jalapeno, 1-2 tablespoons diced red onion, 2 slices bacon, cilantro

1/4

cup

freshly grated cheddar cheese

1/4

cup

freshly grated Mozzarella cheese
Instructions
Preheat the grill to medium heat. Or preheat the oven to 400 degrees F. (Grill recommended for the smokey flavor)

Prepare 2 large sheets of foil by lightly spraying with nonstick spray.

Cut the broccoli florets into small pieces.

Place 1/2 cup on each foil packet and 1/4 cup of cherry tomatoes on each foil packet.

Divide the pork evenly to have 3/4 cup pork in each packet.

Drizzle 1-2 tablespoons of BBQ sauce on top of the pork.

Top the pork with your favorite BBQ pulled pork pizza toppings of choice -- pineapple, sliced jalapeños, or diced red onion.

Seal the foil packets completely leaving space for steam.

Grill for 8-12 minutes or until vegetables are crisp tender. Bake in the oven (middle rack) for 6-10 minutes or until vegetables are crisp tender.

Remove from the grill and immediately top each packet with 2 tablespoons cheddar and 2 tablespoons mozzarella cheese.

If desired add crumbled bacon and cilantro to the pork.

Enjoy immediately
Recipe Notes
For the pulled pork you can do 1 of 2 things: 1st, use prepared BBQ pulled pork that is in the refrigerated section of your grocery store OR 2nd, use leftover pulled pork. Here's an incredibly easy recipe for BBQ Pulled pork: place 1 (2 pound) pork tenderloin in the crockpot with 1 sliced onion and 2 cloves minced garlic. Cover in 3 cups root beer. Cook on low for 6-8 hours or until it shreds easily. Drain and discard the root beer. Shred the pork and add in the BBQ sauce then place on the foil packet 🙂
More delicious foil pack recipes:
Sausage and Veggies Foil Packs
Creamy salsa verde chicken with rice and veggies all cooked at once in a foil packet