The classic green bean casserole gets a fresh and modern twist — we're tossing out those cream of mushroom soups and making a creamy cheesy sauce from scratch. But don't be intimidated, this green bean casserole is simple to make and will be the hit of any holiday dinner!
This green bean casserole can easily be doubled or tripled and can be made ahead of time. This classic holiday side dish pairs perfectly with other sides such as these mashed potatoes, roasted vegetables, brussel sprouts, and/or a sweet potato casserole!
We've never had a Thanksgiving dinner without a green bean casserole. But if I'm honest, it's a side dish I've always been fine to pass up on.
The typical green bean casserole with canned green beans, cream of mushroom soup, and french friend onions has never been my favorite. Campbell's created this casserole back in 1955 as a popular side dish, and while many still love it (hi dad!), I'm excited to be sharing a fresh twist on the classic.
While I've never been a fan of typical green bean casseroles, THIS casserole is fine to occupy a majority of my Thanksgiving plate. As long as there is also room for these roasted sweet potatoes!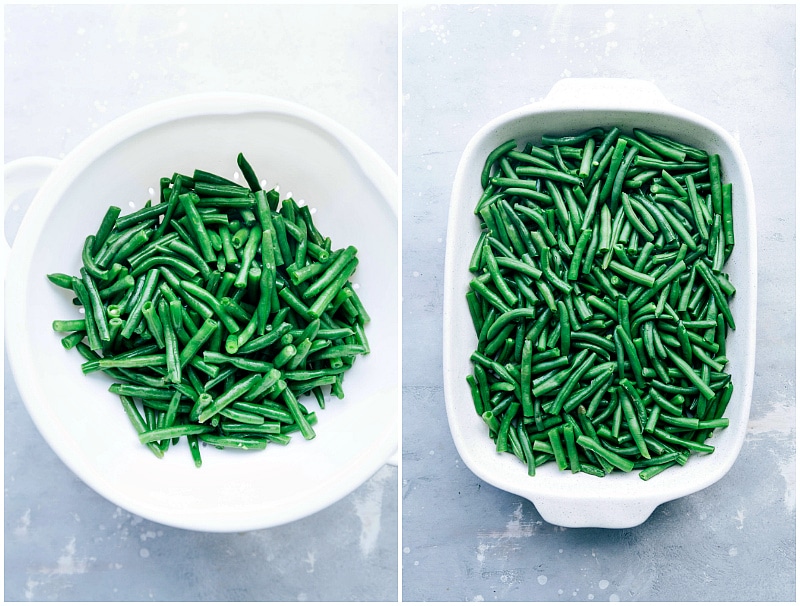 So obviously, using canned products is going to be the quickest route to a green bean casserole. BUT I can promise you, this recipe is not complicated and the flavors are incredible. The extra effort is well worth it.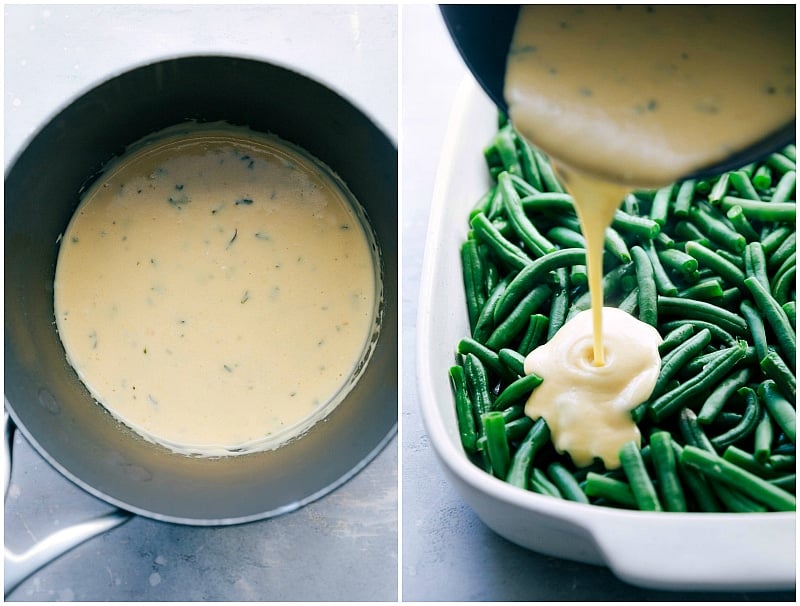 Ingredients in a green bean casserole from scratch
Instead of mushy canned green beans we're using fresh green beans that have been quickly cooked to preserve their crispness and the fresh flavor
We're replacing cream of mushroom soup with a flavor packed cheesy sauce. The sauce is filled with lower fat dairy products, sharp cheddar cheese, and Parmesan cheese
Instead of dry chemical laden fried onions, we're adding some buttered Panko and a little more cheese on top.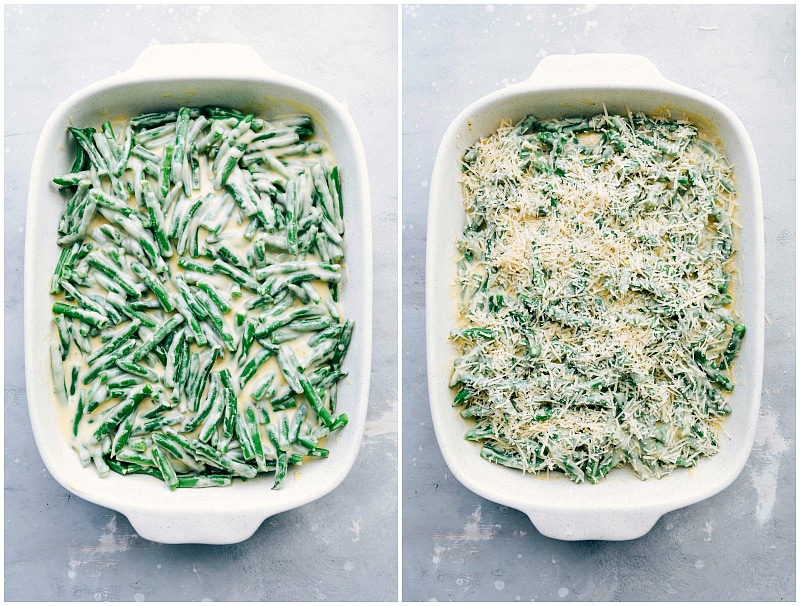 Variation ideas
Green bean casserole with bacon: to add bacon, fry or bake some bacon, dice it up and add it on top of the casserole right out of the oven
Green bean casserole that's healthy: I consider this casserole to be much healthier than its counterparts because of the fresh ingredients. Use 1% milk and fat free sour cream for a healthier casserole.
Add mushrooms: to add mushrooms, sauté up to 8 ounces in 1-2 tablespoons olive oil and then gently fold into the cheese sauce that will go on top of the green beans.
Add onion: thinly slice a yellow onion, sauté in 1-2 tablespoons olive oil and then gently fold into the cheese sauce.
Make it gluten-free: use gluten-free Panko instead of regular and use a gluten free (all purpose) flour blend in place of the regular flour.
Make it vegetarian: replace the chicken stock with veggie stock and add some vegetable bouillon powder in place of the chicken bouillon.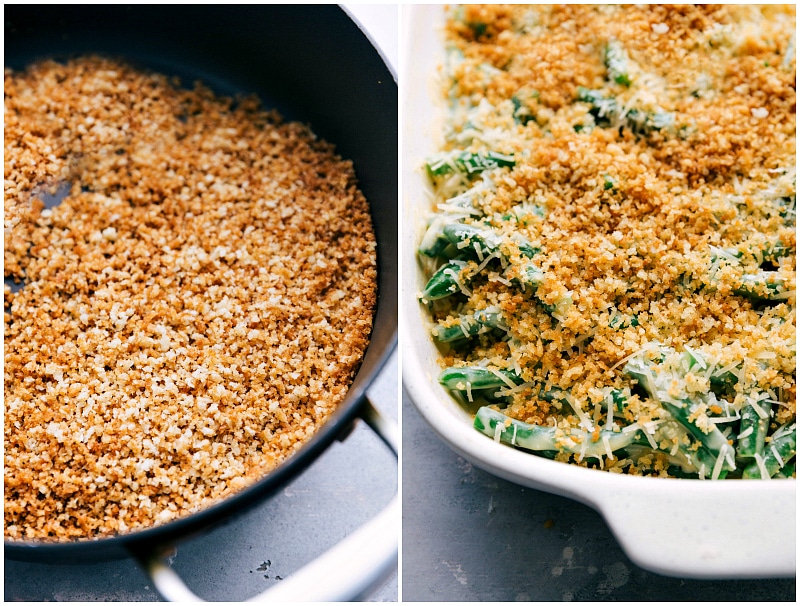 Making green bean casserole ahead of time
Make ahead directions: follow the instructions for preparing this casserole up until adding the toasted Panko on top. Pour the toasted (and completely cooled) panko into a plastic bag and store at room temperature. Cover the prepared casserole tightly with plastic wrap and then foil. Place in the fridge for up to 24 hours. Once you're ready to bake, remove the casserole and keep at room temperature while the oven preheats. Add the toasted panko on top, cover the casserole with foil and bake for 35 to 40 minutes (or until bubbly on the edges).
Storing leftovers: If you have leftovers, refrigerate in an airtight container for up to 3 days. Reheat gently to avoid the sauce breaking (separating). Note that the Panko will lose its crispness after being baked and then refrigerated.
Freezing: unfortunately this casserole (and leftovers) don't freeze well. The sauce tends to break and become too watery.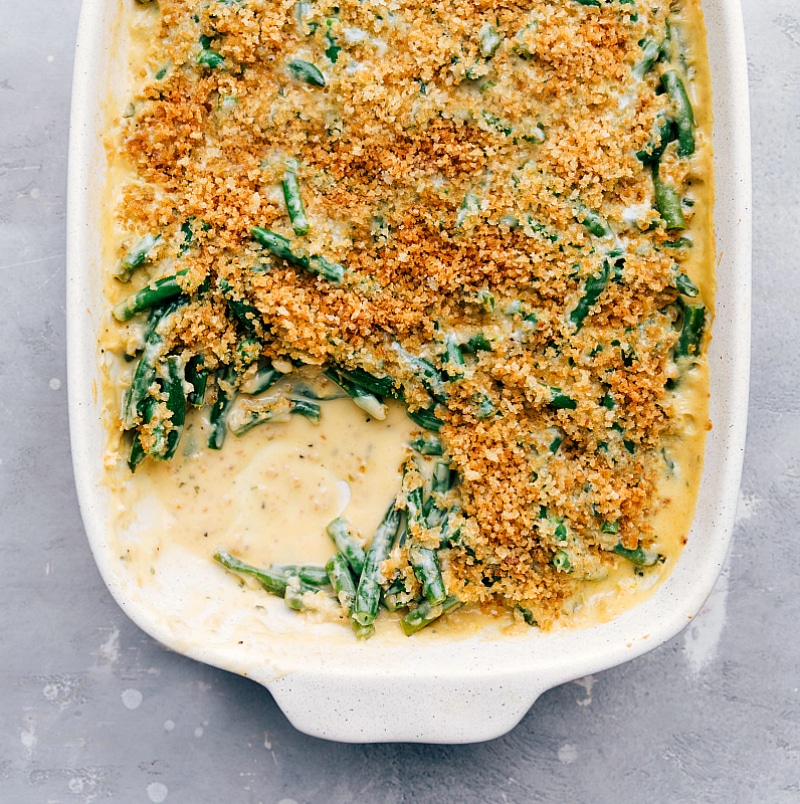 Reheating leftovers
How to reheat: preheat the oven to 375 degrees F. Cover the green bean casserole and place it into the oven until completely heated through. This will take about 20 minutes (sauce should be bubbly on the edges).
I wouldn't recommend heating through in the microwave as the sauce tends to break. If you do microwave, I recommend only microwaving individual portions.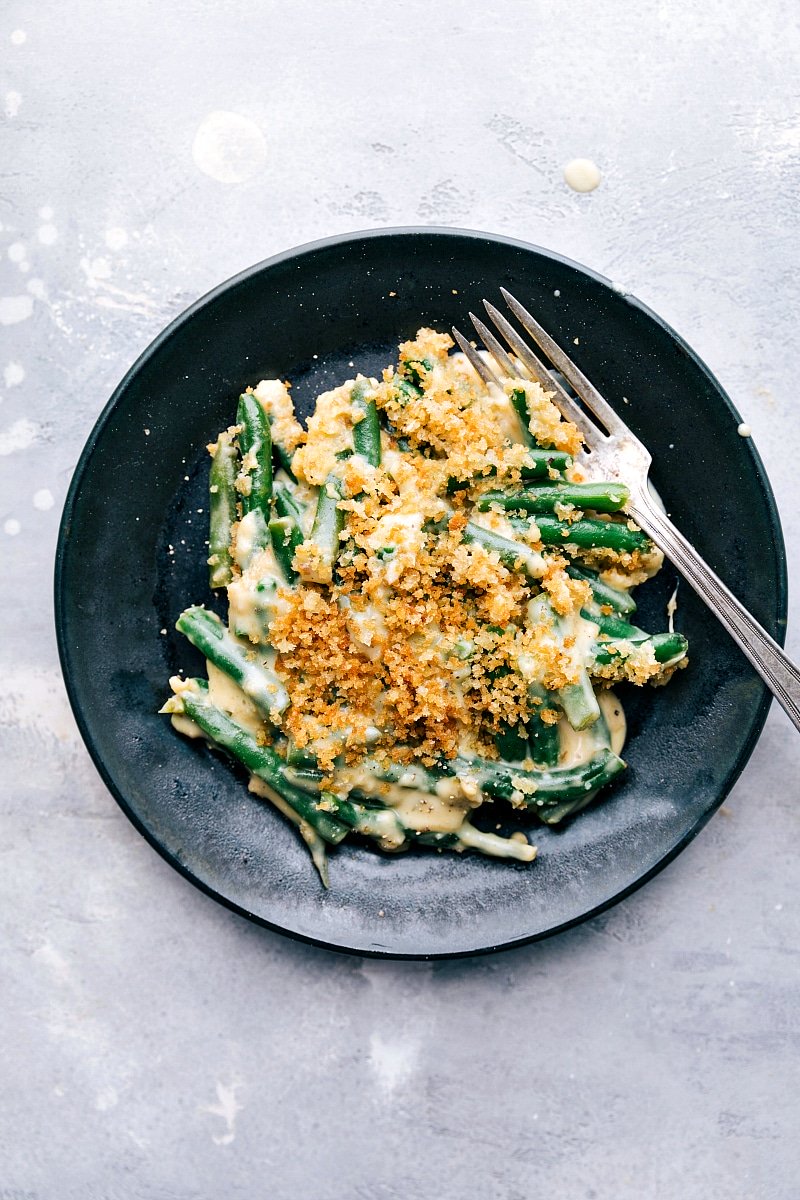 Quick tip:
Make sure the green beans are completely dry before adding to the casserole dish. Wet green beans will make the casserole soggy and less flavorful.
More holiday favorites:
Green Bean Casserole
The classic green bean casserole gets a fresh and modern twist -- we're tossing out those cream of chicken soups and making a creamy cheese sauce from scratch. But don't be intimidated, this green bean casserole is very simple to make and will be the hit of any holiday dinner!
Keyword:
green bean casserole
Servings
:
8
servings (as a side)
Ingredients
2

pounds

washed trimmed fresh green beans,

halved

3

tablespoons

butter

1/3

cup

white all-purpose flour

1

cup

milk

(1%, 2% or whole; I use 1%)

2/3

cup

chicken broth or chicken stock

1

cup

freshly grated sharp cheddar

1

cup

freshly grated Parmesan cheese,

separated

1/2

cup

sour cream

(I use fat free)

2

teaspoons

chicken bouillon powder

1 and 1/2

teaspoons

dijon mustard

1/4

teaspoon

granulated onion

1

teaspoon EACH:

dried parsley flakes, roasted garlic powder

Salt and pepper,

to taste
Topping
2

tablespoons

unsalted butter

3/4

cup

Panko

(next to breadcrumbs in grocery store)
Instructions
GREEN BEANS: Preheat the oven to 375 degrees F. Bring a very large pot of water to a rolling boil. While water is coming to boil, wash and trim green beans. Halve the beans (make sure they're all about the same size -- bite-size). Add green beans to boiling water and boil for 3 to 5 minutes (3 minutes for al dente green beans (have a good bite to them) and 5 minutes for softer beans) I like them at the 3 minute mark for a good chew in the final casserole Although they're being baked later, they don't get too much softer after this initial boil. Fill up a large bowl with a cup of ice. Drain beans, run under cold water, and then transfer to an ice bath to stop the cooking. Then drain out any ice and let beans dry. I dab with a paper towel until completely dry.

SAUCE: Melt butter in a small pot over medium heat. Once melted, gradually add in flour while whisking constantly until a thick paste forms. Whisk for one minute to cook out the raw flour taste and then gradually add in 1/3 cup of the milk while whisking constantly. Gradually add 1/3 cup chicken stock or broth while whisking constantly. Add in another 1/3 cup milk, then remaining 1/3 cup stock, and last remaining 1/3 cup milk. Whisk after each addition until completely smooth and sauce is thickened. Add in 1 cup of sharp cheddar cheese and 1/2 cup Parmesan cheese and whisk until completely smooth. Add in sour cream and whisk until smooth. Stir in the chicken bouillon powder, Dijon mustard, granulated onion, dried parsley, garlic powder, and salt and pepper to taste (I add 1/2 teaspoon salt and 1/4 teaspoon pepper; add to taste preference -- the Parmesan cheese does add a good amount of saltiness as well).

ASSEMBLE AND BAKE: Add the COMPLETELY dry green beans (if they're still wet, it will make the casserole soggy) to the base of a 9 x 13 ceramic casserole dish. Pour the sauce over everything and spread to evenly coat. Gently stir the beans into the sauce until all well coated. Sprinkle remaining 1/2 cup Parmesan cheese over top of sauced green beans. In a saucepan over medium high heat, melt the 2 tablespoons butter. Add the Panko and toast, stirring constantly, until Panko is a light brown and toasted. Sprinkle topping evenly over cheese. Cover casserole with foil and bake for 30 minutes or until bubbly around the edges. Remove and serve hot.