The easiest (and softest + chewiest) chocolate chip cookies you will ever taste! This recipe makes a half-batch of cookies (approx. one dozen) and requires only one bowl and no hand beaters/stand mixers. PLUS only 8 ingredients needed! 
Video right above printable recipe.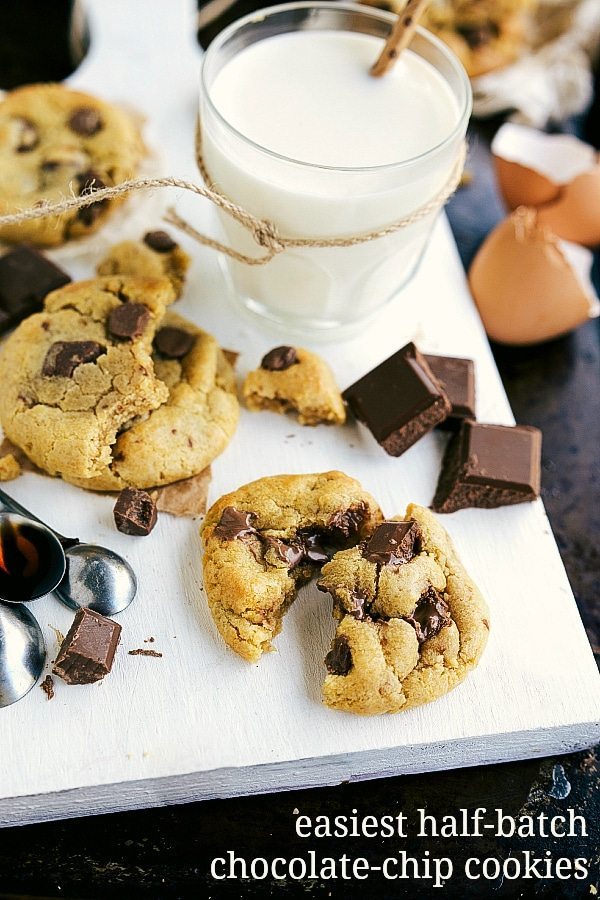 I know, I know. It's supposed to be healthy January. But just hear me out on this one… (Warning. It's a stretch.)
This recipe is not only the very chewiest and yummiest and perfectly crisp-on-the-outside-chewy-in-the-inside cookie recipe, BUT it's also only for a half-batch. It makes one dozen cookies, instead of the typical two dozen. (Two dozen is the typical these days right? I mean what do you do with those recipes that call for 4+ dozen cookies when it's not the holiday season?)
Therefore, because there are less cookies to be consumed, this recipes totally fits into healthy January. Less calories overall.
Okay. I told you it would be a stretch. But I really am so excited about this recipe. I've tested it at least half a dozen times to make it what I  consider the perfect (unhealthy) chocolate chip cookies. Since we've already got the perfect healthy ones here.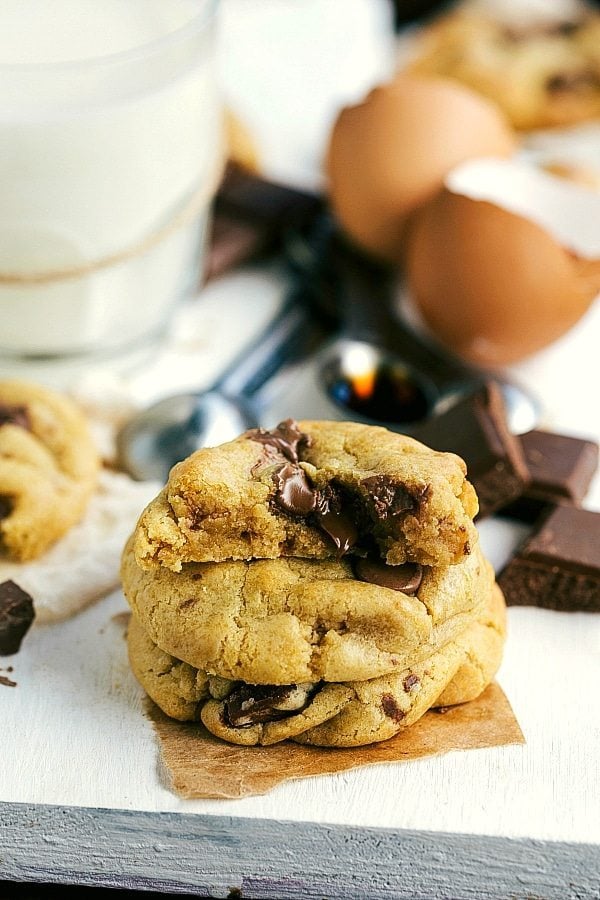 My overall goal with these cookies was to make them super simple, very quick to make, and with NO sacrifice of flavor! The first thing that required was one bowl. The next – no mixers.
Because currently the kitchen I am working in is a bit different than I'm used to. But no complaints here – I'm just thrilled I have a kitchen to work in 🙂 It has 2 (really one that's usable) mixing bowls and no hand mixers. Luckily, the cookie addict in me was not to be deterred by those facts.
The other thing: I really, really, REALLY wanted for these cookies was to have no requirement for chilling, but you just can't have it all. Or at least not with this recipe. 🙂 In order for the butter to mix really well with the brown and white sugar, the butter needs to be melted. I never could get a great mixture with softened butter and no hand mixers, so melted butter it is. And because of that melted butter these cookies would spread like wildfire without a good chilling. Best case – overnight. Because then you've also got the yummiest meld of flavors going on by then. But requirement – only one hour. Honestly though, chilling cookie dough always equates to more flavor – so it's for the best anyways 🙂
Another thing you could do with these cookies is to brown the butter. But that would be extra dishes and less easy, so you decide on that step! If you love browned butter cookies, definitely brown the butter for this recipe.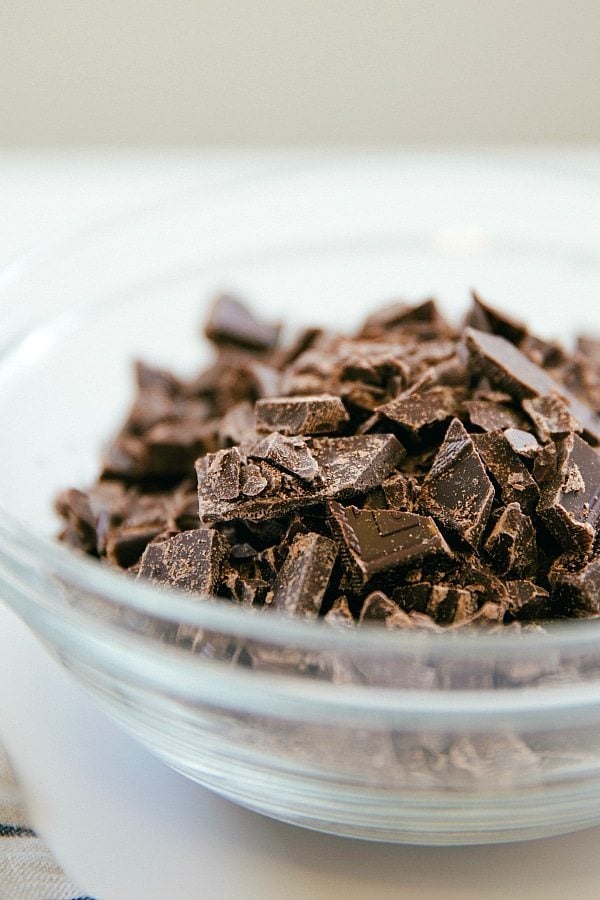 So chilling, a must. Other things to make these cookies the BEST are just tips that have come after two straight days of testing batch after batch. (And prior years of cookie making).
First off – good quality chocolate in these cookies does wonderful things for the flavor. Since 1 cup of chocolate chips is nearly $5 here, I decided to buy a high quality chocolate candy bar and chop it up into chunks. Wow am I glad I tried that!! Seriously, you've got to try it. I also mixed in a few regular chocolate-chips just for a difference in texture which is delicious, but feel free to just use one or the other. If you are just choosing one – totally chop up the chocolate! Two textures of chips are delicious as well as two types of chocolate (I prefer milk and dark).
Next, soft sugar. Make sure the brown sugar is soft and not old and hard. Enough said there.  Third, REAL butter, no margarine please.
Fourth, Mexican vanilla may have the ability to change your life. I'm not even kidding here. Okay, fine, a little. But have you tried Mexican vanilla? With real vanilla bean pods in the vanilla? I tried it for the first time recently and I will never go back. If you have a chance to use Mexican vanilla (warning: it can be pricey), I would highly, highly recommend it in these cookies. It's unreal the flavor you can get and the ability to change your cookies to make them just *that* much better!
Fifth, carefully measure the ingredients. It may sound silly, but with such a small batch precision is essential. Make sure you exactly measure each ingredient and follow the instructions carefully. For instance, when measuring the flour do not pack your measuring cup into a bag or bucket of flour – this packs in far more than you need. Instead, spoon and level the flour in.
Sixth, make 'em pretty. I always like to stick a few more chunks or chips into the tops of the cookies right before baking to make them extra pretty. It takes just a few seconds and is well worth the effort. Plus this makes sure there is chocolate in every single bite – thus making an even tastier chocolate-chip cookie.
AND finally, if you want more than a dozen cookies, don't try to double this recipe as I can't vouch for it working when doubled (most recipes are fine, but often baked goods don't always work out perfectly). I would recommend just making the same thing twice in two different bowls if you want to go that route.
Remember, this recipe totally fits into healthy January so no hesitation about making these 😉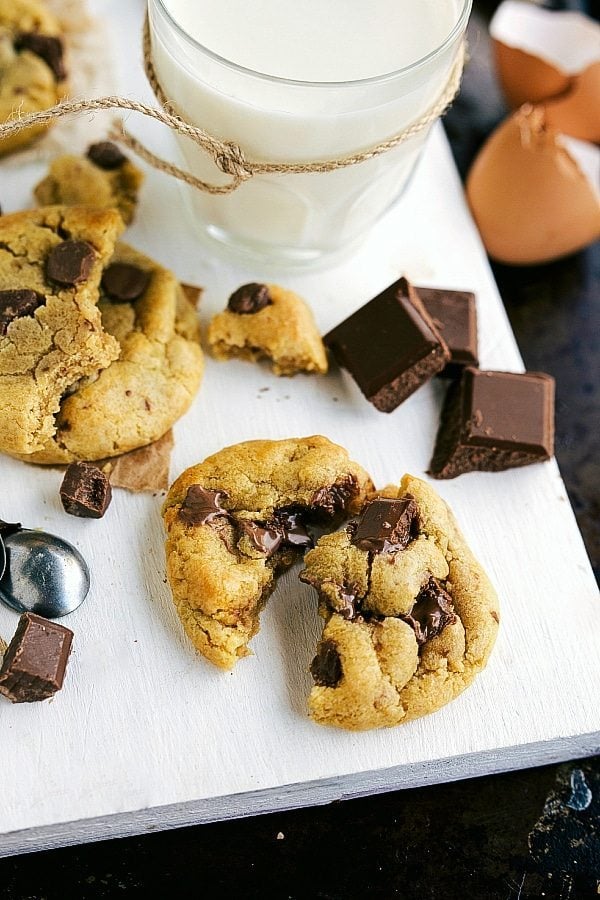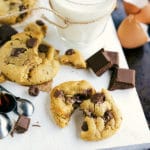 Easiest Half-Batch Chocolate Chip Cookies (One Bowl, No Mixer Required)
Ingredients
1/3

cup

salted butter

1/3

cup

light brown sugar

packed

3

tablespoons

white sugar

2

teaspoons

vanilla extract

1

large

egg yolk*

3/4

cup

white all-purpose flour

NOT packed into the measuring cup

1/2

teaspoon

baking soda

1/3

cup

high quality milk-chocolate chunks + 2-3 tablespoons chocolate chips**
Instructions
In a large microwave-safe bowl, partially melt the butter in the microwave. (Just enough that you'll be able to easily mix it)

With a spoon or a whisk, whisk in the brown sugar, white sugar, and vanilla extract (scale down or up to taste preference - I like a strong vanilla flavor) into the bowl of the butter.

Stir until completely smooth and then stir in the egg yolk. (The more yellow the yolk, the more flavor your cookies will have. Organic eggs are generally larger and more yellow which is what I used).

Measure the flour carefully making sure not to pack in the flour.

Stir in the flour and baking soda and mix well. The dough should pull away from the sides of the bowl. (If not, add a bit more flour until a good dough is formed).

Coarsely chop the chocolate bar and stir in the chunks and chocolate chips. Knead the chips into the dough. Alternatively use chocolate chips.

Place the dough in an airtight container and in the fridge for at least 30 minutes to 1 hour and preferably overnight (overnight will yield a greater flavor as the ingredients meld together).

When ready to bake, set the oven temperature at 325 degrees.

Roll balls of dough that are even (Roll two small balls of dough and the press one ball on top of the other and mesh together into one tall piece without flattening. This forms a tallish, almost vertical rectangle shape - this is how I get the cookies to look like they do and have that crisp exterior + chewy interior. Basically the bottom of the tall rectangle cookie cooks first and then the top section cooks next but for slightly less time. So that is why this shape is so important to getting your cookie to look like the ones I have pictured and have the texture described)

If you have a food scale, I get the best results from cookies that are 1.3 ounces.

Bake for 9-12 minutes or until lightly golden brown on top. Slightly under-baking these cookies will yield extremely soft and chewy cookies.

Allow the cookies to continue to "bake" on the cookie sheet for 3 more minutes before removing to a cooling rack.
Recipe Notes
*Egg yolk MUST be large. Reserve the whites for another recipe or discard **For the chocolate chunks, I chopped a large, high quality chocolate bar and then added in additional chocolate chips for added texture/flavor. For additional notes, please refer to the last 2 paragraphs of this post.
To ensure you've measured the flour right: try baking just one cookie at the first. If the cookie spreads too much or more than you like, stir in a few more tablespoons of flour and test it again. Once you have the perfect consistency, bake the remaining cookies. Just an optional tip to test the amount of flour in your cookies and control the amount of "spread" 🙂
Here are some more delicious cookies:
Molten Caramel Chocolate Oatmeal Cookies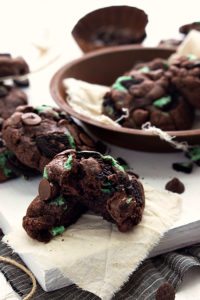 Mint chocolate brownie cookies
Chocolate Chip Cookie Thumbprint Cookies with a 2-ingredient Brownie Center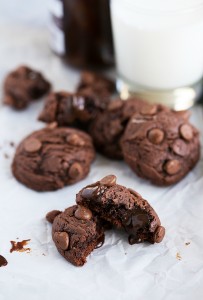 Triple-Chocolate Hot Fudge Brownie Cookies made with real hot fudge!