The best hearty and healthy roasted sweet potato salad – mixed greens with roasted sweet potato, seasoned wild rice, cranberries, almonds, avocado, and feta cheese with a creamy balsamic dressing. Plus some shortcuts to make this salad even quicker and tips to make it ahead of time!
This salad is a holiday classic that pairs perfectly with other side dishes such as mashed potatoes, roasted vegetables, brussel sprouts, and/or a sweet potato casserole!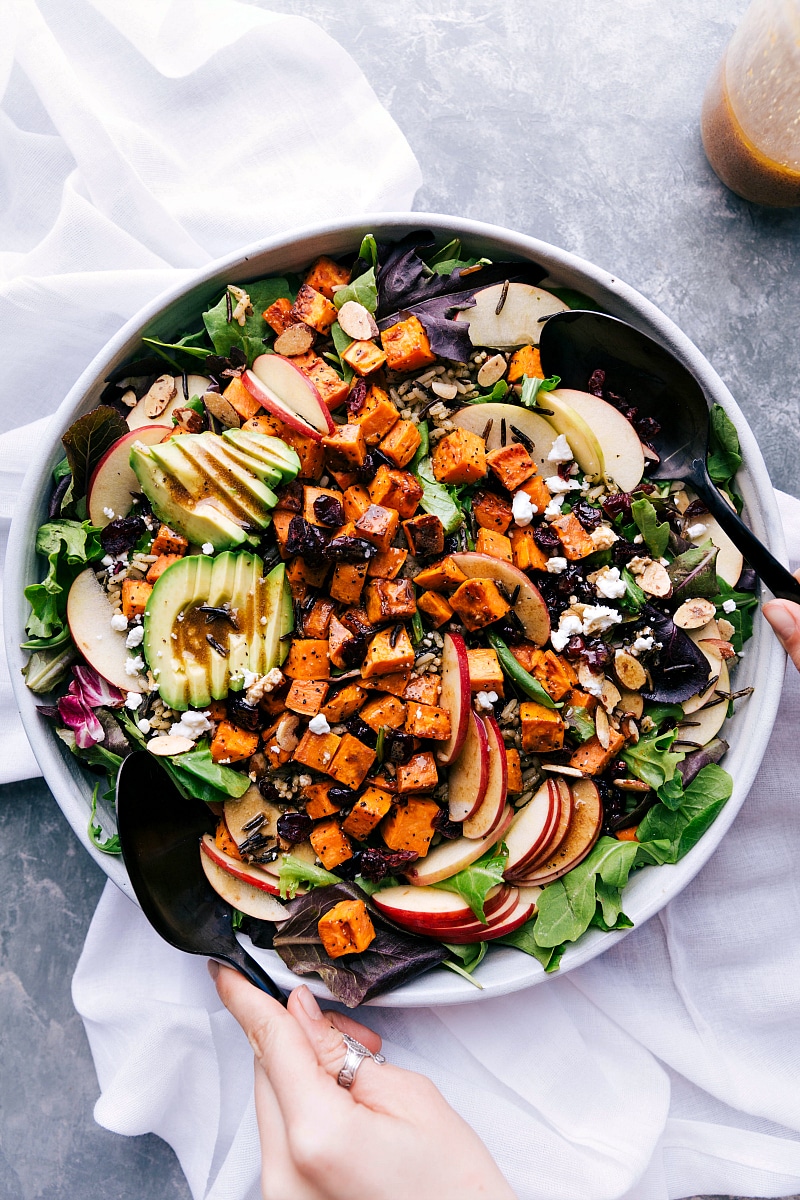 This is the perfect hearty Thanksgiving salad. Although I know I won't just be eating this throughout the Thanksgiving season — it's way too good to only have one time a year!
Make ahead tips
This salad works great when made ahead! I've actually been making it the past few Mondays and then eating it throughout the whole week which I love! You can prep it in separate tupperware containers or in mason jars — whichever you prefer. I separate the ingredients into separate tupperware containers and then quickly assemble a salad for lunch (you could quickly assemble it before leaving for the day as well.)
Here's how I separate the ingredients:
First, prep the wild rice and the roasted sweet potato at the same time. Allow both to cool and then toss together. Place the combined sweet potato and wild rice mixture in 1 tupperware container.
Next, prep the apple and avocado. Chop the apple and toss with lemon juice. Then remove the skin and pit of the avocado and chop. Toss that with lemon juice as well. These go into another tupperware container on the left side. On the right side, place the cranberries, almonds, and cheese. Alternatively, you could combine the cranberries and almonds and put them in a plastic bag to add later. The cheese can also go in a separate plastic bag if you are worried about it making all of the other ingredients taste/smell like the cheese.
Next, prep the dressing. The dressing is super easy to make — just add all the ingredients to a blender and combine. Put the dressing in a tupperware container or a mason jar or an empty dressing bottle. (I have some tiny tupperware containers that I just section the dressing into each of those if I'm taking the salads to go somewhere.) You can dress your salad right before eating or before you leave for the day. I like dressing salads RIGHT before eating so I always will put the dressing in a small tupperware container or plastic bag and bring it with the prepped salad, but that's personal preference.
That leaves just the lettuce which I buy in a large plastic container and just leave it in the fridge (grab out a few handfuls to make a salad when needed.) If you buy your lettuce in a bag you may want to transfer it to a large tupperware container to keep it as fresh as possible.
So there you have it! Salad for a week! The avocado and apple don't always last the whole week, so that's something to keep in mind if you want those to be super fresh you may have to refresh both of those halfway through the week. 🙂 And alternatively if you aren't making this salad for the whole week, but want to prep it beforehand for Thanksgiving or another get together, the same tips apply — separate the ingredients into four containers (wild rice + sweet potatoes, apple + avocado + cranberries + almonds + cheese, lettuce dressing) and then toss everything together right before serving! 🙂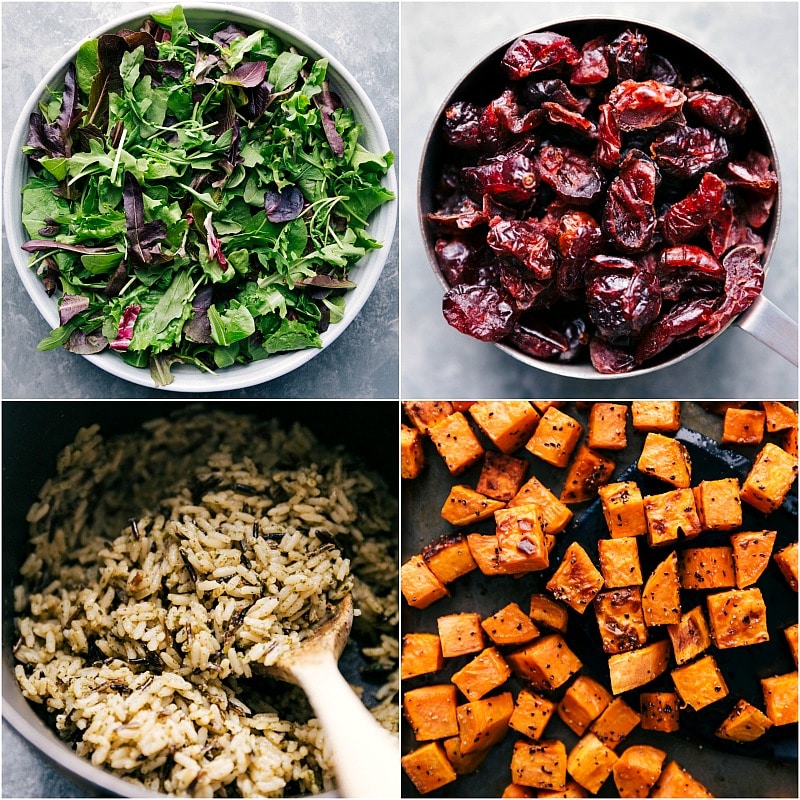 Faster prep tips
I'm telling you, I've made this salad a lot lately. It's pretty much been my favorite hearty lunch of this Fall season. After making it so often, I've come up with a few shortcuts (for when I'm lazy or don't have enough time) to still get this salad and get it quick! Some of these tips leave you with slightly less flavor, but it's not all that crazy noticeable for a quick lunch! 🙂 Of course, you don't have to use any of these short-cuts, but if you are interested, read on!
First, microwave the sweet potato instead of roasting it. I know, never as good. But fast it is! I pierce some holes throughout the sweet potato with a fork and then place it on a plate in the microwave. I microwave for about 7-8 minutes (large sweet potatoes) or until its completely tender. Let it cool for 1-2 minutes and the skin peels right off. Chop it up and it's ready to go.
Second, use a box mix for the wild rice. I know many people are very opposed to box mixes which is why I created this salad with one and without one (and included a recipe for both!). I'm not a huge fan of box mixes, but I'll use them when it's convenient. The box mix of wild rice is just that – it's convenient and a quicker alternative. Wild rice ready in about 15-20 minutes which in that time, the sweet potato (microwaved) is ready and I've prepped the other ingredients.
Third, a quicker version of the dressing — sometimes I'll just drizzle about equal parts olive oil + balsamic vinegar over the salad. I'll add a little salt + pepper and a few squeezes of fresh lemon. (This is only if I'm in a SUPER hurry because the dressing really isn't that time consuming to make and is one of my favorite healthy dressings.)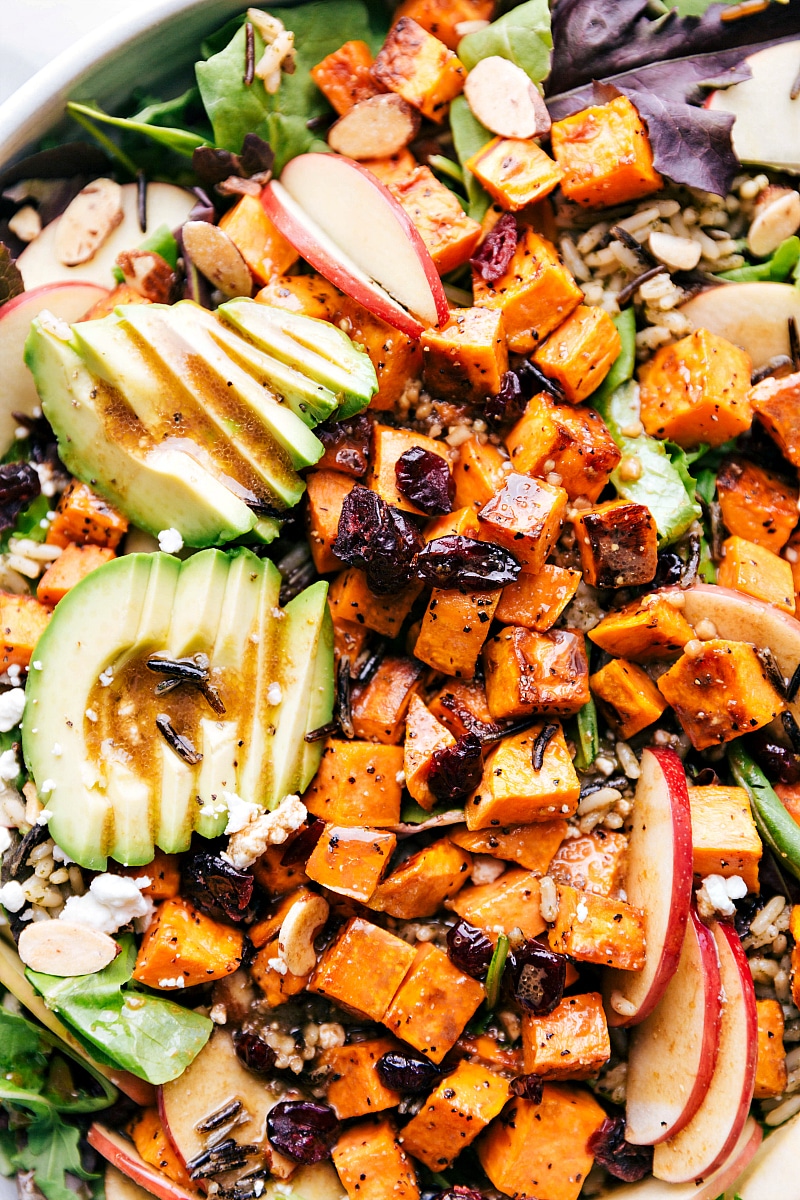 Here are some more delicious recipes to add to your Thanksgiving menu: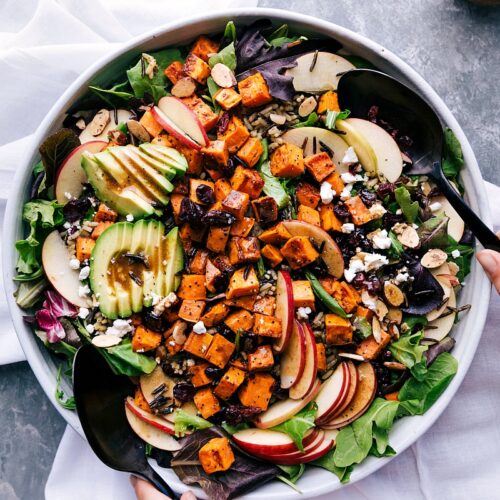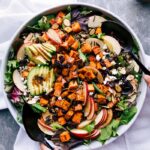 Roasted Sweet Potato and Wild Rice Salad
Servings
:
6
-8 as large sides
Ingredients
3

cups (~2)

medium sweet potatoes

chopped

1

tablespoon

olive oil

1 package

(4.3 ounces)

Long Grain and Wild Rice Mix

or see homemade version below

1

large apple

I used honey-crisp

1

ripe avocado

2

teaspoons

lemon juice

1/2

cup

dried cranberries

1/2

cup

sliced almonds

8-10

ounces

mixed greens lettuce

I use a 50/50 blend spinach & spring mix leaves

Optional: crumbled goat cheese or feta
Lemon Balsamic Dressing
2 and 1/2

tablespoons

freshly squeezed lemon juice

1/2

teaspoon

lemon zest

1/4

teaspoon

onion powder

3

tablespoons

balsamic vinegar

1

tablespoon

Dijon mustard

1

teaspoon

minced garlic

1/2

cup

olive oil

Salt and pepper
Instructions
Preheat the oven to 400 degrees F. Peel and chop the sweet potato into small chunks. Toss the potato chunks in 1 tablespoon olive oil plus some salt and pepper. You could also add some other seasonings if desired.

Bake for 10 minutes, flip and return to the oven for another 10 minutes, and then flip once more and bake for 10 more minutes or until the potato chunks are tender and roasted through. Watch these carefully so you don't overcook the potatoes.

Meanwhile, prepare the wild rice either according to the package directions if you are using a package mix OR according to the directions in the recipe below this one (for a homemade version of seasoned wild rice). If you make the homemade wild rice, start with making that before roasting the sweet potato so they will be done around the same time.

Combine the roasted sweet potato with the cooked wild rice in a large bowl and place in the fridge while prepping the dressing.

For the dressing combine all of the ingredients in a small blender (I use my Blendtec + twister jar) or a food processor. Blend until completely combined, taste, adjust to personal preference, and then pour into a dressing bottle or mason jar and place in the fridge.

Chop up an apple (you can peel if desired) and an avocado (remove skin and pit). Toss both together with the 2 teaspoons of lemon juice.

Add to the cooled potato + wild rice mixture. Toss with the lettuce and add cranberries plus almonds (you can toast almonds if desired by placing them in a dry skillet over medium heat and stirring until lightly fragrant watching carefully to not burn them.)

Toss everything with the dressing and add in some feta or crumbled goat cheese to personal preference. Increase the amounts of cranberries or almonds if desired.

Once dressed enjoy the salad the same day. If not finishing the salad in one day check my notes for storing the salad ingredients separately to keep it fresh.
Recipe Notes
Check out the post for short-cut prep methods AND tips to make this salad ahead of time.
Homemade Wild Rice
Ingredients
2/3

cup

wild rice*

1

tablespoon

butter

1 and 2/3rds

cups

chicken broth

1/2

teaspoon

salt

1/2

teaspoon

dried parsley

1/4

teaspoon

freshly cracked pepper

1/4

teaspoon EACH

oregano, thyme, garlic powder, onion powder

1

teaspoon

white sugar
Instructions
In a fine mesh sieve, thoroughly rinse the wild rice.

Combine all of the ingredients in a pot over high heat. Bring to a boil and then reduce the heat to a low simmer (few notches above lowest temperature).

Cover the pot.

Cook for about 45 minutes and then check. If tender, stop cooking and if not cook for another 10-15 minutes or until it is tender. Add additional broth if needed.

When the rice is cooked through, drain off any additional liquid and fluff it with a fork.
Recipe Notes
*Alternatively, you could use 1/3 cup wild rice and 1/3 cup parboiled long white rice. It has to be the parboiled long white rice to cook evenly with the wild rice.
Recipe inspired by local restaurant Cubby's Wild Rice Kale Salad.