A refreshing summer drink – a fresh raspberry-limeade slush. A drink good enough to rival any Sonic drive-through's famous slushes.
Have I told you all about the time
the husband and I road-tripped cross country? We drove and visited 44 states taking a picture by every single state sign and collecting a souvenir from every single one as well. There are some pretty crazy stories of both – trying to get state sign pictures and trying to find souvenirs. I'll tell you one thing though, finding a souvenir in Texas was the easiest thing ever! #somuchstatepride We have six states left – Hawaii, Alaska, North Dakota, South Dakota, Washington, and Oregon. We'll get their eventually and this time little Grey will be in the state sign pictures. ….That ought to be interesting….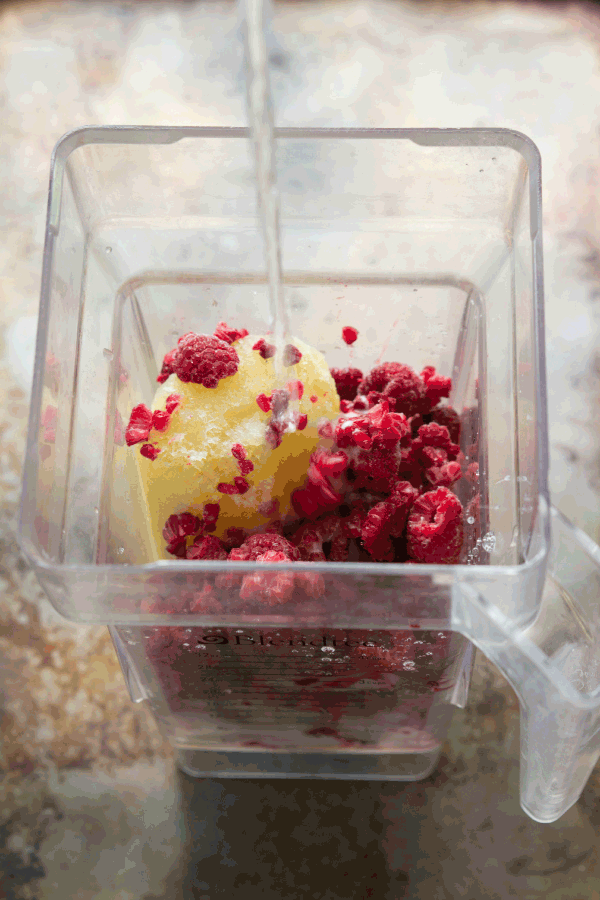 Anyways on the long car rides from one state to the next, we practically planned our stops around finding a Sonic during happy hour. We would get a huge Route 44 drink and slurp it all down and then I would need to take about 15 bathroom breaks in the next hour. Yeah, we are a little weird. But huge slushes – HALF PRICE. Can't beat that. Oh, wait…. yes, yes you can. These slushes are even better than Sonic, and you can make the entire recipe for the cost of one drink! And the recipe yields quite a few drinks…
Plus. Raspberry-lime. Have you tried this combo yet? Its sosososo good. I have always been obsessed with the cherry-lime flavor combo, but I have to say, raspberry-lime is a new favorite. And it's absolutely perfect in this fruity summer drink. Try it, you will see.
Raspberry Limeade Slush
Ingredients
1

liter (33.8 ounces)

Key Lime Sparkling Water

I used 0 calorie

1

package (12 ounces)

frozen raspberries

1/4

cup

superfine sugar

1

container (12 ounces)

Limeade frozen concentrate

Lots of crushed ice

Fresh limes

for serving
Instructions
Make sure the sparkling water has been chilled.

Combine the Key Lime Sparkling Water with the frozen raspberries, superfine sugar, and Limeade frozen concentrate in a very large blender.

If you don't have a large blender, you may have to do this drink in two separate blends or it most likely will spill out of your blender. (I used my Wild Side Jar and Blendtec for this drink and it fit perfectly.)

Blend together until smooth.

If desired, rim your glasses with sugar by squeezing a lime around the rim and then dipping the glass in a bowl of superfine sugar (extra from the 1/4 cup called out for in the recipe)

Fill up the glass with crushed ice (either crushed superfine from a slushy machine or just regular crushed ice if desired) and then pour the drink into your glass.

Enjoy immediately.
 Here are some more delicious beverages: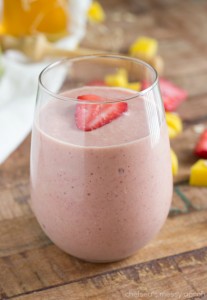 Strawberry Mango Oatmeal Smoothie