A simple, under 30 minute meal including chicken and red bell peppers tossed in a delicious peanut sauce over a bed of jasmine or white coconut rice and garnished with peanuts, cilantro, and sesame seeds. A meal the whole family will love!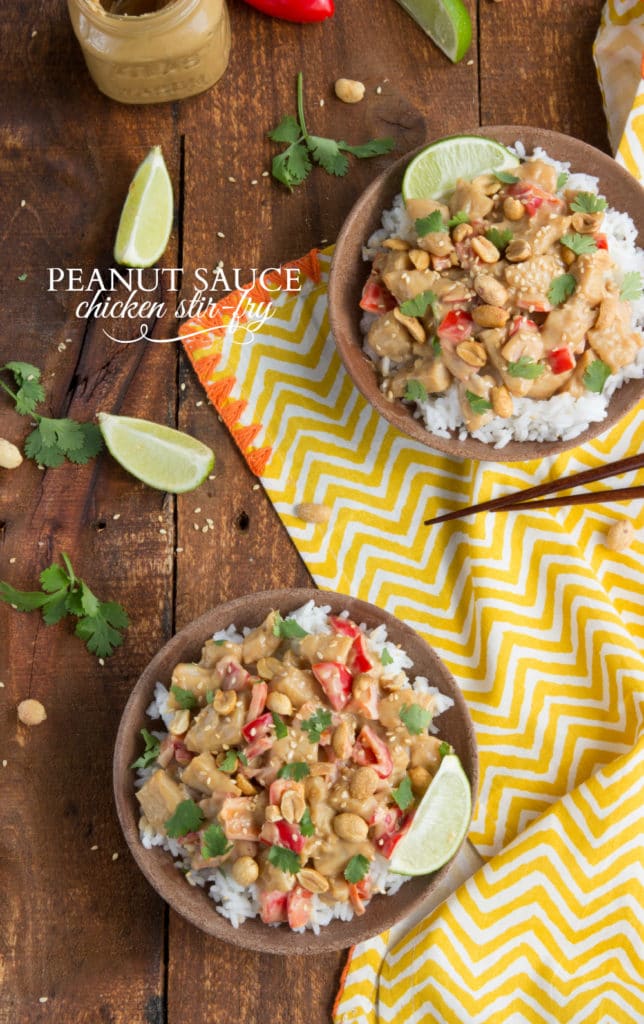 When I go to a restaurant I take forever to order. For me to order something, a lot of consideration goes into the decision. (It's okay, you can laugh. My husband gets a kick out of it.)
Here's the thing – if it's something I can make easily at home, it's out.
If it's something that I'm not sure I will like, it's out. I don't like to be disappointed by an order so I usually go for the things I know I love.
If I've been to the restaurant before, I usually always order the exact same thing I did the previous visit. (I know, boring, right?)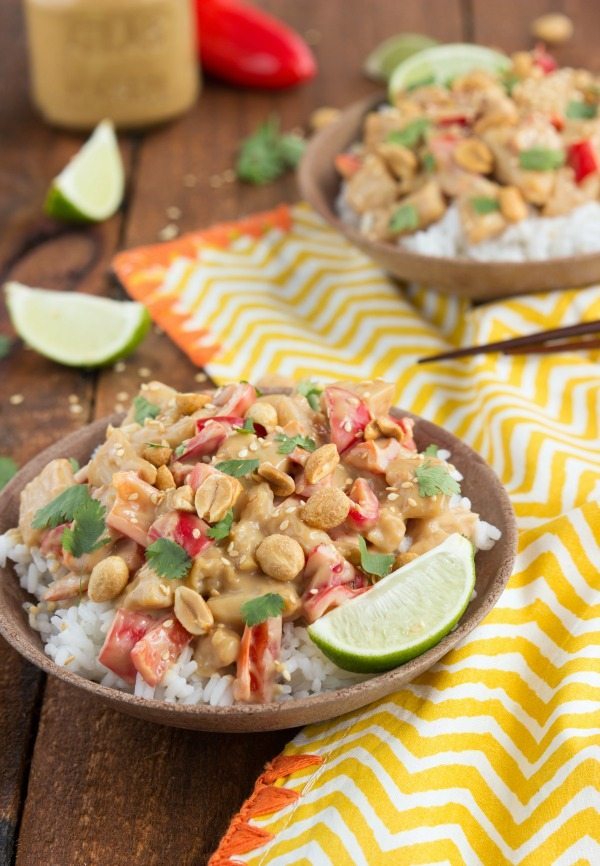 So the husband took me to Applebee's a few weeks ago and contrary to my "rules" for ordering at a restaurant, I tried something completely new, I tried something I was unsure of, and I tried something that was (seemingly) easy to replicate.
I was feeling pretty wild. (Cue laughs x2)
I ordered a Thai salad that had chicken tossed in a peanut sauce. I'm usually not the biggest Thai fan, I'd never tried this salad at Applebee's, BUT I was most definitely not disappointed. The salad was awesome!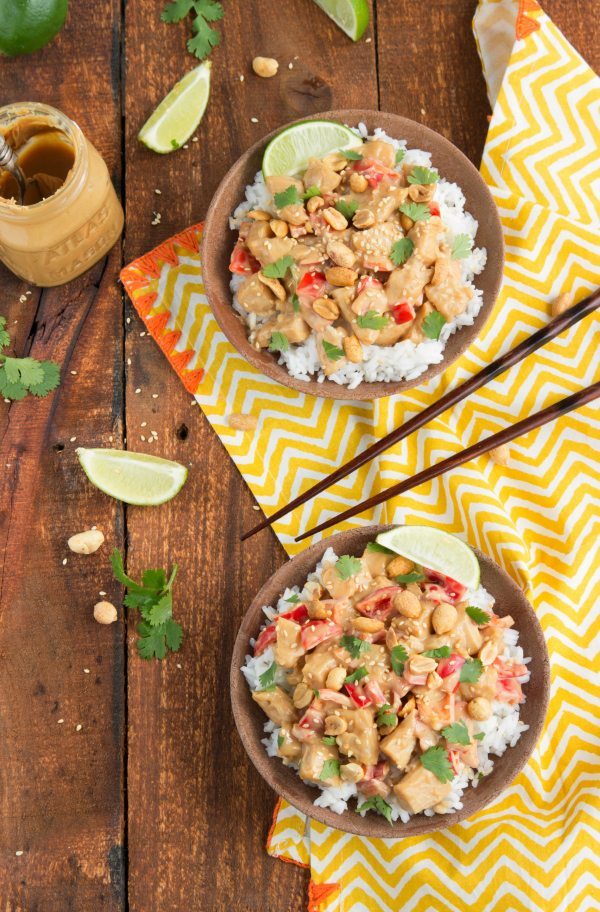 So you may be wondering why I'm going off about a salad since this dish is clearly not a salad. But it does have chicken tossed in a peanut sauce AND it's awesome x 2. And the salad was pretty much my inspiration for this dish. (Plus, watch out, a salad copycat coming soon!)
Also, sometimes trying new things at a restaurant makes for a super exciting experience. Yes, a lot of my world revolves around food.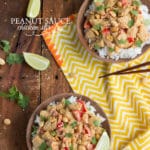 Peanut Sauce Chicken Stir-Fry
Ingredients
2

cups

jasmine rice

or white

1

cup

canned coconut milk

unsweetened (separated)

1 and 1/2

cups

water

2

cups

large boneless skinless chicken breasts

~3

1

tablespoon

vegetable oil

2

red bell peppers
Peanut Sauce
1/2

cup

creamy peanut butter

3

tablespoons

coconut milk

2-3

tablespoons

soy sauce

1/2

teaspoon

minced garlic

1

teaspoon

minced ginger root

1

teaspoon

hot sauce

optional

1

tablespoon

light brown sugar

lightly packed

2-3

tablespoons

fresh lime juice

add in some lime zest if desired

1-2

tablespoons

hot water

Optional toppings: 1/4th bunch cilantro, sesame seeds, peanuts
Instructions
Rinse the rice and combine the rice, coconut milk (reserve 3 tablespoons for peanut sauce), water, and salt if desired (1 teaspoon) to a large pot over medium-high heat. Occasionally stir the mixture. Once it begins to lightly boil, stop stirring, reduce the heat to low, and cover with the lid.

Allow to simmer for 15-20 minutes or until the rice has absorbed all of the liquid.

Meanwhile, cube the chicken into small pieces and combine the chicken with the oil in a large saucepan. Cook until the chicken is lightly browned.

Remove the stems and seeds from the red bell peppers. Chop into small pieces. Once the chicken is mostly cooked through add in the peppers. Stir around the peppers and chicken until tender and the chicken is completely cooked through.

In a blender or food processor, combine the peanut butter, coconut milk, soy sauce, minced garlic, minced ginger root, hot sauce (if desired), brown sugar, and lime juice. Blend or process and then slowly add hot water until your desired consistency is reached. Taste the sauce and adjust seasoning to preference (more garlic, soy sauce, sugar, or lime if desired).

Pour the peanut sauce over the completely cooked chicken and mix well. Add to the rice.

If desired, pull the cilantro leaves from the stem and add to the dish. Garnish with peanuts and sesame seeds if desired.
Recipe Notes
The cook time refers to the chicken and red pepper mixture. The rice will take longer.