One pot creamy orzo pasta with plenty of veggies and an easy parmesan cream sauce. Kid-friendly and simple to make!
Pair this one pot creamy pasta with a light side dish such as this Italian salad or this cucumber salad.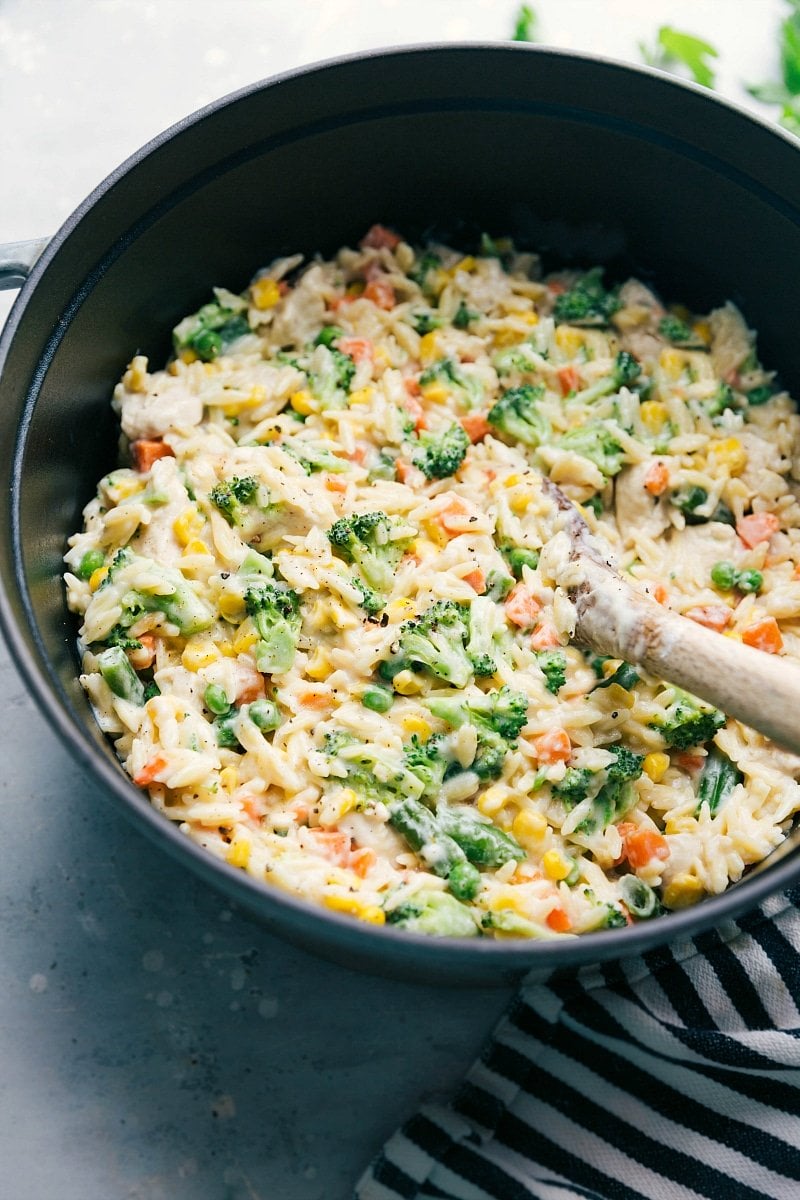 When I'm not sure what to make for dinner but know I need to get some veggies in my kiddos, this is the dish I make. It's loaded with veggies, but still such a kid-friendly meal thanks to the creamy sauce and orzo pasta.
This creamy orzo pasta is also a dish I love making because it's inexpensive, simple to make, and keeps my dishes to a minimum! A one pot minimum that is 🙂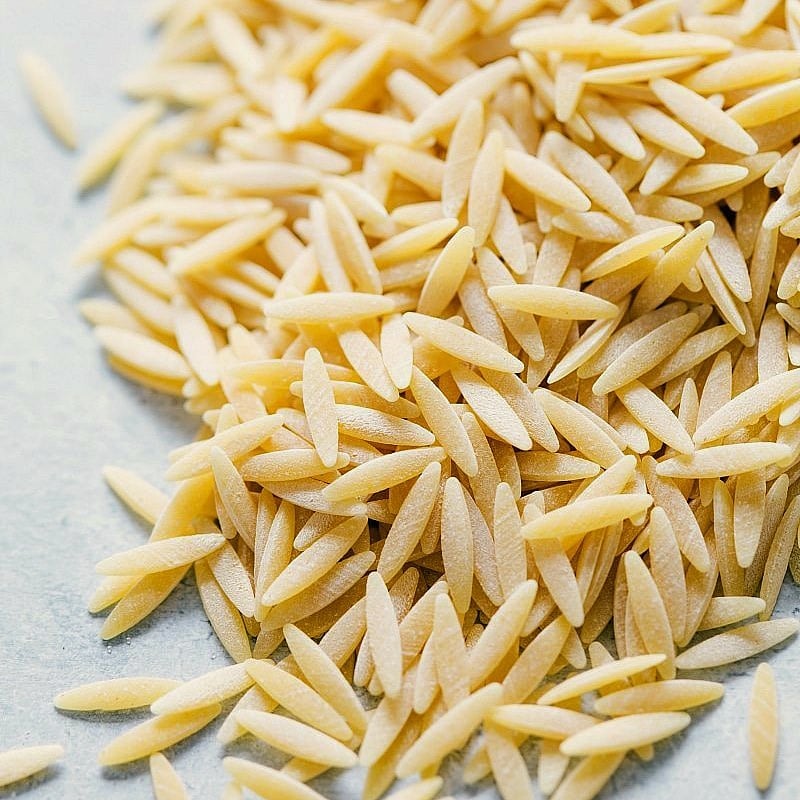 Creamy orzo pasta tips
Prep everything before you start cooking. This is a dish where the cooking goes pretty quickly so you want to make sure to have everything cut up and ready to go before starting.
Cut the broccoli and chicken small: small pieces of chicken and broccoli not only helps both cook quicker (and gets dinner on the table faster), but you'll also get a more even dispersion of the two throughout.
Whole milk: while 1% or 2% milk will work, I highly recommend whole milk in this recipe. I would not recommend skim milk or a dairy milk alternative.
Don't be hesitant on the seasonings: this dish doesn't have a whole lot of seasoning because it's relying on the chicken stock (which has a lot of seasonings already), the cheese, and the salt and pepper. Don't be afraid to add more salt and pepper! I occasionally add lemon pepper for a fresh flavor twist.
Don't substitute rice for the orzo! It's a common misconception the two can be interchanged, but they are different and won't cook the same in this creamy orzo pasta.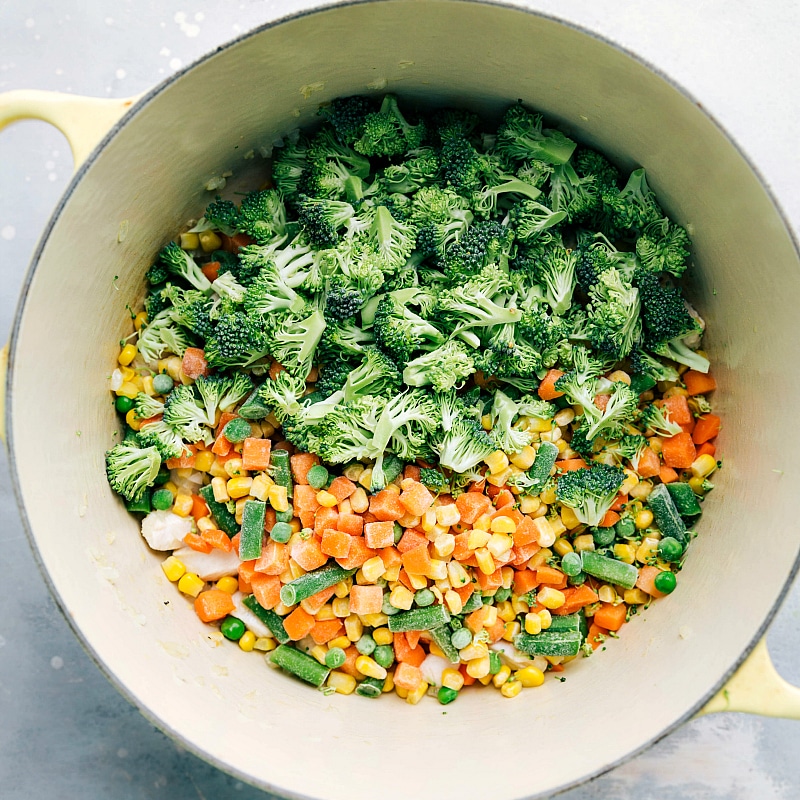 Creamy orzo pasta variations
Feel free to switch up the veggies. You can also use fresh veggies, it will just require more prep (chopping the fresh veggies) and a bit longer cooking time to get them tender.
Use chicken thigh instead of chicken breast if you prefer the darker meat in this creamy orzo pasta.
Use freshly grated sharp cheddar cheese in place of the Parmesan if that cheese is preferred (my kiddos like cheddar!). If going that route, you'll likely want a bit more (around 1 and 1/4 cups)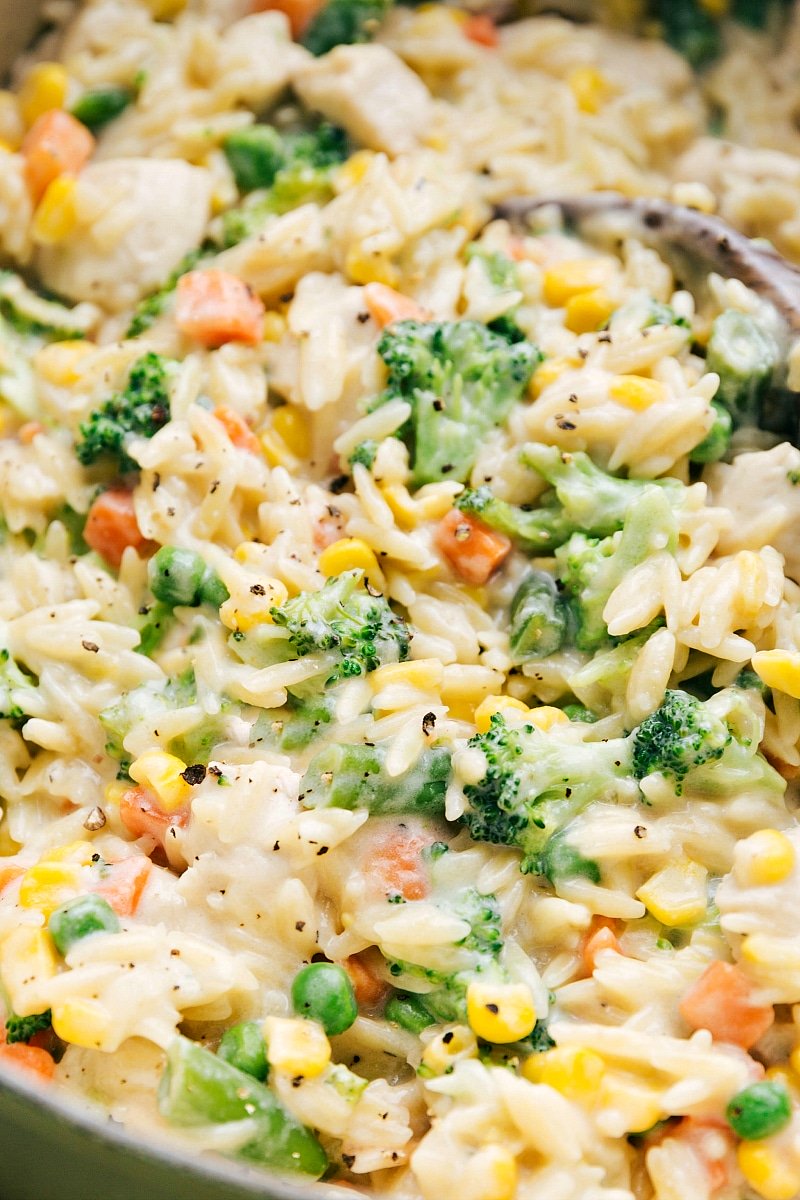 More one pot/skillet meals: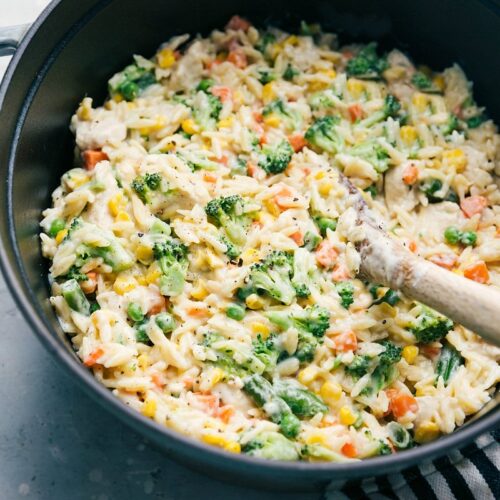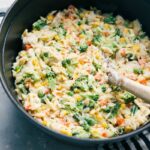 Creamy Orzo Pasta
One pot creamy orzo pasta with plenty of veggies and an easy parmesan cream sauce. Kid-friendly and simple to make!
Keyword:
creamy orzo pasta
Ingredients
1 and 1/2

tablespoons

olive oil

1/2

cup

yellow onion,

finely diced

2

garlic cloves,

finely minced

12

ounces (~1 large)

chicken breast,

cut into small bite size pieces

Fine sea salt and freshly cracked pepper

(or use lemon pepper if desired)

1

bag (16 ounces)

frozen diced vegetables

(I use the blend of carrots, sweet peas, corn, & green beans)

1 and 3/4

cup

broccoli (~1 floret),

chopped into very small pieces

2

tablespoons

unsalted butter

2

tablespoons

white all-purpose flour

2

cups

chicken stock (chicken broth works)

2 and 1/4

cups

whole milk

1

teaspoon

Italian seasoning

1 and 1/2

cups

dry orzo pasta

1

cup

freshly (and finely) grated Parmesan cheese,

separated

fresh parsley,

optional
Instructions
PREP: cut veggies and chicken before starting to cook; the process goes quick! Finely chop the onion, finely mince the garlic, cut the chicken breast into small pieces, and chop the broccoli into small pieces. Grab out the rest of the ingredients.

COOK: Heat olive oil in a large (nonstick) pot over high heat. Add onion and stir around for 1-2 minutes and then add in garlic and stir for 30 seconds. Add the chopped chicken. Season with salt and pepper and cook until mostly cooked through, about 5 minutes. Add in all the frozen vegetables (no need to thaw) and finely chopped broccoli. Stir for 2-3 minutes or until veggies are thawed and chicken is cooked through. Broccoli should be crisp tender. Transfer this entire mixture to a plate and cover with foil.

COOK CONT.: Return pot to burner. Add butter and melt over medium high heat. Add flour and whisk until smooth. Whisk for 1 minute. Gradually add in the stock, whisking constantly. Add in the milk and all the UNCOOKED orzo. Add in the Italian seasoning.

FINISH COOKING: Bring mixture to a simmer then lower the heat until it is just barely and gently bubbling. Cook for 7 minutes without a lid, stirring occasionally and making sure to scrape the bottom so orzo does not stick. After 7 minutes the pasta should be almost tender (mixture will still be liquidy). Add the plate of set aside ingredients into the pot and stir. Add 3/4 cup parmesan and stir to melt. Season to taste with salt and pepper. Don't be afraid to add a bit, the salt and pepper really pulls all the flavors together.

SERVE: Consistency should be similar to risotto and very creamy. (Add a splash of milk if needed to thin consistency a bit.) Serve with additional 1/4 cup parmesan if desired and some freshly chopped parsley. Enjoy while hot.