Delicious and simple brownie batter bark plus small batch crispy treats with a cute way to package them!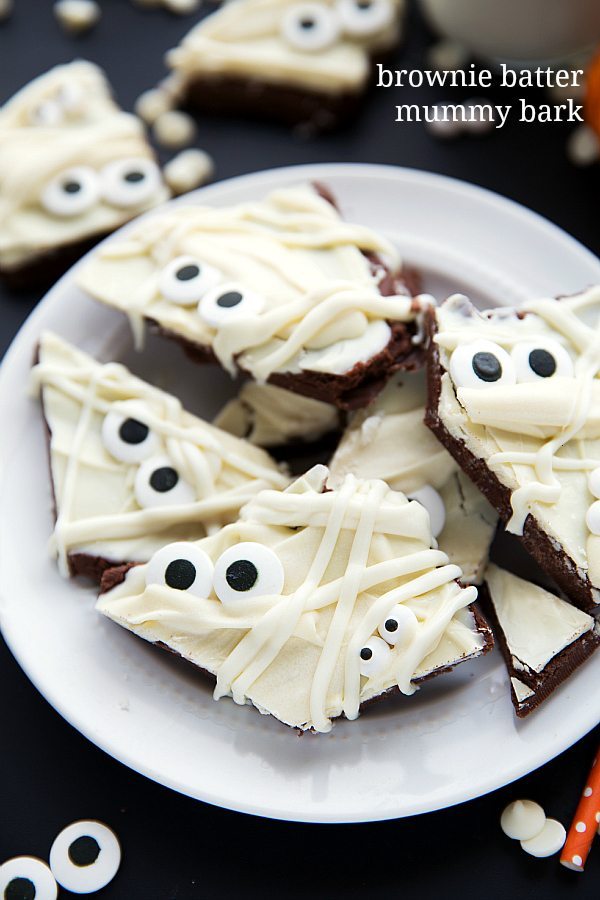 Okay, so in the past couple of weeks, we've had some Halloween bats, candy corn drinks, cookie ball spiders, and now it's all about MUMMIES! P.S. A "melted witch" treat is coming your way soon too! I think it's safe to say that we are a bit obsessed with Halloween at my home. 🙂
And if you remember my "bat" pumpkin decorating idea, well, I had to come up with a new pumpkin decorating idea when my toddler thought it would be fun to climb up on our table, rip off each and every bat, remove their eyes, and then rip up all the paper bats in about two minutes flat. I'm telling you, he's got some mad skills at destruction and mess making!
So, the new idea was to make mummy pumpkins!! I saw the idea online somewhere and it was super simple to make. But, more on that later. First, let's talk about my new addiction, AKA brownie batter bark. If you have had regular bark and enjoy it, you will LOVE this jazzed-up bark!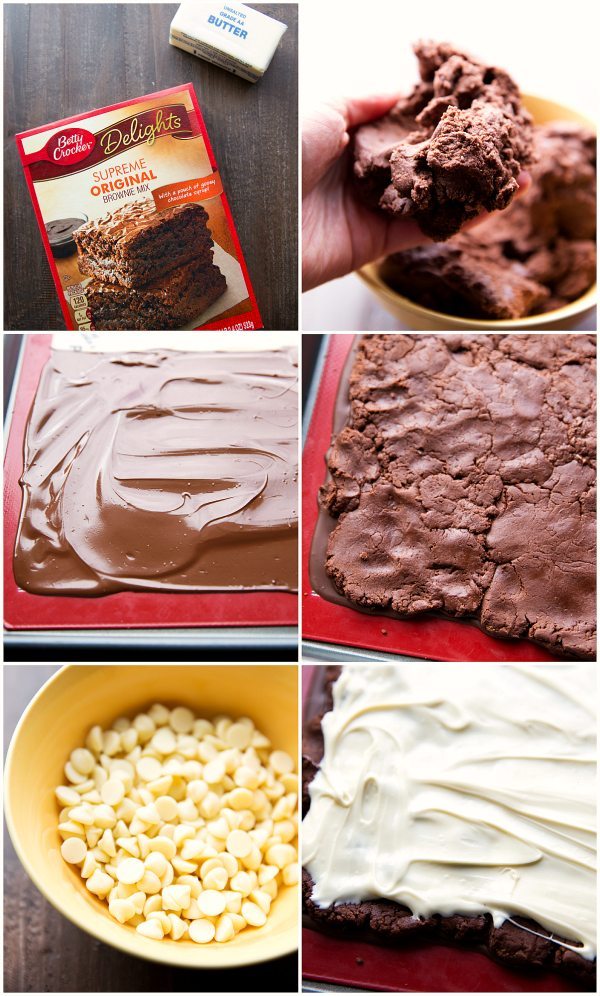 I've seen lots of different bark recipes "filled" with different things such as edible cookie dough, flavored doughs, or various candies. Dorothy, from Crazy for Crust, makes some awesomely creative and delicious barks. One we tried last winter was her peppermint sugar cookie dough bark. And if you are looking for one of the best treats ever come candy-cane season, trust me, you've got to make it!!
I thought it was time I tried to make a bark filled with something delicious and simple. Of course, I thought about brownies. These 2-ingredient brownie bites have been well-loved on the blog, so I thought I should fill the center of bark with that same recipe! Creamy milk chocolate base layer, a simple 2-ingredient fudgy brownie center, and a thick white chocolate topping makes for a delicious, no-bake, easy bark recipe. You guys are going to love it!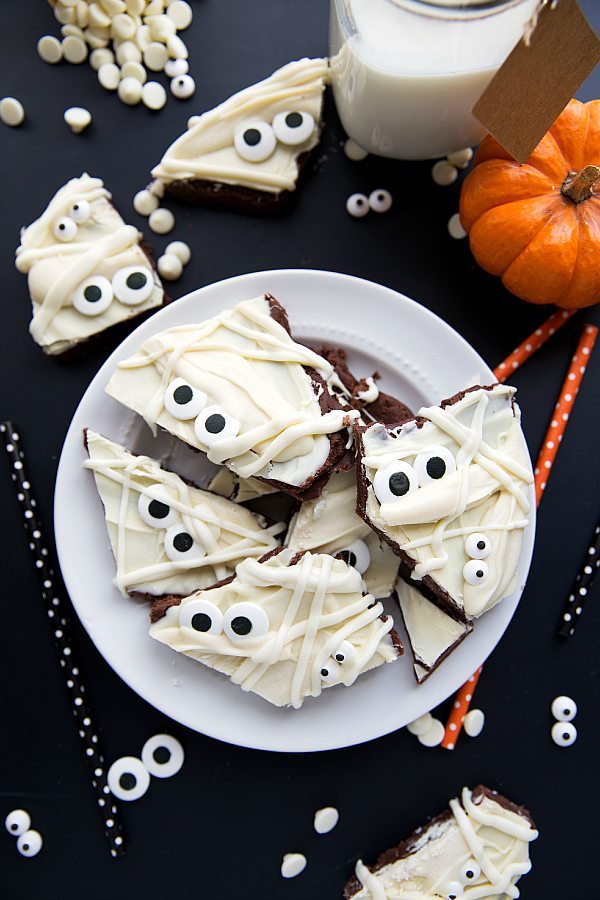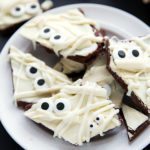 Mummy Brownie Batter Bark
Servings
:
1
/2 large baking sheet
Ingredients
1

cup

milk or semi-sweet chocolate

I like using chocolate from a bar that I've coarsely chopped up

1/2

cup + 2 tablespoons

butter

softened

1 package

(18.4 ounces)

brownie mix

2

cups

white chocolate

separated

Large and small candy eyes
Instructions
On a large cookie sheet, place a nonstick baking sheet or parchment paper.

In a microwave safe bowl, pour in the milk chocolate chips. Microwave for 15 seconds, stir for 15 seconds, and repeat.

Microwave in bursts of 15 seconds (stirring in between each burst) until the chocolate is completely melted and smooth.

Pour the melted chocolate evenly over half of the baking sheet and spread until smooth with a spatula.

Place in the fridge for at least 15 minutes or until hardened.

Meanwhile, combine the brownie mix (discard or save the fudge package for something else) and butter. Beat together with hand mixers until a thick dough forms. If the dough is too crumbly, add a bit more butter.

Knead the brownie batter "dough" with your hands and then flatten into even discs of batter. Press those discs of batter together on top of the hardened chocolate and mash together with your hands until an even layer of brownie batter is formed.

Place in the fridge while preparing the white chocolate.

Use very high quality white chocolate chips (or a white chocolate baking bar that you have coarsely chopped) for best results.

Place 1 and 1/4 cup white chocolate in a microwave safe bowl. Microwave for 15 seconds, stir for 15 seconds, and repeat.

Microwave in bursts of 15 seconds (stirring in between each burst) until the chocolate is completely melted and smooth. Pour over the brownie batter layer and smooth with a spatula.

Press large and small candy eyes all over the white chocolate in random places.

Allow the white chocolate to harden in the fridge.

Melt the remaining 3/4 cup white chocolate in a microwave safe bowl in bursts of 15 seconds stirring in between each burst.

Pour this melted white chocolate into a small plastic bag. Cut off the tip of the bag with scissors and "pipe" the melted chocolate over the bark to create a mummy appearance. Pipe over the tops of the eyes to make the eyes look like they are peeking out.

Allow the bark to completely harden. Using a large and very sharp knife, cut the bark into pieces. Then carefully peel the bark pieces off of the baking sheet or parchment.

Store in an airtight container in the fridge.
And now on to the Crispy Treats + Fun Mason Jar Gift Idea!
This is such a fun treat to give out to friends/neighbors/family members/etc. It's one of those mason jar gifts we all know and love — you know, when brownies or cookies are deconstructed into the ingredients needed to make the treat and layered in a gift-able decorated mason jar? Except this mason jar gift is for SMALL-BATCH crispy treats — made withPEEPS® Brand Marshmallow and decorated up for Halloween. Because sometimes you need a sweet treat that is a little unique for a Halloween party or to leave on your neighbors doorstep to say "Happy Halloween!"
The great thing about these crispy treats, is they are made with Halloween PEEPS instead of regular white marshmallows. Not only do the PEEPS give these a great flavor (so much better than regular marshmallows!), but they also give them a fun orange-ish color. They are a bit more sugar-y than a typical crispy treat and also thinner than some of those ultra-thick crispy treats that you may know and love. Maybe even a little thinner than just a regular crispy treats. The key to keeping these from getting too thin or less chewy is to gently press them in the pan and not to push them down much.
Since packaging about 6-8 cups of crisp rice ceral in a mason jar would, well, never happen, I decided to make a treat that yields a smaller batch of crispy treats. They ended up being even better than I thought they would be!! These are so much fun and actually practical to give out because they can be easily made using a small bread pan (no need to have a special container!) The perfect small-sized snack for when you don't want a huge batch of treats! And a great way to gift something a little unique this Halloween! 🙂

Halloween Peeps Crispy Treats
Ingredients
1 and 1/2

cups

rice krispies cereal

1/4

teaspoon

salt

4

Pumpkin Peeps

1

Ghost Peep

1

Gravestone Peep

1

Cat Peep

1 and 1/2

tablespoons

Halloween sprinkles

1

tablespoon

butter

Optional: Mason Jars, ribbon, tags, miniature bags
Instructions
In a mason jar, layer the crisp rice cereal and salt.

Push the marshmallows on top tightly to keep out any air. Seal tightly.

Decorate the jar with Halloween ribbons, tags, or whatever you like. Fill a miniature plastic bag with the sprinkles and attach to the jar.
To make the crispy treats:
Grease a bread pan (8-9 inches) with nonstick spray and set aside.

Melt 1 tablespoon butter (not included in the Mason Jar gift) in a small pot over low heat. Once melted, add in all of the different peeps.

Stir constantly until the peeps are completely melted.

Stir in the crisp rice cereal until all the ingredients are well mixed.

Lightly press (don't push too hard or it will make these treats harder and less chewy!), the mixture into the bread pan.

Top with desired amount of sprinkles.

Cut into 6 small squares and enjoy within the same day.

(These treats are best enjoyed the first day and don't store very well.)
And here is a printable to attach to your mason jar!: (Left click this image and save it to your desktop. Add the image into a Word document and re-size it to the size of your tag you are tying around the mason jar. Print it off, cut it out, and glue it on the tag).

And finally we can talk about those easy mummy pumpkins for a fun tablescape idea! All I did was buy some large googly eyes, some black ribbon, a large pumpkin, and some package of cheesecloth.
Cut up the cheesecloth into large strips and hot glue the strips around the pumpkin. Hot glue on some googly eyes making sure to hide the eyes a bit behind the cheesecloth. Tie a ribbon on the pumpkin stem and voila, all done!!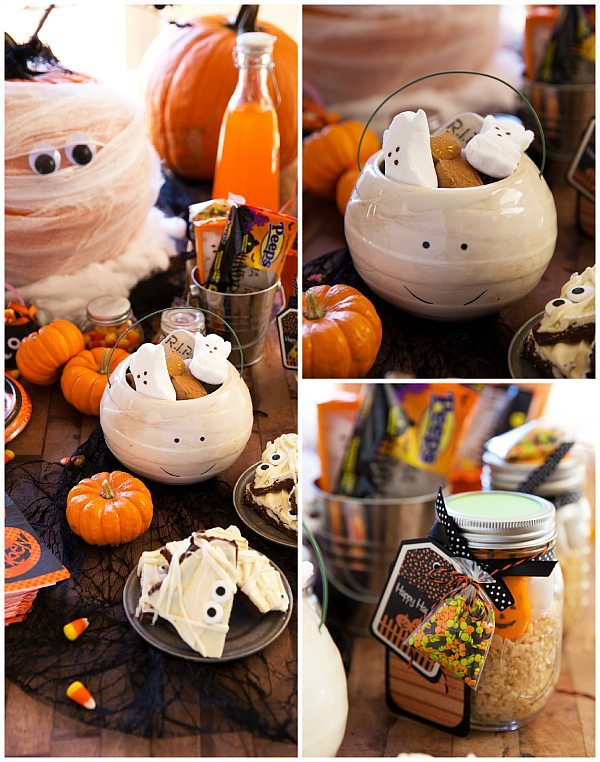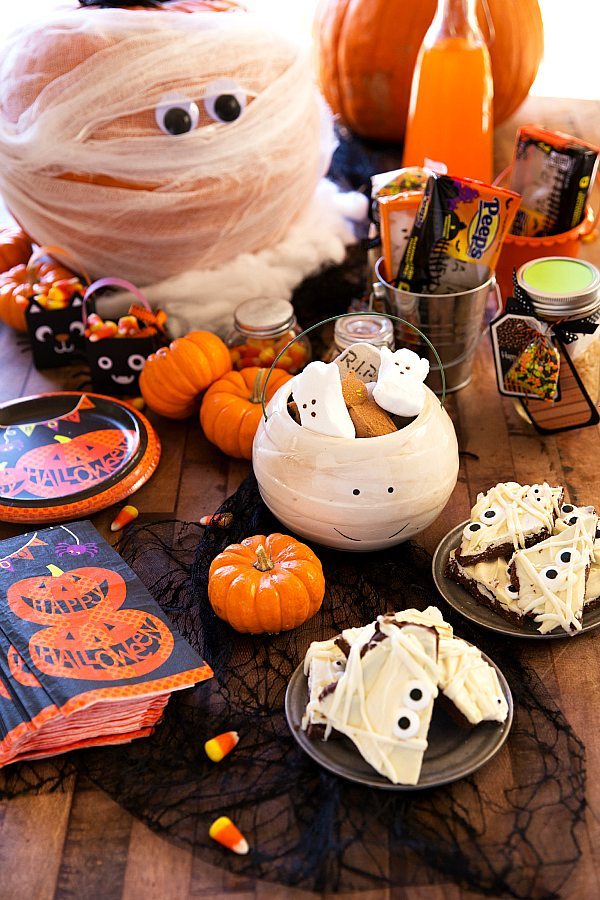 Here are some more simple Halloween ideas: