Simple 20-minute Italian sausage and veggie hoagies with marinara and mozzarella.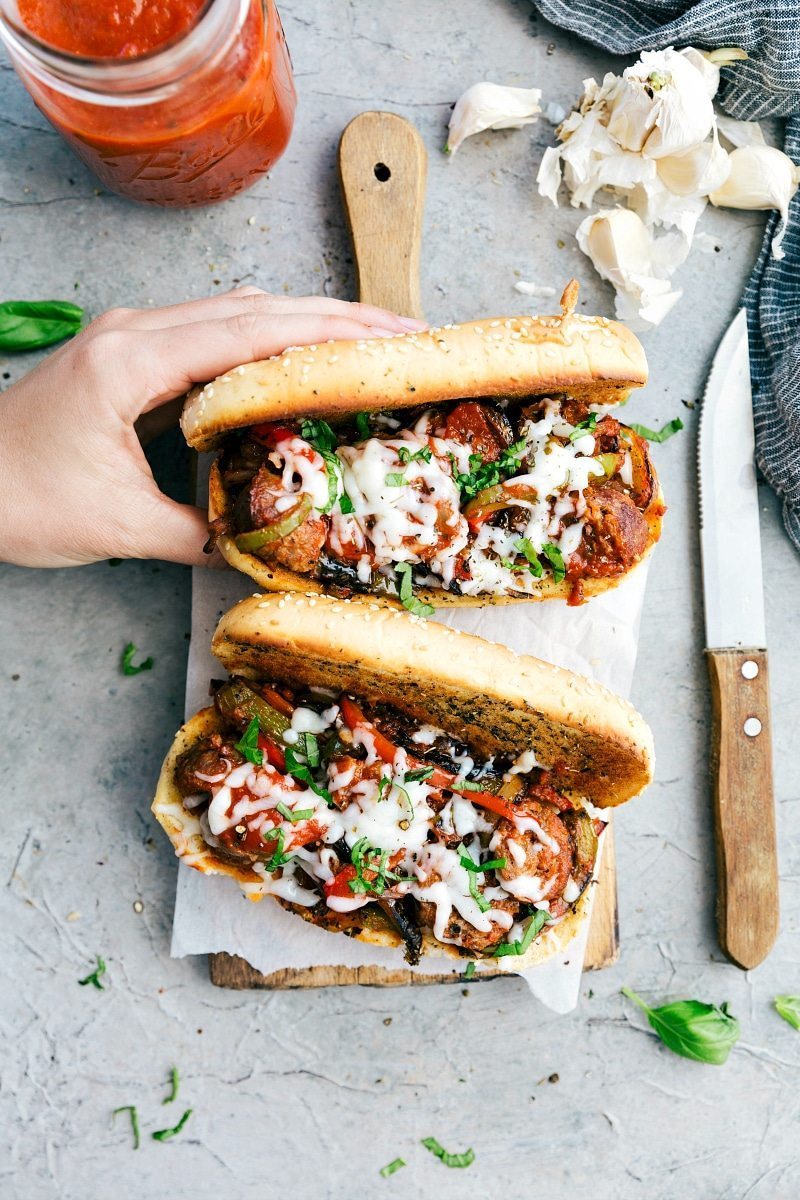 The other day I randomly asked the toddler, "What is your favorite thing to do?"
Without even a second's hesitation, he excitedly exclaimed, "Eat!"
He is definitely my son! His favorite thing to eat as of late has been anything with a bun — hot dogs, hamburgers, hoagies, etc. All good food right? Except… he prepares it as following: bun, little filling, and about a full cup of ketchup. On evvvvverything.
These MARINARA hoagies? Yes, he also covered them in ketchup…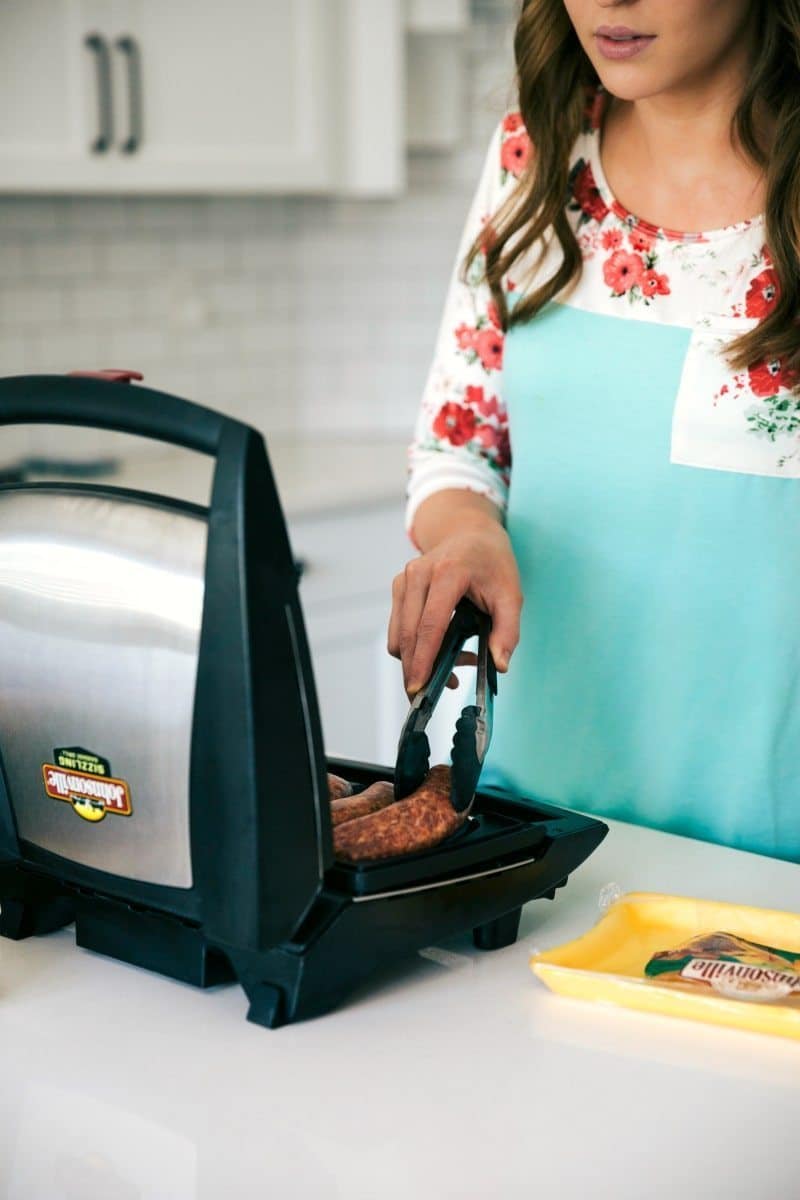 We may have the love of eating in common, but hold the pound of ketchup for me! So, the rest of us ate these hoagies how I intended them (covered in mozzarella and cheese), and the toddler enjoyed his with ketchup on top. Either way, they were loved by everyone.
And the prep time on these made them one of my new favorites! You can seriously have these ready in 20 minutes or less!
What makes these hoagies especially easy is setting them in a sausage grill and completely forgetting about them until the timer dings. For these hoagies, I used a Johnsonville Sizzling Sausage Grill to get perfectly cooked Italian sausages. It's my new favorite way to cook sausages and my boys have been going crazy over it!
While the sausages are (hands-off) being grilled, you can prepare the buns and the rest of the filling which takes a few minutes to whip together. Once the sausages are cooked through, quickly slice them, toss them with everything else, and a quick broil in the oven to get that mozzarella cheese all melty on top.
And then these hoagies are ready to be devoured!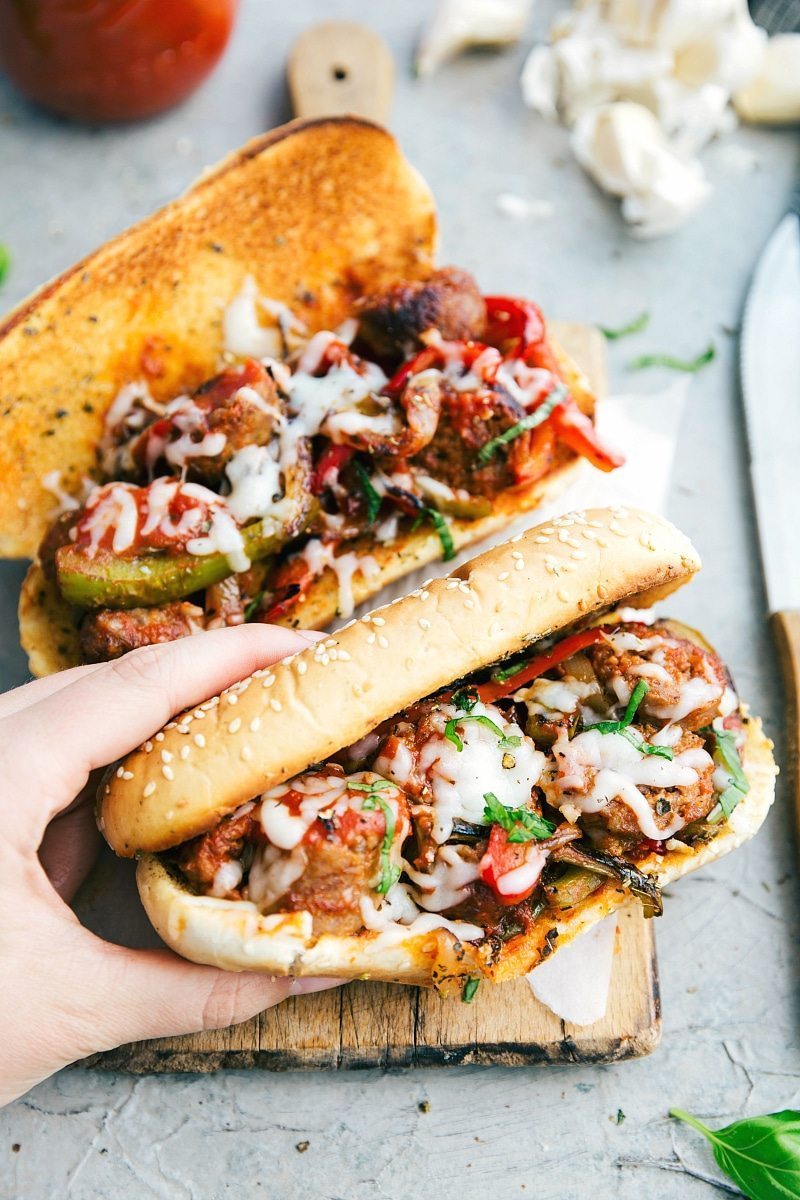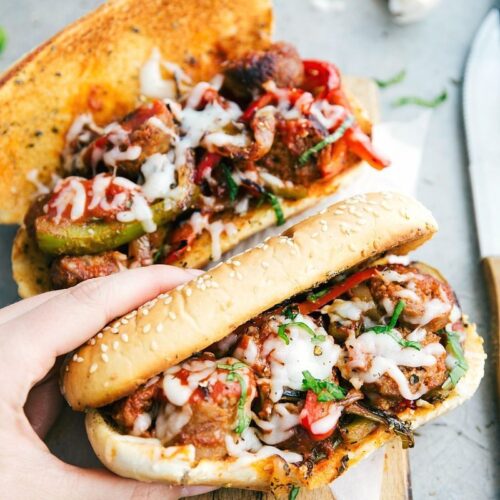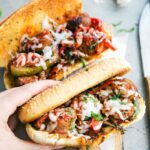 Italian Sausage Hoagies
Simple 20-minute Italian sausage and veggie hoagies with marinara and mozzarella.
Servings
:
4
large hoagies
Ingredients
1

tablespoon

olive oil

2

tablespoons

unsalted butter

1/2

teaspoon

minced garlic

1 and 1/2

teaspoons

Italian seasoning

4

hoagie buns

3

(about 10 ounces)

Johnsonville Hot (or mild) Italian sausages

1/2

of 1

yellow onion,

diced

1

tablespoon

minced garlic

1/2

of 1 large

red pepper,

very thinly sliced

1/2

of 1 large

green pepper,

very thinly sliced (or use just 1 bell pepper)

1

cup

chunky marinara sauce

1

tablespoon

Italian seasoning

Freshly cracked black pepper,

to taste

heaping 1/2

cup

freshly grated mozzarella cheese
Instructions
Preheat the broiler to high. In a skillet, add in the olive oil and butter. Melt and then stir in the garlic and Italian seasoning. Remove from heat and brush this mixture generously over the hoagie buns - inside and out. Place the hoagie buns on a sheet pan and broil for 1-2 minutes on high until very lightly golden brown (you'll add them back later).

Begin the sausages cooking. Remove the casing and follow package directions to grill the sausages. If you don't have the sausage grill, remove casings, slice the sausages into 1-inch thick pieces and add to a skillet (same one you used earlier for the butter) over medium heat. Cook for about 2 minutes stirring occasionally and then add in the onion and garlic. Cook for another minute.

Add in the bell peppers, marinara sauce, Italian seasoning, and pepper. Bring the mixture to a boil and then simmer for 5-6 minutes or until the peppers are crisp tender.

Separate the mixture evenly among the hoagie buns and sprinkle generously with cheese.

Return the hoagies to the oven and broil for another 1-2 minutes or until cheese is melty.

Top with fresh basil or parsley if desired and enjoy immediately.

More Easy Sandwich Recipes: