A healthier take on lemon poppyseed bread! This lemon poppyseed bread is moist and tender, made with better-for-you ingredients, and is easy to make!
Looking for more healthy bread recipes? Check out this healthy zucchini bread, this healthy banana bread, or this healthy applesauce bread.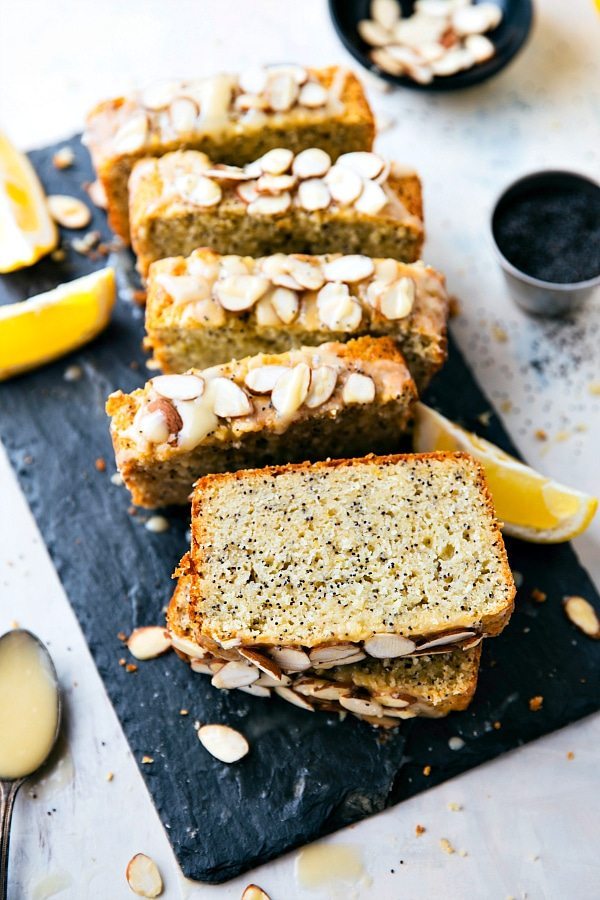 Lemon poppyseed bread
Lemon poppyseed bread is one of my all-time favorite sweet breads. The reason it's taken me so long to share a recipe here is because I've wanted it right up to my standards of what I love in a good lemon poppyseed bread!
A TON of recipe testing went into this lemon blueberry bread and once I had it perfect, I knew the base would also make a great base for lemon poppyseed bread. The two recipes are extremely similar and I think you'll find this lemon poppyseed bread to be one of the best healthier treats you've ever had! It's definitely become a quick family favorite.
One of my favorite things about this bread is the hint of almond flavor. Both the actual bread and the glaze has almond extract in it and then the bread is topped with sliced almonds.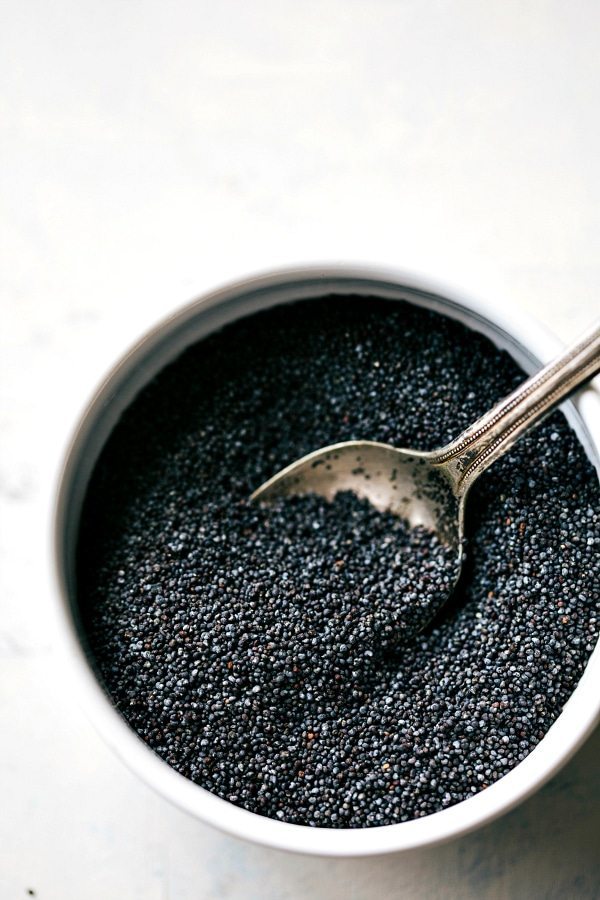 What makes this lemon poppyseed bread healthy?
This lemon poppyseed bread uses quite a few healthier ingredients, but nothing you'd have to go on a crazy search for. Below are some of the health benefits of individual ingredients.
Oats: Rich in antioxidants and contain powerful soluble fiber.
Greek Yogurt: High in protein and packed with probiotics, potassium, and calcium. (I prefer lemon flavored Greek yogurt for a more intensely flavored bread, but vanilla Greek yogurt is delicious as well)
Coconut Oil: High in healthy saturated fats which can boost fat burning and provide your brain and body with quick energy. Also raises HDL cholesterol (GOOD cholesterol) in your blood which is linked to reduced heart disease risk.
Eggs: Good source of protein, vitamins, and minerals.
White Whole Wheat Flour: A healthy alternative to white flour. More details here.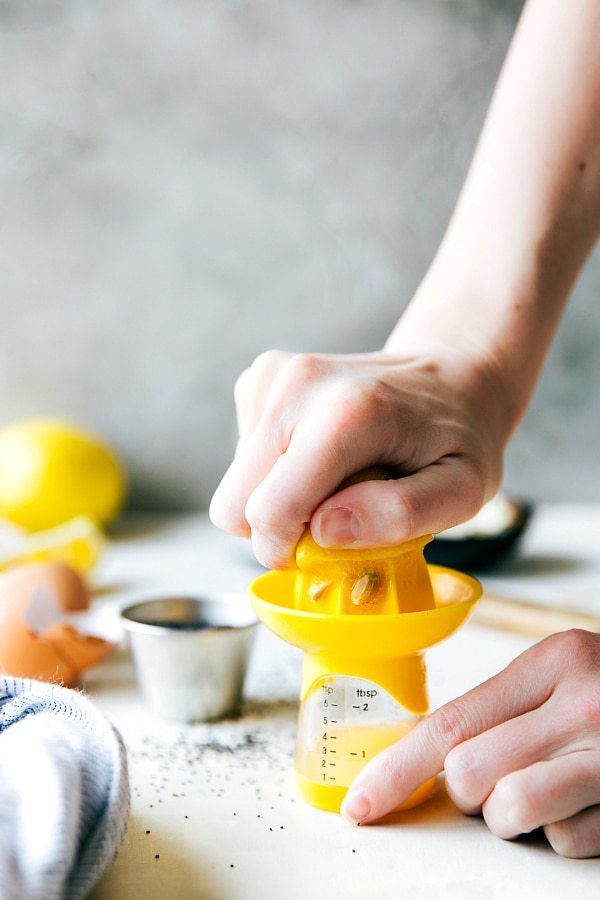 How to make oat flour
Oat flour tends to make a baked good more moist than wheat flour and it also adds-in some extra flavor. Exactly what we want in this healthy poppyseed bread recipe! Making oat flour at home is easy – here's how:
Place the oats (you can use quick oats or old fashioned oats) into the bowl of your food processor or small blender jar (such as a Twister jar).
Pulse the oats until they are ground into a powder-like consistency that resembles flour.

Depending on the speed and power of your food processor or blender, this takes about 60 seconds or less.

Stir the oats around if needed to ensure that ALL the oats have been finely and evenly ground. (See photo below)
Make sure to measure your oat flour measurement for this recipe AFTER it's been turned to flour and not in the whole oat form beforehand.
FAQs: Lemon poppyseed bread
Can I freeze this lemon poppyseed bread?
Yes! Freeze the freshest bread you have. If you just baked it, allow the bread to cool completely before freezing to avoid soggy bread or mold.
Cut the bread into thick slices and wrap each slice tightly in plastic wrap and then seal it completely in an airtight container or bag.
Pieces can be frozen safely for 3 months.
Defrost in the fridge or at room temperature until thawed.
How long is lemon poppyseed bread good for?
2-3 days at normal room temperature (wrapped tightly/stored in an airtight container).
After 3-4 days, this bread is more prone to molding because of the moistness of it.
Do I need to refrigerate this bread?
After 1 day of the bread being at room temperature, I recommend refrigerating it and warming individual slices in the microwave for 5-10 seconds. While not necessary to refrigerate the bread, it will keep it fresher for longer.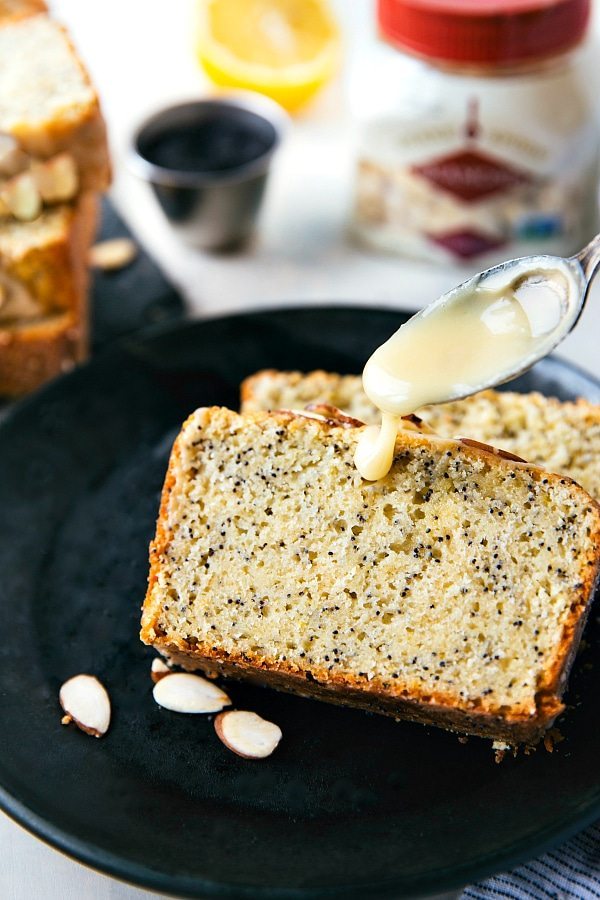 More healthier baked goods: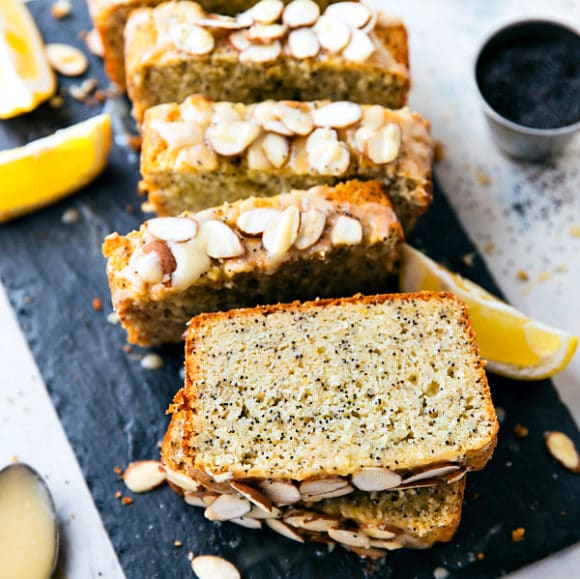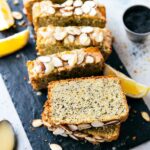 Lemon Poppyseed Bread
A healthier take on lemon poppyseed bread! This lemon poppyseed bread is moist and tender, made with better-for-you ingredients, and is easy to make!
Course:
Breakfast, Dessert
Keyword:
lemon poppyseed bread
Ingredients
3

large eggs,

seprated (2 large eggs and 1 egg yolk)

1

cup (2, 5.3 ounces EACH containers)

full fat Lemon Greek yogurt

(or vanilla Greek yogurt)

1

teaspoon

vanilla extract

1/2

teaspoon

almond extract,

optional

1/2

cup

coconut oil

1

large lemon

3/4

cup

white sugar

1/2

cup

old fashioned oats

1

cup

white or white whole wheat flour

1

tablespoon

cornstarch

2

teaspoons

baking powder

3/4

teaspoon

salt

1 and 1/2

tablespoons

poppyseeds
Optional Glaze
3 and 1/2

tablespoons

orange juice

3/4

cup

powdered sugar

1/2

teaspoon

lemon extract

1/8

teaspoon

almond extract,

optional

1/2

cup

sliced almonds
Instructions
Preheat the oven to 350 degrees F. Generously grease and then light dust a bread pan with flour and set aside.

I use an 8 and 1/2 x 4 and 1/2 bread pan.

Make sure to measure the coconut oil in LIQUID (melted) form. Melt the coconut oil, measure, and then allow to slightly cool so you don't cook your eggs.

In a large bowl, whisk 2 large eggs and 1 large egg yolk (discard or save the whites for another recipe). Add in the lemon Greek yogurt (1 cup total), vanilla extract, almond extract, and coconut oil.

Briskly whisk in the coconut oil with the other ingredients to get them to be well combined.

Get the zest and juice of 1 large lemon. About 2 teaspoons zest and 2 tablespoons lemon juice is perfect! Add in the sugar and again mix until all ingredients are completely combined.

In the same bowl, add the oat flour (measure oat flour AFTER blending the oats to get 1/2 cup total flour; to make oat flour, put old fashioned or quick oats in a blender and pulse them until they resemble flour).

Without mixing yet, add the white or white whole wheat flour, cornstarch, baking powder, salt and poppyseeds.

Mix together, very gently, until just combined (over-mixing will yield a denser bread).

Bake for 55-65 minutes or until a fork when inserted into the center comes out clean or the bread starts to pull away from the edges. If needed, tent the top with tin foil if the top of the bread is baking faster than the rest.

Remove from the oven and allow to cool for 2-3 minutes. Remove from the bread pan.

Without the bread cooling too much, top with the glaze. You want the glaze to go on the bread within about 5-7 minutes of it coming out of the oven.

For the glaze, whisk together the orange juice, sugar, lemon and almond extract. Pour over the bread and immediately top with the sliced almonds.

Store in an airtight container in the fridge.