A healthier take on lemon poppyseed bread! This greek yogurt lemon poppyseed bread is made with better-for-you (but still simple) ingredients and is easy to make!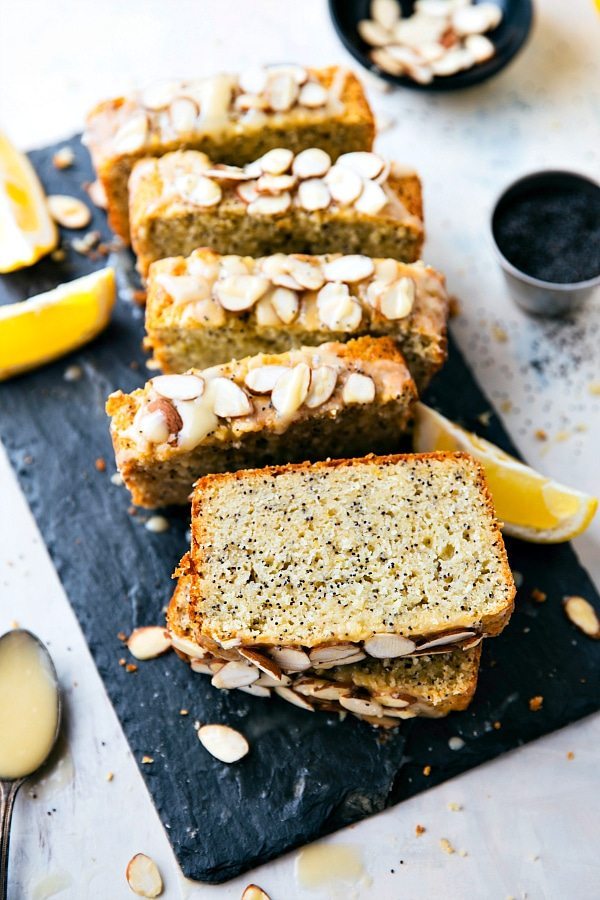 Little Bentley is eating all kinds of "real food" these days. He's crazy about rice cereal, would rather starve than eat mashed banana (??), and inhales mashed pears like they are going out of style.
A couple of weeks ago when I made this lemon poppyseed bread for the first time, Bentley was in his high chair and I handed him a wedge of lemon to try. Since his older brother despised lemons as a baby, I wasn't sure he'd be too fond of them.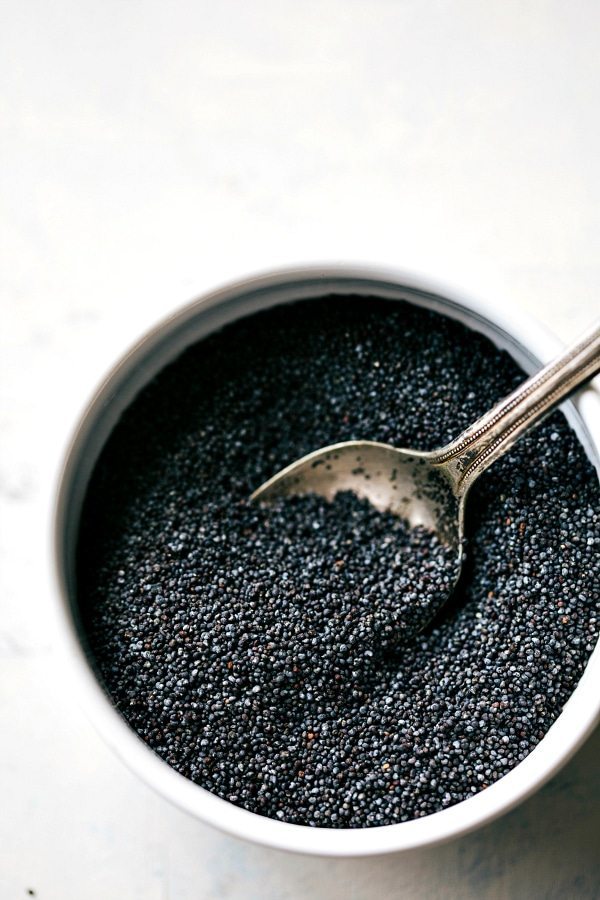 And I couldn't have been more wrong. He absolutely LOVED the lemon. He sucked out every ounce of juice and practically begged me for more. So, is it bad that he ate an entire lemon wedge by wedge? I'm a fanatic about lemons, but eating a whole one by itself? Not even I can do that.
I prefer them to be in a chicken marinade or, even better, in a delicious lemon almond poppyseed SWEET BREAD that happens to have some better-for-you ingredients. ??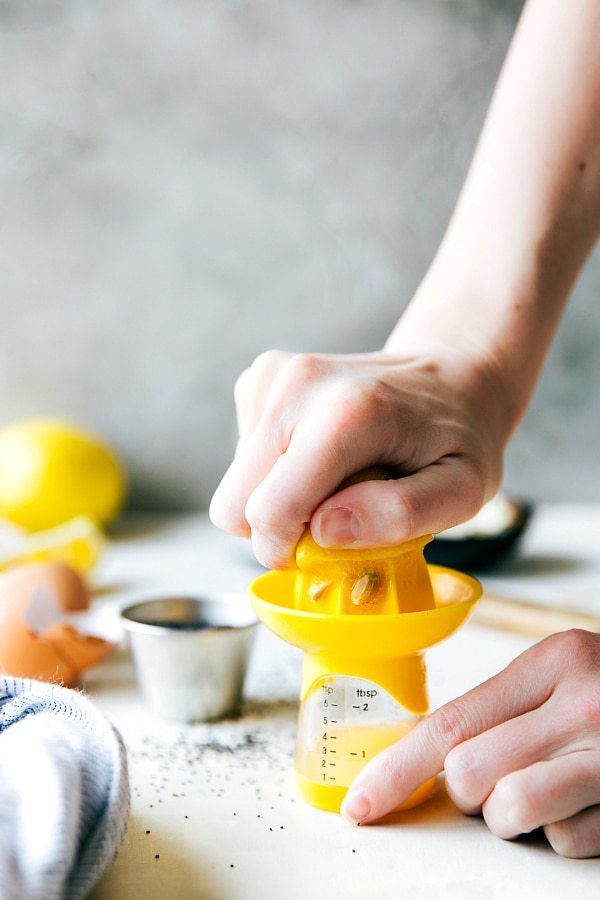 Lemon poppyseed bread actually happens to be my all-time favorite sweet bread. The reason it's taken me so long to share a recipe here is because I've wanted it right up to my standards of what I love in a good lemon poppyseed bread!
A TON of recipe testing went into this lemon blueberry bread and once I had it perfect, I knew the base would also make a great base for lemon poppyseed bread. The two recipes are extremely similar and I think you'll find this lemon poppyseed bread to be one of the best healthier treats you've ever had! It's definitely become a quick family favorite.
One of my favorite things about this bread is the hint of almond flavor. Both the actual bread and the glaze has almond extract in it and then the bread is topped with sliced almonds.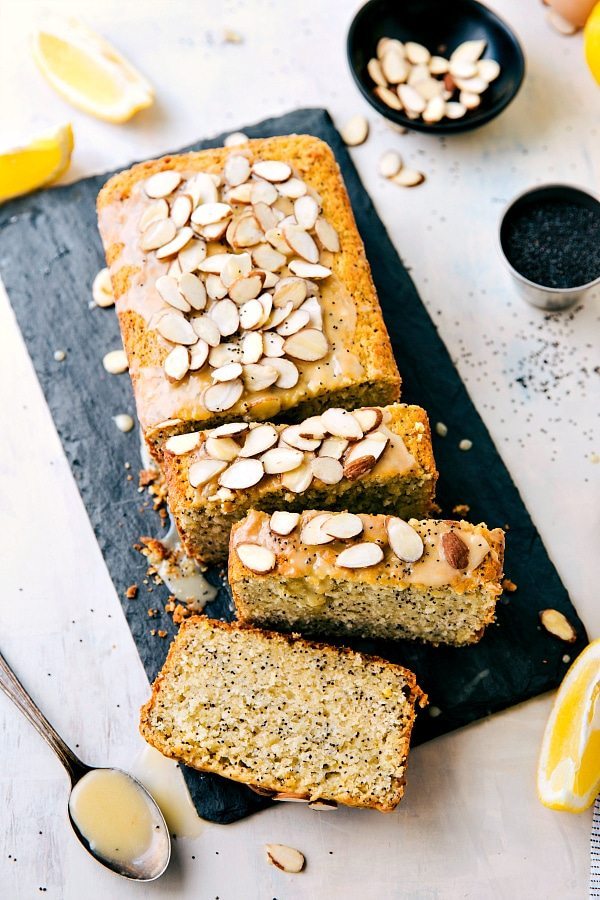 The bread is obviously less healthy with the glaze on it, but it is totally optional. If you aren't going to add the glaze, you can still top the bread with almonds by topping the warm bread with a quick mixture of 4 tablespoons lemon Greek yogurt + 1 tablespoon sugar + 1 tablespoon maple syrup and then pressing the almonds into that.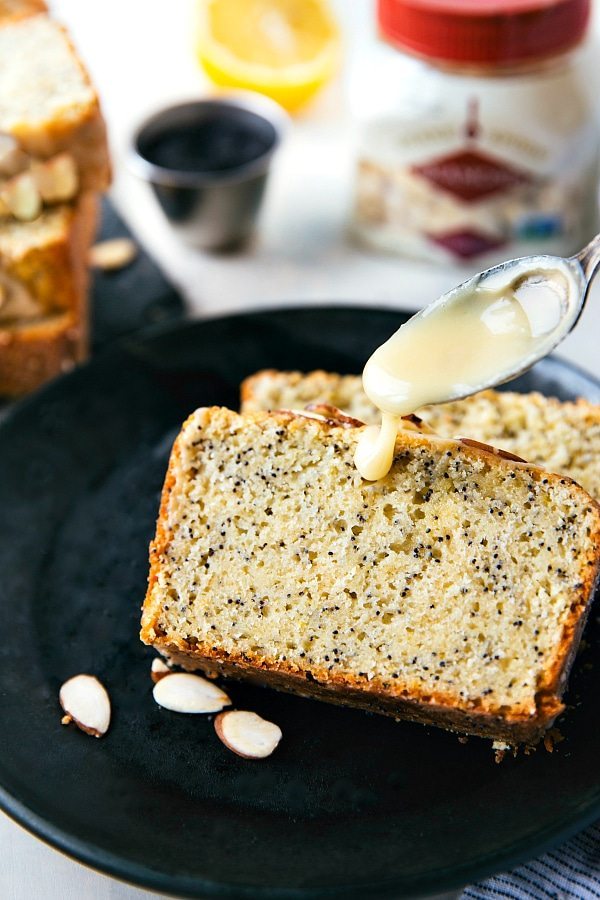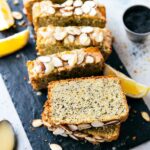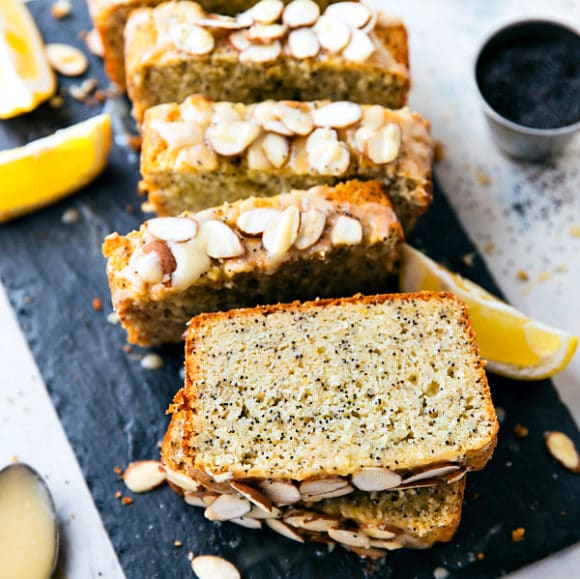 Healthy Greek Yogurt Lemon Poppyseed Bread
Servings
:
1
loaf of bread
Ingredients
3

large eggs

(2 large eggs and 1 egg yolk)

1

cup (2, 5.3 ounces EACH containers)

full fat Lemon Greek yogurt

1

teaspoon

vanilla extract

1/2

teaspoon

almond extract

1/2

cup

coconut oil

1

large lemon

3/4

cup

white sugar

1/2

cup

old fashioned oats

1

cup

white or white whole wheat flour

1

tablespoon

cornstarch

2

teaspoons

baking powder

3/4

teaspoon

salt

1 and 1/2

tablespoons

poppyseeds
Optional Glaze*
3 and 1/2

tablespoons

orange juice

3/4

cup

powdered sugar

1/2

teaspoon

lemon extract

1/8

teaspoon

almond extract

1/2

cup

sliced almonds

I love Diamonds of California
Instructions
Preheat the oven to 350 degrees F. Generously grease and then light dust a bread pan with flour and set aside.

I use an 8 and 1/2 x 4 and 1/2 bread pan.

Make sure to measure the coconut oil in LIQUID (melted) form. Melt the coconut oil, measure, and then allow to slightly cool so you don't cook your eggs.

In a large bowl, whisk 2 large eggs and 1 large egg yolk (discard or save the whites for another recipe). Add in the lemon Greek yogurt (1 cup total), vanilla extract, almond extract, and coconut oil.

Briskly whisk in the coconut oil with the other ingredients to get them to be well combined.

Get the zest and juice of 1 large lemon. About 2 teaspoons zest and 2 tablespoons lemon juice is perfect! Add in the sugar and again mix until all ingredients are completely combined.

In the same bowl, add the oat flour (measure oat flour AFTER blending the oats to get 1/2 cup total flour; to make oat flour, put old fashioned or quick oats in a blender and pulse them until they resemble flour).

Without mixing yet, add the white or white whole wheat flour, cornstarch, baking powder, salt and poppyseeds.

Mix together, very gently, until just combined (over-mixing will yield a denser bread).

Bake for 55-65 minutes or until a fork when inserted into the center comes out clean or the bread starts to pull away from the edges. If needed, tent the top with tin foil if the top of the bread is baking faster than the rest.

Remove from the oven and allow to cool for 2-3 minutes. Remove from the bread pan.

Without the bread cooling too much, top with the glaze. You want the glaze to go on the bread within about 5-7 minutes of it coming out of the oven.

For the glaze, whisk together the orange juice, sugar, lemon and almond extract. Pour over the bread and immediately top with the sliced almonds.

Store in an airtight container in the fridge.
Recipe Notes
*This glaze isn't super healthy. For a healthier option (but one that will require the bread to be eaten in the first day is found in the last paragraph of the post!)
More healthier baked goods: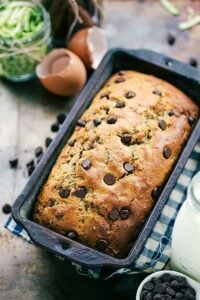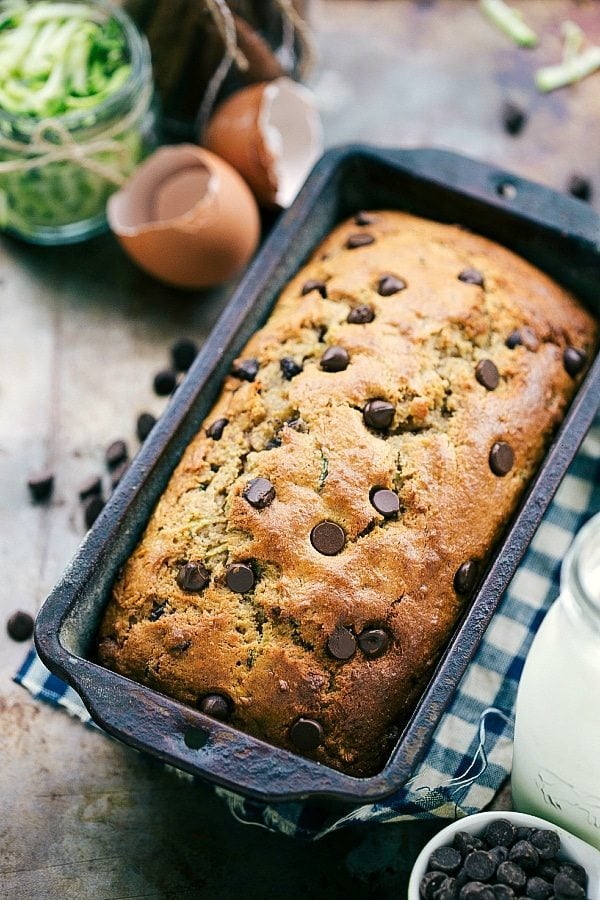 Greek Yogurt Healthier Zucchini Bread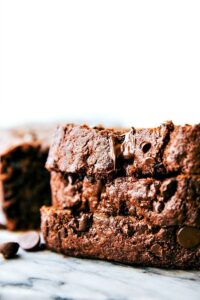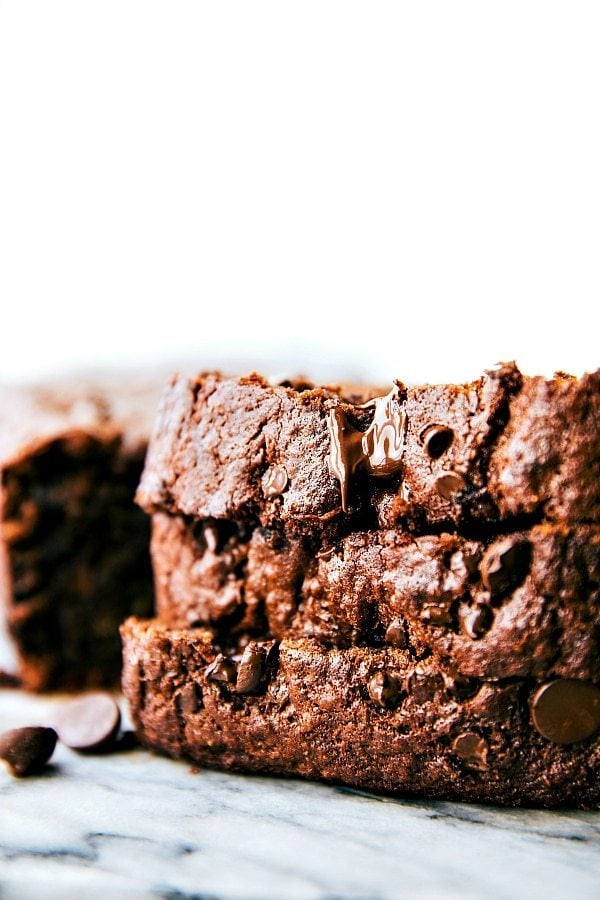 Healthier Chocolate Banana Bread