Four easy, & creative Halloween appetizers that are so delicious — Spiderweb 7-Layer Dip, Walking Dead Mummy Dogs, Monster Meatball Sliders, & Cheesy Monster Fingernail Bread.
Above this text is a quick video overview (1 min, 40 seconds) showcasing these creative and "scary" Halloween Appetizers! These Halloween Appetizers are wickedly good 😉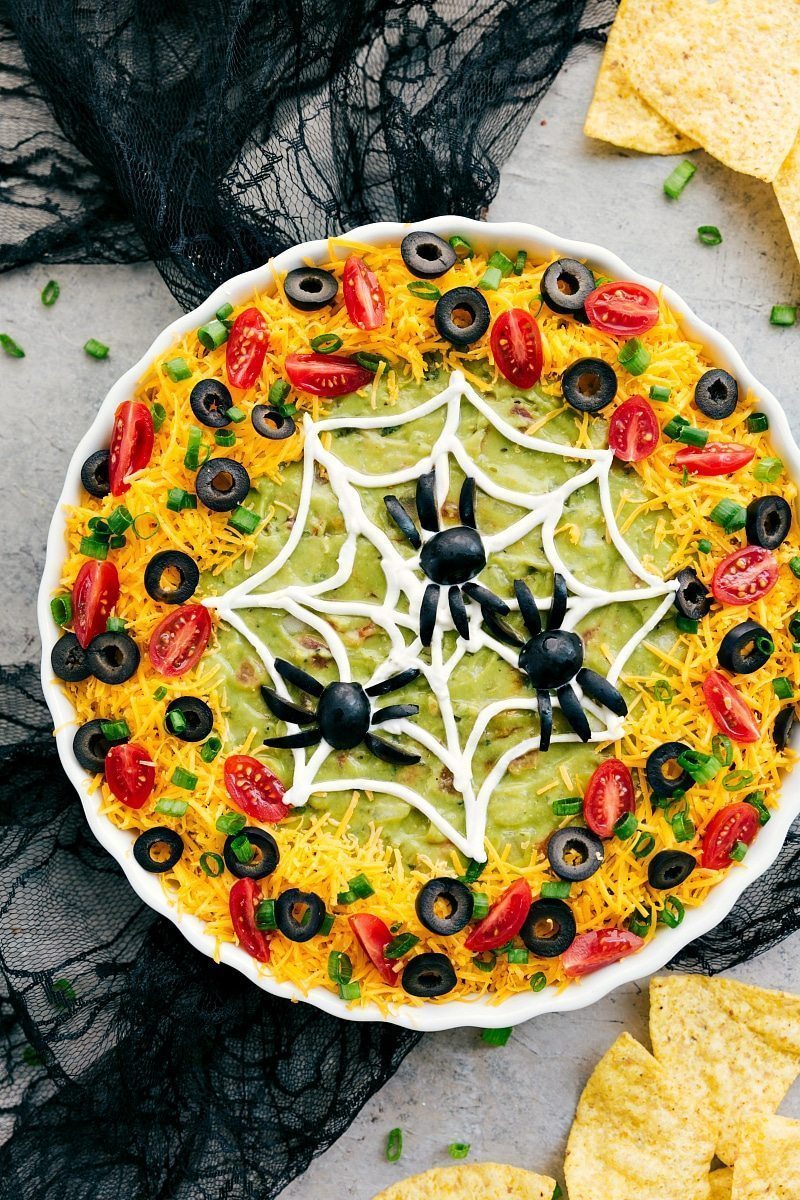 7-LAYER SPIDER WEB DIP
7-Layer Spider Web Dip is a simple Halloween appetizer to throw together that everyone will enjoy! A Halloween twist on the famous 7-layer chip dip. Pipe a spider web with sour cream and add your favorites as the toppings. Most of this appetizer can be made ahead, just make sure to add the guacamole (and finish decorating on top) right before serving.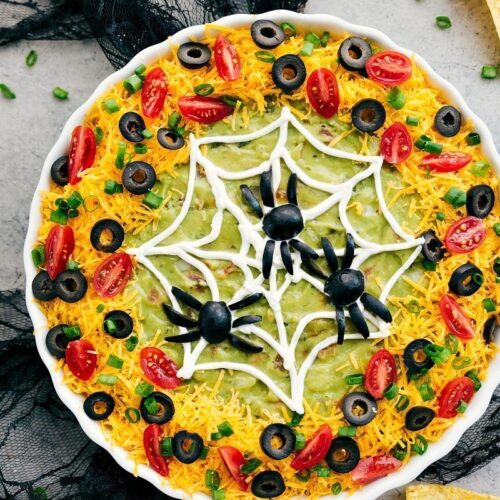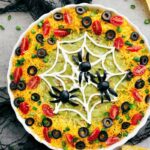 7-Layer Spider Web Dip
7-Layer Dips are already a party favorite, and this Halloween appetizer got a creative makeover adding a simple spider web and olive "spiders."
Ingredients
1 can

(15 ounces)

refried beans

1

pacet

taco seasoning mix

1

cup

sour cream,

separated

1

cup

mild or medium chunky salsa

(make sure it's not watery)

1

cup

freshly grated sharp cheddar or colby jack cheese

1/2

cup

cherry tomatoes,

halved

3-4

green onions,

diced

1/2

can

drained olives,

separated

1

cup

prepared guacamole

Tortilla Chips

1

(10-12 inch)

round plate, pie tin, or tart dish
Instructions
In a small bowl mix the taco seasoning with the refried beans. Spread this mixture evenly on the bottom of a 10-12 inch plate/pie tin/tart pan. Spread 3/4 cup of the sour cream on top and then gently spread.

Add dollops of salsa and gently smooth on top. Add dollops of the guacamole spread slowly.


Slice half of the olives. Around the edge add the freshly grated cheese, thinly sliced green onions, sliced olives, and halved cherry tomatoes. With the remaining 1/4 cup of sour cream, put it into a plastic bag and cut off the tip. Squeeze the sour cream into a spider web pattern over the guacamole.


Make olive spiders -- half a few olives lengthwise and then cut a few olives into small strips. Place the halved olives in the mix and the strips around the halved olive to look like a spider.

Enjoy dip immediately or within 10-15 minutes after preparing. Serve with tortilla chips.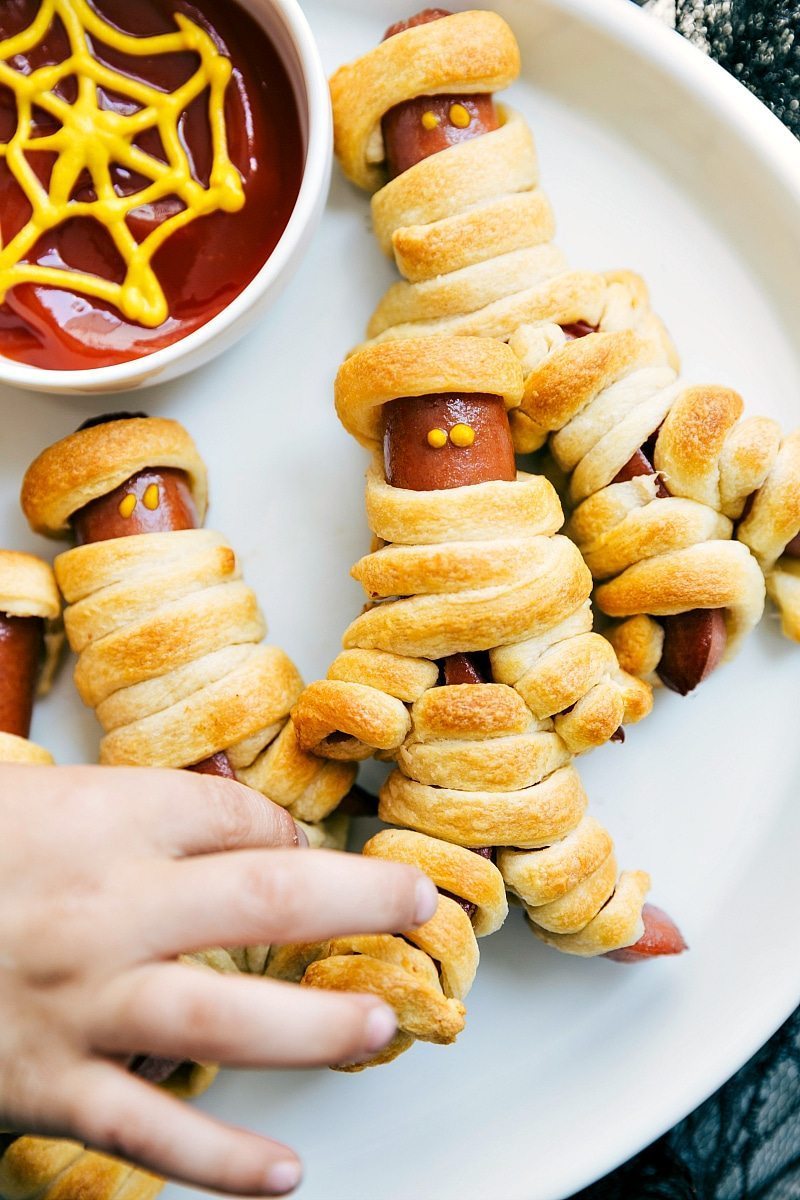 WALKING DEAD MUMMY DOGS
Walking Dead Mummy Dogs make for the perfect spooky snack to celebrate the Halloween season with. Hot dogs wrapped with ribbons of pastry crust and decorated to look like the walking dead, these are sure to be a party hit! Not to mention they make a kid-friendly Halloween meal. Dip them in some ketchup and/or mustard and you'll be set with this one!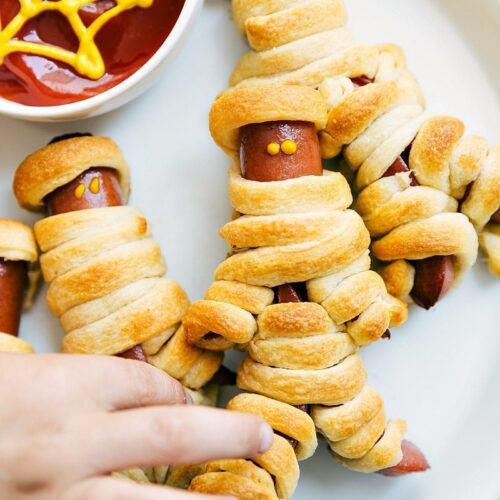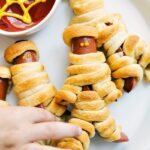 Walking Dead Mummy Dogs
These finger food mummies are delicious and simple to make -- a Halloween appetizer favorite for kids and adults!
Ingredients
1

container (8 ounces)

refrigerated crescent dinner rolls

10

large hot dogs

Cooking spray

Mustard and/or Ketchup
Instructions
Preheat the oven to 375 degrees F. Unwrap the crescent dough and lay flat on a cutting board. Cut at the perforations to create 4 even rectangles. Press the other perforations to seal.

With a sharp knife, cut each rectangle lengthwise into 10 strips, making a total of 40 strips of dough.

Take one hot dog at a time and make two slits along the sides for the mummy's arms. Make a slit at the bottom for the mummy's legs.

Wrap strips of dough around the individual arms and legs and then around the body of each hotdog, leaving small space for where the mummy's face will be.

Place the mummies on a large (ungreased) baking sheet and lightly spray the dough with cooking spray.

Bake for 12-15 minutes or until the dough is light golden brown. Pour some mustard in a plastic bag and snip off the tip of the bag with scissors. Pipe "eyes" on the mummies.

Enjoy the mummy dogs with extra mustard and ketchup if desired.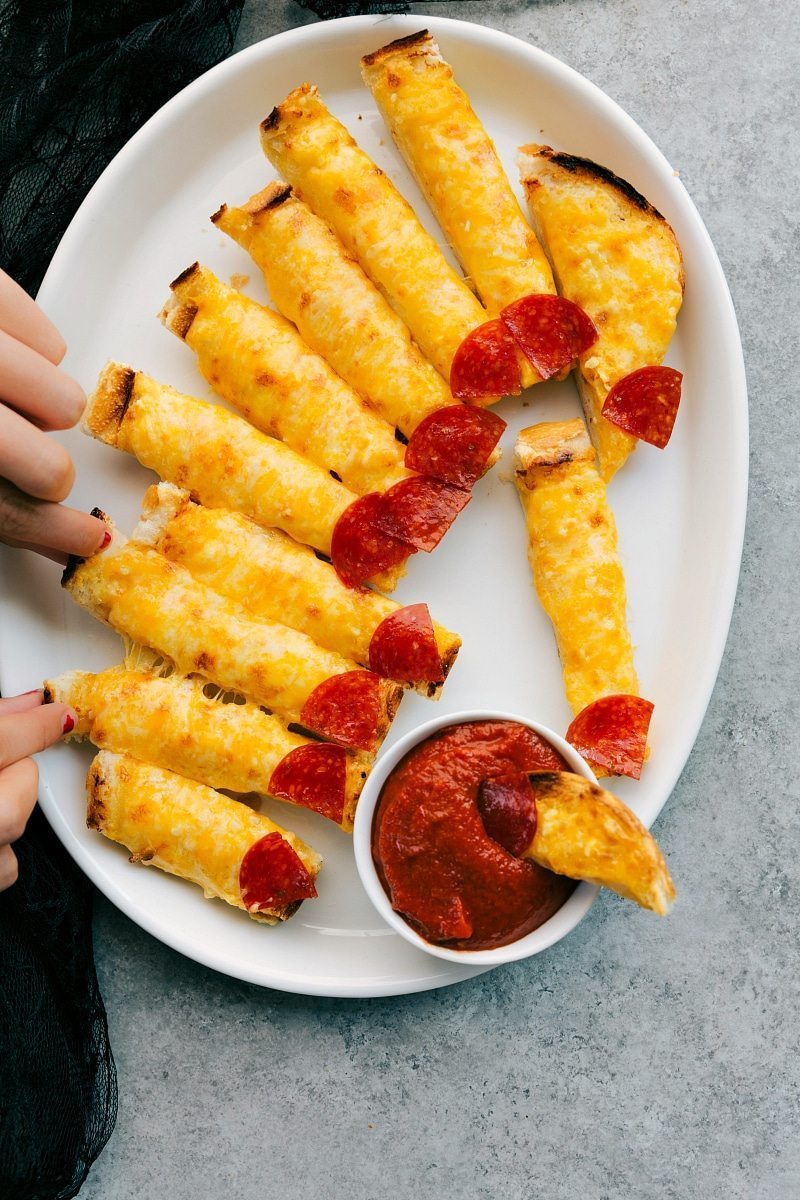 CHEESY BREAD "FINGERS"
These Cheesy Bread Fingers are always the first thing to go! Yes, of course they are festive and fun, but more than anything they are DELICIOUS. Honestly, the best cheesy bread I've ever had, and everyone always begs for this recipe! Make sure to pop these in the oven right before serving them to your party guests!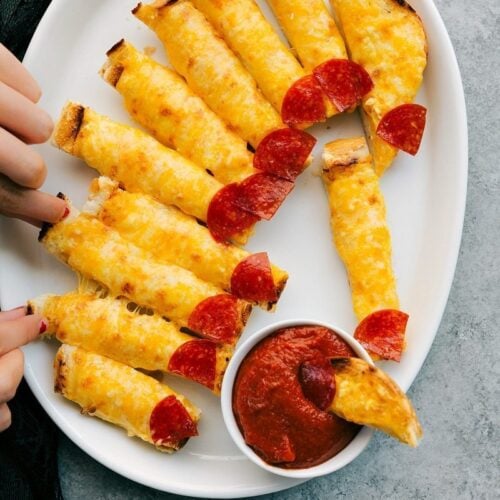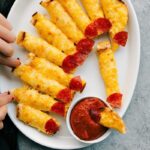 Cheesy Bread Fingers
This Halloween appetizer definitely deserves a spot on your Halloween Dinner Party Menu! This cheesy bread is beyond delicious!
Keyword:
cheesy bread fingers
Servings
:
4
-6 as an appetizer
Ingredients
4

tablespoons

unsalted butter,

softened

2

teaspoons

minced garlic

1

cup

freshly grated Mozzarella cheese

(don't use bagged mozzarella)

2

cups

freshly grated sharp cheddar cheese

1/4

cup

regular, full-fat mayo

1

tablespoon

sour cream

1

loaf of French of Ciabatta bread,

halved

1

bag (6 ounces)

Pepperoni,

cut in quarters
Instructions
Preheat the oven to broil on high. Slice the loaf of bread in half horizontally (crusts down) and place both halves on a large baking sheet (line with foil, parchment paper, or spay with cooking spray). Set aside.

In a bowl, mix the softened butter and garlic together until smooth. In a separate large bowl, mix together the cheeses, mayo and sour cream until combined. Combine the two mixtures.

Spread and smooth the cheese mixture evenly on both loaves. Place the cheesy bread under the broiler for 2-4 minutes or until nicely browned. Watch carefully to avoid burning the bread!!

Meanwhile, cut the pepperoni's in quarters to resemble a finger nail.

Remove and allow to slightly cool before cutting (use a sharp bread knife) into thin slices (resemble "fingers"). Place one pepperoni wedge at the top of each of the thin slices.

Enjoy immediately with a side of marinara sauce if desired.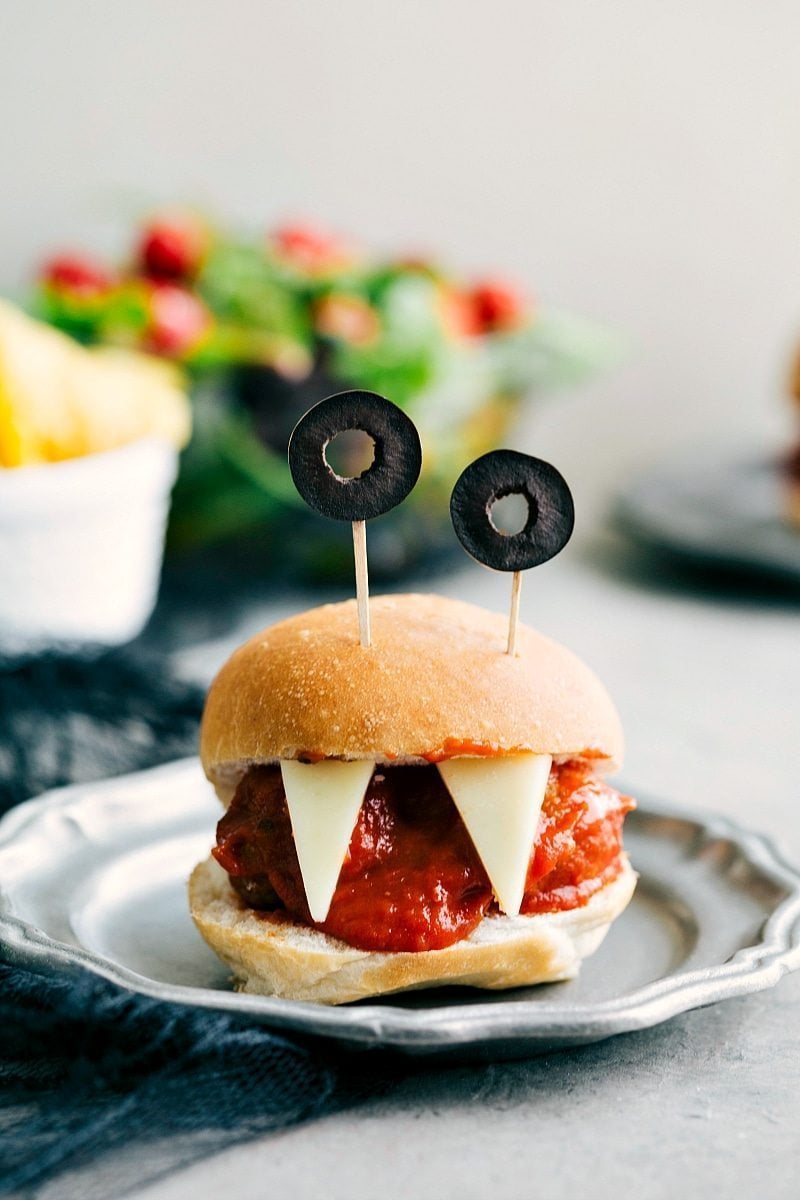 MEATBALL SLIDERS
Monster Meatball Sliders make for the perfect spooky meal or appetizer to celebrate the Halloween season with. Sandwich your favorite meatball recipe (or buy pre-made meatballs in a pinch) in between some slider rolls, add some cheesy "teeth" and finish these monsters off with sliced olive "eyeballs." These sliders are quick to make, kid and adult friendly, filling, and festive!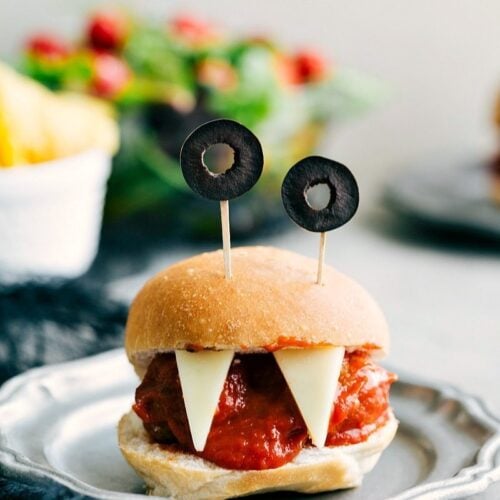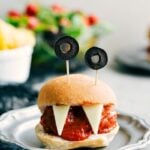 Meatball Sliders
These spooky Halloween appetizers are fun, filling, and easy to make!
Ingredients
1

bag

frozen Italian meatballs

(OR see the recipe notes for my favorite homemade meatballs!)

1

jar (24 ounces)

high quality marinara sauce

24

dinner rolls

1

block (16 ounces)

mozzarella cheese,

separated

1/2 of 1

jar

black olives,

sliced

Toothpicks
Instructions
Prepare the meatballs according to package directions (or follow the link in the recipe notes and follow directions to make those meatballs!)

Combine the cooked meatballs with the marinara sauce. Meanwhile, cut 48 teeth out of the block of mozzarella cheese (or however many sliders you are making) Grate the rest of the cheese to get about 1 cup.

When ready to serve, halve the dinner rolls and sprinkle some shredded mozzarella on the bottom rolls. Top each with the hot marinara covered meatballs, more sauce, and the top of the sandwich roll.

Thinly slice olives and attach one slice to a toothpick. Insert the toothpick in the top of the sliders. Press the cut out mozzarella teeth to the meatballs. Serve immediately.
Recipe Notes
Favorite homemade meatballs: https://www.chelseasmessyapron.com/mini-mozzarella-meatballs-pappardelle/ EASY Crockpot Version: https://www.chelseasmessyapron.com/crockpot-meatball-sliders-video/
More Halloween Fun: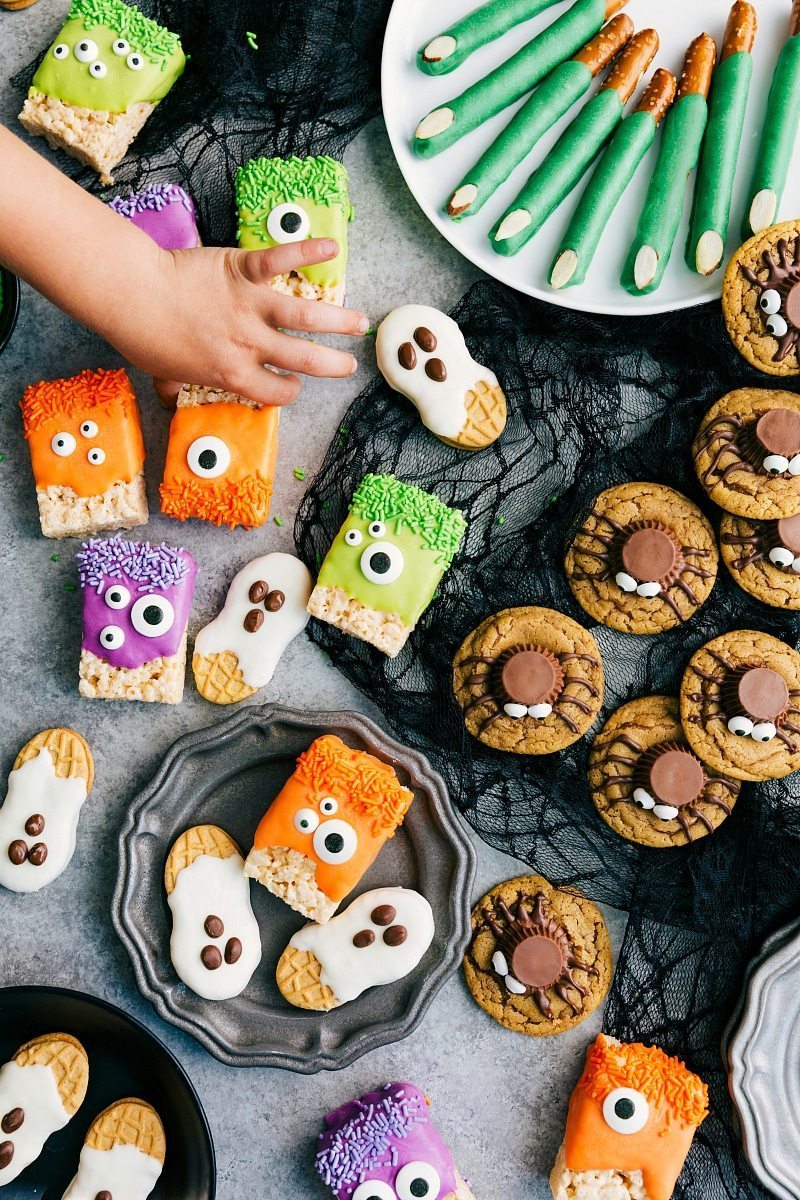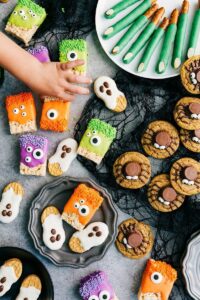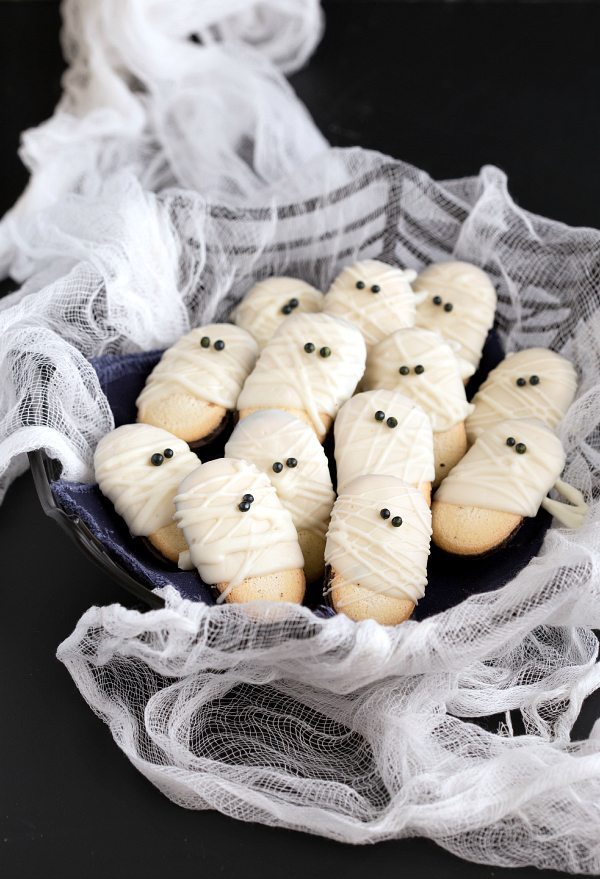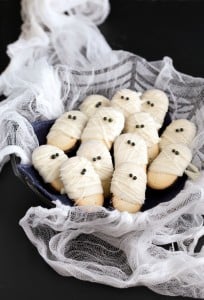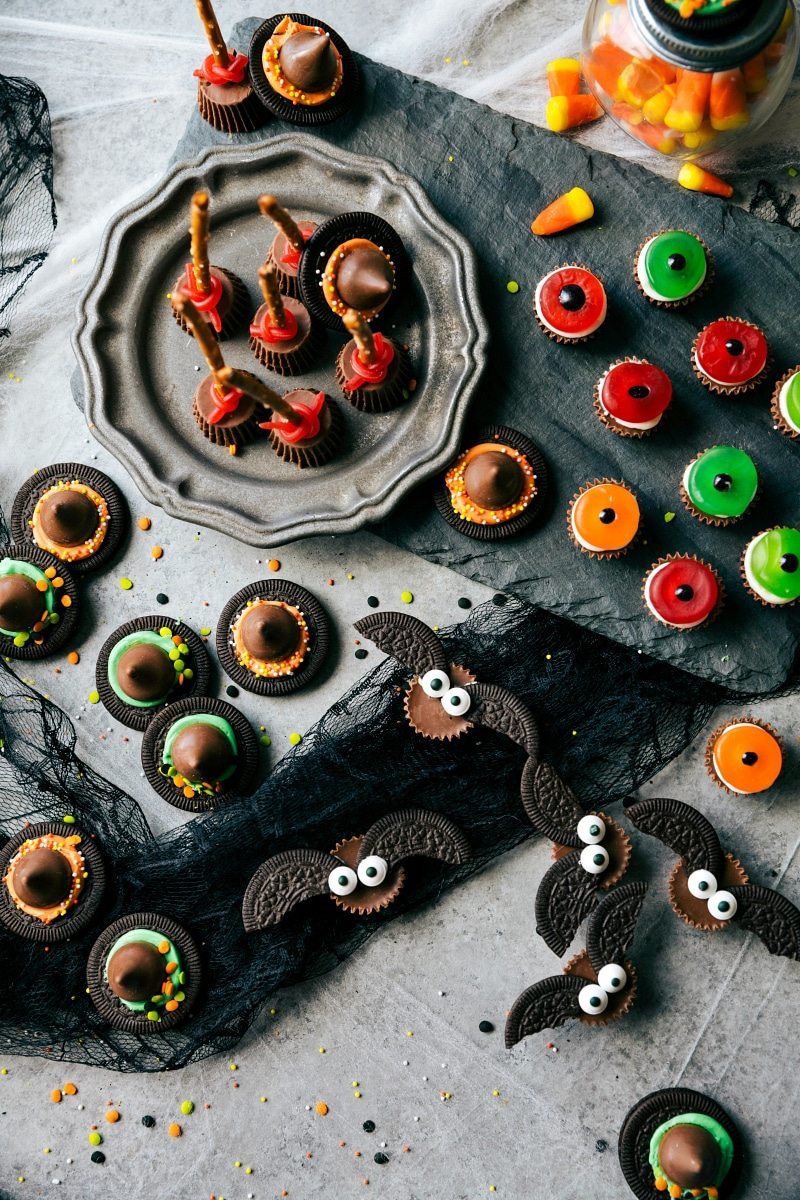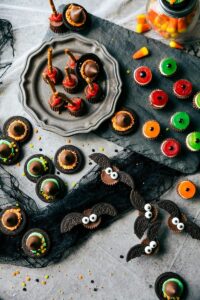 Monster eyeballs, witches hats, witches brooms, & bat bites.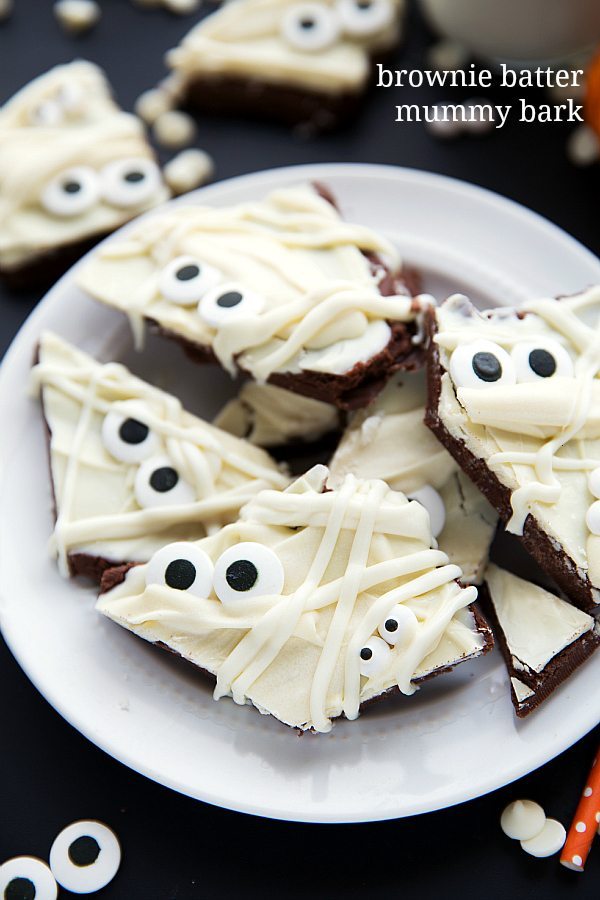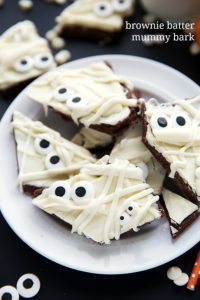 More Creative Halloween Appetizers: 40 Scary Halloween Apps