Simple french bread pizza — Margherita style!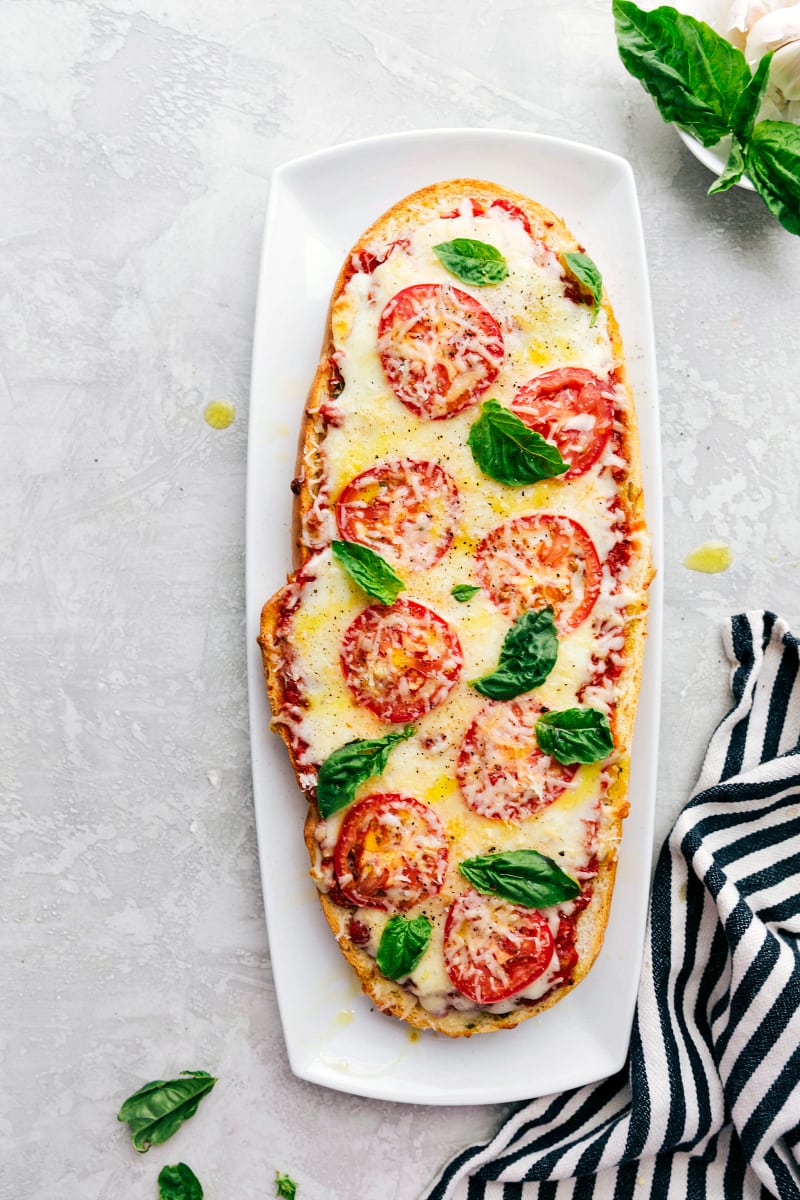 I'm so excited to be partnering up with Kroger this year to bring you delicious recipes like this Margherita French Bread Pizza! This post is brought to you in partnership with Kroger, but as always, all opinions are my own.
French Bread Pizza
Growing up, one of the most often made meals in our home was French bread pizza. We had it at least every other week, and everyone in the family loved it. Which with 7 kids in the house was a rare consensus!
Usually the French bread was topped with taco meat (ground beef cooked with taco seasonings), cheddar cheese, and then baked. Next we'd go crazy with toppings — lettuce, tomato, sour cream, guacamole, etc.
Last month my sister and I were talking about meals my mom made growing up, and we both realized it had been YEARS since we'd had French bread pizza. A sad fact we decided needed to be rectified immediately! After some experimentation, we created an even simpler version of French bread pizza. And my entire family LOVES it:)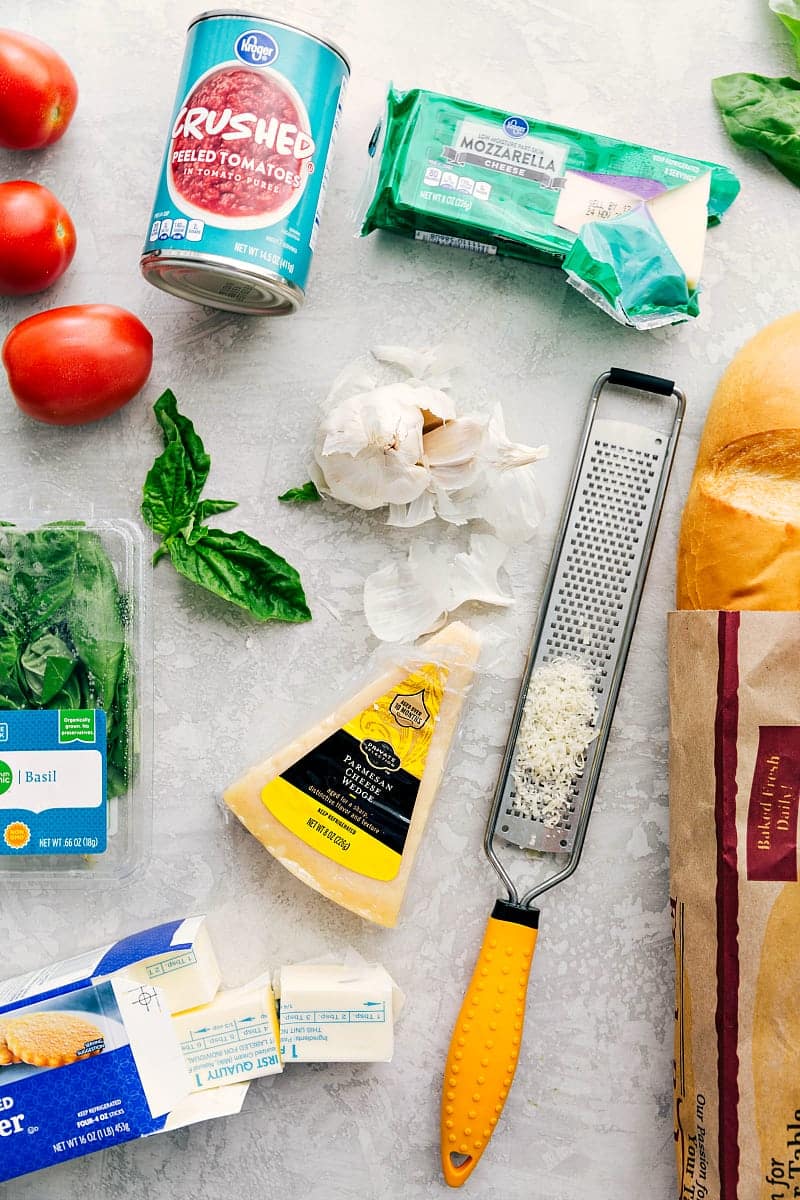 Simply put, French bread pizza makes life easier! No need to worry about making a homemade dough, waiting for it to rise, and then rolling it out. Instead, the French bread "crust" is already baked and ready for toppings.
Speaking of making life easier, I know I've shared my obsession with ClickList about a hundred times on the blog (I don't know how I survived before ClickList!), but today I'm sharing another feature Kroger stores have that further simplify my life: a mobile app. Trust me, if you don't have a Kroger Family of Stores mobile app downloaded already, you're going to want to download it ASAP. I use my Smith's app almost everyday and often in conjunction with ClickList.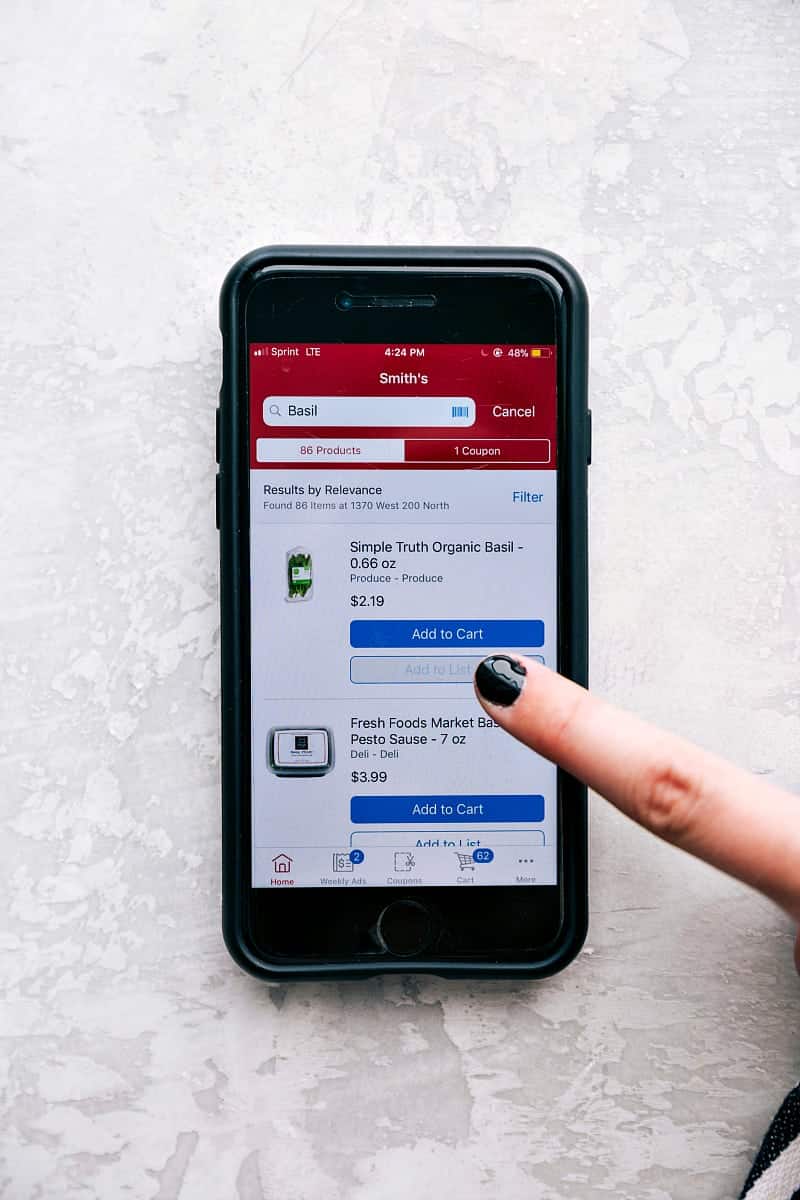 Here's why I love the app, and don't visit my local Smith's without it:
Aisle Locator

: Can't find an ingredient? Type the ingredient name into the app and it will tell you EXACTLY where it is in the store. This has saved my sanity more than a few times!

Barcode Scanner: You can check product prices on your phone by scanning the product barcode with the app, and even see if there is a coupon for a given product.
Grocery List:

I used to forget to buy things at the grocery store all the time, and subsequently have to run back to the store, or make my husband stop on his way back from work. Now, I use my app to create a shopping list as I think of things I need during the week. Since I usually have my phone on me, it's made it so I rarely, if ever, forget something I'm needing at the store.

TONS of savings: Using the Smith's app has saved me a bundle of money. Not only can you load coupons for what you're buying right in the app (as easy as pushing one button), but you can also see their weekly sales ad, AND see what current promos they have going on. When I make my meal plan for the week, I'll often start in the app and see what foods are on sale or what I can clip a coupon for and then create the meal plan based off of that!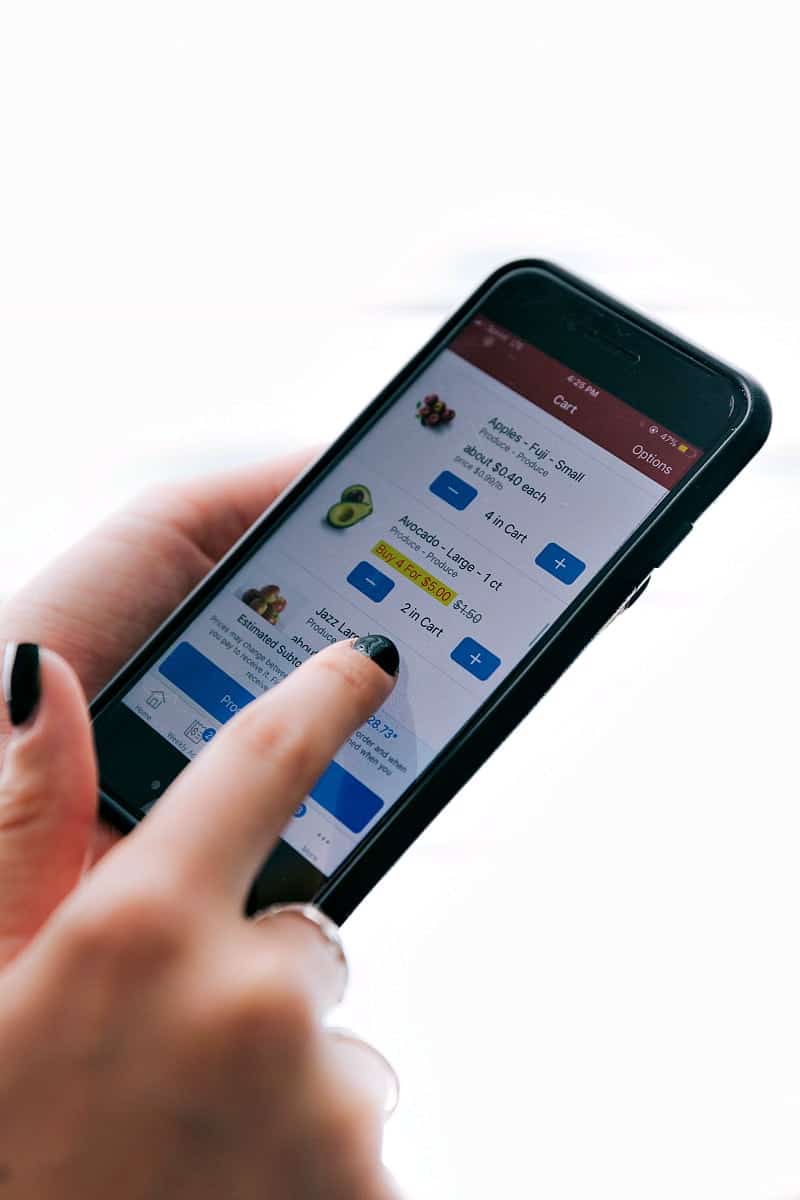 Now let's talk a minute about this french bread pizza!
French bread pizzas are supposed to be easy, and this is no exception! The ingredients are minimal and the method is simple. The simplicity of the recipe leaves you with plenty of time to prepare a side dish or salad for this dish! (I love this salad on the side)
The one thing I do while making this pizza, that might surprise you a bit, is baking it twice. There's nothing I hate more than soggy bread (when it's not supposed to be soggy), and I found the solution to soggy French bread pizza thanks to Serious Eats. Bake the bread the first time after it's been infused with butter, olive oil, herbs, and garlic. This gives the bread lots of flavor. Next, add the toppings (tomato sauce, cheeses, and tomato) and bake it one more time. You'll be amazed the difference this makes to the texture and overall flavor of the pizza!
Finish it off with some fresh basil, a drizzle of olive oil, and freshly cracked pepper and it's ready to be devoured!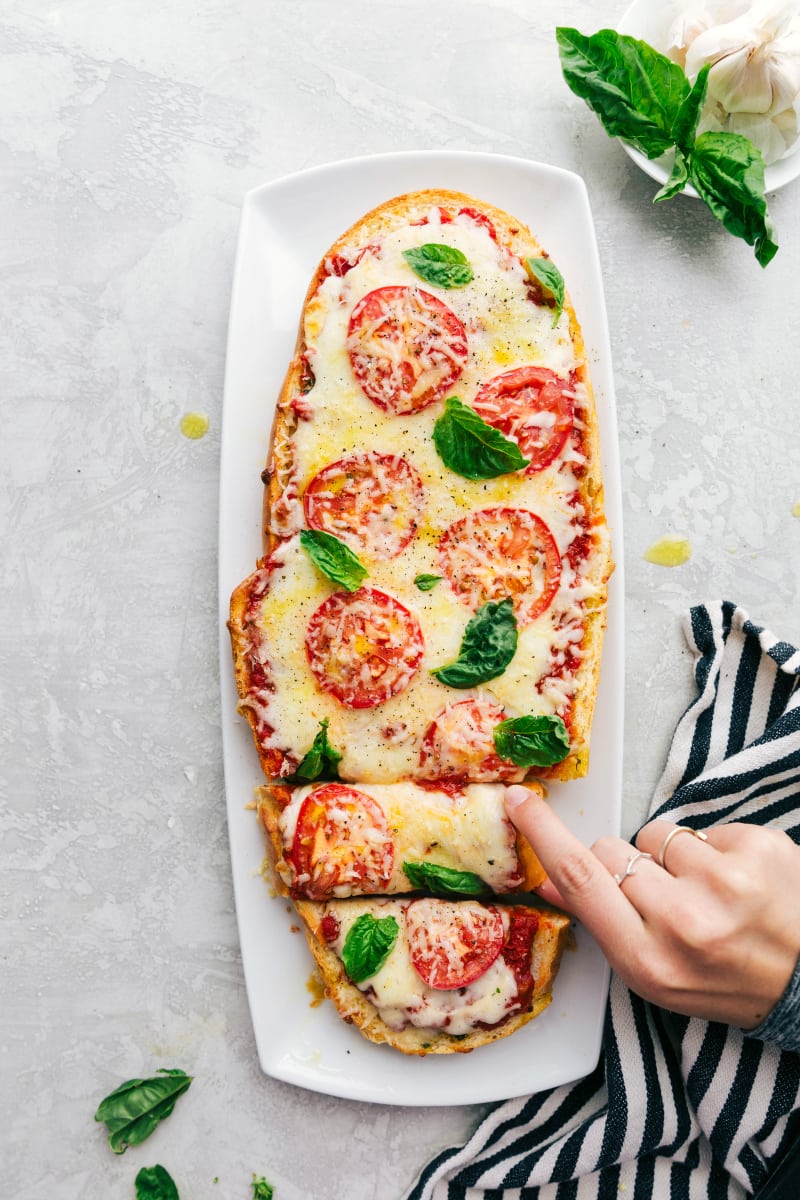 More Easy Dinner Recipes:
For more delicious recipes, follow along on Pinterest, Instagram, Facebook, and YouTube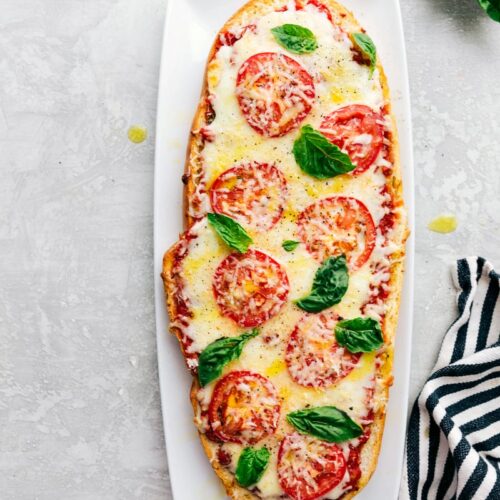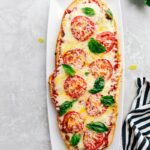 Margherita French Bread Pizza
Simple french bread pizzas -- Margherita style!
Keyword:
french bread pizza
Ingredients
3

tablespoons

unsalted butter

1/4

cup

olive oil,

separated

1/2

teaspoon EACH:

dried oregano and dried parsley

3

cloves

garlic,

finely minced

Freshly cracked pepper and fine sea salt

1/2

cup

fresh basil leaves,

separated

1

large

loaf French bread

see note, about 18 inches long and 4 inches wide, split half lengthwise and crosswise

1

can (q4.5 ounces)

crushed peeled tomatoes

8

ounces

freshly grated mozzarella cheese

2

roma tomatoes

1/3

cup

freshly grated parmesan cheese
Instructions
Preheat the oven to 425 degrees F. Add the butter and 3 tablespoons olive oil in a medium saucepan over medium-low heat. Stir occasionally until the butter is melted and then add in the oregano, parsley, and minced garlic. Stir occasionally until the garlic is softened (NOT browned), about 2 minutes and then remove from the heat.

Stir in a generous pinch of salt and 1/4 cup finely chopped basil leaves. Slice the french bread in even halves and press the bread down evenly to compress it to 2/3rds the original height. Flip over the bread so the cut side is facing up and place on a parchment or foil lined baking sheet.

Brush half of the garlic herb butter evenly over both surfaces of bread. Place in the oven for 5 minutes, then remove, and set aside.

Meanwhile, return the remaining garlic herb butter to the stovetop and add in the tomatoes. Stir and then increase heat to medium, bring to a simmer, then reduce heat to maintain a slow simmer. Cook, stirring occasionally, until reduced, about 10 minutes. Season to taste with salt and pepper.

Spread sauce evenly over the two bread halves, and then spread mozzarella cheese on top. Add the thinly sliced roma tomatoes evenly to both halves. Bake for another 8-12 minutes or until cheese is melted and the bread is lightly browned at the edges.

Remove from the oven and sprinkle the parmesan cheese evenly over the tomatoes. Add fresh basil (rip or add full leaves), some freshly cracked pepper, and drizzle the last tablespoon of olive oil over everything. Enjoy immediately.