Simple Tin Foil Pack "Philly Cheesesteak" Dinners. Perfect for the campfire, grill, or the oven!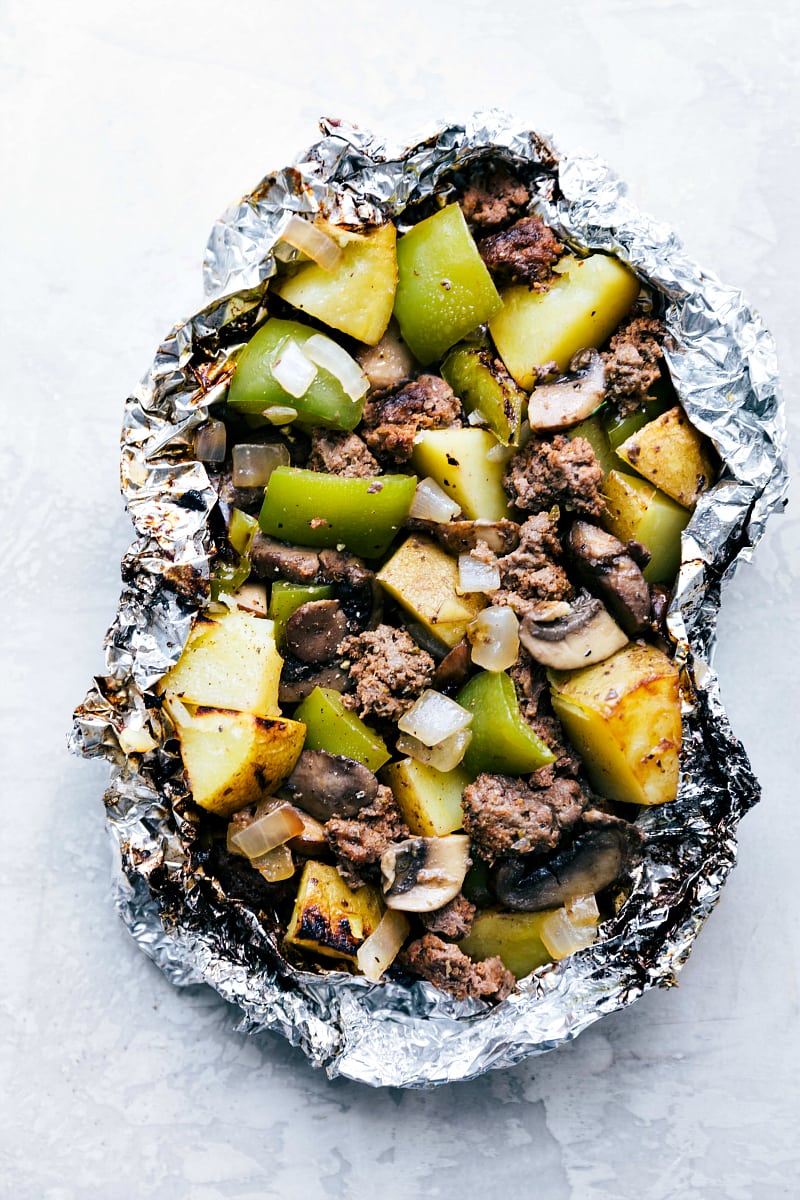 It's been a minute since we've done tin foil dinners here and I'm coming back with a major foil pack dinner win! These philly cheesesteak dinner foil packs can be cooked over the campfire (talk about good food while camping!), cooked on the grill, or cooked in the oven. They're simple to assemble, PACKED with flavor, and they're so filling! All "must have" requirements of a good foil pack dinner 🙂
We're heading camping the first week of August, and I've got these on the menu along with some of our other favorites: foil pack French Dip sandwiches and these foil pack sausage and veggies!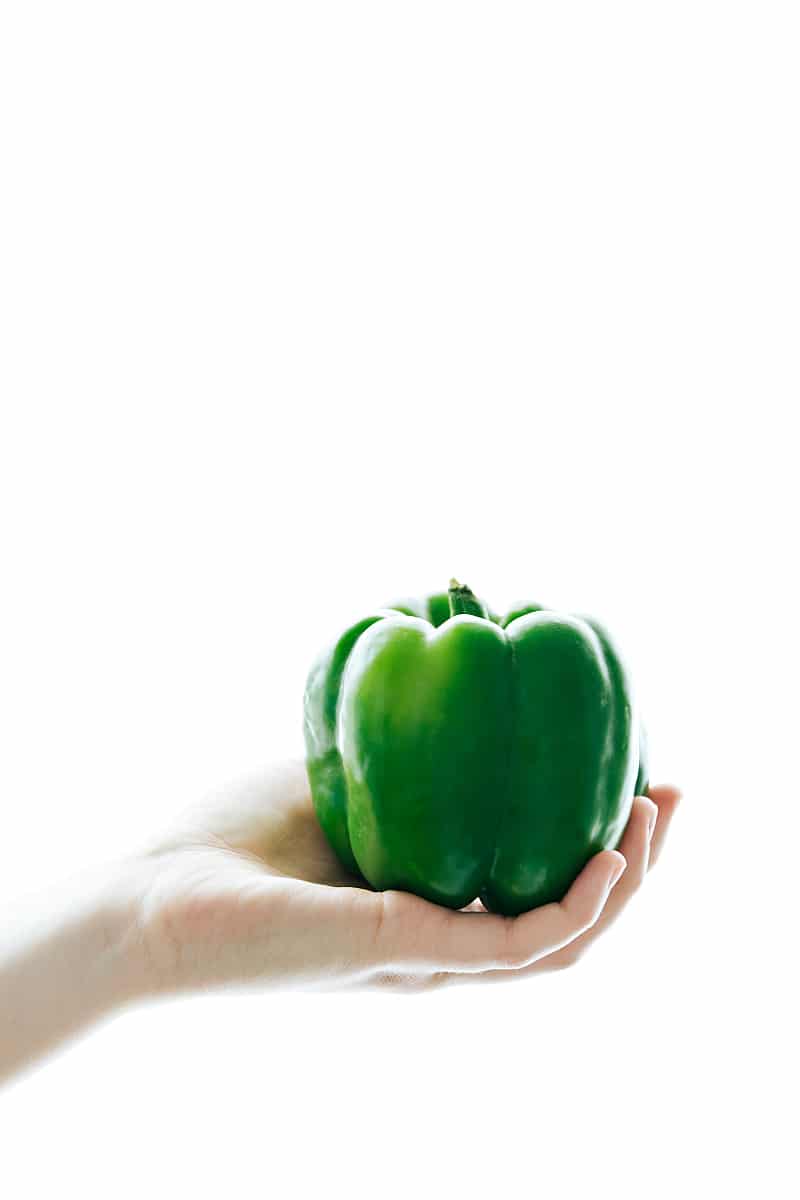 These Philly Cheesesteak tin foil packets aren't hard to make, but they are a little particular. You'll want to make sure you have the ingredients uniformly prepared (to recipe specifications) so that everything can be perfectly cooked in time. Here's a quick run-down on specifications:
Ground Beef — you'll want 16 ounces (1 pound) TOTAL for this recipe. Of that pound, it will get separated evenly (I love using my food scale for this!) into 4 foil packs (4 ounces per pack). You'll want to make sure the ground beef is as lean as possible — we're looking for 93/7 or 95/5 ground beef mix or your packs will be swimming in grease. (FYI: 93/95% of the beef is lean and 7/5% is raw fat)
Yukon Gold Potatoes — the potatoes are what takes the longest to cook, so it's important to prepare them correctly so they will cooked through in time. The pictures are a little deceiving (in my opinion the potatoes look a big bigger than they are in real life). To get the potatoes to cook through in time you'll want to chop them into pretty small bite-sized wedges.
Onion — dice half of a yellow onion into pretty small pieces — these will infuse every part of the dinner with really good flavor!
Green pepper — chop into bite-sized pieces. I usually cut the pepper into 9-10 strips and each strip into 3 pieces.
Mushrooms — I buy pre-sliced mushrooms which are not only the perfect size, but it also cuts down on prep time 🙂 If you have whole mushrooms, slice them into 1/4th inch thick coins.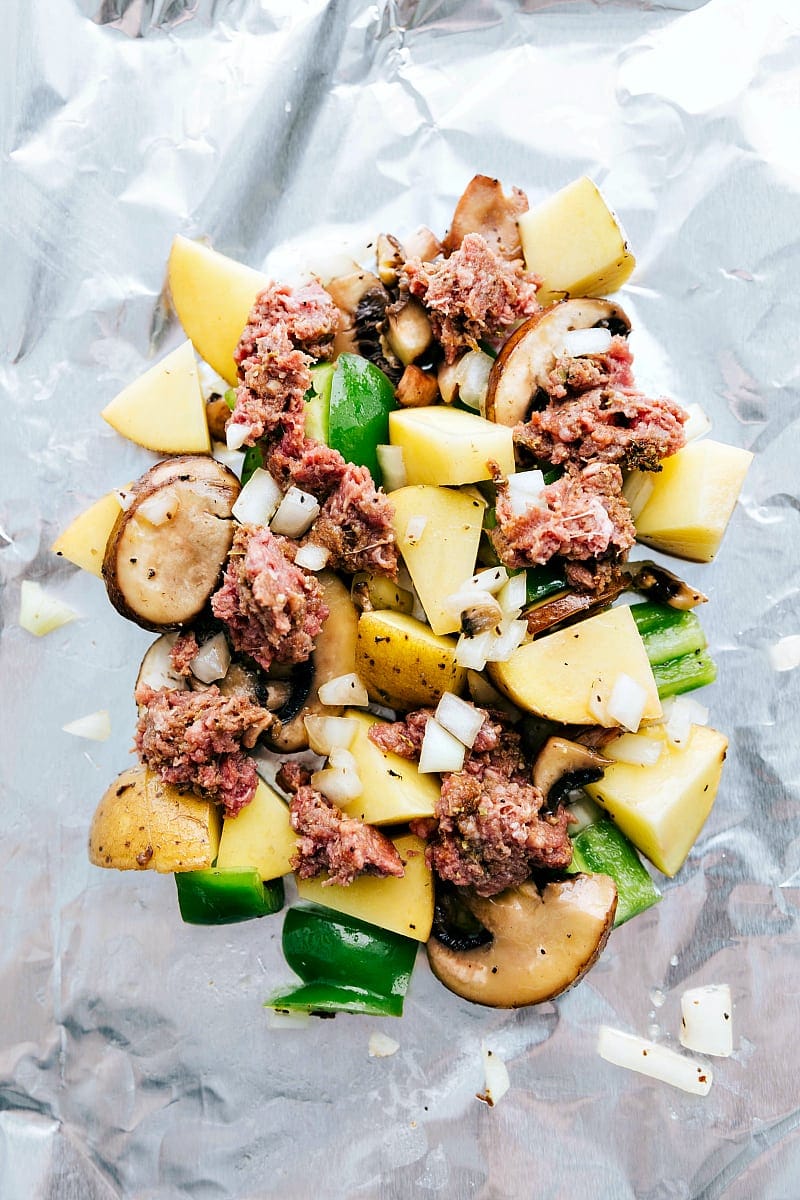 A few tips for success on these Foil Pack Philly Cheesesteak Dinners:
If you're baking these philly cheesesteak foil packs, you want to avoid removing them from the oven and checking too often; when you open the foil packet, all the steam is released and it's going to take a lot longer to fully cook when being placed back into the oven. That said, it's hard to know exactly when they're done because each oven is different and ingredients are always prepared a little different. I'd recommend pulling out just ONE packet (not all) and testing at 25 minutes (see if the veggies are tender) If that one's not done, return it (it will likely need an additional 5 minutes over the rest now) and test a different one at 30 minutes. These packets (if you have the right sized ingredients and a calibrated oven) shouldn't take longer than 35 minutes and can be done as soon as 25 minutes.
When grilling, I like to grill these over very HIGH heat (525-550 degrees F). Grilling at high heat these can be done as soon as 15 minutes depending on the actual temperature of your grill and again size of your veggies.
Use heavy duty foil for grilling or campfire cooking.
Campfire cooking unfortunately has a great variance and these can be done as soon as 10 minutes or as long as 20-30 minutes. To cook over the campfire, place your foil pack very close to (or even directly on) a pile of hot coals (or briquettes). Again depending on the heat/other factors, start by cooking it for 5 minutes, flipping it over, and cooking for another 5 minutes before giving it a check.
Follow the weight and veggie chopping guidelines carefully for the best success on these foil packs.
Seal the foil packets tightly. Since these packets need to be flipped, make sure the seal is good and tight on these! There is need to double wrap these packets in multiple layers of foil (and if you do, they will take longer to cook).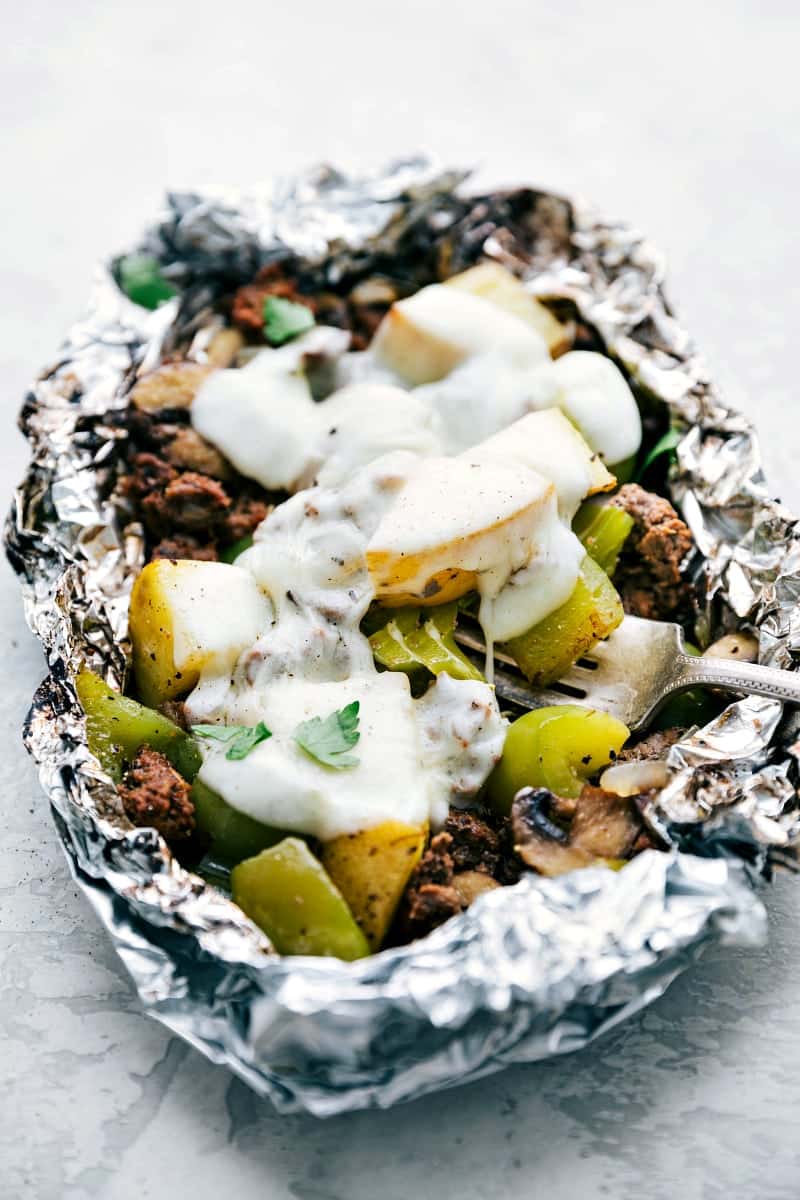 More Foil Pack Recipes: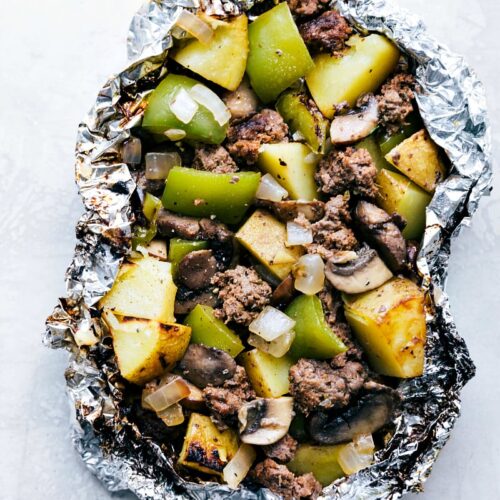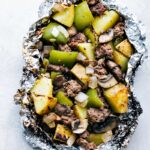 Foil Pack Philly Cheesesteak Dinners
Simple Tin Foil Pack "Philly Cheesesteak" Dinners. Perfect for the campfire, grill, or the oven!
Keyword:
philly cheesesteak
Servings
:
4
large foil packs
Ingredients
Heavy Duty Foil

2

large (1/2 pound)

Yukon Gold potatoes,

chopped into bite-sized pieces

1

large

green pepper,

chopped into bite-sized pieces

1/2

cup

yellow onion,

diced

6

ounces (1 cup)

brown sliced mushrooms

3

tablespoons

olive oil

1

pound

lean ground beef (95/5 or 93/7 mix)

1

tablespoon

Worcestershire sauce

2

tablespoons

ketchup

1/2

teaspoon EACH:

paprika, onion powder, garlic powder

1/4

teaspoon

cayenne pepper

1 and 1/2

teaspoons

Italian seasoning

Fine sea salt and freshly cracked pepper

6

slices

provolone cheese
Instructions
If using a grill: preheat to 525-550 degrees F. If using an oven, preheat to 400 degrees F. Set out 4 large sheets of heavy duty foil.

Prep the veggies: scrub the potatoes clean and dry them. Cut the potatoes into bite-sized pieces. Cut the green pepper into bite-sized pieces (discard seeds and ribs). Dice the yellow onion. Slice the mushrooms. Add all these veggies to a large bowl and add the olive oil, and salt + pepper to taste (I do 1/2 teaspoon salt and 1/4 teaspoon pepper). Toss to completely coat all the veggies and then evenly disperse this mixture among the prepared foil.

In that same bowl used for the veggies (less dishes right!) add the pound of ground beef. Add the Worcestershire sauce, ketchup, paprika, onion powder, garlic powder, cayenne pepper, Italian seasoning, salt and pepper (to taste). I use 1/2 teaspoon of salt and pepper. Knead the ingredients together until well combined.

Separate the meat mixture evenly into 4 parts (if using a food scale, 4 ounces per portion). Coarsely break each part of beef over the veggies in each foil packet.

Seal the foil packets making sure to leave some room for air circulation in each packet.

TO GRILL: place the packets in the middle of the grill and cook at high temperature for 10 minutes. Flip the foil packets upside down and cook for another 5-10 minutes or until veggies are tender. My grill at 525 degrees takes exactly 15 minutes!

TO BAKE: place the packets on a large sheet pan LINED with foil (juices will leak out of the packets so make sure to really line that sheet pan for easy clean up). Place the packets on and bake for 20 minutes. Flip the packets and bake for 10-15 minutes more. My oven took exactly 30 minutes! (Remember if you check your packets and they aren't quite down, they will need even longer on the grill because all the steam has escaped and they've cooled down so avoid checking the packets frequently)

CAMPFIRE: place the sealed packets very close to (or even directly on) a pile of hot coals. Start by cooking it for 5 minutes, flipping it over, and cooking for another 5 minutes before giving it a check.

Remove foil packs from heat and carefully open the packets (watch out for the release of steam.) place 1 and 1/2 pieces of provolone cheese on top and then return the foil packet to the heat source for a few minutes to allow the cheese to melt on top (30 seconds to 1 minute in the oven on broil, 1-2 minutes in closed hot grill, let it melt on its own for campfire (don't put it back on the fire.)
Recipe Inspired by: High Heels and Grills